This post may contain affiliate links. See our affiliate disclaimer here.
Many RVs come with built-in dinette sets complete with a bulky table and ugly, upholstered chairs. Fortunately, RV dinettes are easy to remove, so campers can create a more functional space.
Here are 10 RV dinette replacement ideas, including more modern dining tables and complete space makeovers.
RV Dinette Replacement Ideas: New Tables
The most obvious RV dinette replacement idea is simply swapping out the dated RV furniture with a modern dining set. The following dining tables are all small and lightweight, making them perfect RV dinette replacements.
Contemporary Round Dining Table
This modern, white table has a fun, but neutral design that would work well in most RVs. At just 44 pounds, the table easily weighs less than most built-in RV dinettes.
The circular design, which has a diameter of 40 inches, allows plenty of room for four or five chairs to be placed around the table. Purchase colorful chairs or a fun table cloth to add more pizzazz to this simple table.
Space-Saving Table with Stools
With four stools that slide under the table for storage, this wood and metal dining set is perfect for use in an RV. Weighing 54 pounds and measuring 31.5 inches across, the table would be an appropriate replacement for most RV dinettes.
The stools could also double as extra seating or footrests in your RV living room. The wooden top is covered with moisture and scratch resistant veneer, and comes in multiple finishes to match any RV's décor.
Café Table for Two
For couples traveling without kids, a compact café table for two is the perfect RV dinette replacement. Designed for small spaces, this compact dining set comes with two chairs, which slide all the way under the table to minimize required floorspace.
The whole set weighs under 40 pounds, but it is sturdy with a 330-pound weight capacity per chair. The set is available in a variety of wood and painted finishes.
Small Dining Table with a Bench
Replacing your RV dinette with a dining set with two chairs and a bench frees up more floorspace in your RV. The bench slides under the table, using less space and creating more room for storage on travel days.
This particular table is just over 43 inches long, and the entire set weighs 67 pounds. The bench has a storage rack underneath, which doubles as an awesome RV shoe storage solution.
Folding Dining Table
This modern, folding dining table has tons of features that make it perfect for RV travel. First, the table has two-tier storage cabinets underneath, so the table doubles as additional storage space. The table itself is also multi-functional.
It can be completely unfolded and used as a four-person dining table or half opened to use a desk. The table is on wheels, so it can be easily moved around the RV, but the wheels are lockable to keep it in place during travel.
RV Dinette Replacement Ideas: Other Uses
If you do not wish to have a dining table in your RV, consider these other RV dinette replacement ideas that will completely transform the space to serve a new purpose.
Create a Office Space
For full-time RVers, one of the most practical RV dinette replacement ideas is converting the dining space into an RV office space. We removed our dinette and used the space to house a folding desk and a lightweight office chair.
The folding desk is easily stored for travel. Since many RV dinettes are placed under windows, it makes the perfect office space with a view. If office space is a priority for you, check out these RVs that have offices built-in.
Build a Pet Playground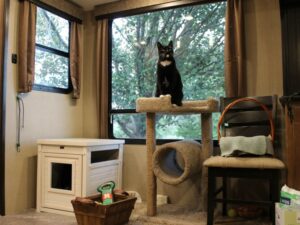 Another great use for the space taken up by a dinette is a dedicated pet space. Removing a dinette allows space for a cat condo, a dog kennel or a litter box cabinet. Use the remainder of the space to store your pet's toys, a feeding station and other accessories.
Read our complete guides to RV living with dogs and RV living with cats for more tips on traveling with your pet.
Make a Mini Playroom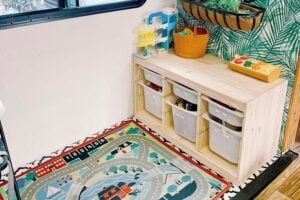 If you are traveling with kids, the dinette space can also be converted into a miniature playroom. Sarah of @caffeinated.rv.mom turned her RV's dinette area into a playroom by removing the furniture, adding a fun rug and installing a storage cubbies for toys.
Sarah's RV was also featured in our article on fun RV wallpaper ideas because of the leafy green wallpaper she installed in the playroom area. For older children, the dinette area could also be turned into a homeschooling station.
If you have a baby, you can also convert this space into an RV nursery nook.
Construct a Daybed
If your RV lacks comfortable sitting and lounging spaces, considering building a daybed in place of the dinette table. Built-in daybeds are a great option for RVs because they can be constructed in place, so they are secure for travel.
Daybeds can also be constructed with an open interior for extra storage space. This guide from loveyourrv.com provides complete instructions on how to build an RV daybed.
Add Storage Space
Our final RV dinette replacement idea is simple. Remove the dinette and use the space for extra storage. The open space is the perfect place to put storage cubbies, shoe racks or extra cabinets.
This simple storage chest with a removeable shelf is great option to create more storage in the former dinette space. The cabinet is lightweight and has a lock, so the doors can be easily secured for travel.
---
Thanks for reading our complete guide to RV dinette replacement ideas. We hope you found the perfect solution for your travel trailer or motorhome.
If you prefer to buy an RV that is turnkey, check out these Class C RVs that come with a table and chairs instead of a dinette.
If you want to makeover your dinette without replacing it, check out these easy to install RV dinette cushion covers.
For more RV renovation ideas, check out the following articles.
Happy Camping!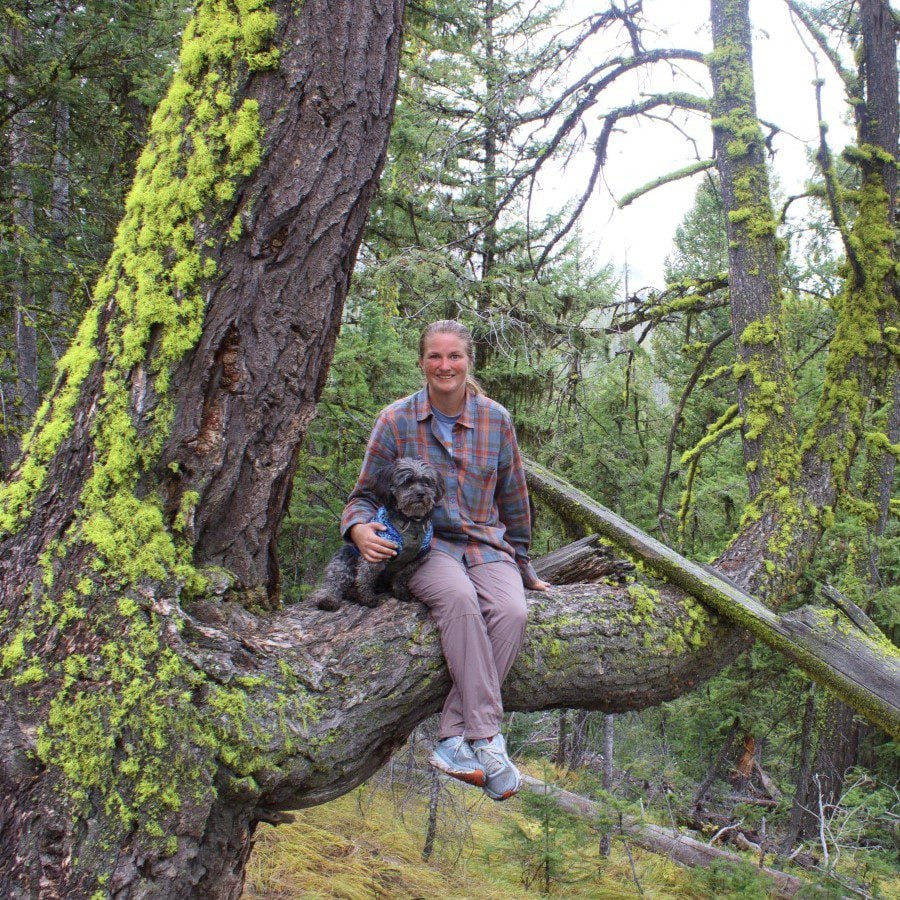 Christina Pate is a seasoned full-time RVer who, along with her husband Justin, has journeyed across the US, Canada, and Mexico. Drawing from her extensive travels, RV repairs and RV renovations, she founded Travels with Ted to guide and inspire fellow RV enthusiasts. Christina is also the co-author of The Owner's Guide to RV Maintenance and the creator of My RV Log Book.