This post may contain affiliate links. See our affiliate disclaimer here.
RVing allows travelers to bring their dogs along for the adventure. However, getting in and out of the RV can be challenging for many dogs, especially senior dogs and dogs with joint issues. Here are the best RV dog ramps to help your furry friends get in and out of the camper with ease.
Features to Look for in RV Dog Ramps
When selecting a RV dog ramp, consider the following features. In order to be safe and useful, RV dog ramps should be durable, portable and easy to use.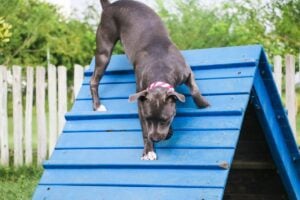 Steepness
The length of the dog ramp is super important. You want the ramp to sit in a spot where it creates a gentle incline, not a steep hill.
Ideally, the slope of the ramp will be between 18 and 26 degrees. To calculate the needed length of your RV dog ramp, measure the height of your RV door. Then use this handy ramp height calculator to find the ramp length that will create the ideal slope angle.
Keep in mind that your RV door height may vary as the RV is leveled at different campsites. Try to find a ramp length that will still work if the RV is a few inches higher or lower than your current height.
If your dog also needs help getting in and out of your truck or tow vehicle, you may need a second ramp that is more appropriate for your vehicle height.
Width
The required width of the ramp depends on the size of your dog. The ramp should be at least a few inches wider than your dog on each side.
As a general rule of thumb, the ramp should be at least 11 inches wide for small dogs and at least 16 inches wide for medium to large dogs.
Portability
When using a dog ramp for your RV, portability is key. You should be able to easily remove the ramp, so human campers can use the stairs to get in and out of the camper.
Lightweight, foldable ramps are ideal for RV travel, so the ramp can easily be removed and tucked away on travel days.
Traction
The material of the ramp is super important. To prevent slips and injuries, the ramp should be made of or covered in non-slip material.
Since dogs need to leave the RV to potty in every kind of weather, the ramp should also be water-proof and safe to use when wet.
Weight Rating
Finally, do not forget to check the weight rating on RV dog ramps. This is especially important for large dogs.
Many dog ramps are designed to support small dogs, so large dog owners need to find a ramp that has a weight rating higher than their biggest dog's weight.
Best RV Dog Ramps
Length: Adjustable from 47 to 87 inches
Width: 20 inches
Weight Rating: 300 pounds
PetSafe's Happy Ride Telescoping Dog Ramp is a great option for RVers, especially those with big dogs. The telescoping ramp can be adjusted to a large variety of lengths, so you can create the perfect incline regardless of your RV door height.
The adjustable length also allows you to use the ramp with a truck or tow vehicle. Other great features of this ramp include a high weight rating, a lightweight aluminum frame (it weighs 18 pounds) and a non-slip surface.
Length: 62 inches
Width: 16 inches
Weight Rating: 150 pounds
Another great RV dog ramp from PetSafe is the Happy Ride Folding Ramp. This ramp is super portable (it weighs just 10 pounds and folds in half for easy storage), which makes it a great option for travelers.
The ramp is also safe for dogs, with both a high traction surface and side rails. Rubber feet on the bottom of the ramp help keep it stable while in use.
Length: 70 inches
Width: 17 inches
Weight Rating: 500 pounds
The PetSTEP Folding Ramp is another great dog ramp that folds in half for easy storage. This 18.5 pound ramp is slightly longer than the PetSafe folding model, and has a high enough weight rating to support any dog.
The PetSTEP ramp has a soft non-slip ridged rubber surface that provides superior traction in wet or dry conditions. Heavy-duty rubber grips at each end keep the ramp in place during use.
Length: 71 inches
Width: 16 inches
Weight Rating: 200 pounds
Pet Gear's Travel Lite Dog Ramp is perfect for RV campers who have limited storage space. Instead of folding in half like other RV dog ramps, the Travel Lite Ramp has a tri-fold design, so it is super compact when closed.
The ramp weighs 15 pounds and has a slip-resistant surface. The ramp does not have side rails, which makes it more compact, but may make it more intimidating for some dogs.
Length: 96 inches
Width: 29.5 inches
Weight Rating: 800 pounds
For campers who need a longer or wider ramp, the EZ-Access Suitcase Trifold Portable Ramp is the solution. The ramp is 8 feet long and almost 30 inches wide, but folds in half in both directions for easy storage.
This large ramp is not lightweight, but the folding design makes it easier to carry. It also has a high traction surface to prevent dogs from slipping.
Upgraded Stairs for RV Dogs
If you dog is able to use stairs, but your RV stairs are too steep or wobbly, you can also consider upgrading the stairs instead of using a dog ramp. Upgraded stairs are more convenient than ramps since they can easily be used by people too.
Our small dog Ted is great on stairs, but the stairs that originally came with our RV were not stable enough from him to use without slipping. The stairs that came with our RV sat a foot off the ground and shook when stepped on.
So, we replaced those stairs with Torklift's Glow Step Revolution. This folding RV stair set has four steps and a top of the line adjustable height system that keeps them stable on any terrain. Ted can come up and down them easily on his own.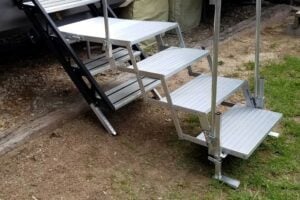 Port-A-Steps simply attach to your existing top step to create folding RV steps with a platform on top. The wide stairs create a more gradual incline that is easier for both dogs and people to climb.
The compact system is easy to install or take down in seconds with no tools. Port-A-Steps are available in 2, 3, 4 and 5 step models to fit any height travel trailer or fifth wheel. The brand also makes steps with a platform for motoromes.
Click here to see more options for upgraded RV steps with a platform.
If your dog slips on your RV stairs, RV step covers may solve your problem. These fabric step covers keep your RV steps from getting slippery and make it easier for your dog to walk up on their own.
They also help prevent the steps from getting too hot for puppy paws, and they catch dirt and help keep the inside of your RV clean.
---
Thanks for reading our guide to the best RV dog ramps. We hope you found a way to make your RV more accessible for your pup.
Check out our complete guide to RV living with dogs for more tips on keeping your furry friend safe and happy on the road.
Happy Camping!