This post may contain affiliate links. See our affiliate disclaimer here.
RVs have most of the comforts of home, including bathrooms, kitchens and a cozy place to lounge. However, entering and exiting RVs can be difficult for many campers. Most of the entry stairs built on RVs are unstable and often hang high over the ground.
Replacing your standard RV steps with RV steps with a platform creates a safe, sturdy entrance to your camper. Below are the 8 best RV steps with a platform. Read on to find the right set for your RV.
RV Steps with a Platform for Sale
The following 6 RV staircases all feature a large upper platform. All of these steps are also made to be portable and easily come down or store away for travel.
These fully assembled steps are super easy to set-up with a travel trailer or fifth wheel. To install, simply unfold the staircase and attach 6 lock braces to stabilize the stairs. Of course, the stairs can easily be folded back down to transport them between campgrounds.
These RV steps include a 16-inch deep half-platform in the place of the top step. An included handrail can be installed on either side of the stairs. 3-step and 2-step versions of the Econo Stairs are available to fit different height RV door frames.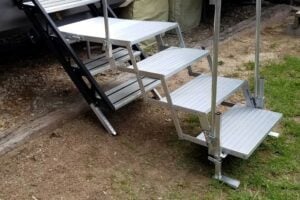 Port-A-Steps simply attach to your existing top step to create folding RV steps with a platform on top. The attachable handrails complete the lightweight and compact system that is easy to install or take down in seconds with no tools.
A secondary handrail can also be added on the other side of the stairs. Port-A-Steps are available in 2, 3, 4 and 5 step models to fit any height travel trailer or fifth wheel.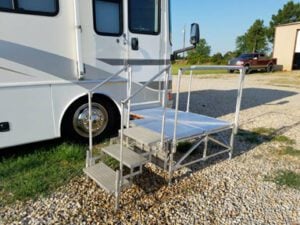 The Port-A-Deck platform is a proprietary system that simply folds in for transport and storage, but when expanded locks with gravity to create a secure and strong platform. The deck is free-standing yet portable to allow for easy door level access to all types of recreational vehicles.
Attachable steps and handrails are also quick and easy to assemble without any tools. For campers who wish to use the platform as a porch, multiple decks can be joined together to create a super-sized deck.
Since many motorhomes have electric steps, which cannot be manually retracted, RV-Co also offers a Port-a-Deck extension. This extension allows the electric steps to open and close under it without disrupting the existing steps. The extension is 31 by 19 inches and attaches to the Port-A-Deck with a special bracket.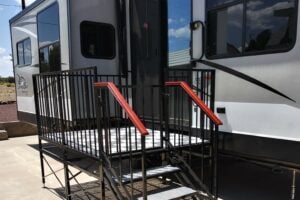 RV Decks & Stairs is a joint venture between HCCR out of Fountain Hills, Arizona and Steel Works out of Henderson, Nevada. They make both RV steps without a deck (StairLite) and RV steps with a platform (StairSafe).
The StairSafe RV steps have stairs that can be set up as center, left side or right side entry. The entire unit assembles or disassembles in less than 5 minutes and fits in most RV storage compartments.
HCCR's RV steps were also built with pets in mind. They have options for a pet ramp and a lockable gate to turn the deck into a kennel. If you are interested in RVing with pets, check out our list of the best dog friendly RVs on the market.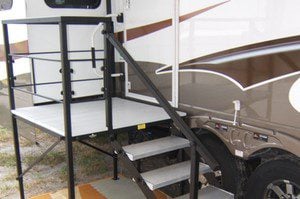 Sunrise Decks' Kingston Series Steps feature a 45 by 45 inch platform. The stairs are available in two different heights. The 24 series has a maximum height of 24 inches, and is a good fit for most Class A motorhomes.
While the 40 series has a longer maximum height and is suitable for travel trailers and fifth wheels. Both series have telescoping legs and adjustable steps allowing you to level the stairs with your RV. Sunrise Decks for RVs are portable and can be setup without any tools.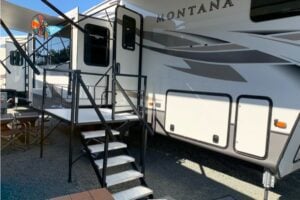 The Sequoia Series stairs by Sunrise Decks have similar features to the Kingston Series stairs, but feature a larger platform. The top deck on the Sequoia Series is 57 by 57 inches. The steps are also further away from the RV, allowing for two handrails.
DIY RV Steps with a Platform
If you are searching for wood RV steps with a platform or a full RV deck, considering building them yourself. Below are links to instructional videos from other RV campers who have built their own stairs.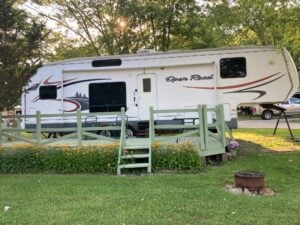 Portable Wooden RV Steps with a Platform
YouTube creators RetiredRenewedRerouted created portable, wooden RV stairs with large, platform-style steps. They built the plywood stairs in pieces, so they can easily be taken down and stored in the back of the pickup truck during travel.
The top landing is built from 3 1×6 boards, while the lower steps are built from 2 1×6 boards. These steps cost just over $100 to make, which is significantly cheaper than any premade RV stairs. Watch their video for more details and instructions on creating your own DIY RV steps.
DIY RV Deck
If you are hoping for more than a platform, consider building a full deck off the side of your RV. Check out Caper Camper's YouTube video with instructions on how to build an RV deck.
While their deck is not suitable for travel, it does move when you need to move the RV. A full DIY RV deck is perfect for campers who have an annual campsite or park their RV on their own property.
Other RV Step Products
If installing or building RV steps with a platform is too costly or time consuming, there are other ways to make your RV stairs safer and more stable.
Most RV steps are made of metal, and easily become slippery in wet and cold weather. Wrapping your RV stairs with step covers, creates better traction for campers entering the RV.
Covers, like the Camco Step Rug, also help to cut down the amount of dirt tracked into the RV. Camco's covers are weather and mildew resistant, so they can be left, on even in the rain.
Platform steps are sturdy platforms meant to be placed at the bottom of fold-down RV stairs. Platform steps, like the Camco one pictured above, provide a stable last step when exiting the RV.
Camco's platform step features adjustable legs so the height can be adjusted based on the current height of the RV. The step is sturdy enough to support up to 1000 pounds and features non-slip feet. With the legs folded down in the transport position, the step is just 3-inches high.
Also made by Camco, the Self-Stor Save-A-Step is an under step mount to stabilize RV stairs. This under-mounted stabilizer is secured under the bottom step like a jack, in order to secure the stairs and prevent rocking.
Keeping the RV stairs stabilized also prevents sag and wear over time. The stabilizer is made from heavy-gauge steel with a 3/4 inch solid metal screw thread and has a 1000 pound rating.
---
Thanks for reading. We hope you found the perfect set of RV steps for your travel trailer or motorhome. Share your reason for wanting to upgrade your RV stairs in the comments section below.
Happy Camping!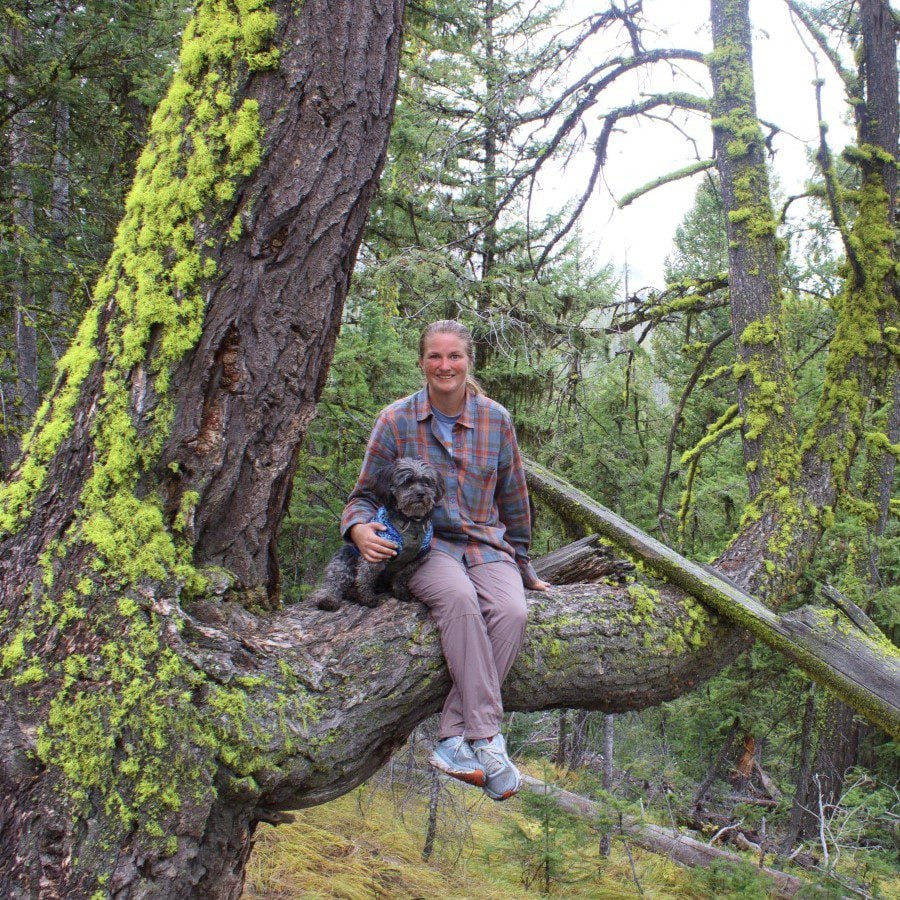 Christina Pate is a seasoned full-time RVer who, along with her husband Justin, has journeyed across the US, Canada, and Mexico. Drawing from her extensive travels, RV repairs and RV renovations, she founded Travels with Ted to guide and inspire fellow RV enthusiasts. Christina is also the co-author of The Owner's Guide to RV Maintenance and the creator of My RV Log Book.