This post may contain affiliate links. See our affiliate disclaimer here.
Welcome to our mouthwatering blog post dedicated to the ultimate camping food: tacos! We are full-time RVers, who often take weekend trips with our tent. Tacos have become one of our go-to camping dinners because they are easy and delicious.
In this post we share the 10 best camping tacos. Our taco extravaganza includes make-ahead camping tacos, campfire tacos, breakfast tacos, vegetarian options, tacos in a bag and more!
Best Campfire Tacos
These delicious camping taco recipes are cooked over the campfire. With different fillings and cooking methods, there are great campfire taco recipes for every family.
If you are looking to up your campfire cooking game, check out our picks for the best campfire cooking kits.
Campfire Skillet Tacos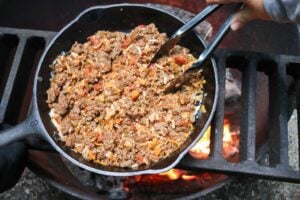 Campfire Foodie's skillet taco recipe is designed to be cooked over the campfire. This twist on traditional ground beef tacos, uses nacho chips instead of taco shells to create a filling, kid-friendly camping dinner.
Campers will need a cast iron skillet to cook the taco filling over the campfire. To make this camping dinner even easier, campers can pre-cook the ground beef at home. You could also swap the beef with black beans to make a vegetarian version of this campfire taco recipe.
Campfire Tacos for Picky Eaters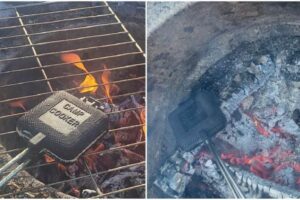 Refresh Camping's pie iron campfire tacos are the perfect camping tacos for families with picky eaters. These camping tacos are wrapped up into one edible pocket, so they can be individually customized with fillings depending on each person's preferences.
All you need to cook these tacos is a pie iron, a pan that is hinged together at one end to form a clamshell-like structure. For campfire cooking, we recommend a cast iron pie iron with a long handle, like the Ailitor Cast Iron Camp Pie Cooker.
Campfire Fish Tacos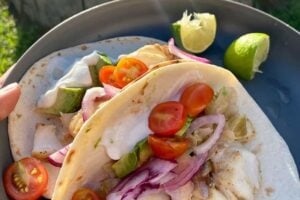 If you plan on catching your dinner, Champagne Tastes has an awesome campfire fish taco recipe that will impress everyone at the campground. The recipe includes detailed directions for perfectly cooking fish over the campfire.
The fish is then placed in a tortilla with sliced avocado, sauerkraut, tomatoes and a quick lime yogurt sauce to create a gourmet outdoor supper. If you want to cook these tacos on your next camping trip, you will need to pack a cast iron skillet.
Vegan Jackfruit Campfire Tacos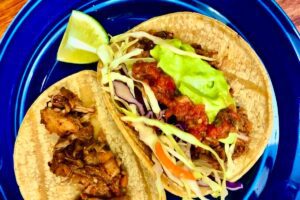 Vegan campers will love these jackfruit street tacos from The Carrot Underground. This healthy one-skillet taco recipe can easily be cooked over a campfire using a cast iron pan.
If you want to further enhance the smoky flavor of these campfire tacos, just add chipotle sauce, smoked paprika, smoked masalas, smoked salt or liquid smoke.
Dutch Oven Camping Tacos
Instead of cooking tacos in a pan over the fire, you can also use a Dutch oven over the fire to create some unforgettable camping tacos.
Classic Dutch Oven Camping Tacos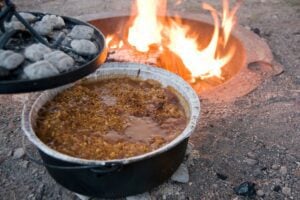 Glamper Gear provides step-by-step instructions for making classic tacos in a Dutch oven. The recipe includes options for ground beef, turkey or shrimp tacos.
These tacos are super easy to make, and allow you to sit around the fire and visit with your fellow campers while the oven is heating and the tacos are cooking. This is the perfect recipe for campers who want an easy dinner.
Dutch Oven Taco Casserole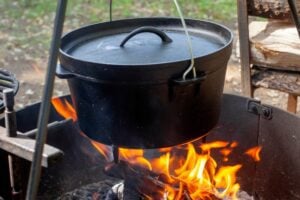 For a unique twist on camping tacos that is sure to please your friends and family, try Let's Camp S'more's Dutch oven taco casserole. After cooking the meat, the tacos are assembled in the Dutch oven and covered in cheese and sauce.
The casserole takes over an hour to bake over the fire, but it can feed a crowd. The recipe makes enough to fit 26 tacos into the casserole.
Camping Tacos in a Bag
Tacos in a bag, also know as walking tacos, are a perfect camping meal. They are easy to cook, easily customized for picky eaters and require no plates!
Ground Beef Tacos in a Bag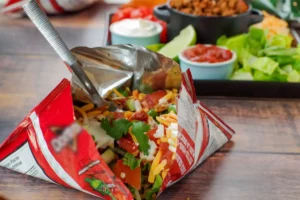 Food Meanderings has a great, classic walking taco recipe for camping trips. Each taco starts with a snack-size bag of Doritos (or other chips) and is filled with ground beef, tomatoes, lettuce, cheese and other toppings of your choice.
The ground beef for these tacos cab be cooked over the campfire, or pre-made and heated up on your camp stove. Pack a jar of jalapenos or a bottle of hot sauce to add a little more spice to this simple recipe.
Vegan Walking Tacos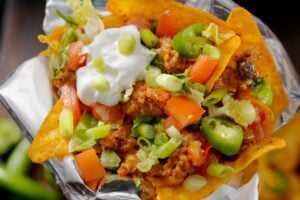 Vegans, or any camper who loves their veggies, will prefer Serene Trail's walking taco recipe. Like a traditional camping taco in a bag, you start with a bag of chips. Instead of covering the chips in beef and cheese, you smother them with beans and fresh veggies.
I particularly love this flexible recipe, because you can use any veggies from corn to onions to peppers, depending on what is in season. You cook beans and veggies over the campfire.
Breakfast Camping Tacos
Camping tacos aren't just for dinner! They make great breakfasts too. Check out these easy camping taco recipes for your first meal of the day.
Pie Iron Breakfast Tacos
If you purchased a pie iron to make camping tacos for dinner, you can also use the tool for breakfast. Follow this simple recipe on REI's website to whip up an easy but delicious meal.
Eggs and beans can be cooked in a pan over the fire or on the camp stove. Then, the full taco is assembled and cooked inside the pie iron. This is a perfect breakfast for cold mornings, when you want to be huddled around the fire.
Pancake Breakfast Tacos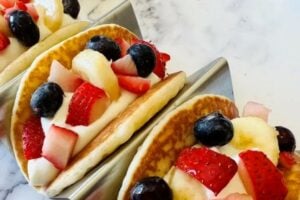 If you love to experiment in the kitchen (I mean over the campfire), these pancake tacos from Couch Potato Camping are the perfect breakfast for your next camping trip. The flapjack serves as the shell and can be stuffed with either yogurt and fresh fruit or scrambled eggs and bacon.
For a super quick meal, buy pre-made pancakes or pre-make pancakes yourself. If you choose a sweet taco stuffed with fruit, quickly heating up the pancakes is the only cooking required.
Tips for Cooking Camping Tacos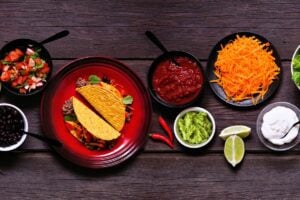 Plan and Prep Ahead
Before heading to the campsite, plan your taco menu and prep as much as you can. Chop vegetables, marinate meats and pre-cook fillings, such as shredded chicken or seasoned ground beef.
This way, you'll have less work to do at the campsite and more time to enjoy your camping experience.
Use a Meat Thermometer
Controlling the temperature of a fire is more difficult than setting the temperature on an oven. When cooking taco meat over a campfire, always use a meat thermometer to ensure it is fully cooked and safe to eat.
Keep the Taco Shells Warm
To ensure that your taco shells or tortillas stay warm and pliable until serving time, use insulation. After heating them over the stove or fire, wrap the shells or tortillas tightly in aluminum foil, and then place them inside a clean, heat-resistant cloth or towel.
Leave No Trace
Bring biodegradable soap and a scrub brush to wash your cooking utensils, and dispose of any food waste properly, following Leave No Trace principles.
Be mindful of your surroundings and leave the campsite as clean (or cleaner) than you found it. Never burn trash in your campfire as it can release toxic chemicals into the environment.
---
Thanks for reading our guide to the best camping tacos. We hope you found an awesome recipe for your next adventure.
If you plan on camping in an RV, also check out our list of 30+ easy RV meal ideas.
Happy Camping!