This post may contain affiliate links. See our affiliate disclaimer here.
Is there an RV park in New York City? There is now! Skyline Drive In RV Campsite, an RV park conveniently located in the heart of the city, is the newest addition to the city's accommodations.
RV Parks in New York City Overview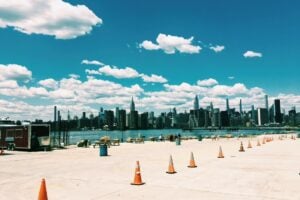 Until 2023, there were no proper RV parks located in New York City. Campers looking to visit the Big Apple had to either stay at an RV park in New Jersey or upstate New York, and then drive or ride public transit into the city.
However, in 2023 the Skyline Drive In RV Campsite opened in Greenpoint, Brooklyn.
Skyline Drive In RV Campsite Overview
Skyline Drive In Campsite is located next to the Skyline Drive In Movie Theater, a unique drive-in cinema experience. Both the theater and RV park are situated on the East River in Brooklyn and have amazing views of the Manhattan skyline.
The Skyline Drive In Campsite offers 6 RV sites, which are all located on an open concrete surface around the movie theater. The campsites have water and electric hookups, and are built to accommodate RVs up to 45 feet.
All of the RV spots are pull-through sites. An onsite dump station is also available for campers.
Skyline Drive In RV Campsite Reservations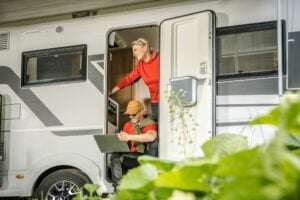 Skyline Drive In RV Campsite is open and accepting reservations. Reservations can be made for any of the 6 New York City RV campsites through HipCamp. The RV camping fee is $75 per night, which is a steal for New York City accommodations.
Skyline Drive In RV Campsite Amenities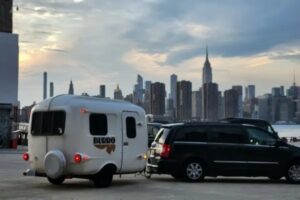 Given its urban location, Skyline Drive In RV Campsite has limited amenities. Of course, campers staying at this RV park will never be bored since they have access to museums, restaurants, parks and other city attractions.
Amenities available at Skyline Drive In RV Campsite include Wi-Fi, a dump station and the onsite outdoor movie theater. Movies are included with camping fees. If you can't see the movie from your RV, the drive in theater also has a seating area.
Pets are welcome to stay in RVs at the campground. Campers who are worried about staying at an RV park in New York City should also know the campground is monitored by 24/7 security.  
Skyline Drive In RV Campsite Location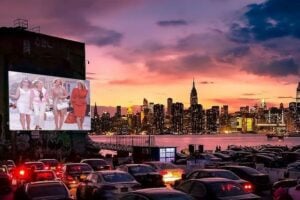 So where exactly is this RV park in New York City located? It's address is 1 Oak Street in Greenpoint, Brooklyn. It is located right on the East River, so it has awesome views of the Manhattan skyline.
The RV park is just 4 blocks or an 8-minute walk from the nearest subway station, which is the Greenpoint Avenue stop. Taking the the subway, campers can get from the RV park to Times Square in just 30 minutes.
There are also plenty of bars and restaurants within walking distance of the RV park.
Other RV Parks near New York City
If Skyline is fully booked or you are too nervous to drive into the city, there are some other RV camping options near New York City.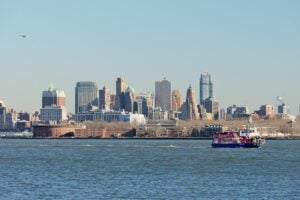 Liberty Harbor RV Park
Located just across the Hudson River from New York City in Jersey City, New Jersey, Liberty Harbor RV Park is another great NYC camping option. The RV park has 50 campsites with electric and water hookups and a communal dump station.
Amenities at the RV park include bathrooms, a laundry room, Wi-Fi and an onsite restaurant and bar. RV campsites cost $149 per night.
To access the city from Liberty Harbor, campers can take the NY Waterway Ferry right from Liberty Harbor. The ferry runs Monday to Friday. On weekends, campers can walk to the PATH train for a ride into Manhattan.
Croton Point Park RV Campground
Situated on a peninsula overlooking the scenic Hudson River, this Westchester County park has an RV campground not far from the city. The park has RV campsites with full and partial hookups.
Within the larger park, campers can enjoy a beach, hiking trails, picnic areas, ball fields, a boat launch and fishing. Full hookup campsites cost $60 per night or $270 per week.
Campers wanting to go into the city can utilize the Metro-North train system. The ride from the Croton-Harmon station to Grand Central Station takes about an hour.
---
Thanks for reading our guide to Skyline Drive In Campsite, an RV park in New York City! We hope you found everything your need to plan your Big Apple camping vacation.
For more awesome camping experiences, see our list of the 8 most unique RV parks in America.
Happy Camping!