This post may contain affiliate links. See our affiliate disclaimer here.
When shopping for motorhome RVs, you will often hear the term diesel pusher. Of course, if you are not familiar with RVs, this term means nothing to you. So, what is a diesel pusher RV?
The short answer is a diesel pusher is a Class A motorhome with a rear diesel engine. Keep reading to learn more about diesel pushers and why they are highly desirable RVs.
What is a Diesel Pusher?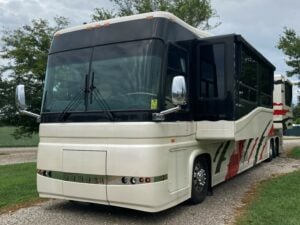 As noted above, a diesel pusher is a Class A recreational vehicle with a rear engine. To fully understand what makes an RV a diesel pusher, you first need to understand what defines a Class A motorhome.
A motorhome is defined as a vehicular unit designed to provide temporary quarters for recreational, camping or travel use, built on or permanently attached to a self-propelled motor vehicle chassis or on a chassis cab or van that is an integral part of the completed vehicle.
Class A RVs are the largest motorhomes and are characterized by a flat front (compared to Class C motorhomes which have a cabin chassis).
There are three types of Class A RVs: gas engines, front-engine diesels and diesel pushers. Diesel pushers are considered the best Class A RVs and are typically the most expensive.
What are the Advantages of a Diesel Pusher RV?
Now that you know what a diesel pusher is, it is time to talk about why you would purchase one. Below is a summary of the benefits of a diesel pusher over other types of motorhomes.
Push Power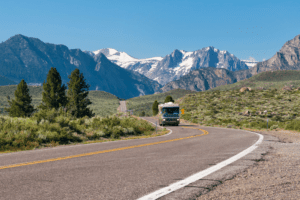 The term diesel pushers comes from the location of the RV's power. While a front engine pulls an RV, a rear engine pushes the RV forward. With their additional power, diesel pushers offer a smoother ride, especially when climbing hills and mountains.
Their additional power also makes diesel pushers better than gas or front-engine diesel motorhomes for towing larger vehicles.
Longevity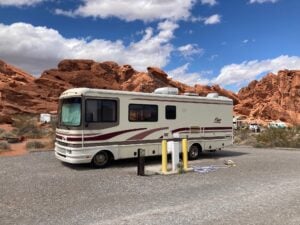 One of the biggest advantages of diesel pusher RVs is their long life expectancy. Class A RVs with diesel engines should last 300,000 miles or more, if properly maintained. On the other hand, Class A RVs with gas engines typically only last for about 200,000 miles.
The extra 100,000 miles on your diesel engine could mean several extra years of traveling in your RV. The longevity of diesel pushers also means they typically have a higher re-sale value than gas motorhomes.
Expansive Storage Space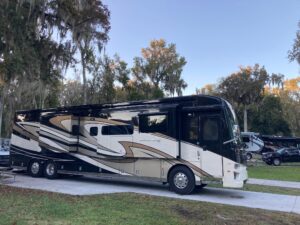 With the engine in the rear of the RV, diesel pushers do not have a driveshaft coming from the front end to the rear wheels. This leaves more room for storage space and large RV holding tanks.
Diesel pushers typically have oversized holding tanks and more storage bays underneath the RV.
Luxury Features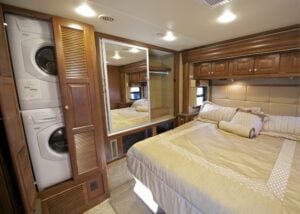 Diesel pushers are the highest-end RVs made by most motorhome manufacturers. While their price is driven by the engine, many manufacturers also add luxury interior features to diesel pushers to help justify their large price tag.
From large bathrooms to luxury kitchen features to washers and dryers, it is possible to find a diesel pusher with all the comforts of home.
Less Noise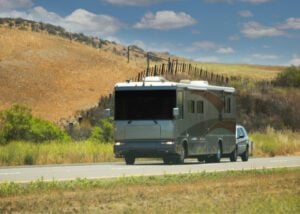 With the engine in the rear of the RV, drivers and passengers in diesel pushers hear much less noise than a typical motorhome. The quiet allows everyone to better focus on the road and enjoy the ride.
What are the Disadvantages of a Diesel Pusher RV?
While there are several clear reasons to purchase a diesel pusher, there are also some downsides to consider. Below are the main drawbacks of owning a diesel pusher.
Sticker Price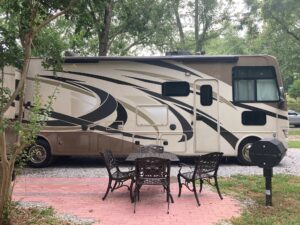 The main reason not to purchase a diesel pusher is the price. New diesel pushers start around $300,000, but the price tag for the highest-end diesel pushers is six figures.
The longevity and power are the driving factors behind the high prices, but diesel pushers are out of budget for many campers regardless of their benefits. If you really want a diesel pusher, but cannot afford a new one, consider buying a used RV that is in your budget range.
Maintenance Costs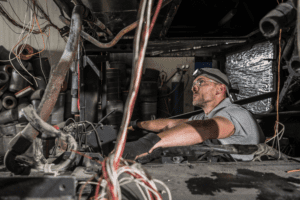 Not only is the retail price high for diesel pushers, they also have higher maintenance and repair bills. Basic maintenance, such as an oil change is more expensive for diesel engines.
If something goes wrong with the motorhome engine, the repairs needs to be completed by a diesel specialist who has special training, and therefore, charges more.
Maneuverability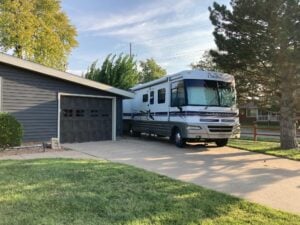 Diesel pushers are typically really big. While this might be an upside for campers who want loads of storage and extra sleeping space, it also makes the motorhome more difficult to drive.
Many diesel pushers are over 40-feet long, which makes turning, backing-in and parking difficult tasks. Campers who have never driven a large vehicle should consider if driving a diesel pusher is worth the benefits.
Best Diesel Pusher RVs
If you are interested in purchasing diesel pusher after learning about the pros and cons, consider the following 3 models.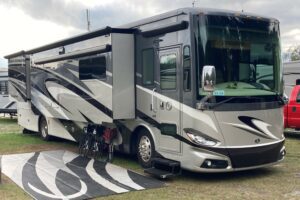 Tiffin is one of the top manufacturers of luxury Class A motorhomes, and their Allegro Red motorhome is one of the best diesel pushers available. It has a power rear diesel engine, and offers an impressive 10,000 pounds of towing capacity.
The luxury interior features handcrafted cabinets, tile floors and a central vacuum system. The largest Allegro Red floorplan, the 38 KA, features a large rear bathroom with washer and dryer hookups, as well as, a second half bathroom.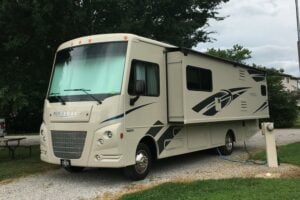 The name Winnebago is synonymous with motorhomes, so it is no surprise their Forza model made our list of the best diesel pushers. The Forza has everything you need for a smooth road trip, including a DriveTech driving system, 6-way power assist driver and passenger seat pedestals and 3-point seat belts.
Luxury interior features of the Forza include plank flooring, wood cabinets, up to 3 slide outs and modern finishes The Forza also made our list of the best RVs with office space because of its unique built-in hobby station.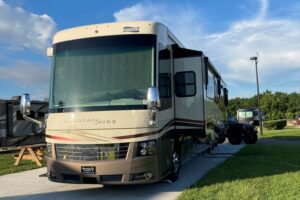 The Newmar Ventana is another luxury diesel pusher for campers who value power and style. These motorhomes were built with chefs in mind. All the floorplans come equipped with brushed aluminum front refrigerators and convection stainless steel microwaves.
Optional upgrades, including Whirlpool refrigerators, dishwashers and a flush-mount induction cooktop, push the boundaries of camping even more. Ventana rigs also feature large pantries, passenger seat work stations and pillow top mattresses.
FAQs about Diesel Pusher RVs
What is a Diesel Pusher RV?
A diesel pusher is a specific type of Class A recreational vehicle. Diesel pushers are defined by two specific features. To be considered a diesel pusher, the RV must have a diesel engine that is located in the rear of the motorhome.
Can Class C RVs be Diesel Pushers?
No. Diesel pushers have a rear engine, and all Class C RVs have a front engine in the truck-shaped part of the chassis. Diesel pushers are always Class A RVs.
How Much Do Diesel Pusher RVs Cost?
Diesel pusher RVs start at around $300,000 for smaller Class A RVs. The largest, luxury diesel pushers cost over $1,000,000.
How Many Miles Does a Diesel Pusher Last?
With proper care and maintenance, a diesel pusher RV can be used for 300,000 or more miles.
---
That concludes our definitive guide to diesel pusher RVs. If you have made it this far, you now understand:
What is a Diesel Pusher RV?

The Benefits of a Diesel Pusher

The Downsides of a Diesel Pusher

The Best Diesel Pusher Models
If you have any questions about shopping for, purchasing or camping in RVs, drop them in the comments section below.
Happy camping!