This post may contain affiliate links. See our affiliate disclaimer here.
If you are searching for mobile RV repair, you are most likely stuck at the campground or on the side of the road with a broken RV. Whether your air conditioner is shot or your slide outs will not come in, you need help quickly. In this article, we share how to quickly find a mobile RV repairman near you and everything else you should know about mobile RV repair.
Find a Mobile RV Repairman Near You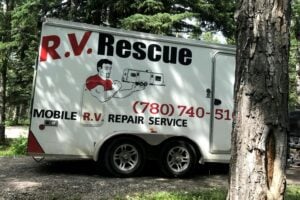 Ask the RV Park Staff
Most RV owners hire a mobile RV repairman when they have issues during a camping trip. If you are already at a campground or RV park, the easiest way to find a mobile RV repairman near you is to ask the staff. The manager and office staff at RV parks will likely know one or more local mobile RV repairmen. Many parks even have a mobile RV tech living on-site. If you are at a state park, find the camp host and ask them for a recommendation.
Ask Fellow Campers
In addition to asking RV park staff, also chat with your fellow campers and RV owners. While the campground staff can provide a list of mobile RV repairmen near you, other campers can provide personal recommendations. If you know another camper had recent repairs on their RV, ask about their experience with local RV repair services.
Call your Dealership
If you are camping in the same region where you purchased your RV, call your dealership to ask for a recommendation. While most dealerships also have RV service shops, they typically do not provide mobile RV services. However, they will be well-connected with other local RV industry professionals and should be able to provide a recommendation for a mobile RV repairman near you.
Search on RV FIXR
RV FIXR is a platform that connects RV owners with mobile RV repairmen across the United States. Sign up for the free service to quickly and easily find a mobile RV repairman near you. They have an automated service order platform for RVers that matches you with the best local repair service. As an added benefit, RV FIXR provides transparent pricing upfront for your services, so you know if the price is acceptable before the technician arrives.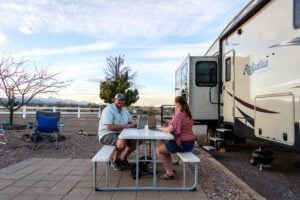 Perform a Google Search
If all else fails, turn to a Google search to find a mobile RV repairman near you. Simply search for the following terms until you find a local professional who is available and qualified to fix your RV.
Google Search Terms to Find a Mobile RV Repairman Near You:
Mobile RV Repair Near Me
Mobile RV Repairman Near Me
Mobile RV Service Near Me
Mobile RV Technician Near Me
On-Site RV Repair Near Me
Mobile RV Repair in INSERT TOWN
Mobile RV Tech in INSERT TOWN
When to Hire a Mobile RV Repairman
Before calling a mobile RV repairman near you, consider if an on-site service is right for the job. There are some RV repairs that are easily handled by mobile repair companies, while others are better handled by a full-service repair shop.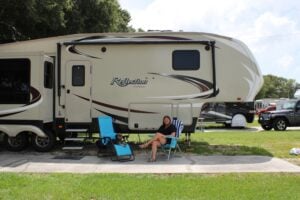 During a Camping Trip
When something breaks at the campground that hinders your camping trip but doesn't render the RV unusable, call a mobile RV repairman. For example, if an appliance, such as your air conditioner or hot water heater stops working, a mobile RV tech will likely be able to quickly diagnose and repair your issue. Do verify that the campground allows on-site repairs before hiring a mobile RV repair tech.
On the other hand very minor repairs and major repairs probably should be handled elsewhere. If you have a minor issue, such as a cracked seal around a window or a clogged shower, try to fix the problem yourself. Head over to YouTube and search for how to videos or visit your RV brand's owner forum for advice. Even if you cannot repair the issue yourself, the problem can likely wait until your trip is over.
Major repairs may also need to be handled in a full-service shop with more employees and equipment. For example, if your entire roof needs to be replaced, a mobile repairman will likely be unable to complete the job on site. In the instance of major damage, you may have to cut your camping trip short.
For a Quick Roadside Repair
If you are stuck on the side of the road with a damaged RV, hopefully you have a roadside assistance service. These services will send someone to change your tire or send a tow vehicle if your RV is no longer safe to drive. If you have a blown tire or engine issues you should call a roadside assistance company or a mechanic, not an RV repairman.
However, if you are having other minor RV issues during travel, such as leaking fresh water tank or a battery issue, a mobile RV repair service may be able to come to the rescue.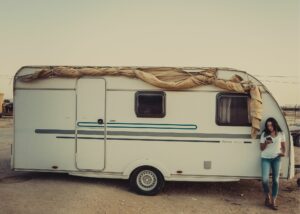 You Need a Used RV Inspection
When purchasing a used RV, you should always hire a professional to inspect the RV for water damage and other common issues. Many mobile RV repairmen are also certified RV inspectors. If you need a used RV inspected, head to the NRVIA's website to find a local inspector.
Questions to Ask a Mobile RV Repairman
Before hiring a mobile RV repairman to work on your rig, you should ask them several questions to verify their qualifications and ensure pricing is transparent.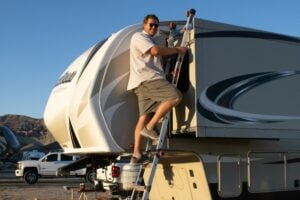 Questions About Their Experience
The first set of questions you should ask revolve around the RV repairman's experience. Before hiring a mobile RV repairman, you want to be confident they have training and experience in RV repair.
How did you become certified to repair RVs?
Certified RV technicians earn their label through a variety of programs and tests. Most comprehensive RV technician courses are about 3 months long. However, some RV repairmen begin working after just a few weeks of education. Before hiring a mobile RV repairman near you ask them where they were trained, how long the program lasted and if the program included hands-on experience.
How long have your been repairing RVs?
If you speak to an RV technician whose education seems less than robust, also ask about their professional experience. Ask how long they have been working as an RV repairman and how long they have had their mobile repair company. If an RV technician has both limited training and experience, it may be best to find another repairman.
Where can I locate online reviews?
If you are unsure about the RV repairperson's experience, ask them where you can find online reviews about their work. Most experienced RV technicians should have collected online reviews on Google, Yelp or some other platform. Ask the technician where they have the most reviews. Then go read those reviews before hiring them.
Questions About Their Pricing
If an RV repairman passes the experience test, the next set of questions should be about their rates. Billing for mobile RV repair involves several factors. Ask all of the below questions to ensure you fully understand how much the RV repair will cost you.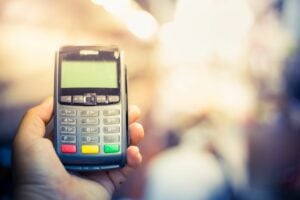 Do you perform warranty work?
Some mobile RV repairmen are happy to honor warranties and will work to ensure that your repairs are covered. However, many small businesses prefer not to deal with warranty companies and only accept direct payment. If you want your repairs to be covered by your warranty, ask this question before delving into anything else.
What are your labor rates?
All mobile RV repairmen should have a standard hourly labor rate that they charge all clients. Ask for their standard labor rate, as well as other costs before hiring a mobile RV repairman near you. While labor rates will vary based on location and demand, RVers should expect to pay between $100 to $150 per hour in most parts of the country.
Do you use a flat rate guideline?
While most RV repair services have an hourly labor rate, how they apply that rate varies. Some mobile RV technicians charge based on the actual time spent working while others have a flat guideline rate for specific repairs. The flat guideline rates are based on how much time the repair should take, not how long it actually takes. For example, if the guide states that a convertor replacement should take 2 hours and the tech's hourly rate is $100, they will charge $200 in labor fees regardless of how long the repair actually takes.
A repairman charging based on actual time could stretch a job out to earn more money. On the other hand, with a flat rate you might be charged for more hours of work than were actually done. Neither rate method is necessarily better, just make sure you understand the fee structure and are comfortable with the potential costs.
Do you have a minimum service call charge?
Many mobile RV repairmen have a minimum service charge. This minimum fee will be charged to the RV owner for showing up to your campsite and taking a look at your issue. So, if the tech shows up, looks at your RV for two seconds and flips one switch, you will still be charged this amount. The minimum service charge is typically equal to the rate for one hour of labor.
Do you charge travel fees?
If mobile RV technicians cover a large area, they sometimes charge travel fees to cover their fuel and time spent on the road. Ask RV repairmen if they charge a travel fee. If they do, ask for details on the fee and how far they are driving. It is also typical for mobile RV repairmen to bill you for any toll charges they incur on their drive.
How much do you markup parts?
It is common for mobile RV repair services to charge a markup for any parts they use in your RV repair. The parts markup covers their time and expenses associated with sourcing and storing parts. To ensure you have complete price transparency, ask how much parts will be marked-up on your bill. There is no standard markup price, but it is worth asking so you know if it is worthwhile to source parts yourself.
Do you accept credit cards? Is there a fee?
Last, but not least ask the mobile repair company if they accept credit cards or if you must pay in cash. If they do accept credit cards, ask if there is an extra processing fee for paying with one.
Questions About the Repair
Next, ask a few question about your specific issue to access how confident the technician is about fixing the issue and what the timeline is for fixing it.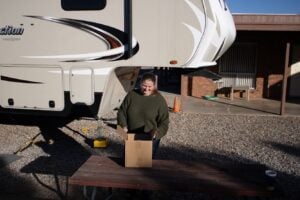 Have you seen this problem before?
While you are chatting with an RV repairman about your issue, go ahead and ask them if they have seen similar problems before. Their response will indicate whether your issue has a simple fix or if lengthy diagnostics will be required. If your issue is with a specialty component or appliance, such as a tankless water heater, ask them if they have experience working on issues with the specific item.
Do you have the needed parts on hand?
For some RV issues, it may not be clear what parts are needed until the RV technician's diagnosis is complete. However, for other repairs, such as a missing jack pad, it is clear what parts are needed to complete the repair. Before hiring a mobile RV repairman near you, make sure they have the part you need. There is no point in paying travel and labor fees, if the repairman is just going to have to return in a few days with the proper part.
Other Important Questions
I know this is a lot of questions, but there are a few more important things to ask before hiring an RV repair service. Finish your call with these final few questions to verify the tech is the best RV repairman near you.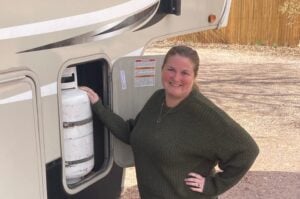 Do you have liability insurance?
All mobile RV repairmen should have liability insurance to cover injuries and property damage that occur while on the job due the repairman's negligence. The insurance also protects the RV owner, because it provides funds to cover any major damage accidentally caused by the repairman (for example, if their ladder fell through your window). Do not hire a mobile RV tech that does not have liability insurance, as it indicates they are not properly prepared.
Are you certified to work with propane?
If you repair is related to your propane tanks or propane system, ask the technician if any special certifications are required to work on propane. While the RV repair industry is not highly regulated, some states do have legal requirements for working with propane. Ask the repairman if their state has such requirements, and if so, do they have the proper certifications to work on your RV.
Pros and Cons of Using a Mobile RV Repairman
Pros of Using a Mobile RV Repairman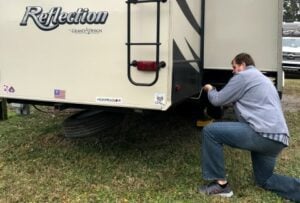 Convenience
The biggest advantage of hiring a mobile RV repairman near you is not having to take your RV to the shop. While the repairperson is driving to your campground, you can continue to enjoy your camping trip instead of trying to arrange transportation to and from the shop.
Dedicated Attention
When you take your RV into a shop, it often sits around while technicians work on other RVs or wait for warranty approval. When you use a mobile RV repairman, they will only come to your RV when they are actively diagnosing or repairing the issue. The repair company can't hold your RV hostage for days or weeks if it is never in their shop.
Time with the Technician
When your RV is in a repair shop, you will receive brief phone calls explaining the issue and repair plan. However, when the RV technician is on-site you will likely get more detailed explanations of every step in the testing process. This detail will help you better understand the issue, which will make future repairs simpler and may teach your how to prevent the problem again. Of course, you should be respectful of the RV repairman's space. Give them room to work and do not hover while they are working in tight RV spaces.
Cons of Using a Mobile RV Repairman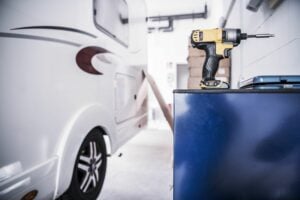 Price
If you read the section on Questions to Ask Mobile Repairmen, then you know there are several line items on a mobile RV repair bill. With extra fees for travel and convenience, mobile RV repairs are typically more expensive than equivalent repairs in a service shop. However, mobile repair may be more affordable for full-time RVers who have to pay for alternate lodging while their RV is in a repair shop.
Limited Capabilities
The other major downside of mobile RV services is their limited capabilities. Without the tools of a service center or garage, mobile technicians are unable to work on the chassis and certain other parts of the RV. Without their own shop, mobile technicians may also be limited by weather and campground rules. For example, roof repairs cannot be done if rain is in the forecast and a campground may not allow repairs that require loud power tools.
Mobile RV Services for RV Maintenance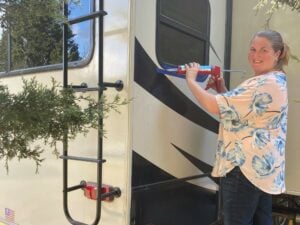 Many mobile RV technicians also offer basic RV maintenance services for your fifth wheel, travel trailer or motorhome. While, mobile repairmen are more than qualified to perform these services, they are likely to overcharge you. As we discussed earlier, typical mobile RV service fees are more than $100 per hour plus additional fees for travel and supplies.
Since most RV maintenance tasks are simple to perform without any specialized skills, it is not ideal to shell out thousands of dollars each year just to prevent issues with your RV. For just $24.99, you can purchase our eBook, The Owner's Guide to RV Maintenance. The PDF guide has step-by-step instructions on RV appliance maintenance, upkeep of the RV exterior and roof, proper holding tank care and safety equipment checks.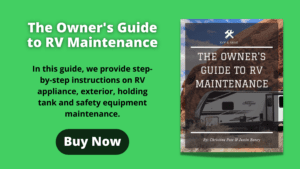 Unless you have physical limitations that prevent you from climbing a ladder and crawling under the RV, you should never pay someone else to perform simple RV maintenance tasks.
FAQ about Mobile RV Repair
What is the labor rate for mobile RV repair?
The labor rate for mobile RV technicians varies significantly by location. Typical mobile RV technician labor rates in the United States are between $100 and $150.
How Can I Find a Mobile RV Technician Near Me?
The easiest way to find a mobile RV tech is to ask for a recommendation from the campground staff. If you are not at a campground, ask fellow campers or use online resources, such as Google or RV FIXR.
What Components will Mobile RV Repair Services Not Fix?
Available services are different for each mobile RV service company, but most mobile RV services do not work on chassis or engines.
Do Mobile RV Repair Services Do Warranty Work?
Some mobile techs are willing to do warranty work, and others are not. Ask about their warranty policy before hiring a technician.
How to Become a Mobile RV Repairman
After learning about the high demand and high labor rates for mobile RV technicians, you may be wondering how someone becomes one. There are a handful of programs in the United States that train future RV technicians. These educational courses can start a career as a mobile RV tech. Alternatively, many RV owners take these courses to learn how to perform their own repairs so they do not have to pay for mobile RV tech.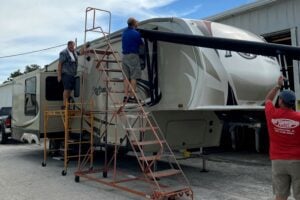 RV Technician Schools
National RV Training Academy
Located in Athens, Texas, the National RV Training Academy (NRVTA) offers a variety of educational RV courses. For RV owners, who just want to learn the basics, NRVTA offers a 5-day fundamentals course serval times throughout the year. The academy also offer a range of courses for individuals who wish to become RV service technicians. Their technicians' fundamentals course is 1 week (48 hours of training), while their more in-depth advanced class is 5 weeks (188 hours of training).
RV Training Center
Located in Clearwater, Florida, the RV Training Center is more focused on in-depth technician training for people who want a career in an RV service center or as a mobile RV repairman. The center offers 10-week long RV technician certification courses 4 times each year. Classes run for 8 hours per day and are limited to maximum of 16 students to allow for quality hands-on instruction.
Recreational Vehicle Service Academy
The Recreational Vehicle Service Academy is located in Palmetto, Florida and is another program focused on training future professional RV technicians. Their motorhome and travel trailer repair course is also 10-weeks long and includes 400 hours of training. Courses are offered 4 times each year. The training includes hands-on learning.
Community Colleges
There are also several colleges and community colleges across the country that offer training for future mobile RV technicians. Some of these colleges include:
Forsyth Technical Community College (North Carolina)
Hill College (Texas)
Florida Gateway College (Florida)
Online Learning
RV Tech Course
RVTechCourse.com offers a self-guided home study course for RV owners to learn the basics of RV maintenance and repair. The entire course, including videos, workbooks and hands-on exercise instructions, is shipped to you on an USB drive. The digital course includes instructions on maintenance and common repairs for all major RV systems and appliances.
RV Technical Institute
The RV Technical Institute (RVTI) offers an online program for training RV technicians. The Level 1 class, which is currently available, allows students to complete the course at their own pace over a 120-day window. The remote training can be combined with more advanced in-person training at RVTI's facility in Elkhart, Indiana.
---
That concludes our definitive guide to mobile RV repair services. If you have made it this far, you now understand:
How to Find a Mobile RV Repairman Near You
When to Call a Mobile RV Repairman (and When Not To)
Questions to Ask a Mobile RV Repairman Before Hiring Them
The Pros and Cons of Mobile RV Services
How to Become a Mobile RV Tech
If you are currently dealing with an issue in your RV, we hope you found a great RV technician to quickly resolve your problem.
If you have any questions about finding, using or hiring a mobile RV repairman drop them in the comments section below.
Happy camping!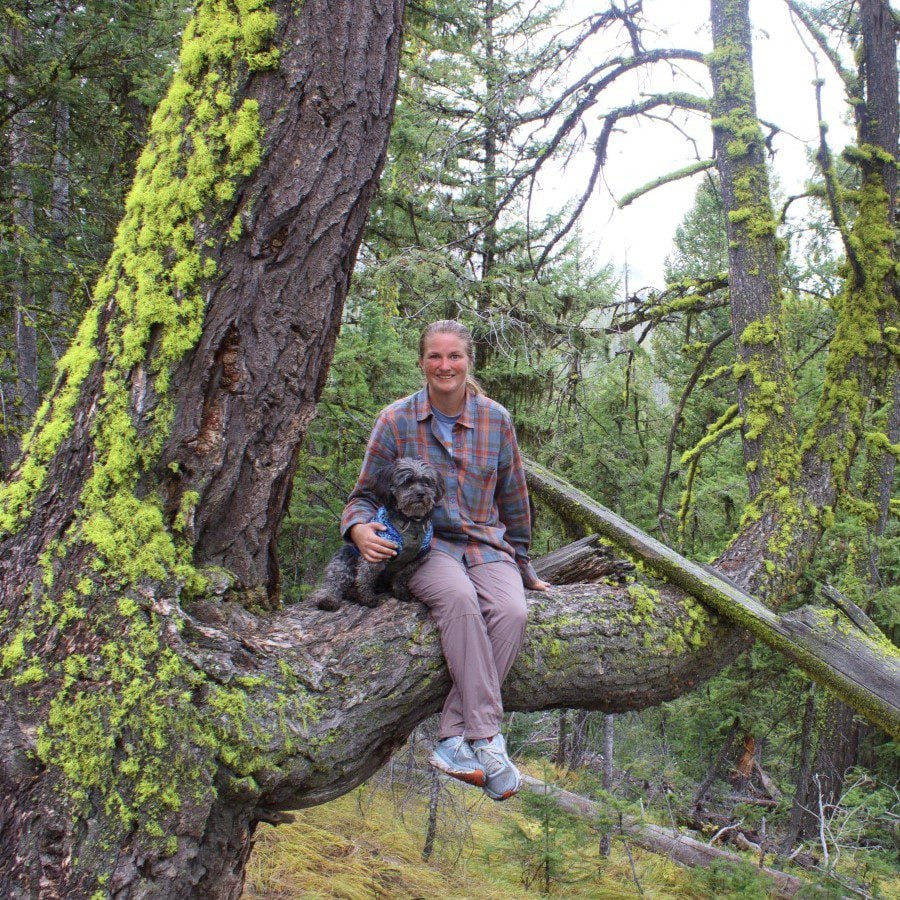 Christina Pate is a seasoned full-time RVer who, along with her husband Justin, has journeyed across the US, Canada, and Mexico. Drawing from her extensive travels, RV repairs and RV renovations, she founded Travels with Ted to guide and inspire fellow RV enthusiasts. Christina is also the co-author of The Owner's Guide to RV Maintenance and the creator of My RV Log Book.