This post may contain affiliate links. See our affiliate disclaimer here.
While living and traveling in an RV, it is super important to give back to the communities you visit. Below are 5 RV volunteer opportunities for campers who want to lend a helping hand.
Habitat for Humanity RV Care-A-Vanners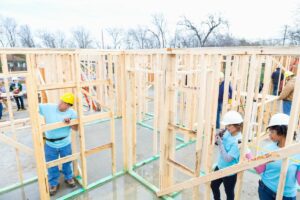 Habitat for Humanity is a nonprofit organization that helps families build and improve places to call home. The organization builds homes in partnership with families in need of a decent place to live. Habitat homebuyers help build their own homes, alongside volunteers, and pay an affordable mortgage.
RV Care-A-Vanners is a program specifically designed to connect RV travelers with Habitat for Humanity projects. Each project lasts two weeks, and no experience is required. Volunteers work 6 to 8 hours each day.
The organization helps reserve local campsites for volunteers. Volunteers are expected to pay their own expenses, but Habitat often negotiates discounted rates for the duration of the project. Camping and socializing with other Care-A-Vanners at the campground is a great perk of this RV volunteer group.
RVers who want to work on multiple projects can join the organization's Disaster Rebuild Team, composed of RV Care-A-Vanners who have completed disaster training. This teams deploys during a disaster recovery phase to help local Habitat offices in a number of ways, including as construction site supervisors, house leaders, crew leaders and skilled volunteers.
A Year to Volunteer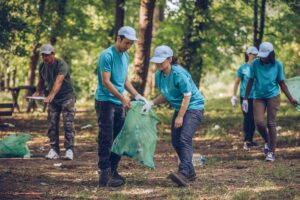 A Year to Volunteer is an RV centric nonprofit organization that organizes volunteers from all over the country to help improve parks and other community-benefiting programs. Their goal is to help understaffed and cash-strapped organizations around the country.
Projects typically last two weeks. Volunteers do not have to have any specific experience, but all volunteers must apply in advance through the organization's website.
Past projects have included making upgrades in several state parks, building habitats at a primate sanctuary, clearing trails and moving fences at an equine therapy center and much more!
Camp Hosting at State and National Parks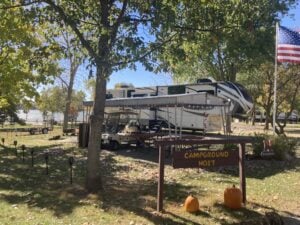 Many state and national parks offer RV volunteer opportunities. The best volunteer positions at our public lands are camp host jobs. While these positions are volunteer opportunities, campground hosts get the perk of a free campsite.
Campground hosts work in the campground assisting with maintenance, providing safety information to campers and helping with campground check-ins.
The number of camp host volunteer opportunities available and the length of commitment required varies by park and state. In National Parks, camp hosts volunteer through the National Park Service's Volunteer-in-Parks (VIP) Program.
RVers interested in camp hosting positions, can go to Volunteer.gov to find upcoming opportunities.
Virtual Volunteer Opportunities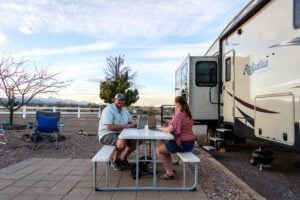 If you are constantly changing locations in your RV but want to make a long-term volunteer commitment, consider virtual volunteer opportunities.
Virtual volunteers can support nonprofit organizations by assisting with grant writing, fundraising, working phone lines and helping with bookkeeping and administrative tasks.
Points of Light connects individuals, business and nonprofit volunteer organizations to create change in the world. Their website has a large list of virtual volunteer positions. Also, search on the Volunteer Match website to find more current virtual volunteering opportunities.
Of course, most virtual RV volunteers will need a reliable internet connection to complete their work. See our guide to RV internet options to learn how to stay connected during your travels.
Find Local Organizations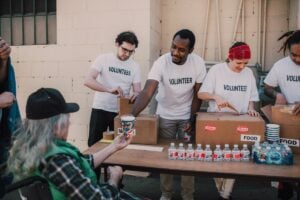 Just because you are only visiting an area for a short time does not mean that you do not have time for a volunteer commitment. While RVing, search for local organizations that need short-term support.
Simply head to Google and search for volunteer opportunities in your current location. Many volunteer opportunities, such as building trails or working at a food kitchen, do not require special skills. Therefore, these organizations may be happy to have short-term volunteers to help with immediate needs.
Many of these organizations receive more offers for volunteers around the holidays, so try to also volunteer at other times of the year when there is less help available.
---
Thanks for reading our complete guide to RV volunteer opportunities. We hope you found the perfect way to serve others!
If you are interested in learning more about RV living, check out our step-by-step guide to moving into an RV.
Happy Camping!