This post may contain affiliate links. See our affiliate disclaimer here.
Full time RV living is a growing trend in America with over 1 million Americans living in RVs. Many people are driven to the RV lifestyle through a desire to travel and prioritize experiences over things.
After more than seven years living in an RV full time, I can vouch that the lifestyle has enormous benefits. However, moving into an RV requires serious preparation. Below I detail 25 steps to take to make your dreams of full time RV living a reality.
Purchasing an RV
A big part of making full time RV living a reality is buying your rig. There are many types of RVs that may or may not be right for your family. Follow the steps below to decide which RV to purchase.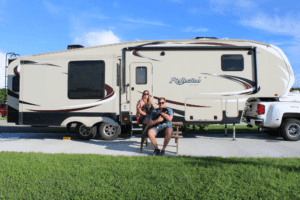 1. Set a Budget
The first step in buying an RV is setting a budget. Ideally, you should decide on a price point before shopping, so you only consider rigs that you can comfortably afford.
Check out my article on creating a full time RV living budget, then use our RV Living Cost Calculator and RV Fuel Cost Calculator to create a custom budget. Determine if you will be financing your RV or paying cash and set a maximum purchase price or monthly payment before shopping.
If calculating and planning your RV living budget seems too overwhelming, there are experts who can help you create and stick to a reasonable budget. Julie and Sean Chickery are full-time RVers who managed to pay off $137,000 in debt while living on the road.
Their course, Full-Time RV Finance, helps families customize a realistic RV life budget and create strategies to control their finances more effectively.
2. Pick an RV Type
After setting a budget, decide on the type of RV you want to purchase. Travel trailers and fifth wheels tend to be more affordable and have cozier layouts. Class A and Class C motorhomes are self-contained units that often work better for families who travel frequently.
To help with your decision, read more about the pros and cons of each type of RV, the best RVs by family size and 7 RV bloggers' top RV choice their full-time families. Also, write a list of your must have features, such as a modern interior, a separate office space, bunk room for kids or an island in the kitchen.
3. Rent an RV
Once you have narrowed down the type of RV you want to purchase, it's time to test drive your decision. Renting an RV is the best way to confirm if your desired type and size of RV is a good fit for you and your family.
RVezy has RV rentals across the country, and offers every type of RV imaginable. Use RVezy's filters to find an RV that matches your must have list and spend a week trying out the RV lifestyle.
You may readjust your wish list after spending a week in a rental. If you can't rent an RV, watch these RV shows where you can see tons of floorplans to consider.
4. Decide on New or Used
Another big decision when purchasing an RV for full time living, is whether to purchase a new or used RV. We purchased a new fifth wheel RV because we were new to RVing and wanted an extended warranty to help with repairs.
After seven years on the road, we now think used RVs are the best bet. RVs depreciate as soon as they are driven off the lot, so used RVs tend to be a much better value. Warranties provided for new RVs are often useless for full time RVers.
Warranty work often takes days or weeks to be approved, so the savings are offset by the need to find temporary lodging. If you have a large budget and want the latest technology and interior design, you may consider a new rig.
5. Get an Inspection
Once you have found the RV of your dreams, schedule a professional inspection before committing to the purchase. We have heard so many horror stories of people buying RVs only to find out that it had thousands of dollars in water damage or other costly issues.
Never purchase a used RV without an inspection. If the current owner will not allow an inspection, it's a red flag and you should walk away. Use this online tool to find a certified inspector near you.
Once you find the perfect RV, don't forget to pick out a great RV name. Check out our list of 200 cute and funny RV names for ideas.
Downsizing for Full Time RV Living
Downsizing is another necessary step to prepare you for full time RV living. Even the largest RVs are only a few hundred square feet, so you need to be prepared for tiny living. For many people, the process of parting with a lifetime of possessions is extremely difficult.
If you are overwhelmed by the process, sign up for RV Inspiration's Inspired to Downsize course. The course will walk you through the process step by step to make downsizing a more manageable task.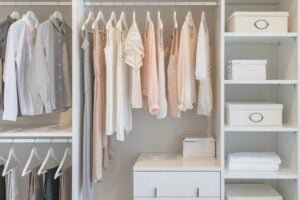 1. Sell Big Items
Selling off large and valuable items, such as furniture, yard tools and appliances can be a great way to boost your savings before moving into an RV. Use Facebook Marketplace and Craigslist to advertise your sales for free.
Be realistic when setting prices. Just because you paid $3000 for your couch, doesn't mean it is still worth that much. Search the online platforms to see what similar items are being sold for in your area before setting a price.
2. Donate the Small Stuff
While selling every plate and shirt will bring in more income, it will also be an enormous amount of work. If you can afford to let go of unnecessary items without a profit, donate your less valuable goods to a local thrift store of charity.
Donating can be completed in a single trip, which will allow you more time for other full time RV living preparations. If you want to maximize your profit, hold a yard sale to sell smaller items and donate the unsold stuff.
3. Debate Storage
If you are having trouble letting go of sentimental possessions or plan for RV living to be a temporary situation, you may consider renting a storage unit. Storage units allow you to keep precious or expensive items that will not fit into an RV.
However, climate-controlled storage units can be pricey, costing over $100 a month. Really evaluate whether you will ever use the items you wish to store before spending the money. If you have many heirlooms, consider giving them to family instead of hiding them away in a storage unit.
4. Sell or Rent your House
One of the final steps before moving into your RV is to sell or rent your sticks & bricks. Deciding whether to sell or rent depends on a variety of factors. If the housing market isn't strong or if you are unsure how long you will be on the road, renting is a good option to cover your mortgage without permanently losing your house.
If you are committed to living in an RV and are able to sell your house for more than you owe, it is often best to sell to avoid the hassle of dealing with renters while you are on the other side of the country.
5. Stop Buying Stuff
One of the hardest parts of downsizing is to stop buying new things. Aside from necessary RV supplies, stop all purchasing of new items until you have lived in your RV for at least one month. After adjusting to full time RV living, you will be a better judge of what purchases will work and what types of items you need to further downsize.
Finding Remote Work
One of the biggest questions people have about full time RV living, is how can you make a living on the road. Fortunately with many digital careers and the growing RV industry, there are many job options for nomads.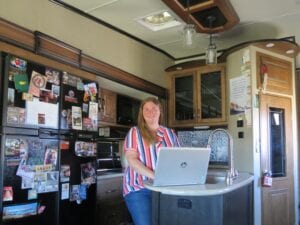 1. Evaluate your Current Career
Before researching jobs for full time RVers, take a step back and evaluate if your current position is travel friendly. For our first three years on the road, I kept my nine to five in the market research industry and telecommuted from our RV.
Many job positions can be effectively executed from anywhere. If the majority of your work is done at a computer, it is likely possible to transition to remote work.
2. Review New Career Options
If your current career is not a good option or you are looking for a more flexible schedule, there are plenty of options for remote work. For inspiration, read books and blogs by other full time RVers to learn about all the career options available.
Live Camp Work is a great resource to learn about the realities of workamping. Road Cash is another great read with several ideas for generating income on the road.
3. Lock Down a Job or Launch Your Business
If you are launching a new business or searching for a new position, make the transition before you hit the road. Most new businesses take time to start generating a profit, so you want to ensure you are financially stable before turning your life upside down.
Having your work schedule and processes in place before buying an RV will make the transition to remote work much easier.
4. Create a Home School Plan
If you have children who will be hitting the road, you will need a plan for school as well. Research the laws and regulations of your home state and then research compliant curriculum to determine which is the best fit for your children. Families on the Road provides many resources for parents who are considering roadschooling.
5. Find a Mobile Internet Solution
Many remote careers and home school plans require a reliable internet connection. Unfortunately, most RV parks do not provide high-speed WiFi. You need to purchase a mobile hotspot or other internet solution to ensure you are always connected.
Read our article on mobile internet for more details on RV internet options. Most full-time RVers will also want to find a way to watch TV in their RV.
Planning Details for Full Time RV Living
Once you overcome the big hurdles to RV living, there are still several small details to consider. Complete the five steps below to ensure you are fully prepared for the transition. Also consider subscribing to some digital RV magazines to help you learn more about the RV lifestyle.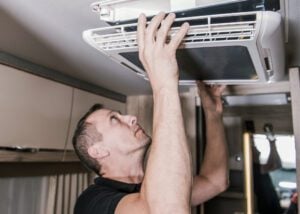 1. Obtain RV Insurance
As with any vehicle, you will need to obtain an insurance policy for your RV. Since all of your possessions are contained in your RV, it is also wise to obtain personal belongings coverage to cover everything inside your home on wheels.
We compared costs, and choose to stick with the insurance provider who had previously insured our house. Good Sam offers policies that are specially designed for full time RVers.
2. Buy RV Supplies
While we advised you to limit your possessions in the downsizing section, there are some supplies you will need for RV living. Start by purchasing the absolute necessities, such as sewer hoses and leveling blocks.
Wait to purchase fun accessories and optional upgrades until you have been living in the RV for a month or two and have a better idea of what you really need.
Check out our list of absolute must have supplies here. Save on RV gear at Camping World with our exclusive offer, take $10 off orders $75 or more! Use code CWSAVE at checkout!
3. Establish Domicile and Find a Mail Solution
Since traveling full time RVers move between states throughout the year, they often do not have a clear residency state. Therefore, it is important for full time RV families to establish domicile in one state so they have access to government resources and can fulfill their civic duties. See our complete guide to establishing RV domicile for more information.
Without a permanent address, full time RVers also need to find a place to have their mail sent. In our article on mail solutions, we detail the options of receiving mail on the road including mail forwarding services.
Before hitting the road, submit a request with the U.S. Postal Service to have mail forwarded to your new address. It is also a good idea to set all your personal accounts to paperless alerts and billing.
4. Find Health Insurance
If you are going to be self-employed on the road, you also need to shop for health insurance that will travel with you. Finding affordable health insurance is one of the most difficult tasks for many aspiring full time RVers.
Read our article on health insurance for RV living to learn about every option available for full time families.
5. Learn Basic RV Skills
When we first hit the road, we knew almost nothing about RV maintenance and repairs. To prevent accidents and unnecessary incidents, you should learn about RVs before you start traveling.
A good place to start is joining the online forum for your RV's manufacturer. You can read up on typical issues and ask for advice on educational resources. Also check out our RV maintenance eBook with step-by-step instructions to keep your RV in tip-top shape.
Travel Planning for Full Time RV Living
Now for the fun part! Once the difficult tasks of downsizing, buying an RV and finding a job are complete, the travel planning can begin.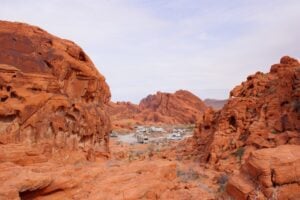 1. Join RV Camping Clubs
RV clubs and campground memberships are a great way to keep your costs down while living in an RV. Campground memberships, such as Thousand Trails, RPI, Coast to Coast and Harvest Hosts, offer free camping to members who pay an annual fee.
Good Sam, Passport America other RV clubs offer discounts at RV parks across the country. We could have saved thousands of dollars on campsite fees if we had joined clubs earlier in our full time RV journey. Check out our blog post on RV memberships for a detailed break down of all your options.
2. Download Planning Apps
There are several apps you can download to help you navigate on the road and find RV camping across the country.
Our top recommendations are Allstays Camp & RV for finding campsites and Trucker Path for finding rest areas and fuel stations with space for RVs. Check out all of our must have apps for full time RV living here.
3. Book a Local Campsite
If you are not an experienced RVer, the best place to start camping is in your own backyard. For your first outing in your new home, book a campsite within 30 minutes drive of where the RV is parked.
Spending a week or more at a nearby campground will give you time to learn about your new rig without the stress of a long drive. It also gives you the opportunity to throw a goodbye party and show off your new home to friends and family.
4. Plan Your First Trip
Once you have moved into your RV and spent time at a local campground, you can finally hit the road and start your new life! Pick one destination and stay for a few months or plan a crazy road trip around the country.
It's up to you! Your new home can be driven anywhere in North America. If you are not an experienced RV driver, try to book pull-thru campsites to avoid having to back-in to tight spaces.
Download our free RV setup and departure checklist to help guide you on your first trip. For trip inspiration, see the 10 best RV road trips in the US and the best RV parks in Florida, California and Arizona.
5. Keep Dreaming
That's it! Once you are on the road, just keep dreaming. Keep learning about new places, meeting new people and having endless new experiences!
Full Time RV Checklist
To help prospective RVers prepare for the RV lifestyle, we have created a full time RV checklist. The full time RV checklist includes a basic list of all the steps you need to take to prepare for RV living.
The list also includes a link back to the article, so you can easily reference our more detailed guide. Click on the image below to download and print a PDF of the full time RV checklist today!
---
Wow! That is a lot of information, but I promise full time RV living is completely doable and totally worth it. If you still have questions about preparing for RV life, connect with us on Instagram or comment with your questions below.