This post may contain affiliate links. See our affiliate disclaimer here.
RV water heater not working? Don't fret. In this easy to follow troubleshooting guide, we will help you quickly determine the root of the issue. Keep reading to learn why your RV water heater is not working.
Please note: This article covers electric water heaters and direct spark ignition gas water heaters found in most modern RVs. We do not cover older water heaters with manual spark ignitions or tankless water heaters.
Solution 1: Check Power and Breaker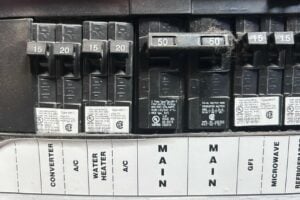 The first step when troubleshooting problems with an RV water heater (or any RV appliance) is to check your power sources. If your water heater can be switched between gas and electric, verify if the appliance fails to work on both gas and electric.
If an electric RV water heater is not working, check that you are connected to shore power and verify that the 50 or 30 AMP breaker on the electric box at your campsite is turned on.
Once you have verified that the RV is properly connect to power, check the water heater breaker in your RV's electric box.
If the breaker is tripped, you are likely exceeding the power capacity of your RV. Try turning off other appliances and powered devices before turning the water heater back on.
Solution 2: Check Power Button on the Water Heater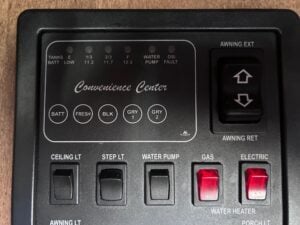 Most RV water heaters have two power buttons inside the RV, one to turn the water heater on using propane and one to turn the water heater on using electric power.
However, on some RV water heaters the electric power button is located outside on the water heater. If your electric water heater is not working, check that this power button is turned on.
Solution 3: Make Sure Propane is Available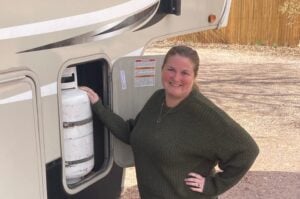 If your gas water heater fails to ignite, the DSI fault light will stay on (normally it turns on when the heater is igniting, then turns back off). The most common cause for this fault is that there is no gas in the line.
Before taking further action, verify that your propane tank is open and not empty. If the tank is closed, simply open in. If it is empty, switch the tank or take the tank to be refilled.
If the tank has recently been changed, there could be air in the lines. Turn on a stove burner to purge any air from the lines and verify that the propane is working. Then, try to turn the water heater on again.
Solution 4: Reset the ECO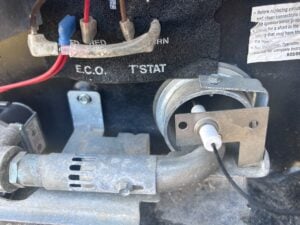 RV water heaters have an emergency cut off (ECO). This is a safety device that shuts off the flow of propane when the temperature exceeds the high limit point.
If this switch is tripped you can reset it to get the water heater working again. However, if this switch is tripped repeatedly, there is likely another issue, such as a faulty thermostat or loose wires.
Some Suburban water heaters have large rubber buttons that are clearly labeled "reset". On other water heaters the reset button may be hidden or there may be another method for resetting the water heater.
Use your owner's manual to determine the correct process for resetting your water heater.
Solution 5: Check Outdoor Showerhead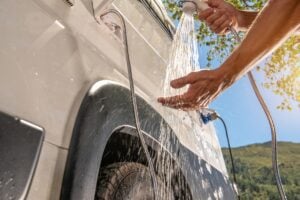 One strange, but real reason you may be getting cold or lukewarm water inside your RV is that the outdoor shower faucets are turned on.
If the outdoor shower faucets are on (even if the water has been shut off on the showerhead), warm and cold water will mix before reaching your indoor faucets.
Solution 6: Check if Bypass Valve is Properly Set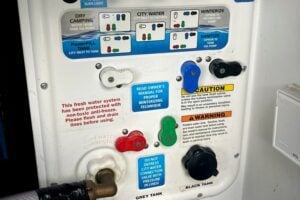 When winterizing an RV or sanitizing the fresh water tank, a valve is turned which bypasses the water heater. This bypass valve may be located on your water control board (see picture) or behind your actual water heater.
If you are getting cold or lukewarm water in your RV, double-check that the water heater is not being bypassed.
Solution 7: Replace Check Valve
If no (or very little) water is coming out of the hot water faucets in your RV, your check valve is likely the culprit.
The check valve ensures that water only flows in one direction from the water heater (in other words, it allows hot water to come out, but does not allow cold water to come in). When the check valve malfunctions no water or only a small trickle will come out of the hot water faucets.
If you believe a faulty check valve is the issue, turn on the water heater bypass. If cold water flows from the hot water faucet when the bypass is turned on, the check valve is likely the issue and will need to be replaced.
The water should be drained from the water heater before removing the old check valve and replacing it with a new one.
It is relatively easy to replace the water heater check valve. However, since the valve is located on the back of the water heater it is often under the RV in a spot that is difficult to reach.
Solution 8: Clean Ignitor Probes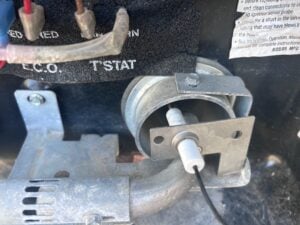 If your water heater is not sparking during the ignition processor your water heater is failing to stay lit, there may be an issue with the ignitor.
First, turn off the water heater and remove the igniter. Then, with a small piece of emery paper, clean the tip of the igniter. Also, visually inspect the burner tube to see if there is any debris or obstructions. Reinstall and see if your issue has been resolved.
Solution 9: Read your Owner's Manual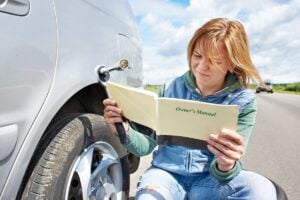 Your RV water heater's owner's manual likely has a troubleshooting section. Read this guide to find any common issues that are specific to your model.
Solution 10: Call an RV Technician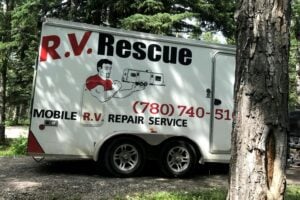 There are several other potential reasons why your RV water heater is not working, including a faulty electric water heater element, a broken thermostat and a bad control panel.
If you have not solved your water heater issue by following the above steps, we recommend calling a certified RV technician.
---
Thanks for reading our guide to troubleshooting issues with your RV water heater. We hope you found an easy solution.
To prevent further problems with your water heater, see our step-by-step guide to RV water heater maintenance.
Happy Camping!