This post may contain affiliate links. See our affiliate disclaimer here.
The whole point of camping in an RV is being able to travel to amazing outdoor destinations. No camper wants to be stuck inside cooking on a beautiful day, which is why RVs with built-in outdoor kitchens are a great option.
In this article we share the 10 best RVs with outdoor kitchens.
Best Fifth Wheel RVs with Outdoor Kitchens
Fifth wheels are great RVs with versatile floorplans for RV living or extended road trips. Here are the best fifth wheel outdoor kitchens.
Jayco Eagle
Jayco Eagles are beautifully designed fifth wheel RVs with outdoor kitchens. These fifth wheels start at 32 feet long, and feature interiors with white cabinets, black accents and residential vinyl flooring throughout.
Most Eagle floorplans have the option to add a pull-out cooking station, which includes a 22 inch griddle and a deep sink. Some models also have an outdoor kitchen with a fridge, storage cabinets and TV prep next to the pull-out griddle.
Keystone Fuzion
The only toy hauler on our list of the best RVs with outdoor kitchens is the Keystone Fuzion. This line of fifth wheel toy haulers starts at 39 feet. All of the floorplan options include a rear garage with ramp doors that can be converted into patios.
Several floorplans also offer a an outdoor kitchen with a mini fridge, a pull-out cooktop with a storage cabinets on top. Also included in the kitchen is a TV for watching all the games at the campground.
KZ Durango Half-Ton D256RKT
The KZ Durango Half-Ton D256RKT is a lightweight fifth wheel with tons of premium features. The interior of the fifth wheel includes a rear kitchen with stainless steel appliances and lots of counterspace.
Other notable amenities include a washer/dryer closet, modern cabinetry and the option to replace the dinette with desk.
The D256RKT also has one of the best outdoor kitchens on any RV. The kitchen includes a a good-sized mini fridge, a griddle, storage cabinets and a portable pellet smoker that sits on a removable table. Any camper who loves to barbeque, will absolutely lose their mind over this RV!
Click here to see more of the best rear kitchen fifth wheels.
Best Travel Trailer RVs with Outdoor Kitchens
Many travel trailer RVs come equipped with outdoor kitchens. Here are the very best travel trailer outdoor kitchens.
Heartland Mallard M33
The Heartland Mallard M33 is the perfect family travel trailer. The floorplan features a front bedroom with a queen-sized bed, and a rear bedroom with three bunk beds. The RV also has a large open living area with a kitchen island and a large U-shaped dinette.
The Mallard M33 also has the prettiest outdoor kitchen we have seem on any RV. The kitchen features a printed backsplash and light cabinets. The kitchen houses a large mini fridge, a sink and a pull-out cutting board.
A propane quick connect sits right below the kitchen, so it is easy for campers to setup a gas grill.
Lance 2075
The Lance 2075 is the perfect travel trailer for tailgating. The no-slide trailer is just over 25 feet long, so it is easy to tow and park. Inside is a huge rear dinette with built-in wine bottle storage, a kitchen, a large bathroom and a queen-sized bed.
Campers who love to tailgate will definitely want to add the optional exterior kitchen. The kitchen is located in a rear storage bay. On one side is a pull-out table with a two-burner stove and a sink.
On the other side is an electric cooler and a huge counter that pull outs. The kitchen is also covered by a rear awning, so it can be used on rainy days.
nuCamp TAG XL
The nuCamp TAG XL is the ultimate teardrop trailer. It comes solar equipped for off-grid adventures, has heat and air conditioning and an expanded interior with plenty of space to sleep two.
Since teardrop trailers do not have an interior kitchen, the outside kitchen is super important. The nuCamp TAG XL's rear galley includes a stainless steel sink, a microwave, an electric cooler, storage shelves and Amish cabinetry.
Also, check out our list of 35 must have teardrop trailer accessories.
Venture SportTrek ST327VIK
The Venture SportTrek ST327VIK is another great family travel trailer. The floorplan includes a front bedroom with a queen-sized bed and a rear bunkroom with space to sleep 4 kids. The indoor kitchen includes an island and a large pantry.
Outside, the huge outdoor kitchen is perfect for campers who love to grill. The kitchen includes a mini fridge and a pull-out with a sink and a griddle. Above the appliances is a TV and two storage cabinets.
Best Motorhome RVs with Outdoor Kitchens
Outdoor kitchens are less common on Class A motorhomes, but there are a few brands with awesome exterior cooking spaces.
Coachmen Mirada 32LS
The Coachmen Mirada 32LS is a 35 foot long gas motorhome. The floorplan includes a rear bedroom, a sofa bed and drop-down overhead bunk. There is also a closet for a stackable washer and dryer, a dinette and fully equipped kitchen with stainless steel applainces.
The outdoor kitchen on the Mirada 32LS includes a mini fridge and a sink. There are also two drawers and an upper cabinet to store outdoor cooking tools and utensils.
A separate storage bay houses an outdoor TV, so campers can watch the game without getting in the chef's way.
Thor Hurricane 29M
The Thor Hurricane 29M is a small (just under 31 feet long) gas motorhome that is perfect for traveling couples. The floorplan features a rear bedroom with a king bed and a large closet, a galley kitchen, a dinette and a large jacknife sofa.
The Hurricane 29M's exterior kitchen includes a large mini fridge, a stainless steel sink and storage drawers and cabinet. An exterior TV is located in a separate compartment on the same side of the RV as the outdoor kitchen.
Tiffin Allegro Bus
Last, but definitely not least on our list of best RVs with outdoor kitchens in the Tiffin Allegro Bus. This line of luxury diesel motorhomes has many premium features, including dual vanities, king beds, stainless steel residential refrigerators and the option for a stacked washer and dryer.
Two of the Allegro Bus floorplans (the 45OPP and the 45FP) have the option to include an awesome outdoor grill center.
The unique pull-out kitchen includes a large sink, a single burner induction cooktop and a huge electric grill. An outdoor TV sits right above the cooking area.
---
Thanks for reading our complete guide to the best RVs with outdoor kitchens. We hope you found the perfect RV for your family.
Don't forget to stock your new rig with all of our favorite RV dishes and cooking essentials.
Happy Camping!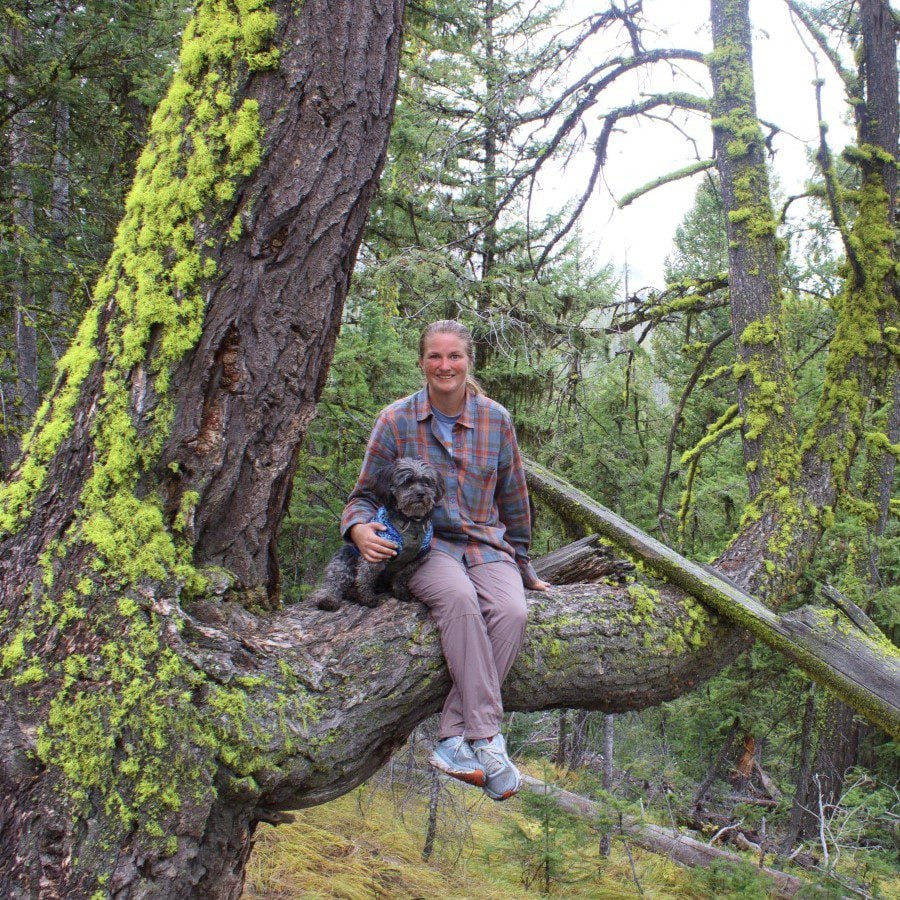 Christina Pate is a seasoned full-time RVer who, along with her husband Justin, has journeyed across the US, Canada, and Mexico. Drawing from her extensive travels, RV repairs and RV renovations, she founded Travels with Ted to guide and inspire fellow RV enthusiasts. Christina is also the co-author of The Owner's Guide to RV Maintenance and the creator of My RV Log Book.