This post may contain affiliate links. See our affiliate disclaimer here.
RV camping is a great way to enjoy the great outdoors while still enjoying the comforts of home. Buying an RV with a patio allows campers to enjoy the outdoors without even getting their feet dirty or changing out of their pajamas.
RV porches are the perfect place to sip coffee or get some work done while enjoying the surrounding views. Below are our 10 favorite RVs with porches.
Once you find the perfect RV, you will also need to buy lots of gear to keep you safe and happy on the road. Check out our Amazon shopping list for all the gear you need to successfully hit the road.
Toy Haulers RVs with Back Porches
A toy hauler is a type of RV featuring a garage in the rear with a large ramp-door for access. Many toy hauler ramps also double as a porch. The ramp is simply lowered until even with the RV floor and secured with cables attached to the RV.
Then, attached rails are pulled out to create a safe patio. While all toy haulers have a ramp door, the patio conversion features are typically optional. If these toy haulers are too large for your family, check out our list of the best small toy haulers.
Grand Design Momentum 399TH
If porches are your thing, the Momentum 399TH is the RV for you. This fifth wheel toy hauler features not just one, but two porches. The ramp door on the garage converts into a rear patio, and a separate side patio folds down from the entry side of the RV.
The side patio even has a TV for watching sports outside. In addition to the incredible outdoor space, the Momentum 399TH features a sunken tub in the full bathroom, a separate half bathroom, a large kitchen island and stainless steel appliances.
Keystone Fuzion Impact 25V
One of the smallest RVs with a porch, the Fuzion Impact 25V is a great toy hauler for campers who prioritize outdoor space. When the rear patio package is included, the 8-foot ramp door easily converts into a back porch.
At just under 29-feet long, this RV is smaller than most toy haulers. However, the space still includes a private main bedroom, a HappiJac® bed system in the garage and a small bathtub. Like many Keystone RVs, the Fuzion Impact features modern interior décor.
See our list of the best RVs with white cabinets for more rigs with modern interior design.
ATC Plā 700 Series
The ATC Plā 700 Series is a line of toy haulers that are made to last. The company's RVs are all constructed with fully integrated aluminum frames with no wood, and they're fully welded with no fasteners.
When buyers choose the deck package, the Plā's rear ramp is easily converted into a patio with railings and a vinyl roll-up screen wall on the back of the trailer.
The interior of these RVs also have many upgraded features, including blackout roller shades, aluminum cabinets and drawers and modern interior design. Floorplans range from 26 feet to 35.5 feet.
Dutchmen Voltage 4225
At almost 47 feet long, the Dutchmen Voltage 4225 is a huge toy hauler RV with a back porch. The ramp door is easily converted to a patio while camping. The Zero-G rear ramp door lets you access the toy hauler garage with little to no effort
Other upgraded features include a HappiJac® bed system in the garage, 7 foot tall ceilings, heated and massaging sofas, a 30 gallon fuel station and tank heaters.
Fifth Wheel RVs with Side Porches
Non-toy hauler fifth wheel RVs with porches are available, but very rare. Buyers who are set on a fifth wheel with a patio, but not a garage will need to consider buying a used RV to find their perfect floorplan.
These side patio models were popular in 2017, but most are not currently being built.
2017 Heartland Gateway 3750PT
The 2017 Heartland Gateway 370PT features a unique floorplan with two private queen bedrooms. In addition to the rare two bedroom floorplan, the RV also features an incredible porch.
The side patio pulls down on the entrance side of the RV and it is entered through a sliding door. The patio also includes an outdoor TV and mini beer refrigerator. The RV also has a separate half bathroom and a large couch with seating for four adults.
If you are interested in more sleeping space, check out our full list of RVs with two queen bedrooms.
2017 Jayco Pinnacle 39SPQS
Another awesome 2017 fifth wheel with a porch is the Jayco Pinnacle 39SPQS. This 44-foot long RV features an incredible homey floorplan. The front master bedroom has a king-size bed, walk-in closet and washer and dryer preps.
The pull-down patio is connected to the large mid-kitchen. The patio features a TV, stereo and mini fridge, while the kitchen features a large island and a sliding door pantry. Finally, the rear living room has comfortable seating for five.
2017 Forest River Wildcat 29RKP
Another RV with a porch and a unique floorplan, the Forest River Wildcat 29RKP features an L-shaped rear kitchen. Sliding doors in the kitchen open up to the side patio with TV, speakers and mini refrigerator.
The RV also features a bathroom with a sunken shower for extra height and washer and dryer preps. At just 33-feet long, the Wildcat is the smallest on our list of fifth wheel RVs with a porches, and it is also the most affordable.
If you love this layout, check out these 10 other fifth wheel RVs with rear kitchens.
2017 Forest River Sandpiper 369KBAR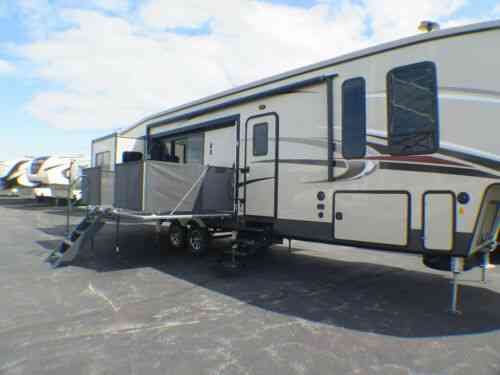 The 2017 Forest River Sandpiper 369KBAR is a luxury RV with a porch. The large pull-down patio is accessed through sliding doors in the mid-kitchen. An outdoor entertainment center with TV and speakers is located on the porch.
The luxury design really shows in the kitchen where campers will find a raised bar on the island, stainless steel appliances and a wine fridge.
Class A RVs with Porches
While Class A toy haulers and motorhomes are not common, there are a few Class A RVs with porches available on the new and used RV markets.
Thor Outlaw
The Thor Outlaw is one of only two current year Class A toy hauler brands offering patios. 2024 Outlaws are available in two floorplans. The 38KB features a king-size bed in the main bedroom and sky bunk (accessed via a ladder) in the garage.
The other model, the 38MB has two queen-size beds, one in the main room and a drop-down bed in the garage.
Both models have a rear patio deck, 100-watt solar charging system and a remote fuel filling station with an auxiliary fuel tank. They also have outdoor TVs, but they are located on the side of the rig, not on the patio.
Note: If you love the sky bunk, check out these 12 fifth wheel RV with lofted sleeping areas.
Country Coach Veranda
While Country Coach is no longer is business, some of its Veranda models are still available on the used market. The Class A motorhome features a side porch that slides out with the push of a button.
The porch features an outdoor TV and a clear pane on the front rail so views are never obstructed. The Veranda floorplans also featured one-and-a-half bathrooms and luxury finishes including real tile backsplashes.
Used Veranda motorhomes may be difficult to find, but they are worth any amount of time spent searching.
---
If none of these patio RVs are the perfect match for your family, check out these upgraded RV stairs with attached decks.
Also shop some other awesome floorplan options including RVs with built-in offices, front kitchen fifth wheel RVs and the best RVs for full-time living.
When you dream of sitting on an RV porch with coffee or wine, what views are in the background? Share your dream destination with us in the comments section below.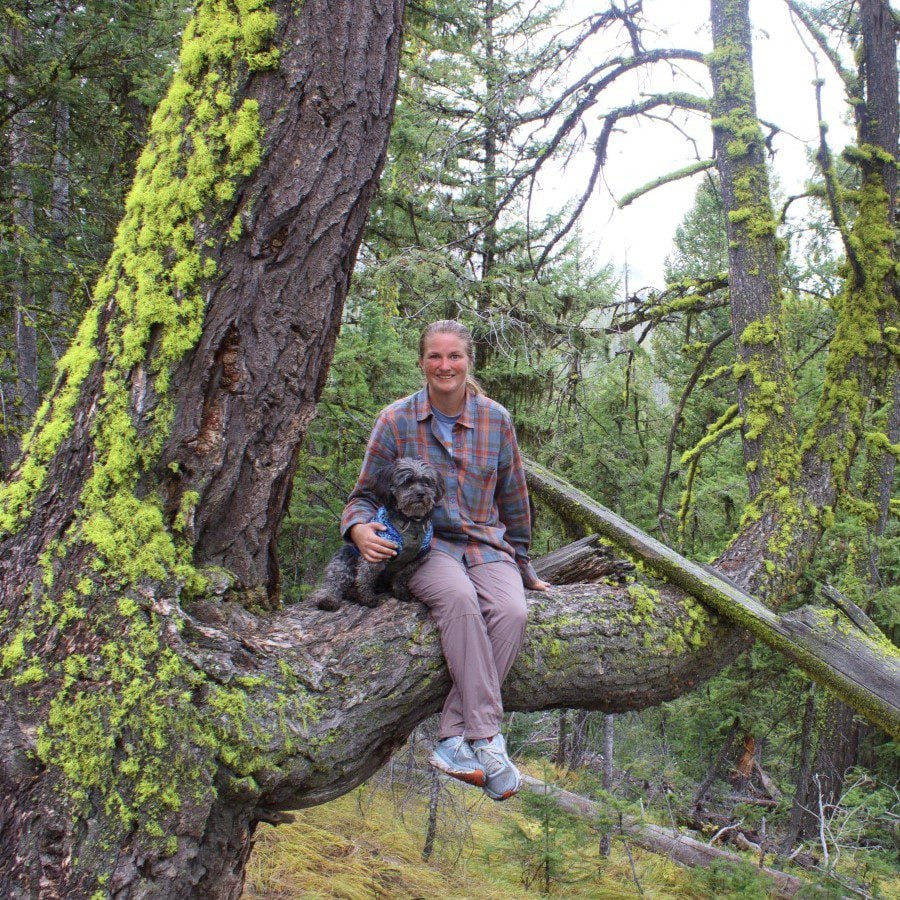 Christina Pate is a seasoned full-time RVer who, along with her husband Justin, has journeyed across the US, Canada, and Mexico. Drawing from her extensive travels, RV repairs and RV renovations, she founded Travels with Ted to guide and inspire fellow RV enthusiasts. Christina is also the co-author of The Owner's Guide to RV Maintenance and the creator of My RV Log Book.