This post may contain affiliate links. See our affiliate disclaimer here.
RV camping is a great way to explore America while traveling with all of the comforts of home. However, it is not always possible to run the air conditioning when boondocking or plugging into lower amp shore power.
12 volt RV ceiling fans are a great way to cool down your RV without using too much power. Below are the 10 best RV ceiling fans that will look great in any tiny home on wheels.
Do RV Ceiling Fans Have to be 12 Volt?
While it is possible to install a 120 volt residential ceiling fan in an RV, 12 volt ceiling fans are a better option. All of the below ceiling fans are made specifically for RVs, and draw much less power than normal fixtures so they can be used when relying on RV battery power.
However, there are very few 12 volt ceiling fans on the market, so if you do not like any of the below options, a light fixture without a fan may work better. Check out our favorite fashionable 12 volt LED RV light fixtures for some great options.
White 12 Volt RV Ceiling Fans
Super Affordable 12 Volt Ceiling Fan: For RV renovators on a budget, this simple white fan that retails for less than $20 is the perfect solution. Reviews note that the fan is easy to assemble and install.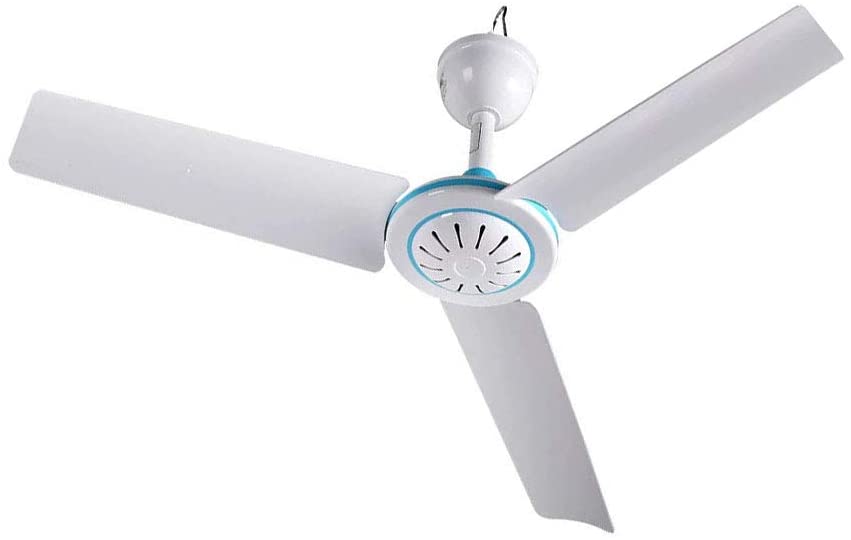 ---
36 Inch White Ceiling Fan: The EZ Fan's white 12 volt ceiling fan comes with shorter blades that are perfect for a tiny space. The fan's power and direction are controlled through an included wireless remote.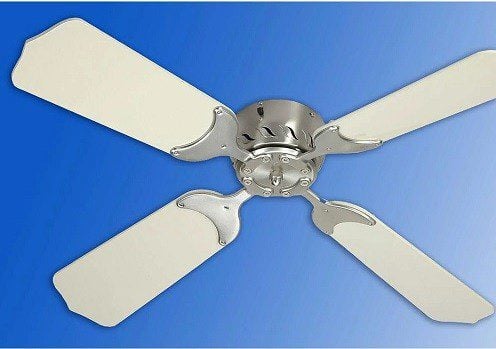 ---
42 Inch White Ceiling Fan: This full size, white ceiling fan also comes with nickel accents. An included wall switch controls the power, speed and fan direction.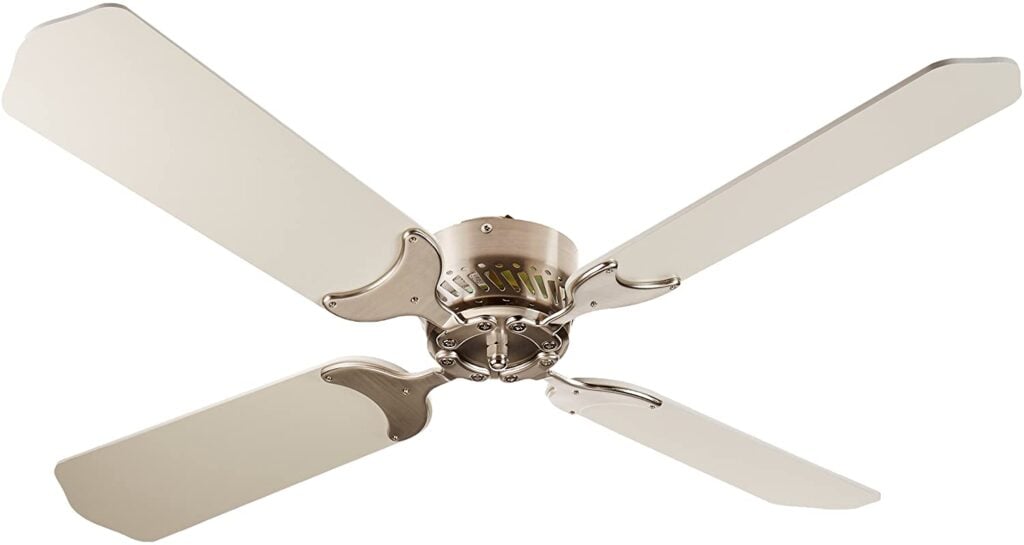 Black 12 Volt RV Ceiling Fans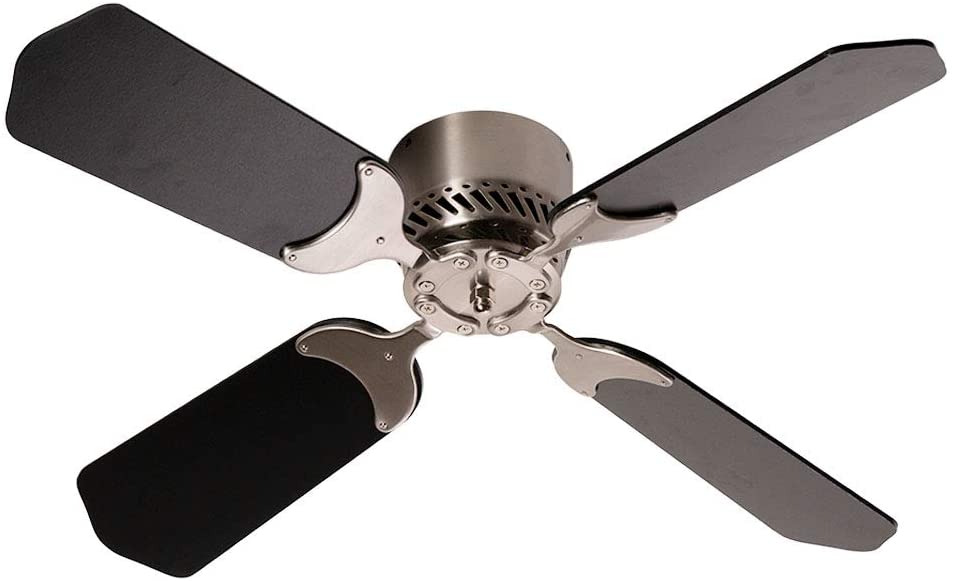 ---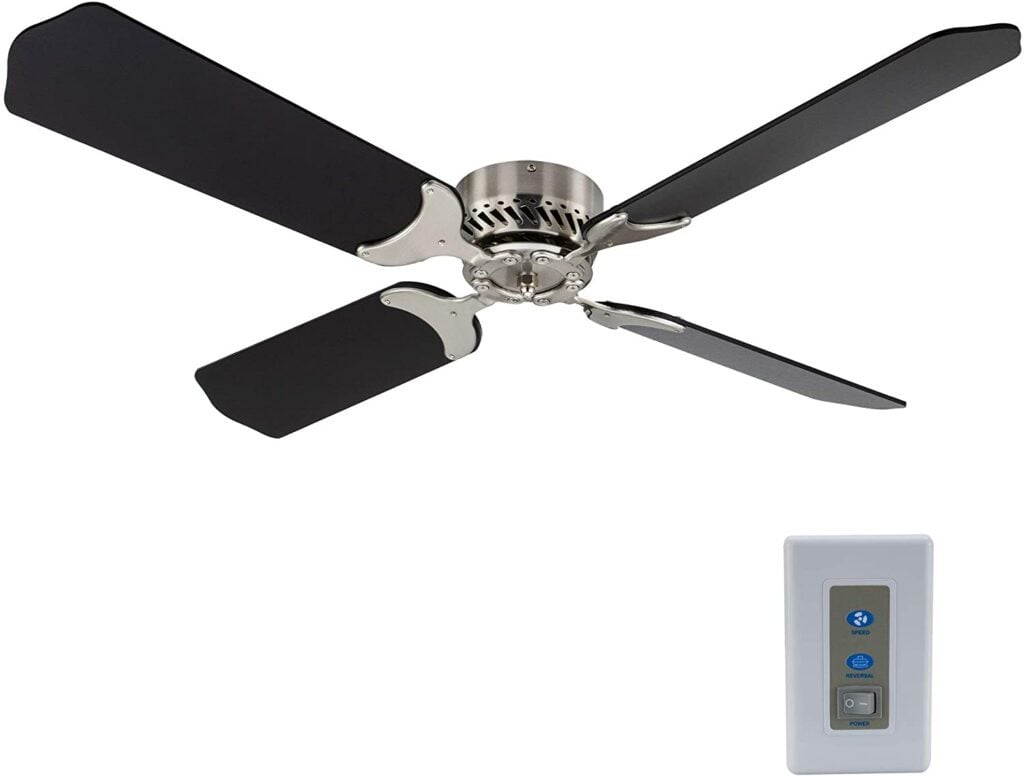 ---
42 Inch Reversible Blade Fan: This unique 12 volt ceiling fan has reversible blades with an oak finish on one side and a black finish on the other. The fan is controlled through the included wall switch.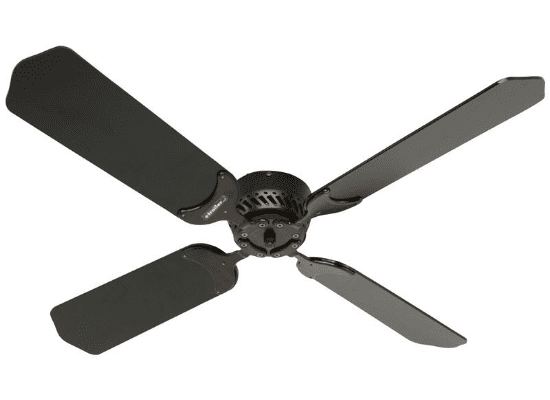 Wood 12 Volt RV Ceiling Fans
36 Inch Wood RV Ceiling Fan: This short blade, 12 volt ceiling fan comes with medium wood tone blades. Accents are brushed nickel, and the fan is controlled by a wall switch.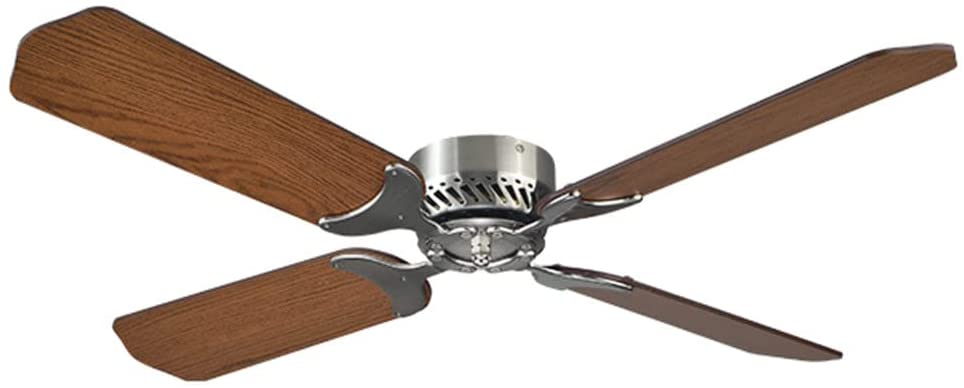 ---
This 36 Inch Light Cherry 12 Volt Ceiling Fan: This beautiful reversible light cherry/dark cherry wood ceiling fan runs without making any noise. The quiet motor also uses only 1 amp. A wall switch is included to operate the fan and control speed.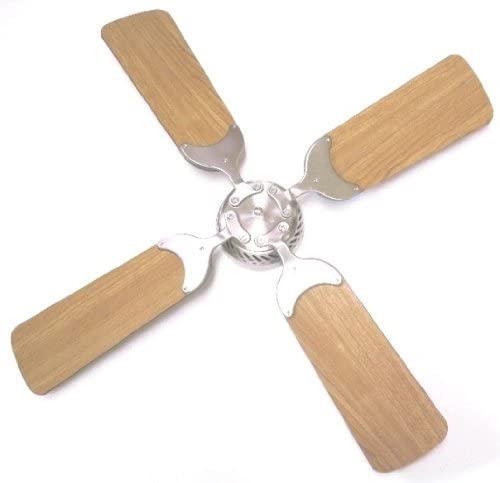 ---
42 Inch Light Cherry 12 Volt Ceiling Fan: This larger reversible cherry wood ceiling fan also runs without making any noise and using only 1 amp. A wall switch is included to operate the fan and control speed.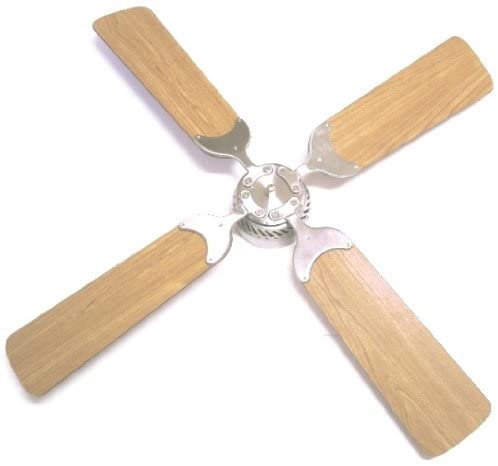 ---
36 Inch Light Oak Ceiling Fan: Another small 12 volt ceiling fan with a light wood finish, this oak and brass fan is a great option for RVs. A wireless remote control is used to adjust the fan power and speed.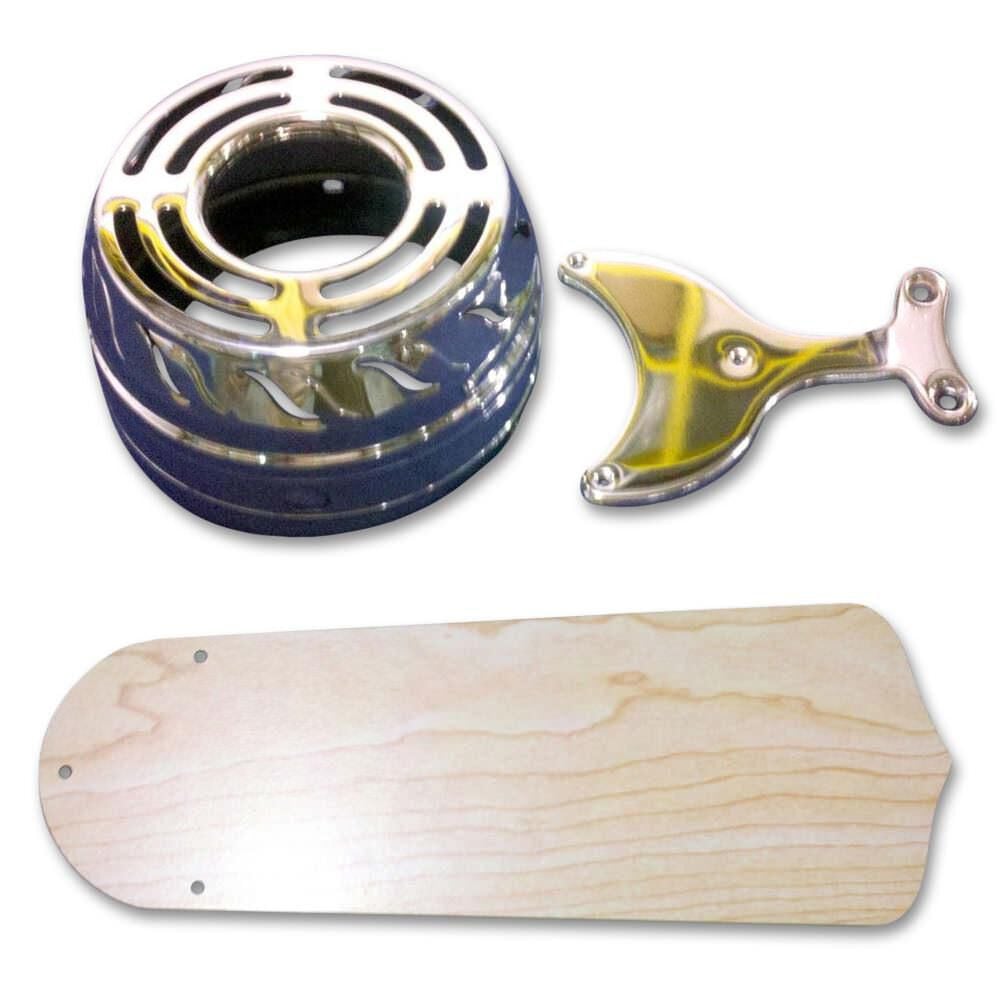 120 Volt Ceiling Fans for RVs
Installing a normal residential fan in an RV is also possible. As noted in the beginning of the article, RVers should only install a 120 volt ceiling fan if they plan to use it while hooked up to shore power or using a generator.
New wiring may be required as ceiling fans in RVs are typically replacing 12 volt light fixtures. However, some older RVs may have 120 volt ceiling fans pre-installed. Always hire a professional electrician for the installation to ensure your new set-up is safe.
When selecting a residential ceiling fan for use in an RV, there are a few things to keep in mind.
Size: Most ceiling fans will be quite large for a normal size RV bedroom or living room. Always measure your ceiling space before ordering a ceiling fan.
Weight: As with everything in an RV, weight is important. The lighter the fan the better as they will hold up better during bumpy travel days.
Mount Type: Any ceiling fan selected for use in an RV should have a low profile, flush mount, meaning it should be installed directly into the ceiling and not hang down. A flush mount style fan will prevent injuries in rooms with low ceilings and is less likely to be damaged during travel.
Power Switch: Always check if the fan comes with a wall switch or remote control. If you are replacing a light with a wall switch, then installing the new wall switch should be fairly easy. However, if there is no wall switch in place, a remote would be easier.
---
Ceiling fans are stylish, practical addition to any RV. For more easy ways to update your RV's interior, check out our favorite pieces of modern RV décor and easy RV remodel projects.
Which RV ceiling fan is your favorite? Share your pick in the comments section below.