This post may contain affiliate links. See our affiliate disclaimer here.
Most RV parks and campgrounds are pet friendly, but not all of them offer special amenities for dogs. Here are 10 epic dog friendly RV parks that cater to our furry companions. Add these campgrounds to your travel bucket list and get ready for some amazing adventures with your best friend.
If you are new to camping with dogs, see our complete guide to RV travel with dogs for pet friendly travel tips.
4 Paws Kingdom Campground & Dog Resort
Location: Rutherfordton, NC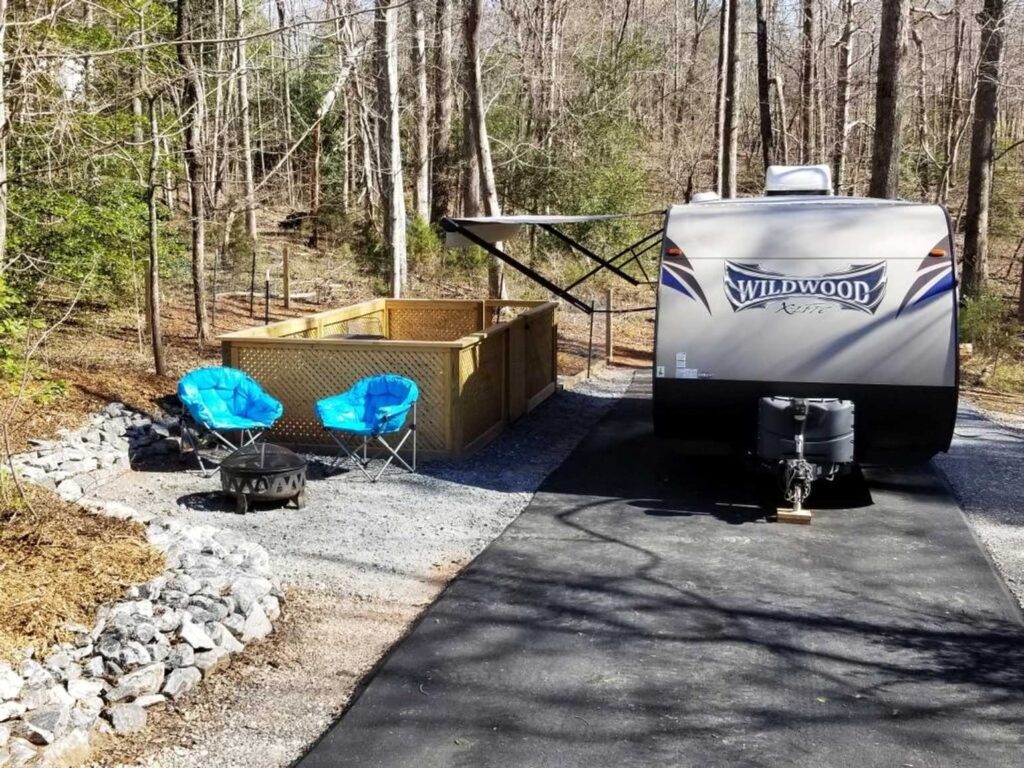 The name says it all! 4 Paws Kingdom is an absolute paradise for dogs. Furry campers and their owners can enjoy multiple dog parks, an agility park, private swimming pond and a doggy grooming station. All of their campsites offer full hookups and premium sites also include a fenced yard. 4 Paws caters specifically to dogs and their adult companions, so campers under 18 years old are not allowed. Check their calendar and book your visit to coincide with one of their special events, such as a wine tastings or holiday party. The location in the foothills of the Blue Ridge Mountains also provides many dog friendly hiking opportunities.
Waggin' Tail Ranch RV Resort
Location: Pilot Point, Texas
Waggin' Tail Ranch is another RV park that isn't just dog friendly, but was actually designed for dogs and dog lovers. "Paw"-dropping amenities include an agility course, swimming pond, a large indoor grooming station and fully fenced RV sites. Doggie day care is also available for campers who need a break from their furry companions. For two-legged guests, the park also has a swimming pool, hot tub, community pavilion and gardens and a playground.
Yanks RV Resort
Location: Greenfield, California
If you enjoy hanging out with dogs and drinking wine, Yanks RV Resort is the perfect vacation destination. Located just a few minutes away from the Red River Wine Trail, Yanks offers complimentary wine tasting coupons to local tasting rooms, many of which are dog friendly. Back at the resort, guests can enjoy a heated swimming pool, hot tub, fitness center and outdoor fireplace. For the dogs, there is a fenced exercise park with tunnels to explore and a pet wash area.
Holbrook / Petrified Forest KOA
Location: Holbrook, Arizona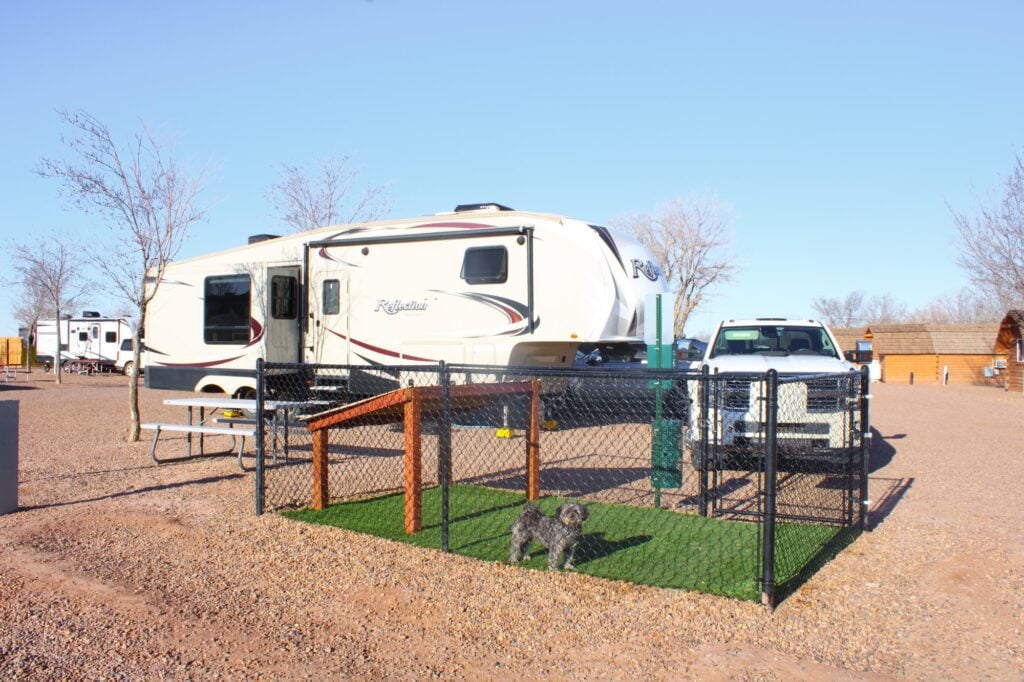 All Kampgrounds of America RV parks are dog friendly, but the Holbrook / Petrified Forest KOA has some extra features for the pups. Several of the pull-thru RV sites offers private Paw Pens with fake grass and a shade pavilion. There is also a larger community dog park for all campers to enjoy. However, the best dog friendly activities are outside of the campground in the nearby national park. Petrified Forest is one of the best national parks for dogs, with no restrictions on where dogs are allowed outdoors or on trails. Click here to see our full list of the best national parks to visit with dogs.
Colorado Springs KOA
Location: Colorado Springs, Colorado
Another extra dog friendly KOA RV park, the holiday resort in Colorado Springs also offers RV sites with private Paw Pens. The nearby Garden of the Gods offers several dog friendly hiking trails among its impressive red rock formations. This resort also has plenty of amenities for human kids including, a swimming pool, full water park with slides, playground, jump pad, wagon rides, bike rentals and even a bubble park.
Desert's Edge RV Park
Location: Phoenix, Arizona
For a camping vacation in the big city, Desert's Edge RV Park is a great dog friendly campground. Within the park, there are two fenced dog parks and a dog grooming station to wash the desert sand off. Human activities include a heated pool and hot tub, barbeque area and citrus trees to pick fresh fruit off of. There are many dog friendly restaurants to eat at in nearby Scottsdale, which also made our list of top dog friendly Arizona destinations.
Lake George RV Park
Location: Lake George, New York
Lake George RV Park is an exciting destination for the whole family, but dog lovers know it best for its awesome bark park. The two acre off-leash dog park (only open to registered camping guests) features large and small dog areas, agility obstacles, a shaded walking trail, treat vending area, spray fountain, an indoor dog washing station and more! The campground also has many other luxury amenities, including heated indoor and outdoor pools, a water slide, tennis courts, pickleball courts, a café and a trolley service to get around the park.
Alum Creek State Park
Location: Delaware, Ohio
Many state parks offer dog friendly RV campgrounds, but Alum Creek has special features for both dogs and people. The state park offers full hookup and electric only RV sites in both sunny and shaded areas. The campground also has a private beach just for campers, mini golf, horseshoe pits and playgrounds. The state park also houses the Friends of Alum Creek Dog Park, a four acre off leash area with water access for dogs who like to swim. In addition to the dog park, there are also several dog friendly hiking trails at Alum Creek.
KQ Ranch RV Resort
Location: Julian, California
Located just 40 miles east of San Diego, KQ Ranch RV Resort provides a luxury resort experience for RV and tent campers. The many on-site amenities include a heated swimming pool, clubhouse and a stocked fishing pond. There is a fenced dog park, but we selected KQ as a top dog friendly RV park mostly because of their attitude. Take a quick glance at their blog to understand how much the folks at KQ Ranch love dogs. However, dogs are not the only four-legged guests allowed at the ranch, they also offer RV sites with personal horse corrals.
Castaways RV Resort & Campground
Location: Berlin, Maryland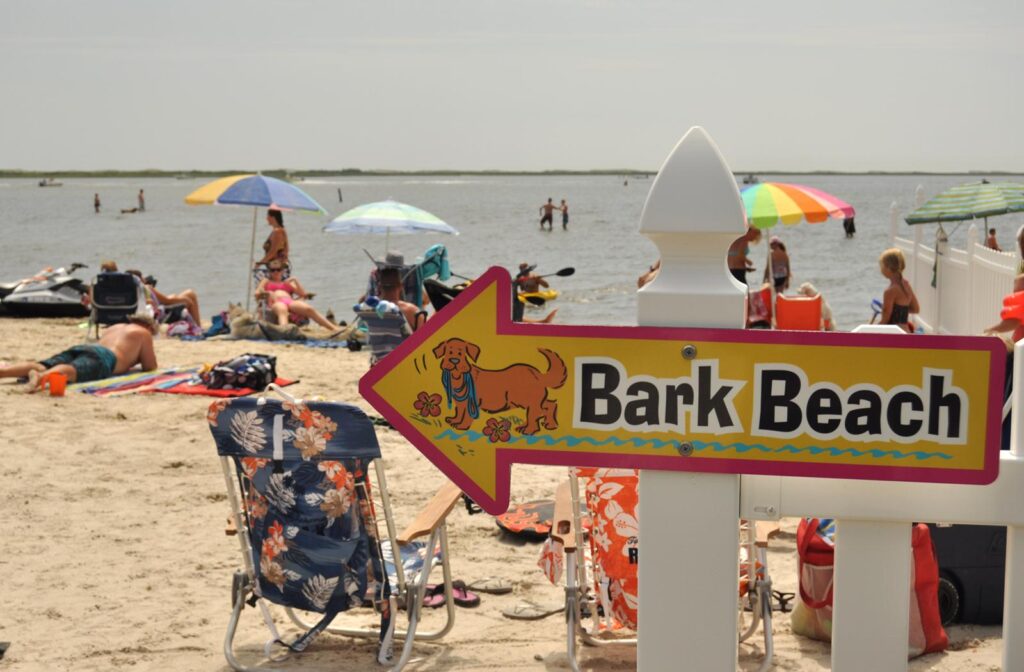 Last but not least on our list of dog friendly RV parks is Castaways RV Resort in Maryland. The feature your pups will be most excited about is the Bark Beach where dogs can relax, play and swim. There is also a fenced dog park and a dog wash station, so campers can wash all the sand off before bringing their dogs back into the RV. Dog owners can also enjoy the on-site café and a waterfront tiki bar, an arcade, golf cart rentals and a fitness center.
---
Which dog friendly RV park is at the top of your bucket list? Share your pick with us in the comments section below. Then, check out all of our dog friendly travel guides for more inspiration.