This post may contain affiliate links. See our affiliate disclaimer here.
With more young couples and families enjoying RV travel and living, a remote workspace is a must have feature for many RV owners. However, most RVers have to invest in costly renovations in order to create the perfect mobile work space.
We have searched all the RVs on the market, and below are the 11 best RVs with office space already built-in. These RVs do not just have the potential for an office, they have a proper desk or full office.
Once you find the perfect RV, you will also need to buy lots of gear to keep you safe and happy on the road. Check out our Amazon shopping list for all the gear you need to successfully hit the road.
Class A RVs with Office Space
Fleetwood Discovery LXE 36Q
The 36 foot Discovery LXE 36Q is a smaller class A RV with an impressive office space. The patent pending 'Adap'table Dinette is a desk in the living area that pivots around to convert into a larger, dining table.
The convertible table comes with two regular and two folding chairs. The folding chairs can be put away during the day and brought out in the evening for dinner.
The 36Q has several other memorable features including a residential refrigerator with an icemaker, an optional dishwasher, outdoor entertainment center and stackable washer and dryer.
Fleetwood Frontier GTX 37RT
Another Fleetwood model with an even better office space is the Frontier GTX 37RT. In the rear of the RV, a separate room houses an optional corner office.
The office space is fully equipped with an L-shaped desk, a built-in monitor and multiple nearby outlets. A large window above the desk brings in natural light. Drawers below and cabinets above provide convenient storage for work supplies.
Other great features of the 38 foot RV include a full residential appliance suite, a pop-up television, an outdoor entertainment center and an on-demand water heater.
Tiffin Allegro RED 360
A standard option in this Tiffin floorplan replaces the typical booth dinette with a more practical dining bar. (Click here to see more RV dinette replacement ideas).
While the dining bar can be used for eating, it is really designed to be a desk. The bar also includes great office features including a printer shelf and file drawer. The bar includes two dining chairs and plenty of desk space for two people to work.
Allegro RED 360 floorplans are available in multiple sizes, and come with three different décor options, so your space will be beautiful as well as functional.
For more RVs with dining tables that can be used as desks, check out our list of Class C RVs that come with a freestanding table.
Travel Trailer RVs with Office Space
Airstream Flying Cloud 30FB Office
It's not surprising that the RV manufacturer most know for innovative design, has created the perfect nomadic office. Located in a separate room in the rear of the trailer, the corner office includes windows, a desk, a comfortable office chair and plenty of storage.
The office space also doubles as a guest bedroom with a fold out twin bed. The rest of the 30 foot trailer is well laid out and features the sleek, minimalist elements you would expect from an Airstream.
Keystone Cougar 31BHKWE
The 35 foot Cougar 31BHKWE is one of the smaller trailers with a full bunkroom. The bunkroom also contains a built-in desk and can double as a private office space.
This bunkhouse travel trailer has plenty of sleeping space with a king-sized bed, double over double bunks and a tri-fold sleeper sofa.
In addition to the office space, the Cougar has many other features that make it ideal for full-time RV living. Keystone advertises the Cougar as having the best four season climate protection in the industry, and all Cougars are pre-wired for an invertor and solar panels.
Keystone Hideout 38FKTS
In addition to a great office space, the Hideout 38FKTS has an in-demand floorplan with a front kitchen and rear master bedroom. The private office space with a built in desk is located in the mid-bunkroom which also serves as a guest bedroom.
The 40 foot Hideout travel trailer includes a sleek, modern interior with innovative features including a central vacuum system, upgraded entrance stairs and maximized storage.
KZ Connect C292RDK
The Connect C292RDK floorplan offers an RV office space with a view. The large built-in desk sits below the rear window, so digital nomads can gaze out at their scenic boondocking spots.
While the desk provides a great work space, it is located right by the kitchen and dining areas. Therefore, it may not be the best remote office option for workers who need a quiet place away from the kids or their spouse.
The Connect travel trailer also comes with several useful and fun features, including a kitchen island, walk-in pantry, outdoor kitchen and washer and dryer hookups in the bathroom.
Fifth Wheel RVs with Office Space
CrossRoads Volante VL3251RD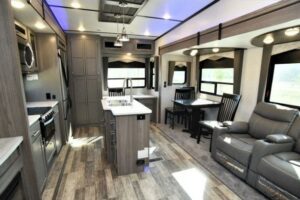 The Volante's rear desk floorplan features exactly what it says, a built-in desk facing out the rear window. The desk, which is located in the kitchen area next to the pantry could also serve as additional prep space for cooking.
This 36 foot luxury fifth wheel is a great option for remote workers who need a desk, but do not need to have a fully dedicated workspace. Additional features include premium residential furniture, stainless steel appliances and washer and dryer hookups.
Forest River Cedar Creek 377BH
This Forest Creek fifth wheel RV does not just come with an office space, it comes with an entire office. The 41 foot RV includes a private mid bunkroom.
RVers who wish to work from their RV can opt to replace the fold-out sofa in the bunkroom with a 6-foot long built-in desk. The room also includes a large wardrobe with plenty of storage space.
For personal time, the RV also has a king bed master with full wardrobe, a large living room and a kitchen with a center island.
Keystone Arcadia 3660RL
All Keystone Arcadia fifth wheels includes a flip-up workstation attached to the kitchen island. The desk/breakfast bar is made of butcher block and includes USB charging stations and power outlets.
Other modern upgrades in the Arcadia models include white kitchen cabinets, modern décor, hidden storage behind the TV and water resistant flooring.
These fifth wheels are available in a variety of floorplans and sizes, including bunkhouse models with additional sleeping space.
Grand Design Solitude 378MBS
Last, but not least on our list of RVs with office space is a large fifth wheel RV with a fully enclosed office space. The Solitude 378MBS is a great option for nomads who want an office and a guest bedroom.
The multi-purpose extra room, located in the middle of the RV, includes a desk as well as a tri-fold sofa and fold down bunk.
If a family needs two work spaces, the pull out ottoman and dresser in the bedroom can serve as a makeshift desk. This home on wheels also includes dishwasher prep, stainless steel appliances and a large pantry.
Tips for Working from an RV Office
If you are planning to work remotely from one of these RVs with office space, there are several ways to create a professional mobile working environment.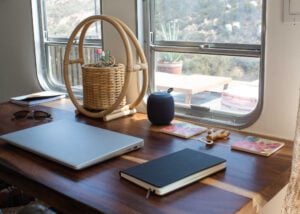 Block out the Noise
RV campgrounds are often filled with the noise of children playing, cars driving by and dogs barking. These distractions can make it more difficult to focus on your work.
A pair of noise-canceling headphones with a microphone can help block out the noise for both you and your clients. Also, request a campsite away from noisy areas, such as the pool and playground.
Stay Connected
An RV with office space won't help you much if you do not have a stable internet connection. Currently cellular hotspot plans and Starlink satellite internet are the most reliable RV internet solutions.
See our complete guide to RV internet for more details.
Manage Work/Life Balance
Although your life of travel will be awesome, working a full time job limits the time you have to explore. Travel slow and stay in new places multiple weekends to make the most of your adventure and avoid burnout.
You can also utilize time zone differences to increase the hours of daylight available for leisure time. For example, if you travel on the west coast and work on east coast hours, you will be off work by 2 or 3pm each day.
---
Thanks for reading our complete guide to RVs with office space.
Once you've found the perfect RV with the perfect office space, it's time to start planning your RV vacation or preparing for life on the road!
Which RV office is your favorite? Share your pick in the comments below!