Campground Overview
Atlatl Rock Campground is one of the two options for RV camping in Valley of Fire State Park. However, Atlatl Rock Campground is the only camping option in the park with RV hookups. This campground has 44 total sites. 22 of the sites have water spigots, but no hookups and allow tents and RVs. While the other 22 sites have electric and water hookups and are reserved exclusively for RVs. Arch Rock Campground, the other RV camping option at Valley of Fire State Park, has 29 dry campsites that can accommodate RVs or tents.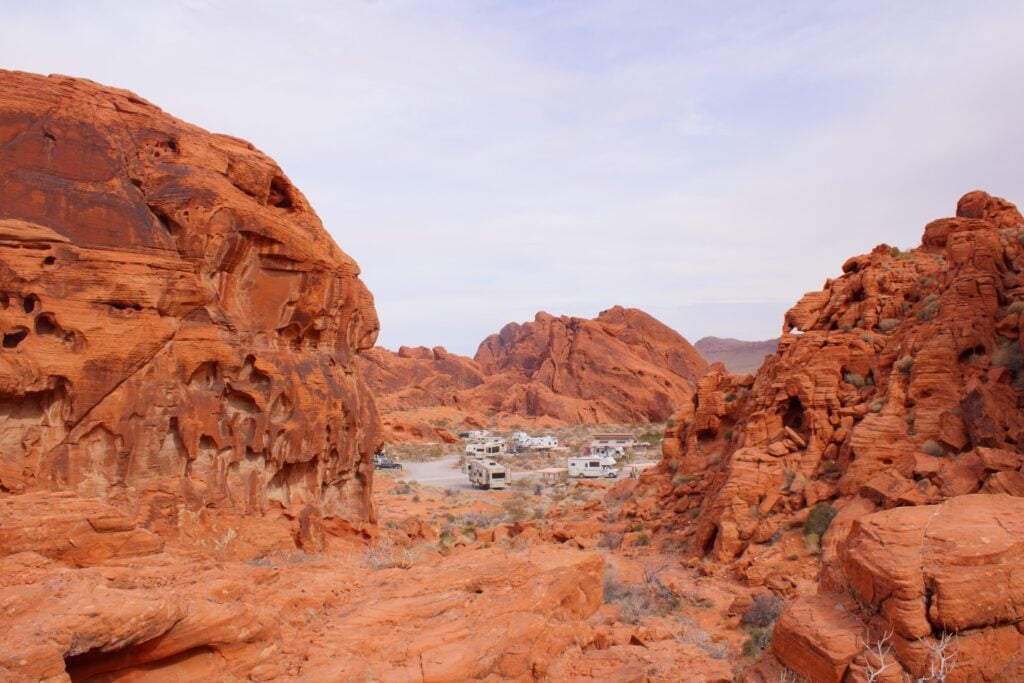 Valley of Fire State Park is easily accessible by car or RV and is located less than an hour from Las Vegas, Nevada. The park is famous for its bright red Aztec sandstone outcrops. These awe-inspiring red rocks can be found throughout the park, including in and around both campgrounds. Many of the parks famous landmarks can be viewed from the car or on short hikes. Average high temperatures in summer months are well over 100 degrees Fahrenheit, so it is best to visit in late fall or early spring.
Atlatl Rock Campground is named for a boulder that sits near the entrance to the campground. The boulder, which is 50 feet off the ground and accessible via a large staircase, is notable because it is covered in ancient petroglyphs. One of these drawings is of an atlatl, a tool that was used to throw arrows and spears before the invention of bows. For those wondering, the word is pronounced as ÄT-lät-ul.
Amenities at Atlatl Rock Campground
By far the best amenity at Atlatl Rock Campground is the natural beauty. The vivid red rocks are one of the most impressive natural features I have ever seen. Just sitting in the campground and taking in the views could keep campers entertained for hours. For added excitement, Bighorn sheep who live in the park are frequent visitors to the campground.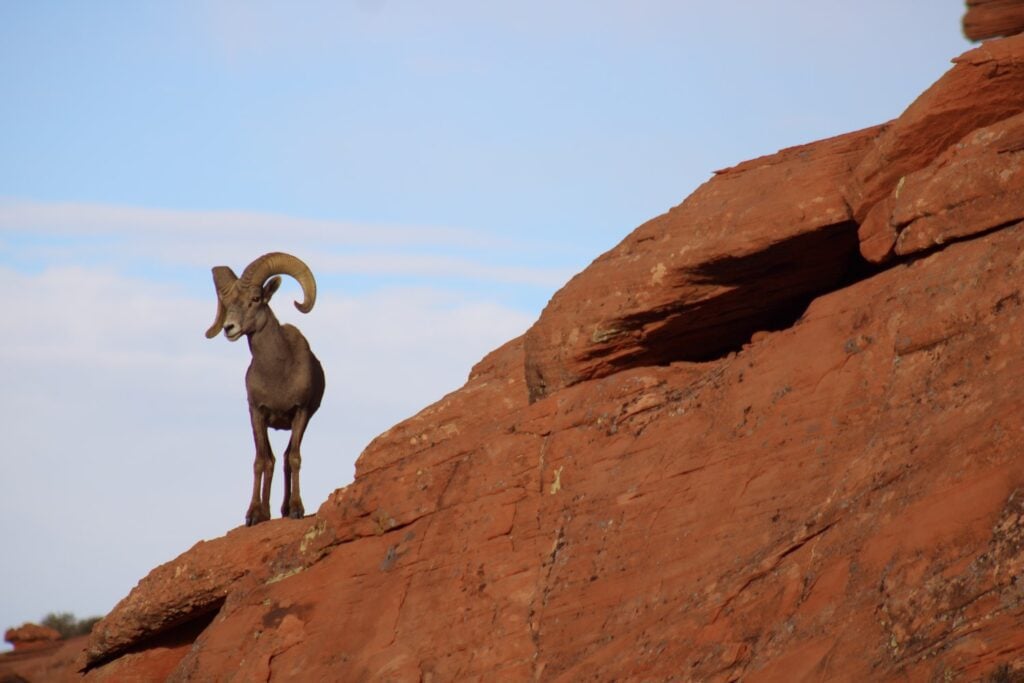 In terms of more practical amenities, the campground has all of the basics. There are two bathhouses with flush toilets and hot showers in Atlatl Rock Campground. Campsites also have shade structures, picnic tables and grills. There is limited cell service, but Wi-Fi is available for a fee. Two dump stations are available for campers and other visitors. The size of each campsite varies greatly, but the largest sites can accommodate RVs up to 50 feet long.
Reservations
With the exception of group camping (see details below), no camping reservations are available at Valley of Fire State Park. All of the individual sites at Atlatl Rock Campground are first-come, first-served. All camping stays are limited to 14 days in a 30 day period. Campsites are $20 per night with an additional $10 per night fee for the sites with RV hookups. All fees must be paid by cash or check.
How to Get a Campsite
There is never a guarantee that you will be able to secure a campsite at Valley of Fire State Park. The park is very popular and the campgrounds are often full, especially when the weather is nice. For the best chance at getting a spot, arrive early on a weekday morning. We arrived about 9:30am on a Monday morning in March and there were two available sites. During our week-long stay, a few campsites opened up each day, but were quickly filled by waiting campers.
There are posts at the front of each campground where campers will display the receipt with their departure date. When you arrive at the campground, you can walk around and check the dates on each post to identify which campsites are likely to be open. Wait for the campers to come outside to speak to them and confirm if they are actually leaving. Campers already parked have the right to extend their stay, so keep in mind the date may not always be accurate. Always respect fellow travelers' privacy and never knock on anyone's door. Grab a form and envelope from the self-pay station when you first arrive, so you can claim a campsite as soon as you find one.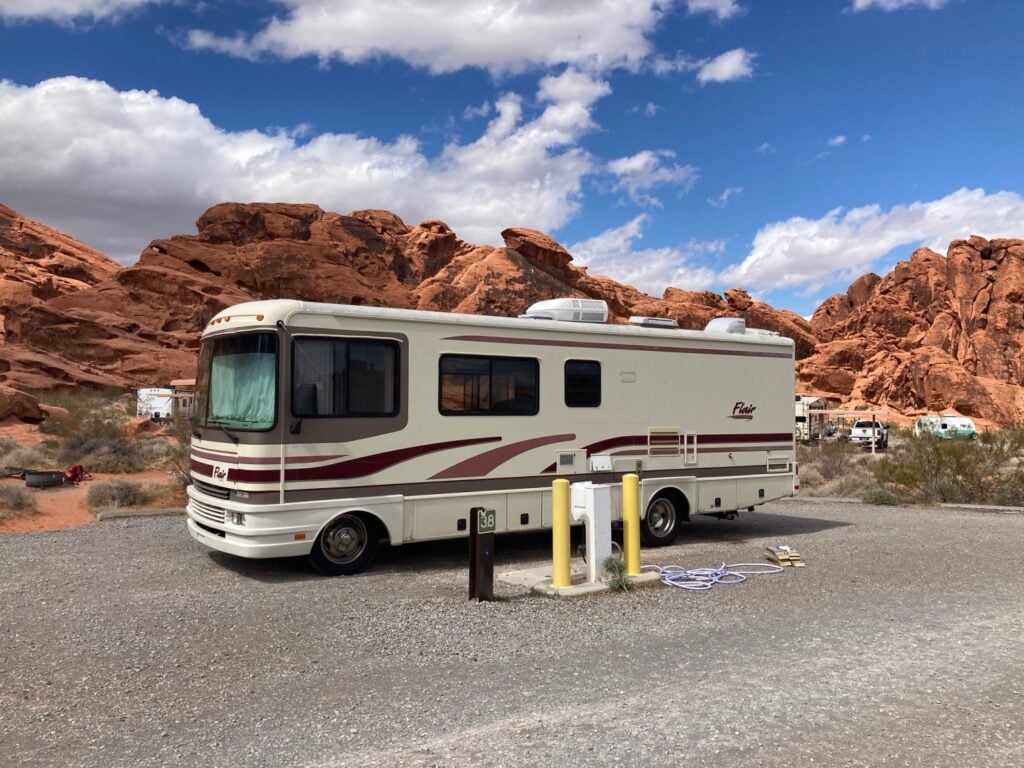 ADA Campsites
Within Atlatl Rock Campground, there are four ADA campsites reserved for campers with disabilities. While parking at ADA sites is allowed at some campgrounds when all other spaces are full, Valley of Fire reserves these sites exclusively for travelers with a disabled parking placard. Do not park in these campsites if you do not have the proper parking permit, as the staff will ask you to leave immediately. While we were camped at Atlatl Rock Campground, a couple was sent packing after dark when a staff member noticed they were parked in an ADA site and did not meet the requirements.
Group Camping
The exception to the first-come, first-served rule at Valley of Fire State Park are the three group-use campsites. These large campsites can accommodate up to 45 people. Reservations may be made in advance for the coming year starting on the first Wednesday of November at 9 am. Reservations can be made by calling 702-397-2088. From the main menu, press "3" for group-use information, and then "1" to check availability or make a reservation.
Back-Up Plans
If you are unable to park your RV at Atlatl Rock Campground, there are nearby boondocking spots that typically have open spaces. Check availability at local RV parks or be prepared to dry camp at one of these locations in the likely scenario that Valley of Fire campgrounds are full.
The closest back-up camping location is a large boondocking area between Valley of Fire and the town of Overton. Just a few minutes outside of the park, this is still a great location to park and enjoy hiking and exploring in the state park. See more details about this boondocking spot on Campendium.
Things to Do at Valley of Fire State Park
After all the work of scouting for and setting up a campsite, you will be rewarded with days spent enjoying the incredible natural scenery. Below are the top three hikes in Valley of Fire State Park. Be sure to arrive at the trails early to beat the heat and avoid the crowds. Then, spend the hotter part of the day relaxing at the campground.
Fire Wave Trail
This 1.5 mile round-trip hike leads to a sandstone formation that resembles an ocean wave with swirling patterns of red, white and pink sandstone. The trail is sandy at the beginning of the hike and transitions into sandstone. Rock cairns (small stacks of rocks) lead the way on the sandstone to the Fire Wave.
White Domes Trail
White Domes Trail is a 1.1 mile loop trail that wanders through incredible sandstone formations. The first section of the trail is a steep decline on sandy surfaces, so hikers need sturdy shoes. The name is deceiving as the trail passes through rock formations of all colors, shapes and sizes. This was probably my favorite hike in the park.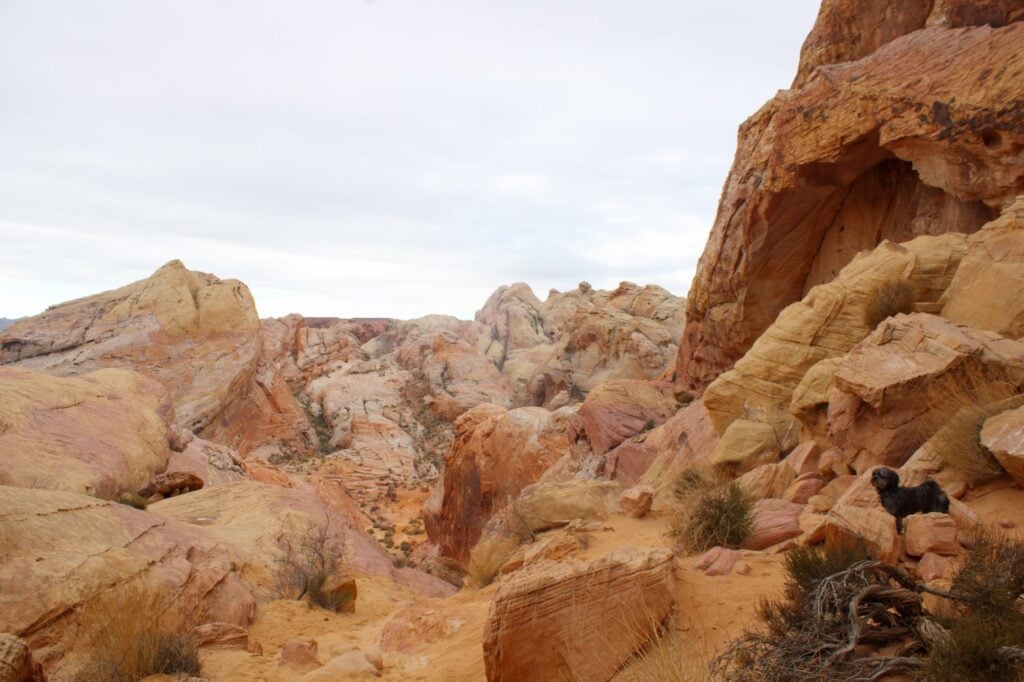 Mouse's Tank Trail
Mouse's Tank is an easy half-mile round-trip hike to a the tank, a natural basin in the rock where water collects after each rainfall. Several prehistoric petroglyphs can also be found on the trail. Mouse's Tank and all of the trails at Valley of Fire State Park are dog-friendly.
---
Have you ever visited Valley of Fire State Park? Did you secure a campsite at Atlatl Rock Campground or did your camp outside the park? Share your experiences with us in the comments section below.
Check out our RV campground reviews page for more awesome RV parks and resorts!