This post may contain affiliate links. See our affiliate disclaimer here.
RV campers have the luxury of traveling with a kitchen. However, just because campers have a kitchen, doesn't mean they want to spend all weekend inside cooking. Below are 34 RV camping food ideas that are delicious, but easy to prepare.
Make Ahead RV Camping Meals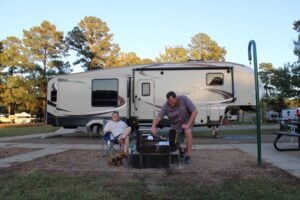 The best RV camping food ideas are recipes that require minimal work at the campsite. The 10 recipes listed below can be premade at home, packed up and brought to the campground.
Italian Pasta Salad: This simple, but hearty pasta salad makes a fabulous RV meal. The salad can be stored for up to 3 days in the refrigerator, so it is best to make it the night before a camping trip.
Chicken Salad: A cold chicken salad is another great make ahead RV lunch or dinner. For even easier preparation, buy a rotisserie chicken instead of cooking your own.
White Bean Salad: If you need to accommodate vegetarians or just want a light meal, a bean salad is a great RV camping meal idea. Healthy and delicious, this recipe is perfect for picnics at the campground.
Granola: For a simple RV camping breakfast, whip up a batch of healthy, homemade granola. You can customize this breakfast with your family's favorite nuts and dried fruit.
Cinnamon Rolls: These make ahead cinnamon rolls are another easy, but much more decadent breakfast idea This recipe was made to be prepared at home and cooked later over a campfire.
Foil Packet Philly Cheesesteak: An elevated version of a classic campfire meal, these Philly Cheesesteak foil packets can be prepared in advance and stored in the refrigerator until ready to cook. Check out the cookbook Foiled! for more unique packet dinners.
Enchiladas: These make-ahead chicken enchiladas are the perfect RV meal idea. Simply assemble the enchiladas in a foil pan, and cook them over a campfire or in the RV oven.
Mac and Cheese: This rich mac and cheese recipe was specifically written for campers to make ahead of time and heat up over a fire. If you are looking for a crowd pleaser, this is our top choice!
Taco Salads: While taco salads may not be a typical camping meal, this make-ahead recipe is one of our favorite RV camping food ideas. Just remember not to add the dressing until you are ready to serve. Or check out these awesome camping taco recipes!
Charcuterie Board: The ultimate RV camping meal is a fabulous cheese plate. While the charcuterie board will need to be arranged on site, all of the cutting and slicing can be completed before your trip.
Grill-able RV Camping Food Ideas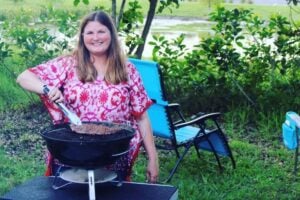 For campers who are looking for gourmet RV camping food ideas, a grill is the best way to cook impressive meals without making the camper hot and smelly. Here are 10 simple RV grill recipes that the whole family will love.
If you prefer to cook directly over the fire instead of on a grill, check out our guide to the best campfire cooking kits.
Flank Steak: Grilled flank steak is quick, easy and delicious. Compared to other cuts of steak, a flank steak is larger and more affordable, so you can feed the whole family with one piece of meat.
Elote: This Mexican-style grilled corn is the perfect side dish for any RV camping meal. It only takes about 10 minutes to cook, so it can be grilled while your meat is resting.
Hamburgers: There's nothing wrong with sticking to the camping classics, like hamburgers. Check out these 33 Food & Wine burger recipes for ideas on how to make your burgers more interesting.
Hawaiian Kebabs: Kebabs are another simple but tasty RV camping food. These Hawaiian chicken kebabs with grilled pineapple make a perfect summer meal.
Veggie Platter: For vegetarians or a healthily side dish, grill up an assortment of vegetables. This recipe for sweet and spicy vegetables with burrata will please any foodie at the campground.
Grilled Pizza: Everybody loves pizza, and it is actually super easy to cook one on a grill. Since the toppings can be customized for each camper, the whole family will love this meal.
Fish Tacos: If you are camping near the coast, try grilling these awesome fish tacos. Lay the toppings out on the picnic table to create a taco bar at the RV park.
Chicken Satay: Similar to a kebab but with a unique flavor, Chicken Satay with peanut sauce is another great RV camping food idea. The chicken can be eaten right off the stick, so no utensils are needed.
Chicken Wings: For a more classic chicken dish, grill up a bunch of flats and drumsticks. Make sure to serve these buffalo wings outside to keep sticky fingers out of the camper.
S'more Pizza: Perhaps the ultimate RV camping food idea, a s'more pizza is a delicious grilled creation. A pizza with all the classic s'more ingredients as toppings, the kids will love this concoction.
RV Camping Meals Cooked Inside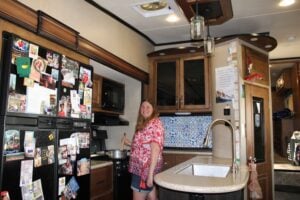 Use your RV's oven and range to cook gourmet meals inside the RV. All of the following RV camping food ideas require minimal preparation space and no special tools, so they can easily be cooked in any camper. See these 20 essential RV cooking tips to become a better RV cook.
One Pot Pasta: Cooking a one pot or one pan pasta dish is a quick way to make a large dinner in the RV. This spaghetti-style pasta takes less than 20 minutes to make.
Baked Potatoes: While RV ovens have limited space, they have plenty of room to bake enough potatoes to feed a large family. Simply bake the potatoes in the RV oven and let each camper load theirs with toppings.
Stuffed Sweet Potatoes: Sweet potatoes are cooked just like baked potatoes, making them perfect for an RV dinner. However, they have a totally different flavor than regular baked potatoes.
Grilled Cheese: As long as you own a pan, a grilled cheese is a super simple RV camping meal. Consider packing pesto and tomatoes, so you can cook fancy version of the classic sandwich.
Nachos: Another classic food that is easy to make in an RV camper is nachos. Simply load up the chips, and bake them in the RV oven for 10 to 15 minutes. If you have a large group, plan to bake multiple batches.
Vegetable Stir Fry: Stir fries are another easy one pot dinner that campers can whip up in less than half an hour. The meal can easily be customized with whatever veggies are in your RV fridge.
Eggs and Bacon: Breakfast can easily be whipped up inside the RV. If you want bacon at the campground, use this microwave cooker which cooks bacon fast and makes clean-up much easier.
BLT Sandwiches: Use your leftover bacon from breakfast to put together another delicious meal. Simply stack the bacon, lettuce and tomato on some bread and add mayonnaise.
Chopped Salad: When it is super hot outside, a refreshing chopped salad is the perfect camping meal. Since no cooking is required, this meal won't heat up the RV.
Canned Soup: For nights when you do not feel like cooking, keep a few cans of your favorite soup in the RV to simply heat and eat.
RV Cooking Tips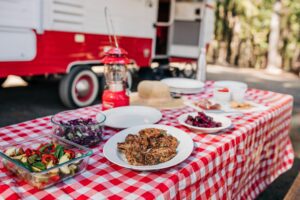 Below are some simple RV cooking tips to make your camping meals a success.
Use a Pizza Stone: Placing a baking stone or pizza stone on the rack in your RV oven will help moderate the heat from the burner so food cooks more evenly.
Learn to Adjust Cooking Time: While a pizza stone helps the RV oven cook more evenly, recipe cooking times may still need to be adjusted. We typically add 5 to 10 minutes to recipe times when baking in our RV oven. Use trial and error to determine how to adjust your recipes for RV cooking.
Watch your Power Usage: When using the microwave or other cooking appliances, pay close attention to how much power you are using. When connected to 30 amp power, you will need to turn the air conditioner off to use the microwave.
Pack a Meat Thermometer: RVers who love to grill meat should purchase a wireless meat thermometer for camping, so they can always cook the perfect medium burger or steak.
---
Now that you have an RV meal plan ready, make sure to stock up your RV with dishes and cookware made for travel and tiny spaces.
What are your favorite RV camping food ideas? Share your picks with us in the comments section below.