This post may contain affiliate links. See our affiliate disclaimer here.
An RV honey wagon removes the waste from your RV when no sewer hookup or dump station is available. However, there are pros and cons to using a honey wagon. Keep reading to learn what an RV honey wagon is, when to hire one and why they should not be used long-term.
What is an RV Honey Wagon?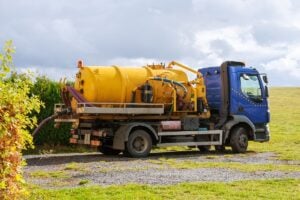 An RV honey wagon or camper honey wagon is a dump station on wheels. A honey wagon is either a truck or trailer with a large tank, a pump and hoses designed for waste removal.
The honey wagon hose is connected to the RV sewer outlet and the honey wagon's pump quickly empties the black and gray holding tanks into its portable tank.
So, why are they called honey wagons? The name is actually kind of gross, as it refers to the color of the waste being emptied from your RV's black tank.
How to Find an RV Honey Wagon Service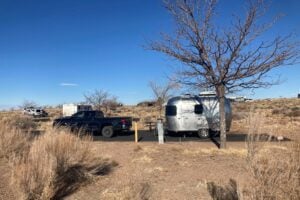 One of the easiest ways to find an RV honey wagon service is to ask the campground host or office staff. Many campgrounds that do not have full hookups, will offer honey wagon service themselves or know of local companies offering dumping services.
Music festivals, RV rallies and other events with onsite RV camping may also offer honey wagon services. Inquire about the availability of an RV dump service when buying tickets or when checking in.
If you are boondocking or need an RV honey wagon to come to your home, you will need to find a local service. Simply Google "RV honey wagon near me" or "RV pumping services near me" to find nearby companies.
If you have trouble find a company online, ask for recommendations from local RV dealers and campgrounds.
Benefits of Using an RV Honey Wagon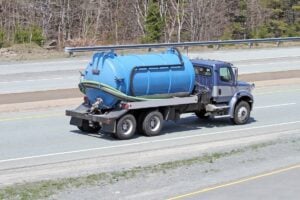 Convenience
The main benefit of using an RV honey wagon service is the convenience. If the dump station comes to you, then you don't have to move your RV.
Driving to a dump station means securing everything in the RV for travel, re-parking and re-leveling the RV, so a honey wagon is a big time saver.
Allows for Extended Stays
If you are camping in a location without a sewer hookup or a dump station, a honey wagon can help you extend your trip.
Even when paying close attention to water usage, most families cannot camp more than a week without need to dump their RV holding tanks. Hiring a honey wagon allows campers to extend their trip indefinitely.
Legal and Responsible Dump Option
RV honey wagons are also a responsible way to empty both your black and gray holding tanks. Some RVers will empty their gray tank directly onto the ground becuase they believe it is "just water."
However, most gray tanks actually contain soaps, chemicals and food particles, so they need to be dumped into dump stations or septic systems.
Downsides of Using an RV Honey Wagon
Incomplete Cleaning
The biggest downside of using an RV honey wagon is the potential for your holding tanks to accumulate waste buildup. We always recommended that RVers thoroughly flush their black tank every time they dump.
Flushing the tank with water ensures that it is thoroughly cleaned and prevents clogs and waste buildup.
However, RV honey wagon operators just open the tank valves, pump out the waste and move on. If there is buildup on the bottom of your tank, the honey wagon may not get it all out.
Therefore, we recommend only using honey wagons as a temporary solution when drying camping or attending an event without hookups. The black tank should be dumped and properly flushed between honey wagon services.
After your black tank has been emptied by the honey wagon, add some water and tank treatment to your black tank to help prevent buildup.
Costly
Depending on your location, RV honey wagon services may be quite expensive. At music festivals and other events, we have been charged $50 for emptying our RV holding tanks a single time.
Campgrounds that offer honey wagon services are typically more affordable. Some RV parks include dumping service in their weekly rates, while others charge somewhere between $5 and $20 per dump.
Alternatives to RV Honey Wagons
If you cannot find an RV honey wagon in your area or don't want to pay for the service, there are other easy ways to empty your tanks.
Use a Portable Tank
The first honey wagon alternative is a portable RV tank. These small totes are designed to transport gray and waste water from your RV to a dump station. Portable tanks are a great solution when there is no sewer hookup at your campsite, but there is a dump station nearby.
Portable tanks will not be nearly as large as honey wagon tanks. When purchasing and using a portable tank, always be aware of the size of the tank in relation to the capacity of each of your holding tanks.
Sometimes these tanks are referred to as honey wagons or portable honey wagons, but the term is more commonly used for trucks or trailers with the capacity to empty several RVs.
Use a Dump Station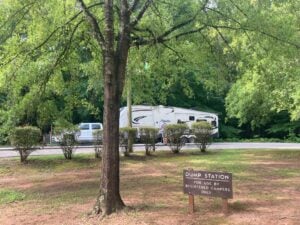 The other alternative to hiring a honey wagon service is to drive your RV to the nearest dump station. If you are concerned about money, this may be the best option, as dump stations are usually cheaper than honey wagons. In fact, many dump stations are free to use.
Another advantage of using a dump station is being able to verify that your black tank is cleaned properly. After dumping your tanks, flush the black tank by filling it with fresh water and draining it again. Repeat until the draining water is clear and free of debris.
Learn more about proper black tank care in our complete guide to dumping RV tanks.
---
Thanks for reading our complete guide to RV honey wagons. You should now know how to find an RV honey wagon service, and whether or not it is the best option for your RV dumping needs.
If your RV is parked at your home (or in a friend's driveway), see our complete guide to dumping your RV tanks at home for an easier way to empty your RV holding tanks.
Happy Camping!