This post may contain affiliate links. See our affiliate disclaimer here.
Arizona is a winter paradise in the United States, offering warm weather and stunning desert scenery. However, finding lodging and activities can be difficult anytime you are traveling with a dog. My husband and I live in an RV and travel the country with our dog, Ted, always looking for the best pet friendly destinations. Below are 9 unforgettable dog friendly vacations in Arizona.
If you want to visit multiple destinations in Arizona, traveling by RV is the most practical way to travel with a dog. While hotels do not allow dogs to be left alone, they can be left in an RV for short periods of time. RVs also have more space for everyone to stretch out while driving. Visit RVezy to rent a dog friendly RV today!
In this article, we have included both RV campgrounds and dog friendly hotels for each destination. Keep in mind that hotels may have a limited number of pet friendly rooms, so reservations should be made in advance.
Bisbee, Arizona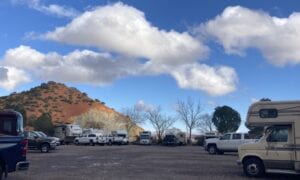 Best Dog Friendly Hotel: Copper Queen Hotel
Best RV Campground: Queen Mine RV Park
If you love historic charm, then Bisbee is the ideal dog friendly Arizona vacation.  A former copper mining town, Bisbee now features many cute shops and restaurants.
Walking around the town, you will see dogs everywhere. Old Bisbee Brewing Company, Screaming Banshee Pizza and Santiago's Restaurant all offer dog friendly outdoor seating.
For a little exercise, take your dog on the 1.7 mile hike up Youngblood Hill for great views of the area. The trailhead and all the restaurants mentioned are in downtown, a short walk from both the Copper Queen Hotel and the Queen Mine RV Park.
Grand Canyon National Park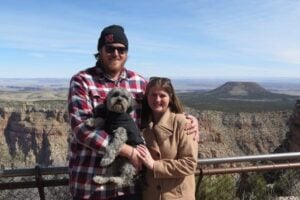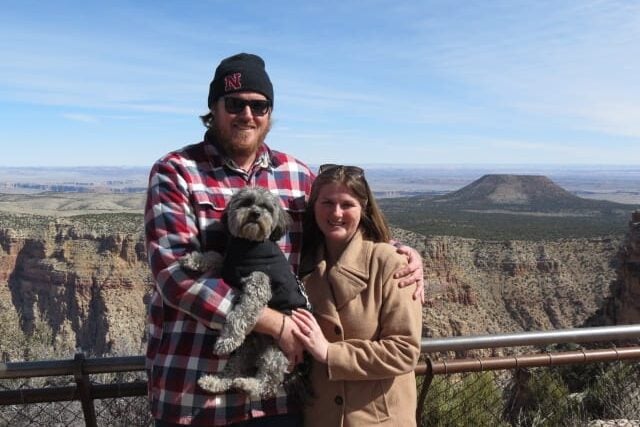 Best Dog Friendly Hotel: Yavapai Lodge
Best RV Campground: Trailer Village RV Park
When you think of Arizona vacations, the Grand Canyon is the first destination that comes to mind. Fortunately, this national park is also one of Arizona's best dog friendly vacations.
While dogs are not allowed inside the canyon, they are able to explore all 13 miles of the Rim Trail on the South Rim. If you wish to hike into the canyon, there is a day kennel available for dogs and cats.
Yavapai Lodge and Trailer Village are both located within the park, and offer pet friendly accommodations close to the South Rim. For meals, the Yavapai Lodge's Tavern also allows dogs on their outdoor patio.
For more RV camping details and options, see our complete guide to national park campgrounds.
Jerome, Arizona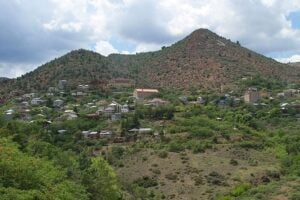 Best Dog Friendly Hotel: Ghost City Inn
Best RV Campground: Rain Spirit RV Resort
Like Bisbee, Jerome is another historic copper mining town, but it is located in the northern part of the state. Today Jerome is a very small town, that serves both as a popular tourist destination and artist hub.
Although dogs are not allowed in the mansion, they are permitted to stroll the grounds of the Jerome State Historic Park, where visitors can read historic displays, have a picnic and enjoy the beautiful panoramic view of the Verde Valley.
Travelers can take in more history while staying at the pet friendly Ghost City Inn, which was originally built as a boarding house for mine management. Jerome is less than an hour from Sedona, so both destinations can easily be visited in one trip.
Lake Havasu, Arizona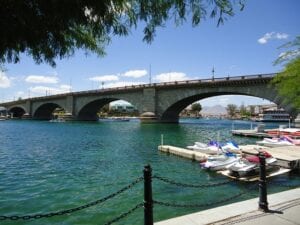 Best Dog Friendly Hotel: The Nautical Beachfront Resort
Best RV Campground: Sam's Beachcomber Resort
Lake Havasu City is a super laid-back, dog friendly Arizona vacation destination. There are multiple dog parks in town, including That Dane Bar, an indoor dog park where humans can relax and enjoy a beer.
If you want to get out on the water, rent a boat or kayak (just confirm with the rental company that the craft is dog-friendly and don't forget a life jacket). There are also several dog friendly restaurant patios in Lake Havasu, including The Turtle Grille at The Nautical Resort.
Petrified Forest National Park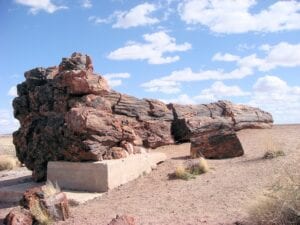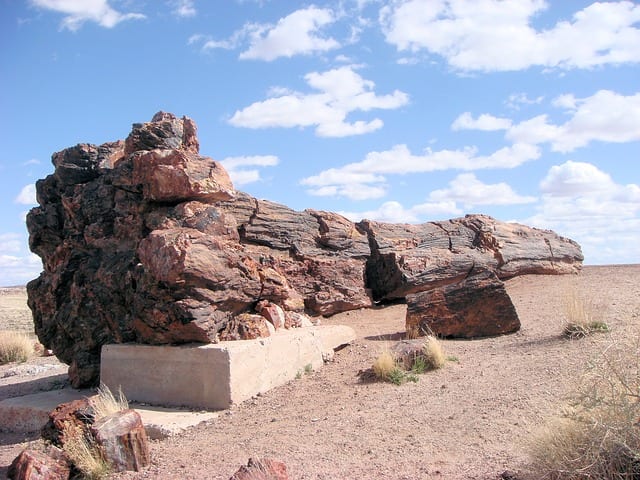 Best Dog Friendly Hotel: La Quinta Inn & Suites
Best RV Campground: Holbrook/Petrified Forest KOA
Petrified Forest National Park is another great dog friendly vacation in Arizona (see our full list of dog friendly nationals parks here). Within in the park, dogs are allowed everywhere except inside of buildings.
Outdoor lovers can spend their entire vacation with their pup hiking trails and camping in the backcountry. If you are traveling in an RV, you must stay the local KOA which offers RV sites with their own personal dog parks, complete with fence, shade and artificial turf.
Scottsdale, Arizona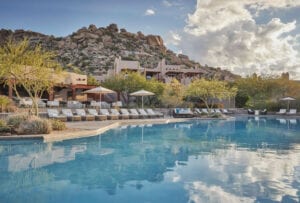 Best Dog Friendly Hotel: Four Seasons Resort
Best RV Campground: Eagle View RV Resort
For a dog friendly resort vacation in Arizona, Scottsdale is the answer. The Four Seasons is one of several area resorts that allow pets. Pets mat not be left unattended, but you wont need to leave the room if you book one of the casitas with a private patio and firepit.
Off the resort, take your dog to explore the hiking trails in Tonto National Forest or visit one of Scottsdale's many dog friendly outdoor dining venues.
If your budget won't allow for a stay at the Four Seasons, consider RV camping at the Eagle View RV Resort, just a bit west of town in Fort McDowell.
Sedona, Arizona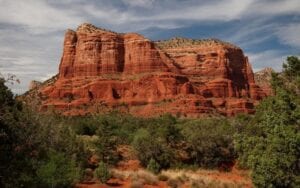 Best Dog Friendly Hotel: Sky Ranch Lodge
Best RV Campground: Rancho Sedona RV Park
Sedona is definitely the most picturesque destination in Arizona. Hiking is the main activity and visitors can enjoy literally hundreds of nearby dog friendly trails. Bell Rock and
Courthouse Butte Loop is a great moderate hike with awesome views of the area's famous red rocks. If you and your pup prefer to ride, the Adventure Company Jeep Tours allows well-behaved dogs on their trips.
Also, make a stop at the Sedona Dog Park which has some of the nicest views of any dog park in the country. Speaking of views, the Sky Ranch Lodge is the place to stay if you want to enjoy red rock scenery from your hotel.
Tombstone, Arizona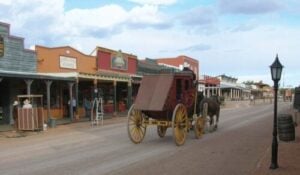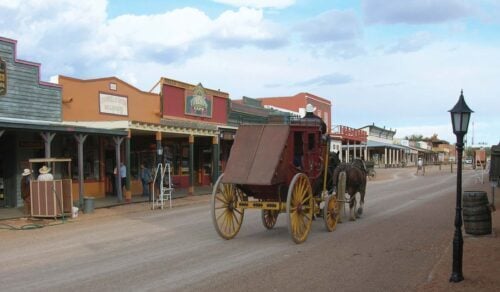 Best Dog Friendly Hotel: Trail Rider's Inn
Best RV Campground: Tombstone RV Park & Campground
Tombstone is the last, but not least, of the historic mining towns on our list. In the town, you will find some of the most unique dog friendly experiences in the country.
Your dog can accompany you on a stage coach tour, to a show at the Bird Cage Theatre, on a trolley tour and even exploring old underground mines. After all those activities, your dog can join you on the patio of Café Margarita for dinner and drinks.
The Trail Rider's Inn provides a simple but comfortable place for both humans and pets to crash.
Tucson, Arizona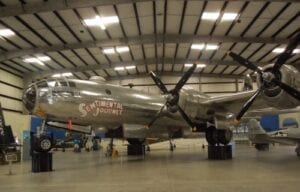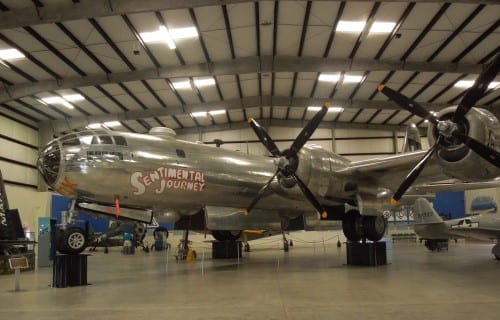 Best Dog Friendly Hotel: La Quinta Inn & Suites
Best RV Campground: Sentinel Peak RV Park
For a dog friendly vacation that offers both city and outdoor adventures, Tucson, Arizona is the perfect destination. One of Tucson's unique dog friendly experiences is the Pima Air and Space Museum. Dogs are allowed to join you in the museum to view over 300 airplanes and spacecraft.
Tucson is also close to several dog friendly hiking trails in the Sweetwater Preserve and other local parks. There are four La Quinta Inn and Suites in Tucson, so you can find dog friendly accommodations in any part of the city.
---
When your packing your bags for your dog friendly vacation in Arizona, don't forget your furry companions essentials, including their regular food, vet records, leash and collapsible food and water bowls.
What dog friendly destinations are on your bucket list? Share your dream vacation in the comments!