This post may contain affiliate links. See our affiliate disclaimer here.
Class C RVs are super desirable because they are small and easy to drive. However, it can be difficult to find a Class C floorplan that can comfortably accommodate an entire family.
Fortunately for you, we have researched all the Class C floorplans available in 2023 so you can select the perfect Class C with bunk beds for your traveling family!
Once you find the perfect RV, you will also need to buy lots of gear to keep you safe and happy on the road. Check out our Amazon shopping list for all the gear you need to successfully hit the road.
Small Class C RVs with Bunk Beds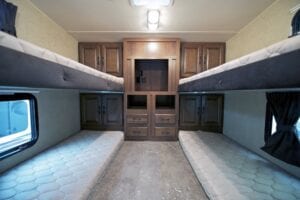 Small Class C RVs are more maneuverable and allow for more boondocking and scenic camping opportunities. Smaller motorhomes are also more practical for campers who do not plan to tow an additional vehicle for errands and day trips.
While really tiny RVs cannot fit a full set of bunk beds, all of the small Class Cs with bunk beds in this section are under 33 feet long.
Entegra Esteem 31F
Small doesn't mean cheap. The Esteem 31F offers luxury RV living in a compact Class C. At 32.5 feet long, the 31F floorplan is comfortable and well-equipped.
The bunks are located in the middle of the RV just in front of the main bedroom. In addition to the bunks, unique features of this 350 horsepower Class C include a front power shade, legless dinette, pop-up charging station in the kitchen and an exterior LED TV.
Forest River Sunseeker 3270S

The Sunseeker Class C bunk bed floorplan is distinguished from other options by its light, modern interior.
All the wood from the kitchen cabinets to the bunk bed frames is a light Vermont oak, while the kitchen features stainless steel appliances and marble-looking counters and backsplash.
A dual-entry bathroom allows parents and kids to access it without waking each other up. This Sunseeker model is just under 32 feet long. Click here to see all of our favorite RVs with modern interior décor.
Jayco Redhawk 31F
The Jayco Redhawk 31F is a 350 horsepower, 32.5 foot long Class C with bunk beds. The floorplan also includes a queen bed master and a full bathroom with dual entries.
The Redhawk has several extra features, including exterior speakers, hardwood cabinets, a pop-up charging station, legless dinette and an entrance door with industry's largest travel-view window.
Thor Chateau 31EV
The Thor Chateau 31EV comes in at just under 33 feet. The main bedroom has a queen sized bed, and bunk beds are located just outside the bedroom.
Dual entrances to the bathroom allow access from both the bedroom and the main living area. Other notable features include a pantry, residential vinyl flooring throughout and a convertible dinette for extra sleeping space.
Winnebago Minnie Winnie 31H
Just meeting the requirements for a small Class C, the Minnie Winnie 31H is 32 feet, 9 inches long. The extra inches allow for additional features including a large pantry, full wardrobe and a large, u-shaped dinette.
In addition to bunk beds and a queen main bedroom, this class C also has an over cab bunk and a sleeper sofa. The dinette can also be converted into a bed if you are camping with a crowd.
Large Class C & Super C RVs with Bunk Beds
For families, who want more space to spread out or plan to live in their RV, a larger Class C will provide a homier feel. All of the bunkhouse Class C RVs in this section are 35 feet or longer.
Super C RVs are larger, more on a scale with Class A motorhomes, but they are built on a large commercial truck chassis not a bus chassis.
For those looking for the best drive, Super Cs have more engine power for steep inclines. They also have great towing capacity for taking along a boat or a trailer.
Dynamax Force 37BD HD
Coming in at just under 40 feet, Dynamax's Force 37BD has plenty of space for everyone in your family. There is a primary bedroom with a king bed in the rear of the RV, and the bunk beds are located across from the full bathroom.
For larger families and guests, additional sleeping space is available in the larger, over cab bunk bed and a hide-a-bed sofa. Other features include a 375 horsepower turbo diesel engine, hardwood shaker-style cabinetry, a cedar-lined wardrobe and a water filtration system.
Dynaquest XL 3700BD
This 40 foot Super C has a similar floorplan to the brand's Force 37BD that we detailed above. As with the Force, the Dynaquest XL has a king bed master, bunk beds, an (optional) over cab bunk and a hide-a-bed sofa.
The Dynaquest also offers a 450 horsepower turbo diesel engine, washer and dryer hookups, polished ceramic tile flooring, high-end sound system, dual awnings and aluminum-wrapped slideout toppers.
Entegra Accolade XL 37L
Another 40 foot Super C, the Accolade XL 37L has everything a traveling family needs, including bunk beds. The bunks are located across the hall from the bathroom, which features a large shower.
Other luxury amenities include washer and dryer hookups, a residential refrigerator with ice and water in the door, a king bed, front power shade and a heated floor mat. The Accolade comes with 360 horsepower engine.
Jayco Seneca 37L
The Seneca Super C is Jayco's luxury diesel RV option. In the 37L model, bunk beds are located across from the full bath and in front of the main bedroom.
High-end interior features include washer and dryer hookups, a residential refrigerator and tile-like vinyl flooring. On the exterior, campers can enjoy a 23 foot power awning and an outdoor entertainment system.
Nexus Wraith 35W
Another luxury Super C, the Wraith 35W features an all steel composite construction with no wood in order to minimize potential water damage. As with most bunkhouse floorplans, the bunk beds are located in the rear of the RV just in front of the main bedroom.
Additional luxury features include a stainless steel range and microwave, a flat screen TV with hidden storage in the bedroom and a deluxe innerspring mattress. Smaller than other Super Cs, the Wraith 35W is just over 36 feet long and has a 300 horsepower engine.
Renegade Valencia 38BB
Our last (but not least) Class C with bunk beds is the Valencia 38BB, a 38 foot, 360 horsepower Super C manufactured by Renegade.
Upgraded features in the Valencia include an armless awning, hardwood cabinets, a glass tile kitchen backsplash, a memory foam mattress on the king bed and stainless steel appliances. The bunks are located across from the bathroom, in front of the bedroom.
---
Now, you know all the options for Class C bunkhouses! No matter which RV you choose, a family road trip will be the adventure of a lifetime.
If you are still searching for the perfect family RV, also check out our lists of the best Class C toy hauler RVs, the best Class A RVs with bunk beds and the best travel trailer RVs with bunkhouses.
To start planning your RV vacation (or life), check out our must have RV gear guide and our favorite road trip routes in America!
Which Class C with bunk beds is your favorite? Share your pick in the comments section below.