This post may contain affiliate links. See our affiliate disclaimer here.
There are several different RV camping memberships that offer discounts on RV campsites. It can be confusing understanding the benefits and cost of each RV campground membership.
In this article, we breakdown everything you need to know about an RPI membership. We detail the membership levels, benefits, purchasing options and more. Read on for answers to all your questions about RPI campgrounds.
What is RPI?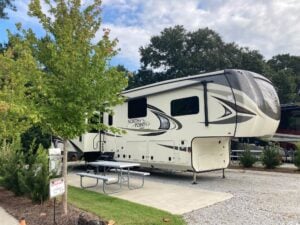 RPI (or Resort Parks International) is an RV camping membership purchased through one of several affiliated resorts. The resort where a membership is purchased in known as the home resort. The RPI membership is an add-on to the home resort membership.
Currently, 150 affiliated RPI resorts offer RV camping memberships. RPI members receive reciprocal benefits at RV resorts across the United States and Canada.
Benefits of an RPI membership include discounted nightly rates on RV campsites and discounts on other non-RV travel expenses.
Thousand Trails and RPI
Many RVers learn about the RPI membership when researching Thousand Trails. Thousand Trails is an RV campground membership that offers free camping in their RV parks and resorts.
A 1 or 2 year RPI membership is included with an elite Thousand Trails membership . After the free introductory period, the add-on RPI club membership renewal fee is less than $200 per year.
For more information on purchasing a Thousand Trails membership with added RPI benefits, check out our complete guide to Thousand Trails memberships.
Or, for the best price and most up to date Thousand Trails membership options, email or call (804-366-0798) membership specialists Sharon and Warren Lewis and tell them Christina from Travels with Ted sent you.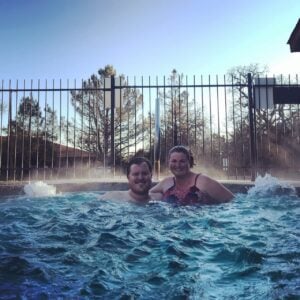 Benefits of an RPI Membership
There are three levels are RPI memberships that all provide discounts for RV travelers. Below we have listed all the benefits of a current RPI membership at the three different membership levels. Benefits may differ slightly for used memberships.
RPI Plus Membership Benefits:
Pay only $10 per night camping at RPI and RPI Preferred resorts (some resorts may charge extra fees for utilities or premium services, such as cable)
Stay up to 7 nights during each stay at an RPI resort
Most resorts accept member reservations 60 days in advance
Discounted camping, up to 50% off, at 200 other partner resorts
Members must have 7 days between reservations at the same resort
Members are allowed to visit each campground up to two times per calendar year
Discounts are only valid at RPI resorts more than 125 air miles from the member's home address
50% off rental accommodations at RPI resorts for reservations of at least 1 week
RPI Preferred Membership Benefits:
All of the benefits noted above
Stay up to 14 nights each stay at an RPI resort
Unlimited 14 day stays during the off-season (limited to two peak season stays per year)
No air mile requirement
Receive 4 family usage passes each year for adult family members to camp at an RPI Preferred Resort for $15 per night for up to 7 nights
RPI Preferred Gold Membership Benefits:
All of the benefits noted above

Special rates on condominium rentals and other non-RV travel
How to Buy an RPI Membership
There are three ways to purchase an RPI RV membership:
Through Thousand Trails
New, elite Thousand Trails memberships include an RPI Preferred Gold membership. Memberships are included at no cost for 1 to 2 years and can be renewed for $165 to $199 per year after the free introductory period.
To purchase or upgrade a Thousand Trails membership, email or call (804-366-0798) membership specialists Sharon and Warren Lewis. Tell them Christina from Travels with Ted sent you to get the best price.
At an Affiliated Resort
The most common way to purchase an RPI membership is through one of their affiliated resorts. When a camper purchases a resort membership at the home park, a full RPI membership can be added on.
Used Memberships
Some RPI memberships allow for transfer, so it is possible to purchase one from the original owner. Online brokers, such as Campground Membership Outlet, help RVers locate available used memberships.
Cost of an RPI Membership
RPI does not publish their membership rates online. In order to obtain rates for a new membership, RVers must contact affiliated parks and inquire about the cost of their membership.
Members will pay a fee to join their home park and also pay annual dues for the RPI membership. The cost and dues of home park memberships vary greatly between different resorts.
If you are seriously considering an RPI membership, it is definitely worth the time to contact multiple resorts for pricing options. Typically, the RPI annual dues are between $100 to $200 in addition to any home park fees.
Of course, prices on used memberships also vary greatly depending on the exact package being sold, and the home resort. Check current prices with RPI parks before shopping for used memberships, so you have a reasonable point of comparison.
Also, make sure to request documentation of the membership benefits as old contracts may be different than current options.
As we noted above, the RPI membership is included with elite Thousand Trails memberships, but annual dues of $165 to $199 will be charged after a free introductory period of 1 to 2 years. Thousand Trails memberships include a Preferred Gold RPI membership.
RPI Campground Locations
There are approximately 150 RPI campgrounds and RPI Preferred Resorts located all over the United States. There are an additional 200 partner campgrounds that offer discounts to RPI members.
RPI resorts are located in 37 states and 3 Canadian provinces and there is 1 member campground in Mexico. A map and current list of the resorts, can be seen on RPI's website.
Member campgrounds tend to be in vacation destinations and are more heavily concentrated on the coasts. Washington, California and Arizona have the most RPI resorts of any state.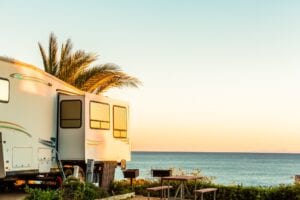 ---
RV memberships and camping clubs are a great way to save money, but all membership options should be thoroughly investigated before signing up.
To determine whether a membership is worthwhile for your family, calculate how many nights per year you would need to stay at discounted RV parks in order to break even on your investment.
Also, consider the annual dues and whether or not the membership can be resold if you are not using it. To maximize your savings, read about all of the RV clubs in our complete guide to RV camping memberships.
Happy Camping!