This post may contain affiliate links. See our affiliate disclaimer here.
The biggest concern for most people considering full time RV living is how they will be able to find a job and earn a sufficient income while traveling. People tell us all the time that they wish they could travel, but it is just not feasible with their job. In reality, there are endless possibilities for earning an income while living in an RV.
However, you should be cautious when researching remote full time RV living jobs. There are many websites promising you can earn thousands of dollars a month with very little effort. If it sounds too good to be true, it probably is. Below are 7 legitimate full time RV living jobs to consider..
There is more to preparing for RV life than finding the right job.  See our 25 steps to prepare for RV living and 100+ lessons learned about RV life for more crucial tips!
Telecommuting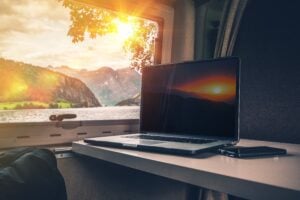 I'll start with telecommuting as it is the most common job for full time RV living, and how I originally funded our RV lifestyle. RVers with a good internet set-up, can telecommute to any office gig.
For the first three years of our RV life, I kept my previous job in the market research industry. 90% of my work was on a computer, so I was able to login everyday and do the same work I previously completed from a cubicle.
How to Find a Telecommuting Job
When we decided to move into an RV full time, I had no idea if my company would allow me to work from the road. So, I prepare a detailed pitch for my boss highlighting my current performance and plans for working efficiently from the road.
Specifically, I highlighted that a large portion of my work was done independently and explained how my remote internet set-up would work. My preparation paid off and the request was quickly approved.
With the Covid pandemic, most office workers have experience working remotely. Use your past performance working remotely to prove you can maintain key performance indicators while traveling.
If you cannot transition your current job, find a new one. In 2021, many companies are open to hiring remote workers. Use Flex Jobs to search for full time RV living jobs that are 100% remote.
Pros and Cons of Telecommuting Jobs
Telecommuting to a office job is a great option for many RVers because it is familiar. Transitioning to RV living is a big change in itself, so having a stable career and not taking a massive pay cut make the move easier.
On the downside, keeping your job, means keeping your hours. Time for exploring is limited when you are clocking in 40 or more hours per week.
Workamping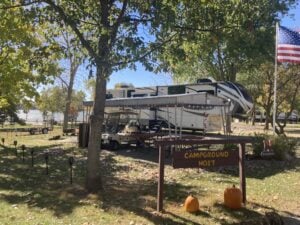 Workamping is simply any job that provides you a free campsite in exchange for your labor. Many full time RVers take workamping jobs to support themselves or to supplement other income streams.
The majority of workamping jobs available are at RV parks, campgrounds or seasonal businesses (pumpkin patches). The income potential varies a great deal with some RV parks just offering free rent while others also pay an hourly wage.
In general, you should expect to work about 20 hours each week to receive a free site with hookups and a small hourly wage for any additional hours.
How to Find a Workamping Job
WorkampingJobs is a great free resource to browse current openings. Also, join Workamper groups on Facebook to find more opportunities.
One popular workamping gig is Amazon CamperForce, a seasonal program that hires RVers to work at Amazon distribution centers during the holiday rush. In addition to a free campsite, Amazon pays $11-$13 an hour.
Pros and Cons of Workamping Jobs
One downside of workamping is that most jobs require you to work a full season, so you will need to be stationary for at least three months at a time. The flexibility of having a different job every season is a pro and a con.
On the upside, you can choose when you work and take extended vacations. On the other hand, it may be stressful not to know what your next job is and how much money you will be earning a few months from now.
Teach English Online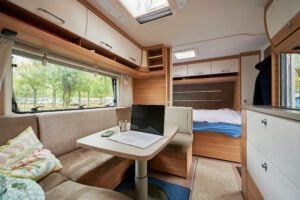 If you are a native English speaker, you are qualified for this travel-friendly position. There are several companies who will pay you to teach English online to adults or children in other countries.
Qualifications vary by company with some companies requiring teaching experience, and others hiring any native English speakers.
How to Find a Teaching Gig
Apply for teaching jobs directly with the company of interest. MoneyPantry has a great article detailing the positions and hiring practices of all the online English Teaching companies.
After reviewing all the options, apply directly at the highest paying firm whose requirements match your qualifications.
Pros and Cons of Online Teaching
Most online English students are located in other time zones, often in Asia. Since the companies cater to students, teachers will most likely be working odd hours late at night or early in the morning.
While the hours may be difficult for some RVers, they do allow for lots of time to explore new places during the day. The pay for online teachers varies greatly, ranging from about $10 to $30 per hour. Potential earnings mostly depend on previous experience and number of hours worked.
Start a Blog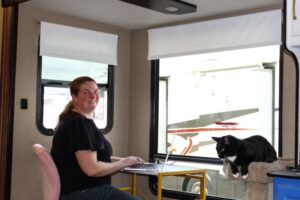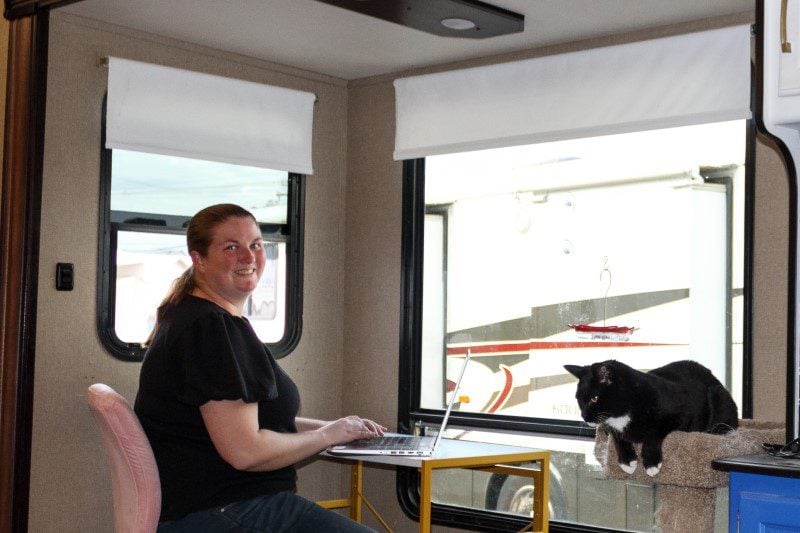 One way to ensure you are allowed to work from the road is to be your own boss. Many new RVers hope they can turn their blogs, social media accounts or YouTube channels into their full time RV living jobs. However, very few are successful.
This website is now my main source of income, but it took over a year of full time work to turn Travels with Ted into a profitable venture.
How to Start a Blog
If you are starting a website to turn a profit, it should be treated as a business from the start. Your blog does not need to be about RV living (in fact it shouldn't be if you are new to the lifestyle).
To create a successful blog, pick a niche that you are already an expert in. Then, teach yourself about SEO and website monetization. If you think running a website is the right option for you, I highly recommend starting before you quit your stationary job and move into the RV.
Pros and Cons of Starting a Blog
While owning your own business is ideal for RVers who want flexible work schedules, you should be prepared to work long hours when launching your website. Significant time is required both to create content and become an expert in marketing and SEO strategy. However, for those that are able to succeed, the flexibility of working for yourself is ideal for RV living.
Tow RVs
As the RV industry grows, companies need drivers with tow vehicles to deliver RVs and trailers across the country. Most of these companies hire you as an independent contractor, so you can work as often as you like and control where you are willing to make deliveries.
How to Find Towing Jobs
One popular transport company that offers these jobs is Horizon Transport. Horizon's Tow-Away and Drive-Away divisions hire drivers to tow trailers or drive motorhomes across the country. Both divisions require drivers to have a a clean DOT record. Tow-Away drivers must provide their own truck, and Drive-Away drivers need a Class B CDL license.
Pros and Cons of Towing Jobs
The main downside of this opportunity is that you have to follow the jobs instead of choosing bucket list destinations. Also, you can't tow someone else's RV and your own at the same time. Therefore, you will need to either leave your rig stationary while you work or have your spouse tow your RV while you are paid to deliver another one.
On the upside, the job is literally to travel, which should be a dream if you are considering full time RV living. Earning potential will depend on the number of jobs available and your own travel expenses.
Mobile RV Technician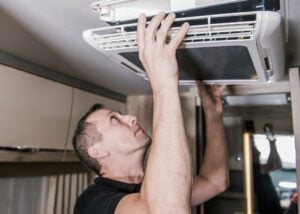 With so many RVers on the road, becoming an RV technician in the perfect full time RV living job! RV techs can not only earn a good living (labor rates are typically $100/hour), but they also save a ton of money performing their own repairs.
How to Become an RV Tech
Becoming a certified RV tech does require education, but the training period is relatively brief. There are only a handful of schools teaching RV repair skills. The RV Training Center in Clearwater, Florida offers 10 week certification courses with hands-on training.
The National RV Training Academy in Athens, Texas offers a five week Advanced Service Technician course with optional additional training modules.
Pros and Cons of Working as a Mobile RV Tech
While the time required to become an RV tech is very manageable, there is a significant monetary investment required. The training programs cost several thousand dollars, and RV techs will need to buy several specialty tools.
On the bright side, the flexibility of setting your own hours is awesome, and RV techs can find work without leaving the campground.
Customer Service Representative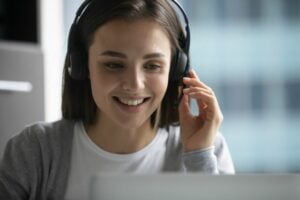 A Customer Service Representative (CSR) assists customers of a company via phone, email, chat or social media. Customer service jobs are some of the most widely available remote full time RV living jobs. The volume of these positions, combined with limited qualifications, make CSR jobs a great option for people who want to start full time RV living quickly.
How to Find Customer Service Jobs
Customer service jobs can be found on most online job boards, including Flex Jobs, which specializes in matching workers with remote positions. VIPdesk is another great online resource that specializes in hiring customer care professionals.
Pros and Cons of Customer Service Jobs
Customer Service Representative positions have a relatively low barrier to entry with some jobs only requiring a high school diploma. However, the positions are not typically high-paying and they often have high turnover because the work can be boring (and customers can be mean).
If you have two workers in your household, CSRs will need to find a quite space in the RV to answer phone calls without background noise.
Tips for Full Time RV Workers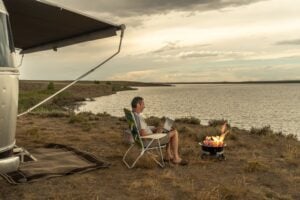 Full time RV living is truly an awesome lifestyle, but living and traveling in a tiny space can make working more difficult. Here are my top tips for success in full time RV living jobs.
Travel Slow
When working a full time job, exploration time is limited to evenings an weekends. To make sure life on the road doesn't get too frantic, spend at least two weeks in every destination. Better yet, stay a month and take advantage of long-term campground rates.
Get a Desk
If you will be working inside your RV, set-up a proper office space. You can buy a lightweight, folding desk or buy an RV that comes with office space.
Take Advantage of Time Zones
If your full time RV living jobs are executed remotely, take advantage of time zones to maximize adventure time. If you work east coast hours while you are hanging out on the Pacific coast, there will be hours of daylight left when you clock out each day.
---
No matter what type of full time RV living job you choose, life on the road will be an amazing journey. Now, take a break from the job search, and start planning some amazing RV adventures!
Where are you in the RV living journey? Share you plans with us in the comments below.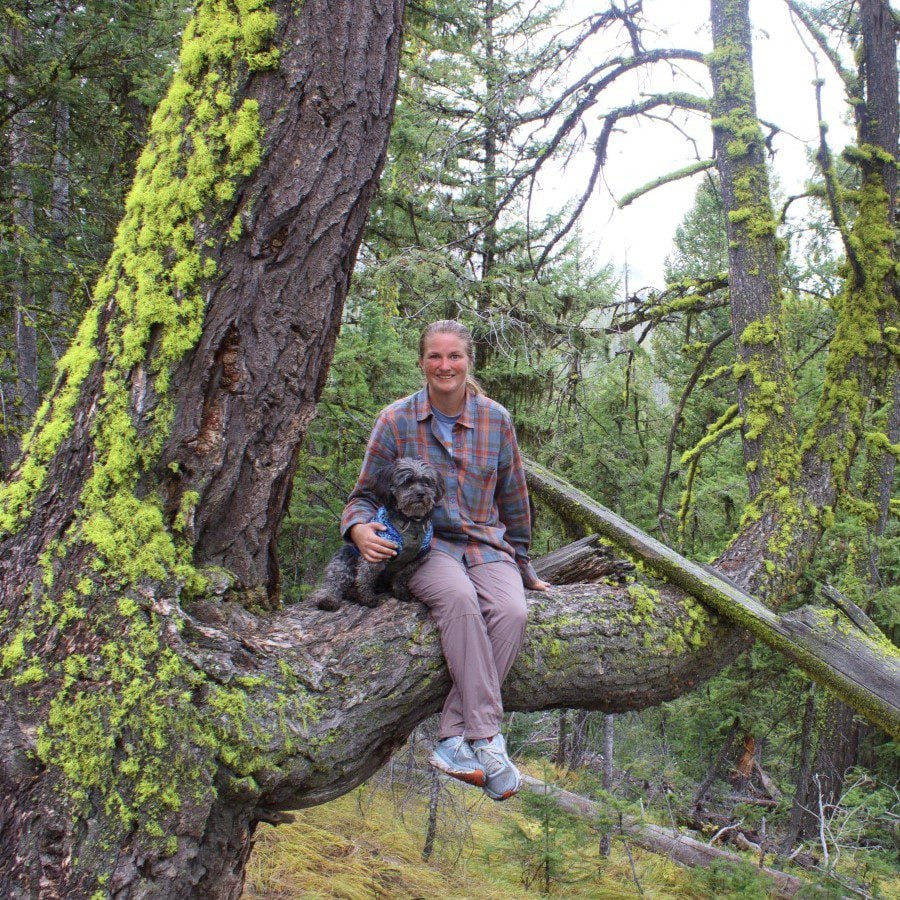 Christina Pate is a seasoned full-time RVer who, along with her husband Justin, has journeyed across the US, Canada, and Mexico. Drawing from her extensive travels, RV repairs and RV renovations, she founded Travels with Ted to guide and inspire fellow RV enthusiasts. Christina is also the co-author of The Owner's Guide to RV Maintenance and the creator of My RV Log Book.