This post may contain affiliate links. See our affiliate disclaimer here.
My husband and I have lived in our fifth wheel RV since 2016. In our years traveling the country, we have learned endless lessons about how to make the RV lifestyle more affordable and less stressful.
In this complete guide to RV living full time, I am sharing 100 important tips for living on the open road.
Buying an RV for RV Living Full Time
The first step of RV life is buying your new home on wheels. Here are 10 lessons we learned about buying a motorhome or trailer for RV living full time, both from our own purchase experience and the hundreds of other full timers we've met on the road.
Bigger Isn't Always Better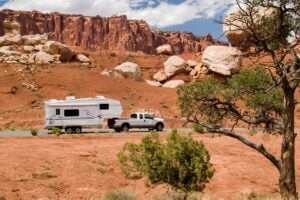 When purchasing an RV for full time living, many families prioritize space. However, bigger is not always better when it comes to RVs. Longer RVs are more difficult to drive, use more fuel and limit where you can stay.
When we initially purchased our 34 foot fifth wheel, we were worried that we would not have enough storage space. After years of living on the road, we know an RV between 25 and 30 feet would have been ideal for us.
Attend an RV Show
With all the RV options available, narrowing down the type and layout you want can be overwhelming. Attending an RV show allows you to tour hundreds of RV in a day or two.
Get an Inspection
When purchasing a used RV, schedule a professional inspection before committing to the purchase. We have heard so many horror stories of people buying an RV only to find out that it had thousands of dollars in water damage or other costly issues.
A professional inspection is also a good idea when purchasing a new RV. Just because the RV is new, doesn't mean it is perfect. An inspection will allow you to identify issues, and request repairs before the sale is final.
Buy the RV before the Tow Vehicle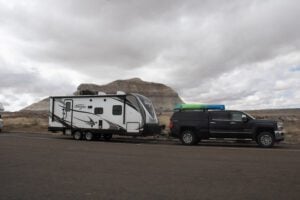 We found a great deal on a dually truck and purchased our tow vehicle a few months before purchasing the RV. However, it is ideal to purchase a travel trailer or fifth wheel first. That way, you know the required towing capacity of your truck.
Stay on Budget
As I detail in a subsequent section of this article, full time RV living is not necessarily an affordable lifestyle. Start your RV life out on the right foot by sticking to your budget.
Our RV life budget calculator can help you estimate the cost of your future RV life, so you can set a reasonable budget for your RV.
Included Desired Upgrades in your Budget
When determining the budget for your RV, don't forget to account for any upgrades you plan to make. Most RVs will require some upgrades to make them safe and comfortable for full time RV living.
Review our list of 40 essential RV upgrades for ideas on what additions your home on wheels might require.
Compare Prices Online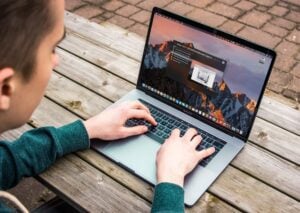 In today's world, it is easy to find out if an RV is priced fairly. Whether you are purchasing a new or used RV, browse online marketplaces, such as RV Trader, to see the going rate for the model you are considering.
Remember that RVs Depreciate Quickly
While most homes are considered an investment, it is important to remember that your home on wheels will depreciate. When setting your budget, remember that when it comes time to sell your RV, it will most likely be worth significantly less than you paid.
We purchased a new fifth wheel in 2016 for just under $50,000. Today it is only worth around $30,000. Depreciation will depend on your brand and market conditions, but you can use our RV depreciation calculator to estimate the future value of your RV.
Where You Buy Your RV Matters
When purchasing an RV for full time living, where you purchase your RV can be just as important as which RV you purchase. If you plan to return to the dealership for repairs and warranty work, then you need to trust the dealer.
Repair work can also take time, so it is ideal to work with a service shop that is located near friends or relatives who will let you stay with them while your RV is in the shop.
Video Tape the Walkthrough
When we purchased our fifth wheel, we had never camped in an RV. I paid close attention to the walkthrough and took notes, but I still had so many questions once we were parked at our campsite.
Instead of trying to remember every detail, ask you dealer for permission to video tape your walkthrough, so you can always go back and reference it.
Selecting Campgrounds and RV Parks
Once you have your RV, it is time to start planning your journey. Here are 10 helpful tips for selecting campgrounds and RV parks.
Book a Local Stay for at Least 1 Month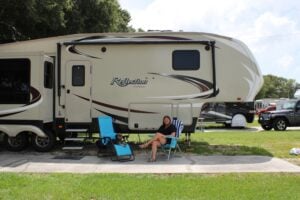 After you purchase your RV, you will be excited to hit the road and start your new life of adventure. However, we strongly recommend staying in the local area for at least one month after purchasing your home on wheels.
Staying locally for a few weeks helped us adjust to living in an RV, get organized and learn the ins and outs of our new rig before dealing with the stress and excitement of travel.
Being close to the dealership where you purchased your RV also gives you the opportunity to get any initial issues repaired before hitting the road.
Some Planning is Required
When we first moved into an RV, we pictured ourselves living spontaneously and moving whenever and wherever we felt like it. However, after trying to make last minute reservations at popular campgrounds, we quickly learned some planning is required.
Many destinations, such as National Parks, book up months in advance. We now try to create a tentative plan a year in advance, so we can always get a reservation at popular locations.
Book Winter Reservations Early
Winter reservations, especially, cannot be left until the last minute. The majority of full-time RVers and RV snowbirds, spend their winters in Florida, Texas or Arizona. Therefore, campgrounds in these states often fill up the day reservations open.
If you want to spend your winter enjoying warm weather, you'll need to plan in advance.
Leave Some Room for Spontaneity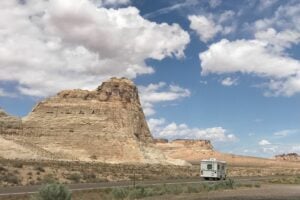 While planning is a necessity for full-time RVers, it is also important to leave room for spontaneity. There is nothing worse that hearing about an awesome hike or campground along your route, but not having enough time to stop and check it out.
After multiple incidents of wishing we had more time to explore, we have started leaving extra, unplanned days between destinations. With this wiggle room built into our schedule, we can extend a stay or stop somewhere cool along our route without messing up all of our plans.
Check Cancellation Policies before Booking
Another way we balance planning and impulsiveness is carefully reading cancellation policies. When booking a campground months in advance, we try to book sites that are fully refundable. That way we can change our plans without losing money.
Look at Real Campers' Photos
Many RV parks, especially those that are part of large chains, have professional photographers take pictures for their website. To avoid disappointment, always check out photos from other campers on Google or campground review sites, like RV Life, before booking.
Prioritize Practical Amenities
Full-time RVers also need to prioritize practical amenities when booking campsites, especially for extended stays. For example, we love camping in state parks, but we typically stay for a week or less because these campgrounds usually don't have laundry or full hookups.
Utilize RV Camping Memberships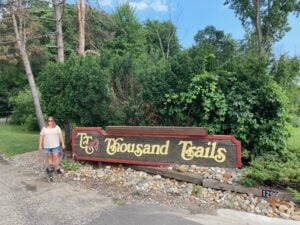 One way we find campsites and save money is through our campground memberships, such as Thousand Trails and Harvest Hosts. Every full time RV family should have at least one RV membership.
Our complete guide to RV membership programs breaks down all the options available.
Boondocking is Great, Sometimes
If you are looking for free campsites with beautiful views, you should consider boondocking or dry camping on public lands. Boondocking often means staying at more spacious campsites, closer to nature.
However, boondocking also means conserving water and power, worrying about cell service and moving the RV when the tanks need to be emptied. While some full time RVers boondock regularly, we prefer to stay at full service RV parks the majority of the time.
When we find an awesome boondocking spot, we plan to take a few days off work and enjoy nature.
Don't Forget to Apply for a Passport
Some of our most memorable RV road trips have been outside of the United States. We spent an amazing summer in the Canadian Rockies and a fun winter on the beaches of Baja, Mexico.
Make sure everyone in your family has current passports before you start RV living full time.
Travel Days with the RV
Travel days can be one of the most daunting parts of RV living full time. Follow these tips to ensure you stay safe and happy on the road.
You Need a Checklist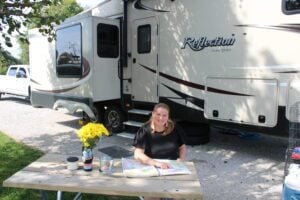 Even if you are an experienced camper, you need a checklist for RV travel days. After we got the hang of setting up and breaking down our campsite, we stopped using a checklist. Then, inevitably, we forget to lock cabinets and stuff got broken.
Having a checklist helps to ensure everything inside and outside the RV is properly secured. Download and print our free RV departure and setup checklists before hitting the road.
But Things will Break Anyway
While we highly recommend using a checklist, we also recommend always being prepared for a small travel day disaster. Driving down bumpy highways can be the equivalent of your home going through an earthquake.
Despite having everything secured properly, we have had light fixtures fall and break and cabinets fly open. Being able to handle a mess is a necessary skill for RV living full time.
Take it Slow
Some of the best advice we've ever received about RV living is to take it slow.
By take it slow, I mean that RVers should literally drive slow. There are many reasons to drive slow. First, many RV tires are only rated for speeds up to 65 miles per hour. Driving slow also conserves fuel and helps prevent accidents.
I also highly recommend taking your time between destinations. Shorter travel days are less stressful and allow for a more enjoyable journey.
Pay Attention to Weather Forecasts
Many of the worst RV accidents we have seen or read about were due in part to weather conditions, such as high winds or heavy rains. Always check the forecast before a travel day and stay off the road if the conditions are not ideal.
Check the RV's Tire Pressure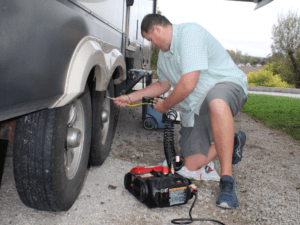 Always check tire pressure before hitting the road in your RV. The recommended tire pressure is noted on the sidewall of your tires. Traveling with an air compressor is ideal, so tire pressure can be adjusted before driving.
For even more peace of mind, install a tire pressure monitoring system (TPMS) that constantly tracks tire pressure and temperature.
Always Keep the Tank Half Full
There is nothing more frustrating or embarrassing than running out of fuel on your road trip. While hitting empty may seem unlikely, it definitely happens to many RVs traveling in remote areas where fuel stations are few and far between.
To avoid ever running out of gas, we never allow our tow truck to get below half-way full.
Plan Fuel Stops
We highly recommending planning your fuel stops, both to prevent running out of gas (or diesel) and to save money. Use RV travel apps to check gas prices and find RV friendly fuel stations along your route.
Make your Own Food
Another way to simplify travel days is to make your own food. Having food already packed means you can stop at any fuel station, instead of needing to find parking at restaurants.
Preparing your own travel day meals and snacks also helps full time RVers stay healthy on the road. Most easily accessible restaurants are unhealthy fast food options, and those get old quickly when you travel frequently.
Don't Trust Google Maps
To select the best route for RV travel, use a road carrier's atlas to identify routes appropriate for larger vehicles. Do not rely solely on navigation apps, like Google Maps, which may take you down narrow or winding roads or suggest you take multiple U-turns with your RV.
However, we do leave the Google Maps app open on travel days to alert us to delays, such as traffic jams or crashes.
Always Have Some Cash
Another important lesson we have learned while RV living full time is that we always need to have some cash on hand during travel. We have been through cash-only toll booths and stopped at remote gas stations where the credit card machine was down.
Travel with an Emergency Kit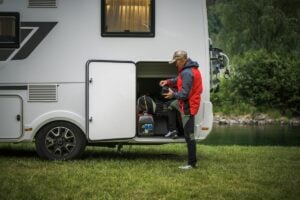 Even the most well prepared full time RVers will likely experience some sort of roadside emergency, like a blown tire. We actually had three blown tires before we upgraded our wheels.
To make these situations easier, purchase a roadside emergency kit. STDY's roadside emergency kit includes a first aid kit, tow rope, reflective warning triangles, work gloves and more.
Take Advantage of Travel Time
When we first hit the road, travel days were my least favorite days. I would spend my time in the truck counting the minutes until we arrived at our next destination. However, after several years on the road, I have changed my attitude.
Travel days are a great opportunity to enjoy time with your spouse or family and to learn new things. I now look forward to our time in the truck, when we listen to podcasts or audio books, talk to each other and plan future adventures.
The (Literal) Cost of RV Living Full Time
One of the most frequently asked questions we get about RV living full time is "How much does it cost?". While there is no one-size-fits-all answer, we can share plenty of tips to help you develop your own full time RV living budget.
RV Life Isn't Cheap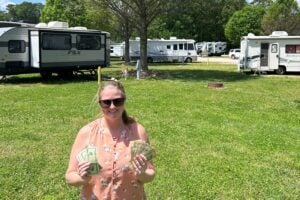 One of the first lessons we learned about RV living is that it isn't (necessarily) cheap. While we no longer had a house payment, we had many new expenses. Rent for RV parks and fuel for our tow truck cost way more than we had originally expected.
We also spent more on eating out and entertainment, since there were always new places and experiences to enjoy. Over the years, we have reined in our budget by following the rest of the tips in this section.
Budgets Should be Planned Annually
While many families stick to a monthly budget, full time RVers should set a budget annually as monthly expenses can vary widely.
For example, some months we pay $500 for a monthly campsite and have low fuel expenses as we don't travel far. Other months, we travel frequently and spend over $1500 on fuel.
Setting an annual budget at the beginning of the year allows us to splurge some months without ever spending beyond our means.
Traveling Slower Equals Traveling Cheaper
We have also learned that slower travel is easier on our wallets. Traveling shorter distances means we spend less on fuel. Staying in one place longer also allows us to truly enjoy each place we visit.
Monthly Rates Can Save You Money
Looking for campgrounds with monthly rates is one of the best ways to save on RV expenses. We can save hundreds of dollars each month on rent by booking long-term stays instead of paying nightly rates.
Eating In is Tough, but Key to Saving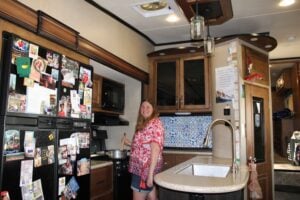 As I noted earlier, we love visiting new restaurants in each location we visit. However, eating out frequently is an easy way to blow your budget.
We do our research and pick a few must-visit dining options in each area, but we cook 90% of our meals in the RV.
Consider the True Value of a Storage Unit
Storage units can be another major expense for full time RV families. When we moved into our RV, there were a few items we couldn't bring on the road but weren't ready to give away. So, we ended up renting a small storage unit.
After years on the road, we have not pulled a single item out of storage, and we regret getting the storage unit every month when the $100 bill has to be paid.
If you plan to live on the road for a set period of time, it may be financially sensible to store furniture and other items. However, if you plan for your full time RV living journey to last for years, seriously consider whether the storage unit bill is worth holding onto more stuff.
Have a Reasonable Repair Fund
Before hitting the road, every full time RV family should have an RV maintenance and repair fund. The amount needed in your repair fund will depend on the age of your RV and whether or not you have a warranty.
We personally budget $250 per month ($3000 per year) for regular service and unexpected repairs. When not used, our monthly repair budget is put into a savings account.
Since our new RV did not require many repairs in the first few years, we had enough money saved to cover the costs of major repairs, including a new roof.
Pause Before Purchasing
Downsizing your possessions is one of the first steps in the process of RV living full time. However, it can be easy to accumulate more stuff as you travel. Even after years of living on the road, we still purchase unnecessary items that end up being donated in our next purge.
To avoid purchasing things we really don't need, we try to follow the pause before purchasing rule. If we see a new RV gadget that looks cool, we don't purchase it right away. Instead we wait a week or two, then decide if the purchase is really sensible.
Free Adventures can be the Most Memorable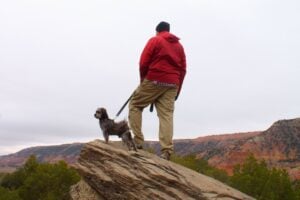 One great way to save money while traveling is to prioritize free adventures. Many of our most memorable experiences are hikes that cost us $0. We also look for free events, such as live music and local fairs.
Workamping is a Great Way to Save
Another great way to save is to find a workamping job. While workamping is a primary income source for some full time RVers, others, like us, use workamping jobs as a side hustle.
Since our work schedule for the blog is flexible, Justin sometimes also takes a workamping gig where he earns extra money and we get free campground rent and other perks.
Working from the Road
Unless you start RV living full time after retirement, you will need to find a way to earn money on the road. If you need travel-friendly job ideas, see our list of the 7 best careers for RV living.
Weigh Entrepreneurship vs Telecommuting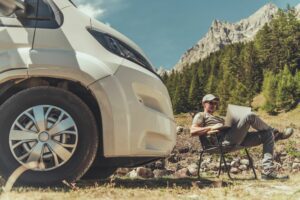 One of the first decisions to make when selecting a career for RV living full time is whether or not to start your own business. Being an entrepreneur with a flexible schedule sounds ideal for RV living, but it isn't that simple.
Starting your own business can be stressful, especially when you are making another major life change by moving into an RV. Before quitting your 9 to 5, really consider if being a entrepreneur makes sense for you and your family.
During our first three years on the road, I telecommuted to a demanding corporate job. I worked 50+ hours a week and could only explore on weekends.
After starting this blog as a side hustle (and working even more hours each week for a year), I was able to quit my job and make more time for adventure. Running my own business is amazing, but it took a lot of time and effort to make it work.
Also Weigh Time vs Money
When considering how you will earn money on the road, it is also important to weigh time vs money. With remote work becoming more acceptable, RVers have more job opportunities. However, the highest paying job may not always be the best for full time RV living.
If you moved into an RV because you wanted to spend more time living life, then really consider the work-life balance when accepting a new position.
A Flexible Schedule is Ideal
Any job with a flexible schedule is ideal for full time RVers. Setting your own work hours allows you to go out and explore when the weather corporates.
For RVers who are stuck in a 9 to 5, using time zones to your advantage can help create more time for exploration. For example, if you work on eastern time, you can travel to the west coast, wake up early for work and have hours of daylight left when you log off.
One Internet Option Isn't Enough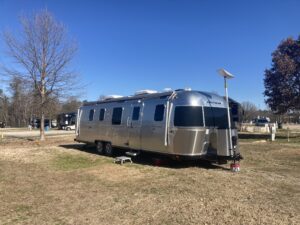 If your job is online, one internet option will not be sufficient. While it is possible to get internet almost anywhere these days, each connection option has limitations.
To make sure they are always connected, many full times have both a mobile hotspot plan and a Starlink dish. We personally have 2 mobile hotspots from different providers. See our complete guide to internet options for RV living for more details.
Noise Cancelling Headphones are a Must
If your job involves virtual meetings, you need a great pair of noise cancelling headphones. Without them, kids playing in the campground, neighbors' dogs barking and the pounding of rain on the RV roof can all ruin an important meeting.
Even if your job doesn't involve many meetings, noise cancelling headphones can help block out campground noise and keep you focused.
A Desk is a Non-Negotiable
Our RV did not come with a desk, and I spent my days working from our RV's recliner for several years. My back, hips and posture all suffered terribly. If you work from a computer, either buy an RV with a desk or include a desk in your RV renovation.
Try to Face a Window
When shopping for RVs or planning your renovation, try to select a floorplan that allows you to place your desk by a window. Being able to look out at the views makes working from the RV a much more pleasurable experience.
But, Know Sometimes your View Will Be Another RV
While I enjoy my window views on most workdays, sometimes the scenery isn't ideal. Be realistic when dreaming about RV living full time, and understand that some days your view will be stunning and other days you will be looking at your neighbor's RV.
Working Outside Doesn't Always Work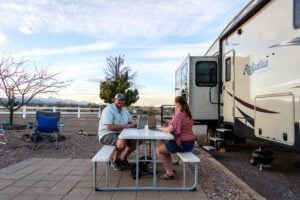 Before moving into the RV, I thought my new life would include many days spent working outside. However, I quickly learned that working outside isn't all it is cracked up to be.
The glare from the sun can make it impossible to see your laptop screen, and winds often prevent me from putting the awning out to create shade. On perfect, temperate cloudy days I enjoy an outdoor workday, but most of the time my desk inside is a better option.
Make Sure your Spouse's Job is Compatible with Yours
If you and your spouse both plan to work from your RV, you need to ensure that your jobs are compatible for tiny living. If you both plan to telecommute, you need a plan for what you will do when you both have meetings at the same time.
RV Living Logistics
RV living full time involves a lot of admin! Read our lessons learned about RV living logistics to make your first year on the road easier.
Domicile is Complicated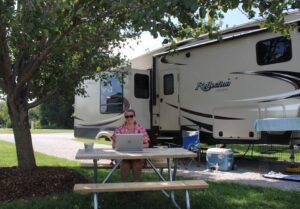 RV domicile refers to the place full time RVers legally define as their home, when they do not have an actual house or property that serves as their permanent and principal home.
Many new full time RVers, plan to move their domicile to a state with low taxes, but establishing domicile in a new state can be complicated. Read our complete guide to RV domicile before making a decision on where to establish residency.
Full Time RVers Still Have to Serve on Juries
Since moving into our RV, we have both been summoned for jury duty multiple times. Even though we don't really live anywhere, we still have civic responsibilities in our domicile location.
When we are across the country on the date of our summons, we request a deferral as we are on an "extended road trip." However, if we are within a day's drive of the court location, we try to modify our plans so we can serve on the jury.
Snail Mail Isn't Dead
When we moved into our RV, I made sure all of our accounts were set to paperless so we would receive digital bills. However, I quickly learned that many documents, including insurance paperwork and vehicle registrations have to be sent through snail mail.
Before starting RV living full time, you need to find a long-term mail solution. RV mail options include a trusted family member or an RV mail forwarding service.
You Must Have Full Time RV Insurance
Buying RV insurance is not as simple when you plan to live in your RV. When shopping for policies you must disclose that you will live in your RV, and find a policy that covers RV living full time.
We've heard horror stories of full timers who purchased standard RV insurance and were denied coverage when the company learned they were living in the vehicle.
Plan an Annual "Home" Visit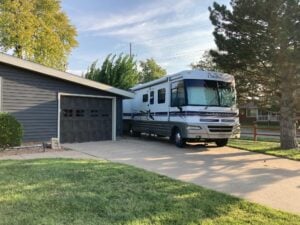 Like all people, full time RVers, still need to have regular check-ups, renew their drivers' licenses and perform other mundane tasks.
To avoid having to find new providers all over the country, we recommend scheduling an annual "home" visit, where you return to your domicile location and complete all your annual appointments
Affordable Health Insurance is Difficult to Find
If you choose to workamp or start your own business to fund your RV lifestyle, finding affordable and reliable health insurance can be a major challenge. See our complete guide to health insurance options for full time RV living to find the best solution for your situation.
Always Locate Emergency Services
Since we are RV living full time, it is not uncommon for me to have to think about what town or state I am currently in, and I usually don't know my way around without a GPS.
But, you never want to have to think about where to go in the middle of an emergency. The day you arrive in a new location, always look up the nearest emergency room and emergency vet and save the location in your phone or GPS.
Downsizing is a Constant Process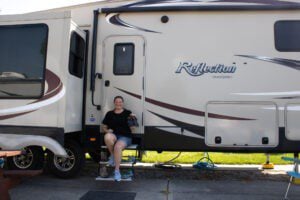 Downsizing is not just something you do before moving into an RV. It is a constant process. As you spend more time on the road, you will learn more about what you really do and don't need. Be prepared to constantly analyze what stays, what goes and if you really need to buy something new.
Being Organized is Important
Before RV living full time, I was a mess (literally). My office desk was always covered in papers, and my closet was a disaster. However, living tiny makes organization a necessity.
Everything in your RV should have a place and you should clean regularly to prevent any clutter from getting out of hand.
RV Maintenance and Repair Realities
Like any home, an RV requires regular maintenance and repairs. Follow these tips to ensure you RV stays in tip top shape.
Black Tank Maintenance is Simple, but Important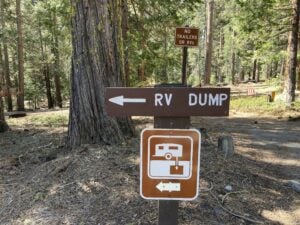 One RVing task most new campers dread is emptying the black tank. The reality? It's not that bad and you will get use to it within a few months of moving into your RV.
While emptying the black tank is easy, it is super important to do it the right way. Rookie mistakes can lead to big problems down the road. Follow our step by step guide to emptying your tanks and you shouldn't have any problems.
RV Repairs Can Take Months
One RV life reality we were not prepared for was the amount of time RV repairs can take. When our RV needed a new roof, we called almost a hundred shops and the shortest timeline was 2 months!
A Warranty May Be Useless
Another expensive lesson we learned is that an RV warranty may be useless for RV living full time. We purchased a new RV, specifically because we wanted a warranty. However, warranty approval often added even more time to the repair process.
The expenses involved in changing plans and finding other accommodations usually made it more affordable to pay cash for repairs instead of waiting for warranty approval. By the time our RV needed major repairs, our warranty had already ended.
I am not saying that RV warranties are never worthwhile, but it is important to understand the terms and required approval process to determine the real value.
Full Timers Need a Back-Up Accommodation Plan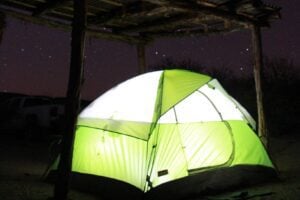 If you live in an RV long enough, eventually a major repair will be required. Therefore, all full time RV families need a back-up accommodation plan. When our RV has to be in the shop for an extended period of time, we are lucky enough to have family we can stay with.
If you don't feel comfortable staying with friends or family for an extended period, make sure your repair savings fund has enough money to cover the cost of a hotel or AirBnb.
For a cheaper option, we've used repairs with shorter timelines as an opportunity to take a tent camping trip.
DIY RV Maintenance is Key for Full Timers
Given the long wait times at most RV repair shops, RV maintenance is an essential skill for full time RVers. While learning how to properly maintain your RV may sound daunting, I promise you it is doable.
When we moved into our RV, we knew NOTHING about RV maintenance. Now, we are experts. Purchase our eBook, The Owner's Guide to RV Maintenance, to learn how to take care of your RV.
Track Mileage after Every Trip
One key aspect of RV maintenance is knowing how many miles you put on your RV. If you drive a motorhome, you can simply use the odometer. However, full timers with travel trailers and fifth wheels need to log their mileage after every trip.
When Troubleshooting, Keep it Simple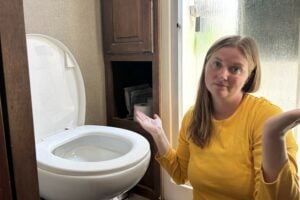 The most important lesson, we have learned about RV repairs is to stay calm and start with the simplest solutions. For example, if your furnace stops working, double-check that the propane tank isn't empty before moving on to more complicated solutions.
90% of RV issues are easily fixed. When troubleshooting, always start with the easiest solutions.
Call your Manufacturer for Advice
Another RV troubleshooting tip is to call your manufacturer for advice. If your issue is common, they may be able to help you pinpoint the problem quickly.
Or Call Lippert
Lippert, a company that makes tons of RV parts (stairs, jacks, leveling systems, awnings, axles and more), is also a super helpful troubleshooting resource. If you are having issues with a Lippert part, simply call their customer service line.
I have called Lippert multiple times for jack issues and their knowledgeable support staff walked me through the fix step-by-step.
Utilize your Brand's RV Forum
Another great RV troubleshooting resource is your brand's online forum. There is an online forum for almost every RV manufacturer. These are a great place to ask questions and get answers from other campers who have the exact same model as you.
Always Take Photos before Starting a Repair
Even if a repair seems simple, always take photos before you start. When putting something back together or installing a new part, it can be super easy to forget where a wire was plugged in. Taking photos will save time and prevent frustration.
RV Living Full Time with Pets
Many full time RVers travel with pets. If you plan on bringing your cat or dog along on the journey, follow these tips for RV living full time with pets.
Consider Pets when Buying your RV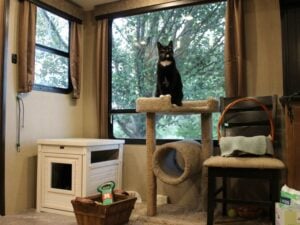 You need to start considering your pets' needs before you select an RV. If you are traveling with a cat, make sure you think about the litter box and scratch pad placement when selecting floorplans.
Keep in Contact with your Home Vet
Earlier, we recommended having an annual "home" visit for doctor appointments. We recommend doing the same with your vet. That way, you can have all your pets' annual vaccines and check-ups completed by the same vet.
While you may need to visit new vets for unexpected injuries, having a regular vet you trust is important. If your trusted home vet understands your living situation, they will likely also be willing to answer questions over the phone.
Ask Vets to Print Records
Every time you visit a vet, ask them to print out a copy of your pets' records. The records are very helpful to new vets you have to visit on the road, and vaccine records are sometimes required at campgrounds.
Use BringFido to Find Local Dog Friendly Establishments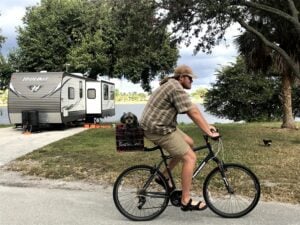 No one brings their dog on the road, just to leave them behind at the camper all the time. Use the website BringFido to find dog-friendly restaurants and activities in any town.
Keep a Stash of your Pets' Regular Food
Changing your pet's food suddenly may lead to digestive issues. To prevent having to change food, always keep at least a two week stash of your pet's regular food, so you have time to order more online if you cannot find it in local stores.
Grooming Appointments Need to Be Planned
Any dog owner knows that most dog groomers are booked up weeks if not months in advance. Getting appointments is even harder when you are going to new groomers all the time. Try to plan your travels, so you can make grooming appointments at least two months in advance.
Pets Can't Always Be Left Home Alone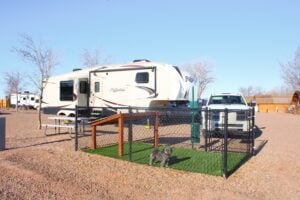 While it is generally safe to leave your pets in your RV, this is not always the case. If you plan on boondocking, you need to check weather to ensure your pet is safe to be left alone without air conditioning.
Even when connected to shore power, it is possible for the A.C. to go out due to a power outage. Installing a temperature sensor allows you to monitor temperature inside your RV from your phone, so you always know your pet is safe.
Never Let your Pet Roam Free at the Campground
While we definitely encourage taking your pets on all the adventures, you should never let your pet roam free at a campsite. Having your pet off leash puts them in danger from cars and other campground pets. It is also against the rules at most campgrounds.
Even if you are camping in the wilderness, it is not advisable to let your pet off leash. They may get hurt by the local wildlife (or they may hurt the wildlife). If you have a cat that loves to be outside, consider leash training or buying an outdoor enclosure.
Essential RV Living Gear
We often talk about downsizing for RV life, but RV living full time also requires a lot of specialty gear. Here are RV living essentials every full time family should own. To save you time, we've put links to all of this gear on an Amazon shopping list.
RV Holding Tank Essentials
RV holding tank essentials, include at least 20 feet of sturdy sewer hoses, sewer hose supports and a separate garden hose for flushing your black tank. We also recommend a reverse flush valve, which is a handy tool for breaking up black tank clogs.
Surge Protector
Surge protectors are one of the most important pieces of equipment to protect your RV. Surge protectors should be used every time your plug into shore power.
These devices protect your RV from surges due to lightening or other issues. Newer models also protect your RV from incorrect wiring and electrical issues at campgrounds.
Water Pressure Regulator
Another essential piece of equipment for campsites with hookups is a water pressure regulator. High water pressure can bust RV plumbing connections and cause leaks (or full on floods).
Buy an adjustable regulator to make sure you stay between a safe range of 40 to 60 PSI.
Tire Gauge and Air Compressor
A handheld digital gauge allows you to check tire pressure before you travel. We also recommend traveling with a portable air compressor so you can adjust the tire pressure before hitting the road, instead of having to drive to a service station.
Leveling Blocks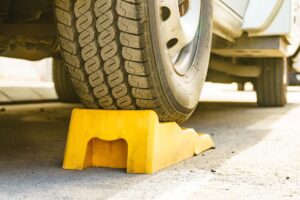 These easy to stack blocks allow you to level your RV on uneven ground. They can also be placed under jacks for added stability.
Power Adaptors
Not all campgrounds have both 30-amp and 50-amp plug-ins. If you have a 50-amp RV, you will need 30 amp and 15 amp power adapters. These adapters will allow you to plug into lower amp connections at campgrounds where 50 amp power is not available.
If you have a 30-amp RV, you need a 30 to 50 amp power adaptor, so you can still connect at RV parks that only have a 50-amp plug.
A Basic RV Tool Kit
Earlier, we talked about the importance of routine RV maintenance. To complete this maintenance and other basic RV repairs, you will need a stocked tool box. See our RV tool kit checklist for all of our recommendations.
Alternate Power Sources
If you plan on dry camping or boondocking for any extended period of time, you will need portable power sources. These include solar panels and generators. See our complete guide to RV boondocking for more information.
RV Safety Devices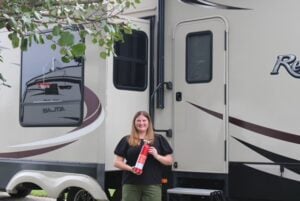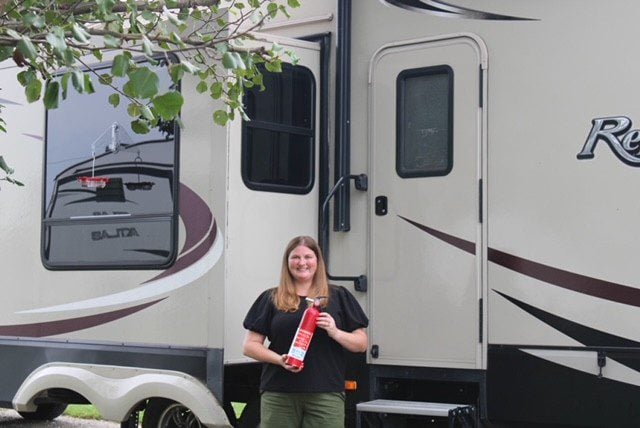 Every RV needs to be equipped with gas alarms (to detect propane and carbon monoxide), fire extinguishers and smoke alarms.
An RV Log Book
Finally, every full time RVer needs a log book to track their mileage, schedule maintenance and to record details about campsites. After several years on the road, it can be difficult to remember where you stayed during your last visit to each area.
Other Full Time RV Living Tips
There is so much to know about RV living full time that we have one more section of random tips for living on the road.
Find Out if You Like RVing before Moving Into One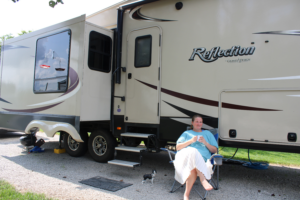 Okay, this one may seem obvious, but it is important to find out if you like RVing before you sell your house and move into an RV. We had never been RVing before moving into one. Fortunately, we love the lifestyle!
However, we have spoken to a few full timers over the years who regret the decision to sell all their stuff. Consider renting an RV and taking an extended road trip before you jump feet first into RV living full time.
Think Hard before Renovating
Fully renovating an RV is a ton of work and can cost a lot of money! Fortunately, many RVs available today come with beautiful, modern interiors.
If you decide to renovate your RV, we highly recommend living in it for at least a few months before you start. It is important to understand your travel day routine and how you use each space before diving into an expensive renovation.
Leave No Trace
Whether you are camping in the wilderness, at a state park or at a resort campground, you should leave your campsite as clean or cleaner than you found it.
In recent years, many popular boondocking sites have been shut down because RV campers were leaving their trash behind.
Magnets are the Best Souvenirs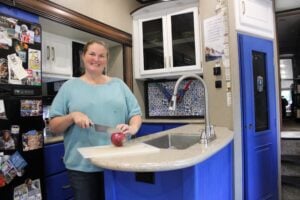 When RV living full time, it can be difficult to find souvenirs that don't take up too much space. We've found that magnets are the perfect solution. They are small, available at every destination and can be stored right on your refrigerator.
In our first few years of RVing, we collected stickers, but sadly realized we will lose all of these when we eventually move into a new RV.
National Park Stamps are Also a Great Souvenir
Another great souvenir is a National Park Passport. These passport books are made to collect ink stamps from each National Park site that you visit.
Simply, take your National Park Passport to any visitor center or park store and get a free ink stamp with the date and location of your visit. I really wish, I had purchased one of these books before our first National Park adventure!
Sweeping is a Daily Chore
When downsizing for RV living full time, don't get rid of your broom. If you are traveling with pets or kids, your RV will constantly be full of dirt and sand. Cleaning an RV is pretty easy, but sweeping is a daily chore.
Wheels Can Save You and Your Home
One of the many great things about full time RV living is that it is easy to move your home. If you are ever in an area where a tropical store, hurricane or other major weather event is predicted, then pack up and move away from the storm.
The Journey is More Important than Checking Off a List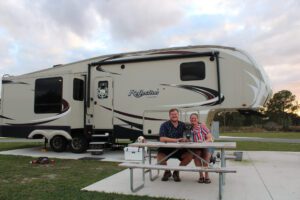 When we first hit the road, we regularly counted the number of states and National Parks we had visited. However, we soon realized that enjoying the journey is more important than checking off a list.
We've met many full-time RVers who visited every state within a year or two. These speedy travelers seem exhausted. Focus on enjoying exploring an area, instead of rushing off to the next location to hit some arbitrary goal.
Full Time RVers Don't Need to Give up Their Hobbies
Downsizing for RV living full time doesn't mean giving up things you use and love. We have two sets of golf clubs, a sewing machine and a hula hoop in our RV. If there is an activity you love, there is always a way to make room for it in your tiny home on wheels.
RV Life Isn't a Vacation
Finally, it is important to remember that RV living full time doesn't mean always being on vacation. Living the RV lifestyle definitely means we are on vacation more than the average family, but we still have to deal with all the realities of life.
---
Thanks for reading our complete guide to full time RV living. If you've made it this far, you should be truly prepared for life on the road.
Now for the fun part! See our list of the 10 best RV road trips, and start planning your first adventure.
Happy Camping!