This post may contain affiliate links. See our affiliate disclaimer here.
Looking to rent an RV for your family vacation or an extended road trip, but wondering how much an RV rental cost? The simple answer is that is varies greatly depending on the type of RV you rent, the time of year and the rental location. If you are just looking for the numbers, jump ahead to our summary of average weekly RV rental prices.
There are several options for RV rental companies. Read our comparison of RVezy vs Outdoorsy to find the best company for your RV rental needs.
The Math
We calculated the average price of weekly RV rentals, using listing data from RVshare. We conducted a nationwide search for each type of RV and looked at the top 25 listings to calculate the average price. Our search was based on the weekly cost to rent an RV in August, a popular camping month. All of the prices used in our calculations include taxes and fees.
RV Rental Cost for One Week
Based on our analysis, RV rentals costs about $800 to $2500 per week depending on the type of RV you rent. Small travel trailers are the most affordable rentals, while Class A motorhomes cost the most.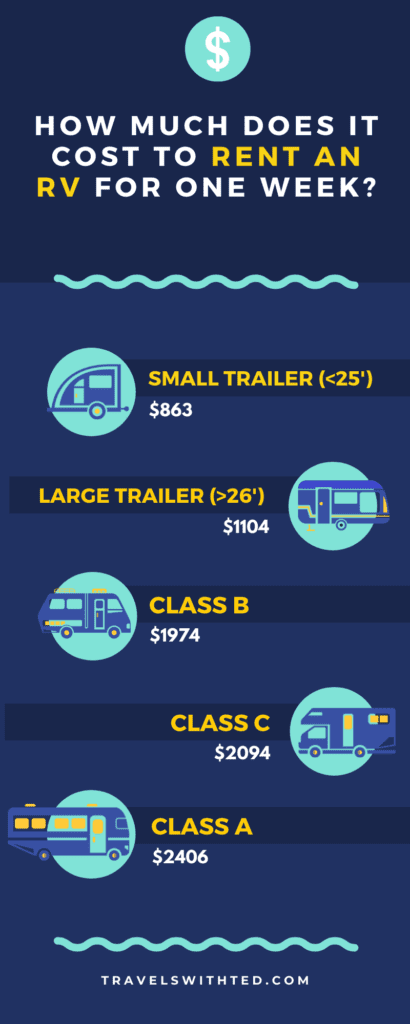 How to Rent an RV
The best way to rent an RV is using a peer-to-peer rental service, such as RVshare. RVshare allows you to rent nearby RVs directly from their owner. You can filter by RV type, delivery options and price point to find the perfect RV for your family vacation. Many RVshare listings even offer delivery, so you do not have to drive or tow the RV to your local campground.
Click here to find the best RV rental specials available in your area now!
Additional RV Rental Costs
Now that you know how much an RV rental cost, you also need to consider the additional costs of an RV vacation.
Campground Fees: Campsite rent typically cost anywhere between $30 and $75 per night. If you are looking for a more affordable vacation, consider free RV camping options.
RV Fuel: If you plan to take a road trip, you will need to budget for fuel for your rental RV or tow vehicle.
Cleaning Fees: Many RV rentals charge an optional or mandatory cleaning fee to scrub down the RV after your vacation. Read the details of each listing for cleaning charges.
RV Rental Insurance: Standard RV rental insurance with collision, comprehensive and liability insurance is included in the RVshare prices I noted above. However, if you rent from a different company you should inquire if insurance is included.
Pet Fees: Owners who are renting their RVs may also charge an additional pet fee if you are traveling with four-legged family members.
Security Deposit: Most RV rentals will also require a security deposit (typically $500) for any potential damages. Your deposit will be returned if the RV is returned in the same condition.
Ways to Save Money on an RV Rental
If the average cost of an RV rental is beyond your budget, there are several ways to find more affordable rentals.
Take a Weekend Trip: All the RV rental costs we quoted are based on weekly rentals. If you have a smaller budget, you can always take a weekend trip instead.
Rent an Older RV: When it comes to RV rentals, older usually equals cheaper. There are many great older RVs for rent that are functional, but not as aesthetically pleasing as newer RVs.
Travel in the Off Season: Our RV rental price estimates are based on a peak season rental in August. Consider traveling in the spring or fall months if you are looking for a better deal.
Consider a Month-Long Rental: Some peer-to-peer RV renters offer discounts on monthly rentals. Since you can't lease an RV, RV rentals are the best option for extended road trips.
Planning your RV Vacation
Once you have decided to rent an RV, you will need to determine where you are going to travel and stay. Check out our travel planning resources to start planning an amazing RV vacation!
For a turn-key RV rental experience, check out these campgrounds with onsite RV rentals.
Pin it for Later