This post may contain affiliate links. See our affiliate disclaimer here.
Many RV manufacturers use folding or accordion doors to separate interior rooms because they are compact and lightweight. However, many campers detest these doors because they are flimsy and ugly.
Below are 8 genius RV accordion door alternatives that are more attractive, but still practical for RV living and travel.
Simple RV Accordion Door Alternatives
The following RV accordion door replacements do not require any design or handyman skills. Each of these solutions allows for easy placement or installation around the existing door frame. After taking measurements and ordering supplies, these projects can be completed in a single day.
Curtains
One of the simplest and most obvious solutions is to hang curtains or a tapestry in place of the accordion door.
Since curtains are available in every fabric imaginable, they are a great idea for RVers who have remodeled their RV and want to match their design style. To spice up the look consider purchasing a funky fabric or a unique curtain rod, such as this Farmhouse Bear style from Urbanest.
Roll Up Blinds
Floor to ceiling roll up blinds are a great alternative to RV accordion doors. While ALEKO's Bamboo Blinds were originally intended as window treatments, at 72 inches long, they will work as a door substitute in many RVs.
The blinds come with attached hooks so they can be easily installed on the wall above the door frame. The light wood bamboo will work well with more RV interiors.
Since blinds have to be pulled up and down, they are not a good option for all RVs. Blinds work well for bedrooms which are only closed at night, but not for bathroom doors that are used frequently.
Safety Gate
If you don't care about having a full door for privacy, but want to keep kids or pets contained a dog gate is another easy option. Simply remove the accordion door and place the gate in the frame.
Make sure to purchase a safety gate that has a built in door, so the adults do not have to climb over the gate to access the other room. This simple, white gate by BalanceFrom is a great neutral option.
Magnetic Screen Door
On the other hand, if you want pets to be able to move freely between rooms, these magnetic screen doors are an easy to install replacement for RV accordion doors. The doors will open as you move through but automatically close behind you using magnets.
The intended purpose of these doors is to keep bugs out. However, they work nicely in RVs because they provide visual separation between spaces without adding any weight.
The screens get connected to the door frame with Velcro-like strips. Amazon also sells a similar product with a white fabric for added privacy.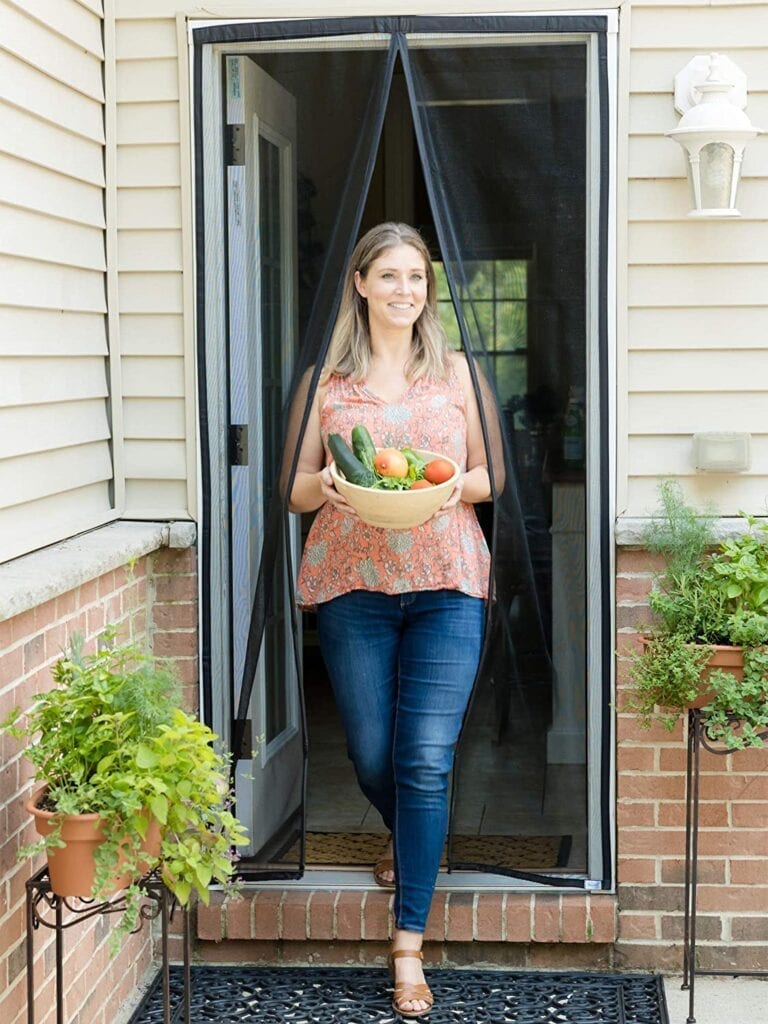 Open Space
One alternative to consider is to simply remove the folding accordion door in the RV and leave the space open.
If you own a small RV and do not require privacy from children or guests, having a more open concept space may lead to the best flow. In addition to being super easy to implement, the best part about leaving the space open is it doesn't cost a dime!
DIY RV Accordion Door Alternatives
While the above solutions are super easy to implement, the below do it yourself RV doors will require more work. However, with the added labor comes a more polished final product that will provide real privacy. These DIY solutions also make your RV feel more like a home.
Barn Door
If your RV accordion door has wall space on either side of the door, then a barn door is a great alternative. When selecting a barn door the main considerations are weight and height.
The easiest way to ensure your barn door is light is to build it yourself. For instructions, check out Less Junk More Journey's guide with step by step directions on how to build a lightweight barn doors for a travel trailer.
After building the door, buy a hardware kit online to easily hang it.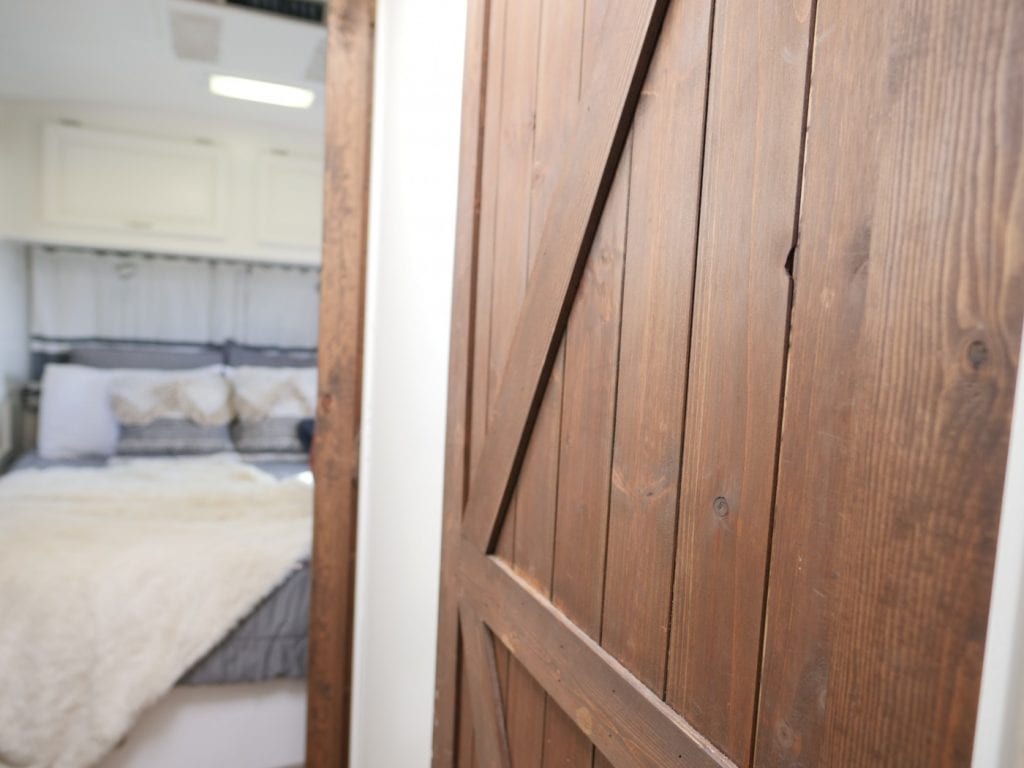 Bifold Door
Bifold doors, which are typically used on closets, are another lightweight but attractive alternative for accordion doors in RVs.
Before purchasing bifold doors, you will need to measure your door frame and may need to cut the doors down to fit if your frame is not a standard height.
The Camper Couple has a YouTube video with details of how they installed a bifold door in the same tracks as their RV's original accordion door. Simple bifold doors, like the one pictured below, can be purchased on Amazon or any home improvement store.
Fabric Covered Blinds
RVers with sewing and design skills can build their own accordion doors with more attract fabrics than manufacturers typically use. Start with replacement slats for vertical blinds and the fabric of your choosing.
Sew pockets lengthwise in the fabric and insert a blind slat in each pocket. Use split key rings hang the new door in the original accordion door tracks. See this post on an Airstream RV forum for more details and pictures.
Replacing RV Accordion Doors
If you are happy with the design and functionality of your RV's folding door, but need a replacement due to age or damage, there are several places they can be purchased online. RecPro sells RV accordion door replacements on Amazon in a variety of sizes.
The doors are available with tan, grey or white fabric. Always be sure to read the measurement details carefully to ensure the new door will fit properly. If you are looking for an exact match, call the manufacturer for details on availability.
---
If you have read this far, hopefully you have a perfect replacement or alternative in mind for your RV's accordion door. Share your plans and ideas with us in the comments section below.
For more ideas on how to modernize and upgrade your RV or trailer, check out our tips for remodeling an RV bedroom and our favorite modern RV décor.