This post may contain affiliate links. See our affiliate disclaimer here.
Nomadic living and minimalism are both becoming more popular among young adults and retirees alike. Tiny house and RV shows can be found all over cable TV and the #homeiswhereyouparkit hashtag has over 2 million posts on Instagram. It is clear that living small is popular, but how do you know what type of tiny dwelling is right for you? In this article, we detail every difference to consider when comparing a tiny home vs. an RV.
Tiny House vs. RV Overview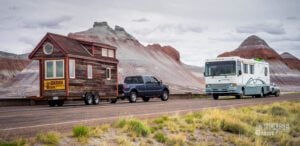 First let's start with some definitions:
RVs or recreational vehicles are vehicles specifically designed as temporary living quarters for camping or travel.
RVs may have their own motor power, be mounted on another vehicle or towed by another vehicle. The basic types of RVs are motorhomes, popup campers, travel trailers, fifth wheel trailers and truck campers.
Tiny Homes are not as clearly defined, but they are generally thought of as a small house, typically sized under 500 square feet. While they can be built on foundations, many tiny homes are built on trailers. This style of tiny house is often referred to as a tiny houses on wheels. Some tiny houses on wheels may be legally considered an RV in some states, but for the purposes of our comparison we will count any custom-built house on wheels as a tiny home.
Travel Capabilities
Tiny Home vs. RV Winner: RV
RV motorhomes and travel trailers are definitely superior to tiny homes when it comes to travels capabilities. Motorhomes can actually be driven and travel trailers are made with lightweight materials that are optimized for towing. On the other hand, tiny homes tend to be heavier and are not usually an optimal weight or shape for towing. If you plan to travel with a tiny home, make sure the home is under 14 feet tall which is a common clearance height on U.S. roadways.
RVs also come pre-built with useful travel features, such as door latches and furniture secured to the floor. Travelers who purchase a tiny home will need to find ways to secure furniture and accessories. When designing a tiny home for mobility, also avoid open shelves, heavy wall hangings and other pieces that are impractical for a nomadic lifestyle.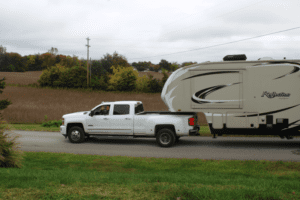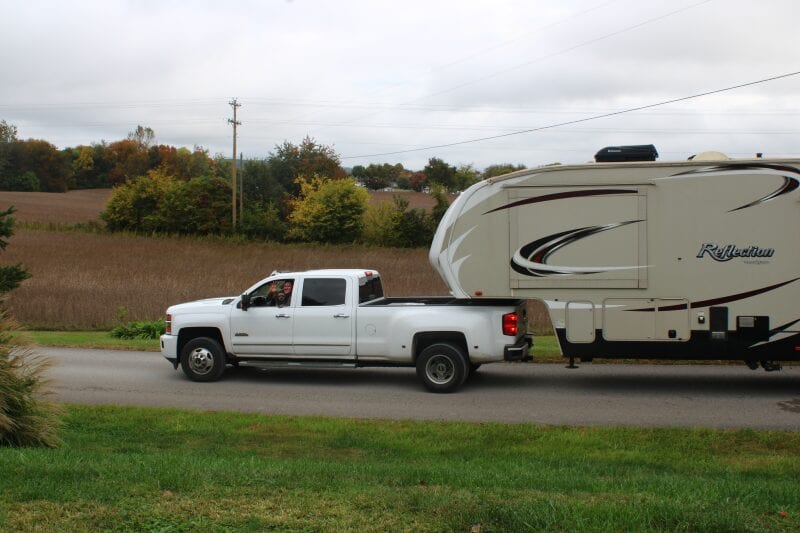 Budget
Tiny Home vs. RV Winner: RV
According to Camper Report the average brand new 24 foot travel trailer costs $23,000. On the other hand, The Spruce found that the average price of a tiny home with wheels is just under $60,000. While there are bargains to be found for both types of dwellings, RV trailers are generally less expensive than tiny homes and come more fully equipped.
There are currently almost 1,000 travel trailers and fifth wheels listed on RV Trader for less than $10,000. On the Tiny House Marketplace, there are only 129 listings for $10,000 or less and many of these are unfinished shells. When purchasing either type of home, one must consider any required upgrades as well as other expenses. Read our full guide to RV budgets to better understand all the costs of living in an RV.
Parking Options
Tiny Home vs. RV Winner: Toss Up
One of the biggest decisions to make is where your home will be placed or parked. For RVers there are campgrounds and RV resorts all over the country that offer short-term and long-term parking. Some RV parks allow tiny houses on wheels, while others strictly prohibit any vehicles other than standard RV trailers and motorhomes. Many RV campers also use BLM land for boondocking or dispersed camping (camping for free). Tiny home owners can also utilize BLM land, but most dispersed camping would be more difficult to access with a bulkier tiny home. If you plan to move around frequently, finding parking will be much easier in an RV.
When comparing a tiny home vs. an RV for stationary living, consider local zoning regulations. Many counties and cities have regulations on what type of dwellings can be utilized on residentially-zoned land. In many cases, these zoning regulations ban permanently parking RVs (or any dwelling on wheels). However, tiny homes aren't safe from regulations either, as many municipalities have a minimum size for newly constructed houses. Check out Go Down Size for a state by state guide on tiny house regulations. Once you have settled on a location, research both state and local regulations to determine which type of dwellings are legal.
Interior Design
Tiny Home vs. RV Winner: Tiny Home
One of the main reasons many nomads and minimalists prefer a tiny homes vs. an RV is the ability to completely customize the interior design. While there are several RVs with modern interiors on the market, RVs are mass-manufactured and are usually lacking in the beauty department. On the other hand, many tiny home builders offer completely customizable houses that are much more aesthetically pleasing. Also, the exteriors of tiny homes are generally much cuter than RVs.
However, if you are willing to put in the effort, it is possible to beautifully renovate a RV. Just go to Instagram and search #rvrenovation for examples and ideas. Check out some easy and affordable renovation ideas that we used in our own RV remodel by clicking here. If you are averse to DIY projects, and not too concerned about design, then buying a new RV is probably the least amount of work since all furniture and appliances are built in the RV.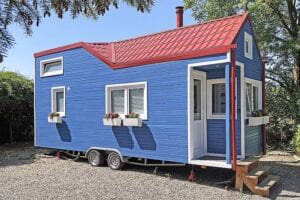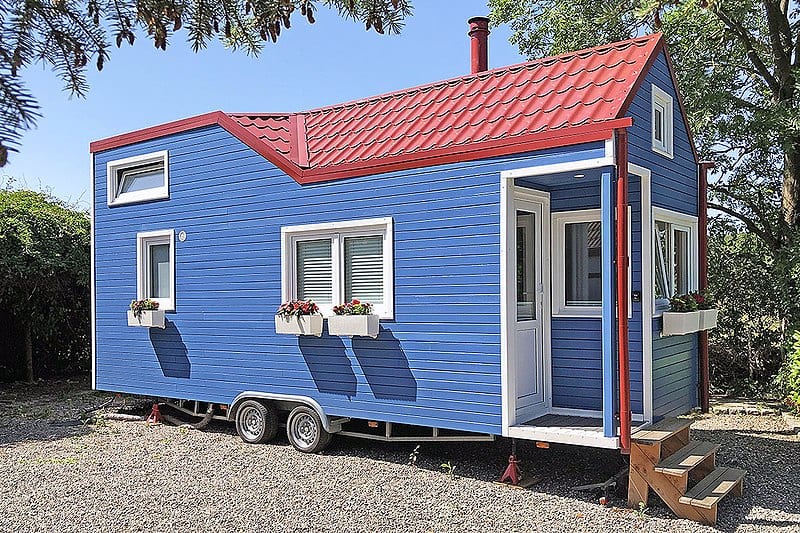 Insurance
Tiny Home vs. RV Winner: RV
Obtaining insurance for an RV is pretty straightforward. Most major insurances companies offer RV-specific plans that insure RVs similarly to any vehicle. Travel trailers are often covered under the insurance plan for the tow vehicle. Some companies, including Progressive and Good Sam, have even started offering full time RV insurance with broader coverage for people who live in their RV.
On the contrary, tiny homes do not typically qualify for standard homeowner's policies. Some companies may allow tiny home owners to purchase RV insurance if their house is on wheels and used for travel. For stationary homes, a manufactured home policy may be approved for some tiny houses. Overall, finding quality insurance for a tiny home will be more difficult, so research insurance options before purchasing the house.
Sleeping Arrangements
Tiny Home vs. RV Winner: RV
Most RVs come with at least one proper bedroom with a queen or kind sized bed. Even very small trailers, typically have a full-sized bed or murphy bed. In contrast, many tiny homes utilize a loft space for the bed. Loft bedrooms require climbing up and down a ladder or steep staircase to access the bed. They also feature low ceilings, so sitting up in bed may lead to injury. Of course tiny houses come in a wide variety of models and can be customized, so a main floor bedroom is possible. However, looking for a tiny home without a loft bedroom will greatly reduce the number of units available.
---
If you made it this far, hopefully, you have a better idea of the benefits of tiny homes vs. RVs. For either type of dwelling, the first step is to start downsizing. If you are leaning towards buying an RV, we have lots of great resources about buying an RV and full time RV living.
Why are you considering tiny living? Share your reasons for downsizing and your ideal RV or tiny house in the comments section below.