This post may contain affiliate links. See our affiliate disclaimer here.
RVing is an amazing way to travel, and for many, an amazing way to live. However, rent at campgrounds in popular destination states is often upwards of $50 or even $100 per night!
Fortunately, great camping deals are available in California for those who are willing to do their research. Luckily for you, we've already done the research! Below are 27 super cheap RV parks in California!
All of the parks in this article offer RV campsites with hookups that cost less than $29 per night or $600 per month. According to Rent Café, average rent for an apartment in California is $1,409, so these campsites are a steal!
If these options aren't cheap enough for you, check out the best options for free RV camping with hookups across the country.
Note: All of the prices listed below are based on publicly published prices as of January 2021. Travels with Ted does not manage any of these campgrounds and we cannot guarantee any rates.
Cheapest RV Parks in California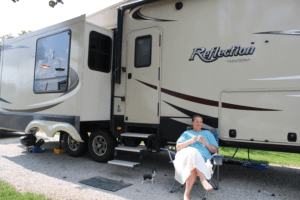 The following 11 RV parks are the cheapest options in California. Parks are listed starting in geographical order, starting with the southern most campground and moving north.
Country Life RV Park: 10 miles north of Mexicali in southern California, County Life RV Park provides peaceful accommodations at great rates. Weekly stays are $200 and monthly stays are $415 plus electric. Country Life is one of the few cheap RV parks in California that offers a swimming pool. The park also has a playground for kids.
Destiny McIntyre RV Resort: On the banks of the Colorado River, McIntyre RV Resort offers easy access to a variety of outdoor activities, including water sports and sand dune exploration. While nightly rates are expensive, monthly rates, which range from $395 to $445, are super affordable. The resort offers many amenities, including boat ramps, beach area, free Wi-Fi and an on-site convenience store.
Calizona RV Park: Located near the border with Arizona, in Needles, California, Calizona RV Park is cheap but well-equipped. Weekly stays at full hookup sites are $170. Monthly stays are $315 in the high season and only $215 in the the summer! Electric is extra for monthly reservations. The park offers many amenities including laundry rooms, pickleball and shuffleboard courts, dog run and mountain views.
Spaceport RV Park: Located in Mojave, California, 100 miles north of Los Angeles, Spaceport RV Parks offers 60 foot pull-thru campsites with full hookups for just $20 per night. The RV park is basic, but they have laundry and bathroom facilities available for campers.
Bear Mountain RV Park: In Bakersfield, California, Bear Mountain RV Park is another great deal. RV campsites are $29 per night or $180 per week, and they are nice sites! Every site in the park is a long, pull-thru with full hookups. The campground also has laundry, showers and a dog run.
Tecopa Hot Springs Resort: While their nightly rates are above our threshold for cheap RV parks in California, their longer term rates are a steal. Weekly rates are $150 and monthly rates are $330 (that's $10 a night!). Sites have full hookups and campers have access to the bathhouse which includes two private hot-spring tub rooms. There is no cell service or Wi-Fi, so travelers should come prepared to relax and disconnect.
Viking RV Park: Located in the quaint town of Kingsburg in California's Central Valley, Viking RV Park is a nice RV park with very cheap rates. Weekly stays are just $130 and monthly rates are $380 plus electric. The park has well landscaped, grass sites with mature shade trees.
Wildwood Campground: Just 10 minutes from the beach in Fort Bragg, California, Wildwood Campground offers RV sites in a wooded setting. Campsites with power and water hookups are a mere $180 per week. The campground is rustic without many amenities, but there is a bathhouse with hot showers.
Corning RV Park: With monthly rates starting at $420, Corning RV Park is another cheap RV park in northern California. With a view of Mt. Shasta and Lassen Peak, this campground is a great place for outdoor enthusiasts. The park has everything RV travelers expect, including a playground, dog park, laundry and free Wi-Fi.
Yreka RV Park: Located off Interstate 5, thirty minutes south of the Oregon border, Yreka RV Park is a great for overnight or long-term stays. Standard 50 amp RV sites rent for $190 per week. The park features well-maintained landscaping and offers an off-leash dog park for furry visitors.
Big Foot RV Park: Beautiful and cheap, Big Foot RV Park is a rare find in northwest California. RV spaces rent for $195 per week or $390 per month. Electric is an extra charge for monthly visitors. The park, located in the aptly named Happy Camp, California, has beautifully landscaped grounds with flowers, fruit and shade trees.
Thousand Trails RV Parks in California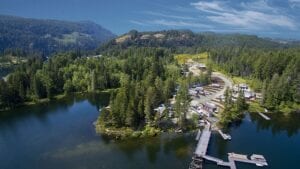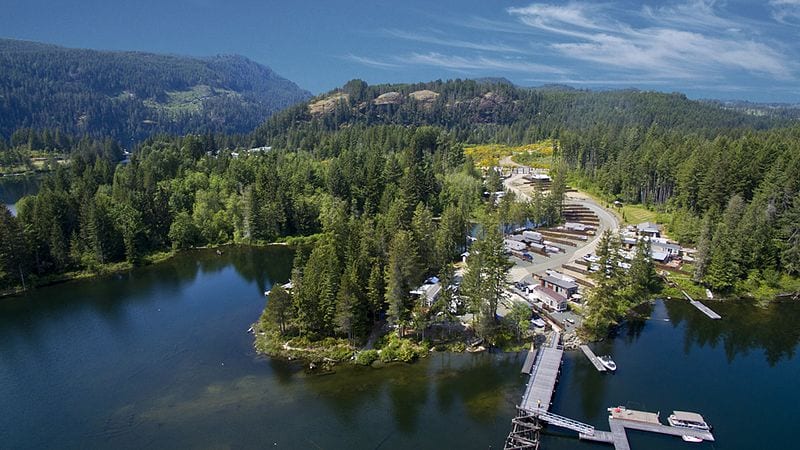 Another way to find affordable RV parks in California is to become a Thousand Trails member. A Thousand Trails zone pass, which cost $615, allows RVers to stay for up to 14 consecutive nights at member campgrounds for FREE.
For more information on Thousand Trails, see our complete guide with all membership options. For the best prices and discounts on Thousand Trails memberships, email or call (804-366-0798) membership specialists Sharon and Warren Lewis and tell them Christina from Travels with Ted sent you.
Below are all 16 California campgrounds that are Thousand Trails RV Parks where members can stay for FREE! As you will see, Thousand Trails has RV parks in popular California destinations that are normally very expensive.
Thousand Trails campgrounds also offer amenities, such as pools and hot tubs, that are not offered at most cheap RV parks in California. Parks are listed in geographical order from south to north.
Pio Pico RV Resort: Located southeast of San Diego and 20 minutes from the Mexican border, Pio Pico is a great base from which to explore the southern most region of California. The resort has many amenities, including a swimming pool, hot tub, yard games, dog park and more.
Oakzanita Springs RV Campground: Just a bit further north, but at over 4,000 feet in elevation is Oakzanita Springs Campground. The park offers a seasonal pool, playground, mini golf and other games. Due to tighter roads, Oakzanita is best suited for smaller RVs under 32 feet.
Soledad Canyon RV & Camping Resort: Situated in the high desert, about an hour north of Los Angeles, California, Soledad Canyon RV Resort features beautiful mountain views. In addition to the scenery the park offers a huge swimming pool, playground, mini golf and more.
Wilderness Lakes RV Resort: A fisherman's paradise, Wilderness Lakes Resort's fishing canals allow anglers to catch catfish right from their campsite. If golfing is your thing, their are 5 golf courses located within 10 miles of the resort. On-site, the campground offers a swimming pool, hot tub and all the other amenities typical of Thousand Trails campgrounds.
Palm Springs RV Resort: Located in the posh town of Palm Springs, California, this campground does not feel like a cheap RV park. The resort features palm tree-lined streets and paved campsites. At the resort, campers have access to a large swimming pool, pickleball courts and a dog park.
Idyllwild RV Resort: In the San Jacinto Mountains, Idyllwild's grounds offer 360 degree mountain views and a respite from the Southern California heat. As with many Thousand Trails parks, Idyllwild Resort offers a swimming pool and other sport facilities.
Rancho Oso RV & Camping Resort: Rancho Oso Resort gives campers a taste of the old west, with horses, western-style cabins and covered wagons. Campers can book guided horse back rides or hand-led rides for smaller children. After hiking on the property's wooded trails, travelers can relax in the pool and hot tub.
San Benito RV & Camping Resort: Located east of Monterey with beautiful year-round weather, San Benito is a great RV resort. Many of the RV campsites have large shade trees, and the park offers a swimming pool and other typical Thousand Trails' amenities.
Morgan Hill RV Resort: For campers looking to visit wine country, Morgan Hill RV Resort is the place to stay. Within the campground, there are mature shade trees and a creek winds through the resort. In addition to a swimming pool and yard games, there are also tennis courts available for campers.
Turtle Beach RV Resort: Located along the San Joaquin River, Turtle Beach is a scenic, quiet and affordable retreat in California. As the name suggests, the campground offers a sandy beach and boat ramp. However, Turtle Beach does not have a swimming pool or other amenities typical of Thousand Trails resorts.
Yosemite Lakes RV Resort: This RV park is the perfect place to stay when exploring Yosemite National Park. Located 5 miles from the park entrance, the campground provides easy access to Yosemite's famous views and hiking trails. Back at the park, travelers can enjoy mini golf, horse shoes and other outdoor games. If you are interested in camping inside Yosemite, check out our complete guide to RV camping in national parks.
Ponderosa RV Resort: Set on the American River, a popular whitewater destination, Ponderosa RV Resort is another scenic, but cheap RV Park in California. In addition to the river activities found in the region, guests can enjoy on-site activities including a swimming pool, bocce ball and horseshoes.
Russian River RV Campground: Another riverfront campground, located further west off Highway 101, Russian River RV is connected to a public beach where campers can swim and play in the river. Within the campground, there is a playground and several outdoor games.
Lake Minden RV Resort: Located in the Sacramento Valley, Lake Minden RV resort has loads of recreational opportunities. The resort is built around a private, 41-acre lake where campers can fish or boat. The campground also offers plenty of outdoor games and a fenced dog park.
Snowflower RV Resort: This summer RV resort, located in the Sierra Nevada mountains, has some of the best views of any RV park in California. There is a on-site lake stocked with trout where guests can fish, swim or kayak. For campers who prefer clear water, there is also a swimming pool.
Lake of the Springs RV Resort: Another picturesque campground, located on a lake, this resort is another top campground in California. Campers have access to the private lake for swimming, fishing and boating. Boaters can bring their own boat or rent a patio boat from the campground. The resort also offers a swimming pool, dog park and pickleball courts.
---
While many parts of California are expensive vacation destinations, staying at cheap RV parks makes trip to California more affordable. If you are willing to spend more for premium campground amenities, check out our list of the best luxury RV resorts in California.
What California adventures are on your bucket list? Share your dream destinations and road trips in the comments below!
Also see our other state-specific RV camping guides for Kansas, Colorado, Florida and Louisiana.