This post may contain affiliate links. See our affiliate disclaimer here.
There is nothing more relaxing than a beach vacation with sand in your toes, a cool ocean breeze and a fruity cocktail in your hand. However, many coastal vacations include long walks to and from crowded parking areas and public restrooms.
But what if you could put your hotel room right on the beach? If you are traveling in an RV, you can! Below are our favorite RV campgrounds on the beach, where you can pull your home on wheels directly onto the sand just steps away from the ocean.
RV Campgrounds on the Beach in Texas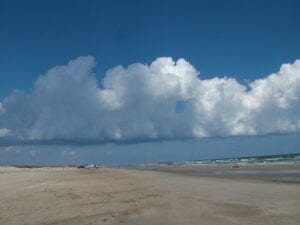 Padre Island National Seashore
On this barrier island, there is not only one but two areas that permit RV camping directly on the beach. RVers can park just a few feet from the Gulf of Mexico on both the South Beach and North Beach.
The North Beach offers a one mile stretch, while the South Beach offers a whopping 60 miles of RV friendly shoreline. Only four-wheel drive vehicles should attempt to park beyond the first five miles of South Beach.
There are no fees to camp on the beach at Padre Island, but all visitors must obtain a camping permit at the beach entrance.
Mustang Island State Park
Mustang Island, another barrier island just north of Padre Island, offers a one and a half mile stretch of beach for primitive RV camping. Campers pay ten dollars nightly plus state park entrance fees to use the beach campground.
For campers who want proximity to the beach with a few more conveniences, the park also offers campsites just over the sand dunes with electric and water hookups.
Brazoria County Free Beach
This county park in Surfside, Texas offers a free, primitive RV campground on the beach. Featuring a beautiful shoreline positioned for impressive sunrise views, the hard-packed beach is accessible for any size RV.
With many reviewers noting how clean the beach is, this may be the prettiest RV beach camping spot in Texas. As an added bonus for full time RVers who work and travel, this beach also offers strong cell signals.
RV Campgrounds on the Beach in Other States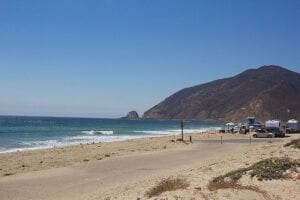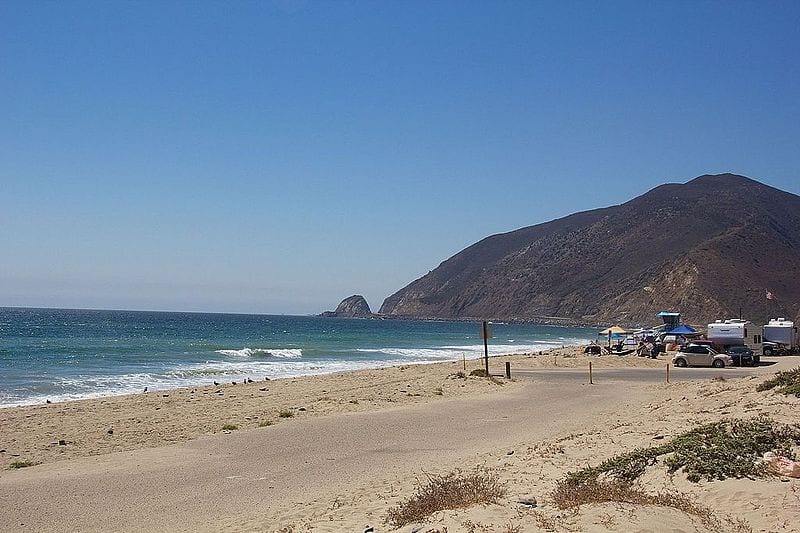 Rutherford Beach
In Creole, Louisiana, Rutherford Beach allows RV camping in the sand. Tents and lighter trailers can pull directly onto the beach, while larger RVs should park in the hard-packed area behind the dunes.
Many reviews note that this beach is quieter than its Texas counterparts on the Gulf Coast. Camping here is completely free and does not require a special permit.
Race Point Beach
Located within the Cape Cod National Seashore, Race Point Beach is a rare Atlantic Coast option for RV beach camping. However, this location does have several regulations.
Only self-contained vehicles are allowed and you must have several required beach camping accessories like a shovel and tire gauge to qualify for a permit (see the full list here).
If you meet the stringent requirements, the reward is a beautiful beach campsite just steps from the ocean. A seven day self-contained vehicle camping permit costs $75.
Point Mugu State Park
On the other side of the country, Point Mugu State Parks offers one of the few RV campgrounds in the U.S. on a Pacific Ocean beach. The Thornhill Broome campground sits right on the beach just west of Highway One.
Lucky campers may spot marine life, including seals, dolphins and whales right from their campsite. Camping is $35 per night which is more expensive than most beach camping, but less expensive than most California campsites.
RV Camping on Lake Beaches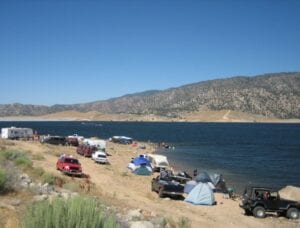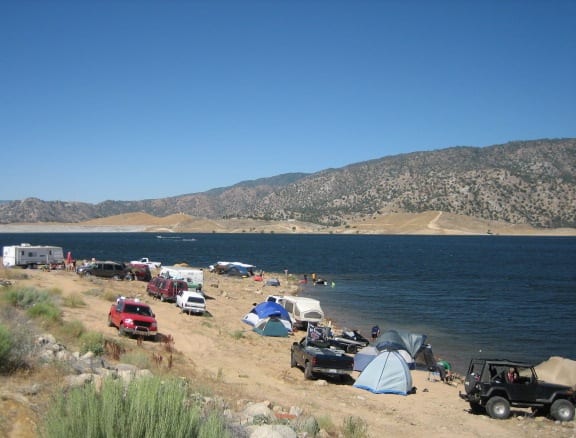 Lake Isabella
Lake Isabella, a reservoir located in Kern County, California, offers lakefront camping within the Sequoia National Forest. Primitive RV campgrounds on the beach are available at the South Fork Recreation Site and the Old Isabella Road Recreation Site.
Expect to camp just a few feet from the water with impressive mountain views. Camping is free if you have a annual National Parks pass.
Lake McConaughy State Recreation Area
Shoreline Road at Lake McConaughy offers multiple spots to camp directly on the beach (see a complete map here). The white sand and clear water make for picturesque camping and great swimming.
Soft sand means only four-wheel drive vehicles should attempt to park directly on the beach, but there are plenty of established campgrounds around the lake for other campers. Beach campers must pay a $12 overnight camping fee and have a Nebraska Parks entry permit.
Lake Pleasant Regional Park
Just northwest of Phoenix, RVers can access shoreline camping at Lake Pleasant Regional Park. Primitive beach camping is permitted within designated areas as long as water levels allow.
Lake Pleasant provides the best of both worlds for campers looking for natural beauty and the amenities of a large, urban area. Shoreline camping costs $15 per night.
RV Campgrounds on the Beach in Baja, Mexico
Bahía Concepción
The most famous RV beach campgrounds in Baja are located on the Bahía Concepción on the Sea of Cortez. This scenic bay features eleven camping beaches, many of which are big rig friendly.
The northern most beach, Playa Santispac, is a great option for larger RVers looking for easy access from the main road. El Requesón is probably the most picturesque option featuring a small island that campers can walk to at low tide.
A small fee, typically about $10 is collected at most of the beach campgrounds on the bay.
Bahía de los Ángeles
Another beautiful bay on the Sea of Cortez, Bahía de los Ángeles, offers more dreamy camping spots with fewer people than Bahía Concepción.
Playa la Gringa offers dispersed RV beach camping seven miles north of town. For more developed camping, visit Daggett's Beach Camping & Sportfishing. Daggett's offers an RV beach campground with access to flush toilets and hot showers.
Playa Tecolote
Playa Tecolote in La Paz, Mexico is another fabulous RV camping beach in Baja. This is a great beach camping option for several reasons. Firstly, it is in La Paz where you have access to great restaurants, shopping and attractions.
Everyone who visits this area should book a tour to snorkel with whale sharks. This beach is also completely free for RVers to camp on.
Check out our complete guide to RV travel in Baja to make sure you are fully prepared before crossing the border.
Tips for RV Camping on the Beach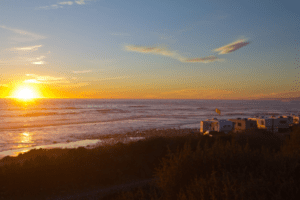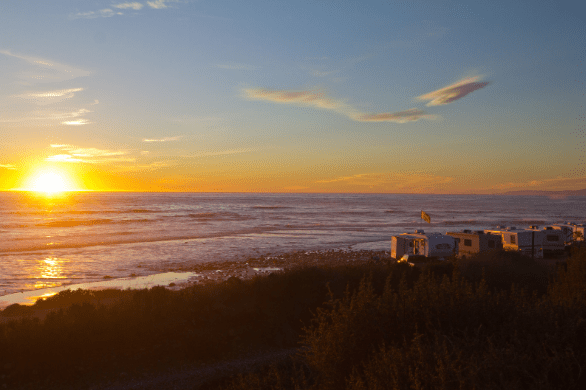 Be Prepared for Soft Sand
Getting stuck in the sand is an easy way to ruin your beach camping excursion. Always park off the beach and walk around the sand before driving on it. Pack recovery tracks to help you get moving when your tires get stuck in the sand.
Have Enough Power
Beach campsites don't come equipped with electric hookups, so you need to bring your own power source. If you are going to dry camp on the beach for more than one night, have a solar panel or generator to charge your batteries. Only run generators during the day and for as long as needed so you don't annoy other campers with the noise.
Check the Tide Charts
Always identify the high tide line before parking your RV on a beach. A tide coming up quickly can end in disaster for your camper. For lake beaches, check park websites ahead of time to make sure water levels are not impacting campsites.
Have A Backup Plan
Many RV beach campgrounds have a first come, first serve policy, so do not expect to always show up and find a spot, especially on holidays and weekends. Find other campsite options in the area, so you have a backup plan in case the beach is full.
---
Alright, now that you know where to find RV campgrounds on the beach and how to camp safely, it's time to start planning your next RV trip. If you are not ready to rough it on the beach yet, check out the best RV road trips in the U.S.A. instead.
Happy Camping!