This post may contain affiliate links. See our affiliate disclaimer here.
Dumping your RV holding tanks is a reality of RV life, but full hookup RV sites are expensive. Many campgrounds and other businesses charge $10 just to empty your tanks. Keep reading to learn all about where to dump RV waste for free.
Free RV Dump Stations for Everyone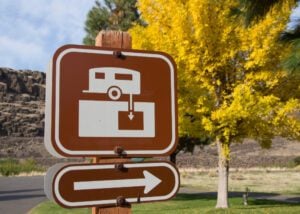 Wondering where to dump RV waste for free? These RV dump stations are free for anyone and everyone to use! Skip down to our favorite apps for finding free RV dump stations to find a free dump station near you today.
Rest Areas
Rest areas or rest stops off highways and interstates are one of the most common places to find free RV dump stations. However, the availability of dump stations and the fees associated vary by state.
Fuel Stations
Gas stations and trucks stops are another place where RVers can find free RV dump stations. For example, several of the 24/7 Travel Stores in Kansas offers free dump stations for RV campers.
Many other gas stations and fuel stops across the country offer free RV dumps, which can be easily located using RV dump station finder apps.
Your Home
One super easy place to dump RV waste for free is right in your back (or front) yard. At many homes, RV tanks can be dumped directly into the sewer or septic system.
Read our complete guide to dumping your RV tanks at home for step-by-step instructions.
City Parks
Many city and county parks, especially in the Midwest, offer free RV parks with electric and water hookups. In addition to free camping, many of these RV campgrounds also offer complimentary dump stations.
Municipal Facilities
Another common, but surprising location to dump RV waste for free is municipal facilities, such as water treatment plants and sanitary district locations. Call your local facilities to see if free RV dump stations are available.
Federal Recreation Areas
Some federal recreation areas, such as National Monuments, National Forests and National Recreation Areas offer free RV dump stations. Some of these locations are free for all RVers, while others request a donation for dumping your tanks.
If you are camping in or near federal land, check their website or stop at the visitor center to inquire if any free RV dump stations are available.
Free RV Dump Stations with Purchase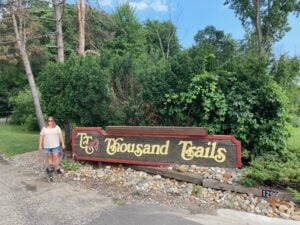 These RV dump stations are only free to RVers who are customers of the business or have a camping club membership.
Private RV Parks
Almost all privately-owned RV parks and campgrounds have a dump station on the property. If you paid to camp at an RV park, always try to use the dump station before hitting the road.
Thousand Trails Campgrounds
A Thousand Trails membership includes day use privileges at Thousand Trails campgrounds. Therefore, members should be able to use RV dump stations at member campgrounds. Of course, always call ahead to confirm dump station availability with the campground office.
See our complete guide to the Thousand Trails RV Club to learn more about membership options and benefits.
Camping World and Gander Outdoors
Members of the Good Sam RV Club receive free RV dump services at Camping World locations. Participating Gander Outdoors locations also offer free dump stations for Good Sam members.
See our complete guide to the Good Sam RV Club for more information on membership benefits.
Cabela's
Many Cabela's stores have RV dump stations in their parking lots. These dump stations typically cost $5. However, many RVers have reported that they received a code for a free dump after making a purchase in the store.
If you are making a purchase, request a free dump station code from the cashier. Of course, be prepared to pay the $5 if that store does not give out free dumps.
Military Campgrounds
Our final suggested location to dump RV waste for free is military campgrounds. Active and retired military have access to RV campgrounds at U.S. military bases. Some of these campgrounds also offer free dump stations for qualified military members.
Click here to learn more ways for military members and veterans to save on RV camping.
Apps for Finding Free RV Dump Stations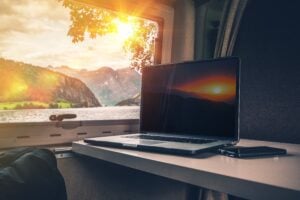 Sanidumps
Sanidumps.com is great tool for locating free RV dump stations. Simply enter your current city or zip code and see a complete list of RV dump stations in the area. Each dump station listing includes the address, fees and whether or not the station also offers potable water.
They also have a map feature, so you can see a visual of all the dump stations in your area. One uniuqe feature is that Sanidumps' database includes international RV dump stations in Canada, New Zealand and Central America.
RVDumps.com
RVDumps.com is another comprehensive database of dump stations in the United States. Users can search on a map or see a list of RV dump stations by state and town.
The map includes a price filter, so users can easily locate free places to dump RV waste.
Campendium
The last app for finding free RV dump stations is Campendium. Campendium has always been a great resource for finding free campsites and reading campground reviews. However, they also have a great tool for finding free dump stations.
To find free RV dumps on Campendium, simply enter your desired destination in the search bar. Then filter the category to "Dump" and the price to "Free." Campendium will return a list of all the free dump stations near your search location.
---
Thanks for reading our complete guide on where to dump RV tanks for free. We hope you were able to find the perfect place to empty your RV holding tanks.
If you are searching for free RV dump stations, you are probably planning a dry camping trip. See our complete guide to RV boondocking for tips and tricks on camping without power and water.
Happy Camping!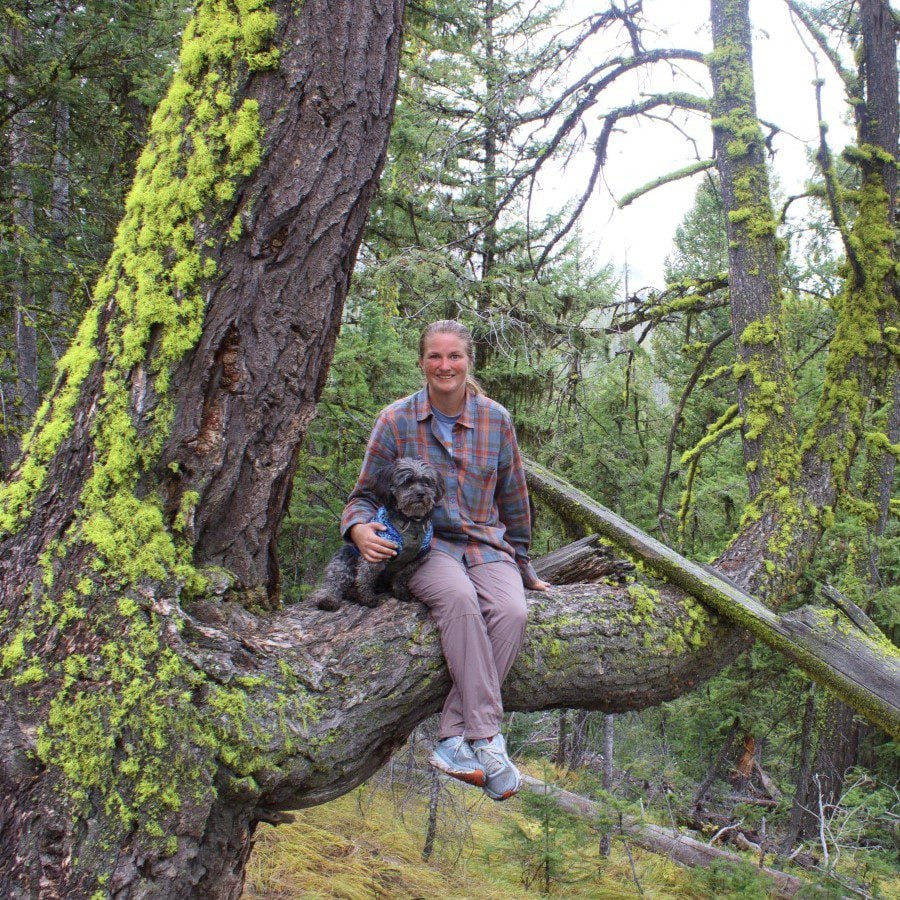 Christina Pate is a seasoned full-time RVer who, along with her husband Justin, has journeyed across the US, Canada, and Mexico. Drawing from her extensive travels, RV repairs and RV renovations, she founded Travels with Ted to guide and inspire fellow RV enthusiasts. Christina is also the co-author of The Owner's Guide to RV Maintenance and the creator of My RV Log Book.