This post may contain affiliate links. See our affiliate disclaimer here.
Spend a few minutes browsing RV Life hashtags on Instagram and you will be bombarded with beautiful images of stunning RV renovations. However, very few renovators share how much they actually spent to create a modern home on wheels.
We are pulling back the curtain and sharing the real RV renovation cost of 8 DIY remodelers. The details of these real life RV renovations will help you understand what upgrades are realistic with your skills and budget.
If you are lacking in interior design and handyman skills, check out these new RVs that come with modern, white interiors straight from the factory.
Fifth Wheel RV Renovation Costs
Jordan and Brooke of @TheCamperHouse
RV Model and Size: 2014 Grand Design Solitude 39 Foot Fifth Wheel
RV Renovation Cost: $700 (so far)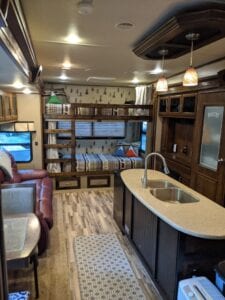 Jordan and Brooke are not finished with projects in their fifth wheel home, but it already looks amazing! They have painted the walls and cabinets, added wallpaper accents and installed new window treatments and a kitchen backsplash.
They even built custom bunk beds for their sons. Even with all these impressive changes, they expect their total RV renovation budget to come in at just over $1000 after adding a flip-up bar and office space.
RV Model and Size: 2010 Keystone Montana 30 Foot Fifth Wheel
RV Renovation Cost: $3000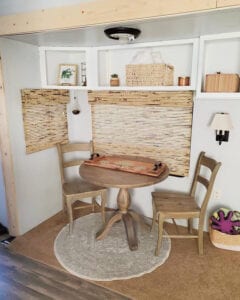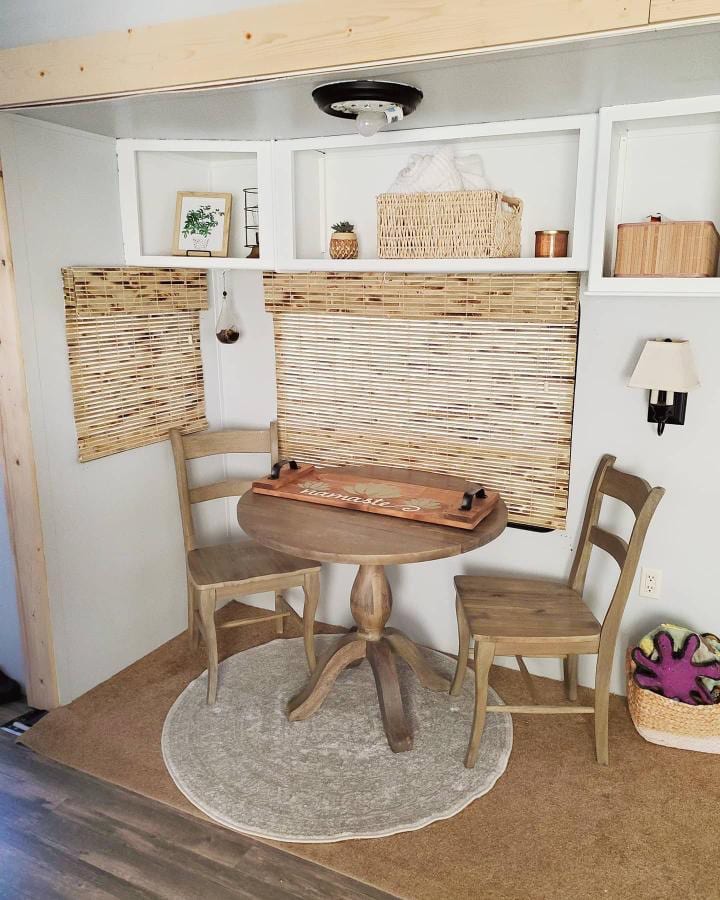 Katie's beautiful fifth wheel renovation features several affordable, but impactful updates. She painted the walls and cabinets, installed wallpaper, swapped out the light fixtures, put in new floors, replaced the blinds and bought new furniture.
Despite all the updates, Katie kept her budget in check by taking advantage of Cyber Monday deals and recovering her countertops instead of replacing them.
RV Model and Size: 2010 Keystone Cougar 35 Foot Fifth Wheel
RV Renovation Cost: $3500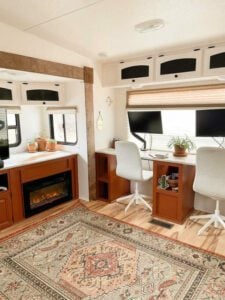 If you are looking for RV office designs, Keith and Raini's remodel is the ultimate inspiration. Their custom dual desk set-up includes custom epoxy countertops and storage cubbies.
In other areas of the RV, the couple painted the walls and cabinets, installed new vinyl flooring, new living room furniture and plenty of plants. The renovations did not stop inside! They also removed the decals and painted the exterior of their fifth wheel a solid white white with a black trim.
If you want to customize your RV's exterior, consider wrapping your RV.
RV Model and Size: 2020 Grand Design Solitude 40 Foot Fifth Wheel
RV Renovation Cost: $2500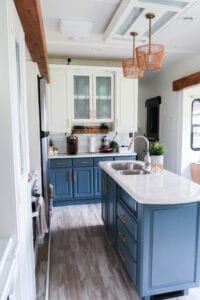 Presley and her family transformed their large fifth wheel with just paint, furniture and some simple décor. They hired out the painting and paid $1700 for the service. If you've ever spent days painting all the tiny corners in an RV, that will sound like a bargain!
They also made some small cosmetic changes, like adding new gold hardware to the kitchen cabinets, buying new dining room furniture and replacing the shades on the existing light fixtures over the kitchen island.
RV Model and Size: 2002 Keystone Cougar 29 Foot Fifth Wheel
RV Renovation Cost: $10,000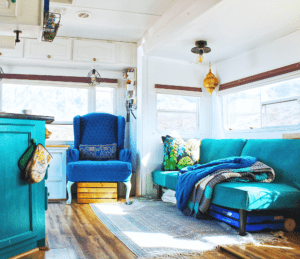 Jesse and Rachael bought their fifth wheel for only $5500, so they had a healthy renovation budget. Their complete renovation included painting walls and cabinets, creating wallpaper accents and installing new flooring.
They also ditched the RV furniture and replaced it with more practical pieces, including a desk. Their kitchen also got several upgrades including a backsplash, custom pine countertop and a new sink. To make boondocking more practical, the couple also replaced the RV's battery, inverter and added solar capabilities.
RV Model and Size: 2017 Jayco Pinnacle 40 Foot Fifth Wheel
RV Renovation Cost: $600 (For paint and doors)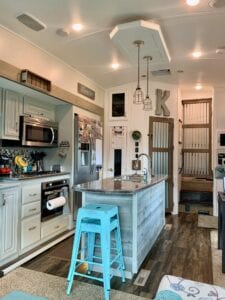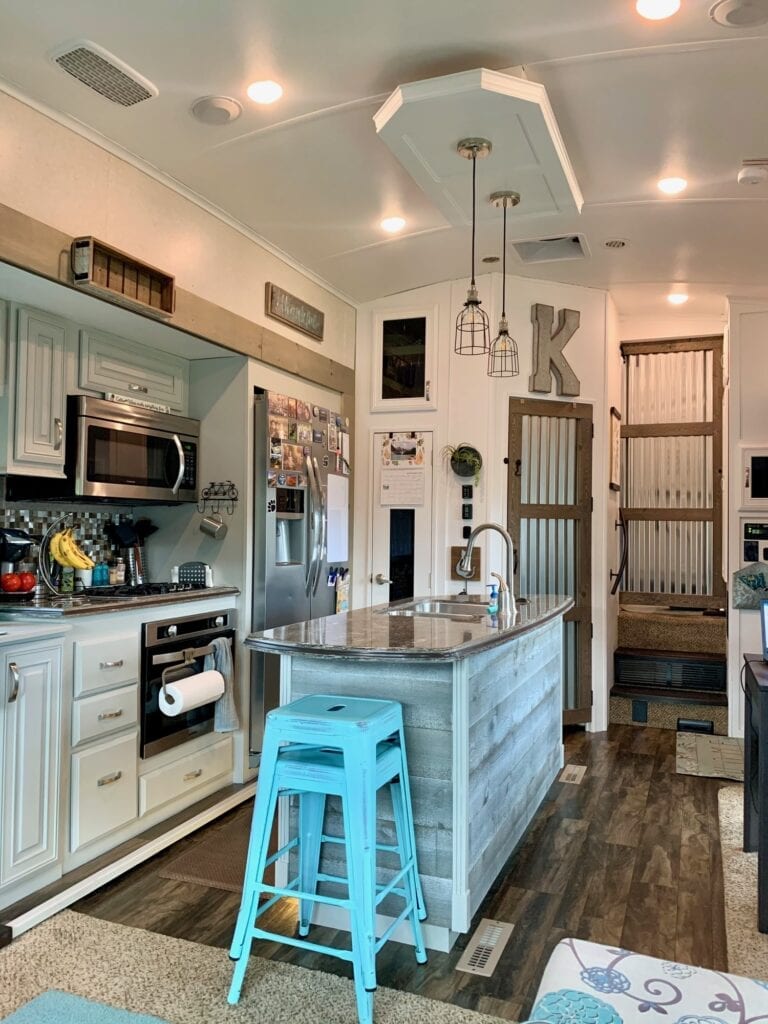 Tina's renovation proves that a few small changes can entirely transform an RV. Her renovation included painting cabinets and a few other small cosmetic upgrades, but the custom-built interior doors have the biggest impact.
Tina's husband and father-in-law, built three custom wood and metal doors to replace the bathroom and bedroom doors. As an added bonus, the new doors were 150 pounds lighter than the original ones.
Other RV Renovation Costs
RV Model and Size: 1999 Fleetwood Angler 9 Foot (and 7 Inches) Truck Camper
RV Renovation Cost: $2500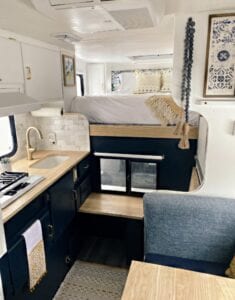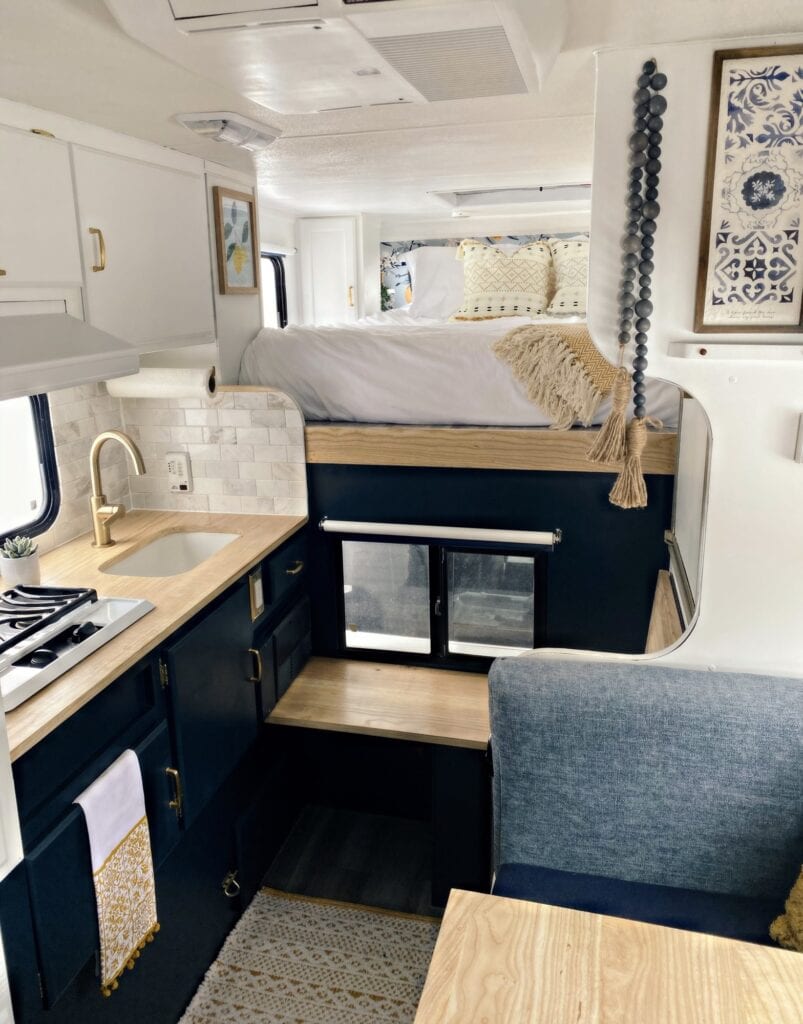 Cait and her husband turned this dated truck camper into a dreamy tiny living space. They re-did the entire camper including painting the walls and cabinets, installing wallpaper accents and a backsplash, replacing light fixtures and adding new floors!
They also freshened up the yellowed bathroom using an epoxy refinishing kit to make everything white again.
RV Model and Size: 2016 Thor Winds 36 Foot Class C
RV Renovation Cost: $20,000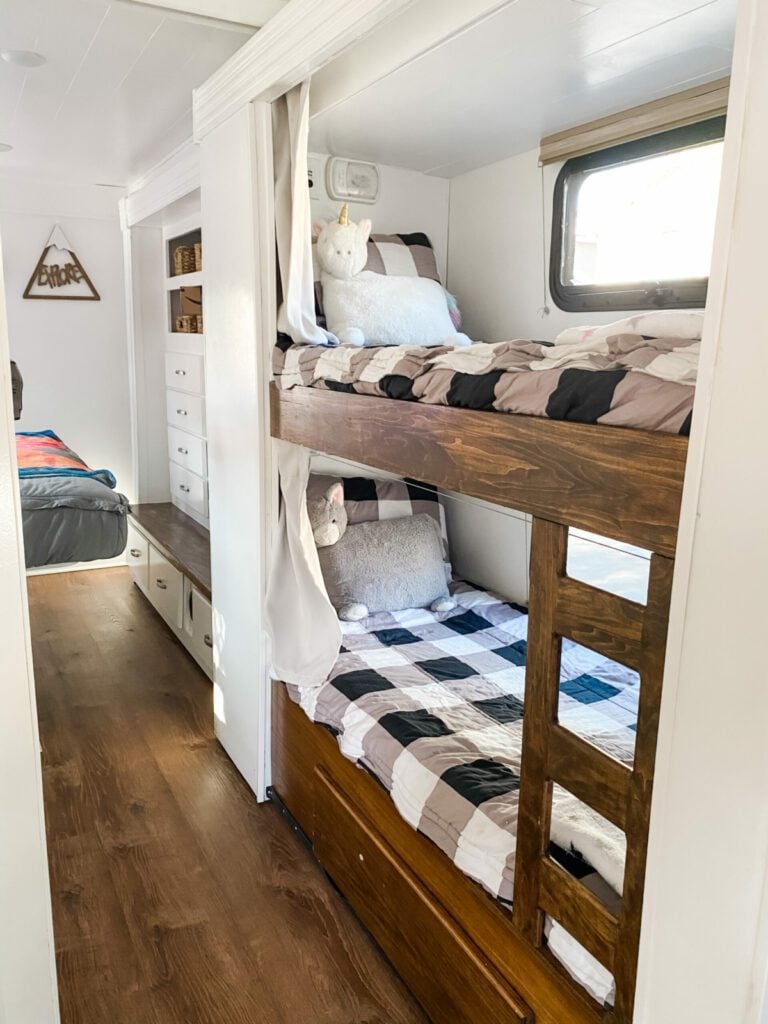 Karlees's renovation of her Super C motorhome was a top to bottom transformation. She brightened up the space by painting all the walls and cabinets white, and added a nice design element by installing wallpaper behind the bed.
The RV's bunk beds were also given a facelift with new woods panels and ladder. Other updates included, a new couch, moving the sink to add counter space, new countertops, backsplashes, custom lighting, a new mattress, upgraded flooring and so much more!
Biggest Bang for the Buck
We asked all of our DIYers what was the biggest bang for their buck in their RV renovation, and almost everyone agreed it was paint.
Slapping a coat of white (or colorful) paint on walls and cabinets is one of the easiest, low cost ways to transform a tiny house on wheels. If you are considering painting an RV, utilize the following tips to ensure a great result.
Tips for Painting an RV:
Use a fine grit sandpaper to lightly sand walls and cabinets
Before painting, clean surfaces thoroughly with TSP or a water and vinegar solution
Decide if furniture and/or window treatments are going to be replaced before painting; Putty any holes that will not be reused, and remove furniture before painting so you do not have unpainted areas
Always use a gripper or bonding primer when painting RVs
Apply at least two coats or primer and two coats of paint for the best result
Yellowed showers, bathtubs and sinks can also get a paint makeover using an Epoxy Refinishing Kit
If you are not up for a full paint makeover, adding a few pieces of modern furniture or accessories, can always have a huge impact in your RV renovation for a small cost. Check out our favorite lightweight décor pieces for RVs here.
---
What unique RV renovations do you have planned? Share your best ideas with us in the comments below.