This post may contain affiliate links. See our affiliate disclaimer here.
If you are interested in selling your travel trailer or motorhome, but not interested in dealing with potential buyers, RV consignment is a great option. In the article we share everything you need to know about RV consignment, including how it works, the pros and cons and alternative ways to sell an RV.
What is RV Consignment?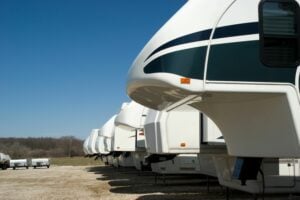 RV consignment is simply hiring a third-party to sell your travel trailer or motorhome. In exchange for a portion of the sale, the consignment company (usually an RV dealership) handles all aspects of the sale. The owner of the RV maintains their ownership and rights to the RV until the sale is completed.
Many RV dealerships offer consignment services to sellers. The seller hands over the RV to the dealership. Then, the dealership uses their resources to market and sell the vehicle. At the time of the sale, the dealership earns a commission for their services. The commission is typically a percentage of the sale, agreed upon before the dealership take custody of the RV. If the RV is not sold during the agreed upon consignment period, the owner may choose to take their RV back.
Pros and Cons of RV Consignment
RV consignment is a good option for many people selling their RV. However, consignment is not the right choice for all RV sellers. Review the pros and cons of RV consignment to determine if RV consignment is right for you.
Pros of RV Consignment
Advertising and Promotion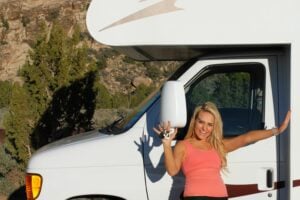 When you consign your RV through a dealership, they will use their marketing channels to advertise your RV to potential customers. Because dealerships already have marketing budgets and strategies, they are more effective at reaching a large pool of potential buyers than any individual seller could be.
Since the RV will be parked at the dealership during consignment, it will also be viewed by hundreds or thousands of people who are actively shopping for an RV. Someone looking for a new RV, could see your rig and decide to buy used instead.
Safety and Peace of Mind
Many RV sellers are uncomfortable with the idea of having potential buyers come to their home. When you consign an RV, you can take it to the dealer's lot so you never have to have strangers come to your home. The dealership will also handle accepting the buyer's payment, so there is no risk of being scammed by a buyer writing a bad check. With RV consignment, you never even have to speak to a potential buyer.
Financing Options for Buyers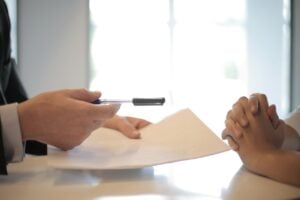 When selling your RV on your own, you are limited to potential buyers who have cash on hand for the purchase. Buyers who need loans will have a more difficult time purchasing an RV that is "for sale by owner." However, dealerships are able to offer financing on consigned RVs, greatly increasing the pool of potential buyers. Dealerships can also accept trade-ins from current RV owners who are looking for a new travel trailer or motorhome.
Hassle-Free Process for the Owner
If you hire the right dealership to consign your RV, they should handle all the work of the selling process. After signing a few papers, you should not have to do anything else until your RV is sold and you collect the check. The dealership will handle any needed repairs, advertising, answering questions from potential buyers and paperwork for liens and the RV's title transfer.
Cons of RV Consignment
Commission and Fees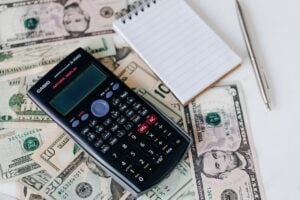 The biggest drawback to consigning an RV is sharing the profit with a dealership. Most RV consignment dealerships are paid by commission, keeping a set percentage of the sale price. However, some other consignment services may charge monthly fees. Always do your research on typical commission rates and fees in your area before consigning your RV. Also consider the value of the dealership's services when evaluating the fairness of commission rates.
Lack of Control
The flip-side of a hassle-free sales process is that you also lack control in how the RV is promoted and sold. Ask lots of questions and thoroughly understand a dealership's consignment process before signing a contract. It is your responsibility to ensure the consignment dealership will work hard to sell your RV for the highest price.
Insurance Coverage Limitations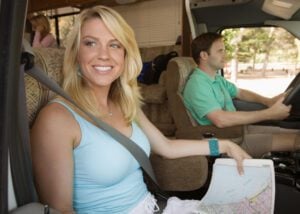 Most RV insurance policies have clauses that exclude coverage while the RV is being consigned. If your RV is stolen from the dealership, damaged by weather or in an accident during a test drive, your insurance may deny your claim. Consigned RVs are also rarely covered by the dealership's insurance. Therefore, purchasing special insurance or an add-on to your current insurance may be necessary to protect your RV during consignment. Call your insurance company to review options before consigning your RV.
No Access to RV for Camping
When you sell an RV on your own, you can continue to go on camping trips until the day the RV is sold. When you consign an RV, you lose the right to use the RV during the consignment period.
How to Consign an RV
Now that you understand what RV consignment is, it's time to learn how to cosign your RV. Follow the below steps to select the best consignment dealership and earn the most profit.
Where to Consign your RV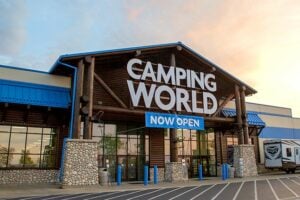 The most common place to consign your RV is with an RV dealership. Both national chains, such as Camping World, and local dealerships offer consignment services.
To find all of your RV consignment options in your area, simply call or email all of the local dealerships and inquire if they have a consignment program. Ask each of the consignment dealerships, the below questions and evaluate their answers to select the best business to sell your RV.
Questions to Ask Before Consigning your RV
Here are all the important questions to ask a dealership before signing a consignment contract.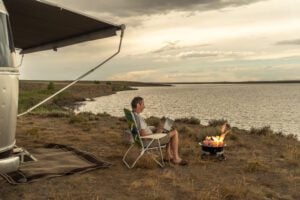 What is your commission rate or structure?
All consignment dealers will take a commission on the sale of your RV, but the way the commission is calculated varies. While some dealerships use a flat rate, others charge a different commission rate based on the type of RV you are selling. Collect commission rates from several dealerships in your area to understand what a fair rate is for your RV type and location.
Do you charge any additional fees?
While the commission is usually the largest cost of consigning an RV, some dealerships may charge other fees. Potential fees include a monthly fee for storing your RV on the lot or service-specific fees, such as a cleaning charge. Ask for a full list of all potential fees, and confirm if fees are standard or if they can be avoided (i.e. can you avoid a cleaning fee by cleaning the RV yourself). When comparing dealerships, add the fees to the expected commission to determine who offers the best value.
How will your promote my RV to potential buyers?
Consigning your RV allows you to leave marketing to the professionals, but you need to ensure the dealership has professional advertising resources. A good consignment dealer should be able to provide a clear outline of all the ways they will market your RV to potential buyers. Professional marketing strategies will include online and offline advertising as well as showing your RV to customers who walk onto the lot.
What is the consignment contract period?
When you consign an RV, you retain ownership rights during the consignment process. However, dealerships may require RV owners to sign a contract giving them the exclusive rights to sell the RV for a specified period of time. These contracts protect the dealership from losing the money they spend marketing and housing your RV. However, you should not agree to a contract that is longer than a few months. A one to three month consignment period is typical.
Do you offer free appraisals?
Every RV consignment dealership should offer a free appraisals. The appraisal will allow the RV dealer to set expectations on the sale price of your RV before your sign a contract. Before taking your RV in for an appraisal, do you own research on the value of your used RV, so you understand what is a reasonable sale price. Use our RV depreciation calculator for a rough value estimate based on the RV's age, and read our complete guide to determining used RV values. Do not consign your RV with a dealer if they do not offer a free appraisal before drawing up the contract.
Will you cover damage that occurs while the RV is in your possession?
As we noted in the previous section, many RV insurance policies do not cover RVs being sold on consignment. Therefore, it is important to understand what damage the dealership will cover while the RV is in their possession. Specifically ask what the dealership will cover in instances of theft, weather damage, test drive damage and other scenarios. Make sure all scenarios are covered either by your insurance policy or the consignment dealership.
Review the Consignment Agreement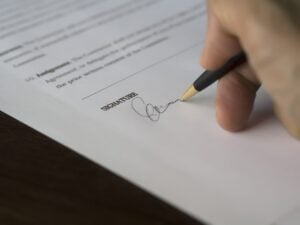 After reviewing different dealerships' consignment offerings, select the dealer that you believe will be most effective at maximizing your profit and selling your RV quickly. However, do not ever fully trust an RV consignment service before reading the agreement.
Carefully review the consignment agreement or contract and confirm that all terms discussed in your Q&A are correct. Validate that commission rates, fees, services provided, the consignment period and damage coverage all match what was verbally agreed to during previous discussions.
Alternatives to RV Consignment
RV consignment is an effective way to sell your RV, but it is not the only way to sell your RV. If you are unsure if RV consignment is right for you, consider these other methods for selling a travel trailer, motorhome or camper.
Trade-in
If you are looking to buy a new RV, in addition to selling your current one, trade-in may be the easiest option. Many dealerships offer a trade-in credit, where the trade-in value of your current RV is deducted from the price of the new RV you purchase.
Trade-in is a simple process. Just bring your current RV to the dealership where you intend to purchase your next RV. They will appraise your RV and offer you a trade-in price, which can be used towards your next RV purchase. The offer and negotiation can typically be completed in the same day, so you can sell and purchase RVs very quickly.
While trade-in is quicker than consignment, the purchase price for your RV may be lower. Most dealerships offer a trade-in credit that is 10 to 20% less than the actual value of your RV. Having a clear understanding of your RV's value is important to ensure your getting a good deal on a trade-in. Trade-ins do have one clear financial advantage. The sales tax on your new RV is calculated based the gross price paid, meaning your trade-in credit is not taxed.
Sell your RV to Dealership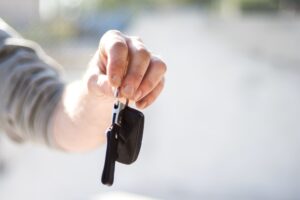 In addition to consignment services, many RV dealerships will also buy your RV outright. Instead of consigning the RV, dealerships will offer you a flat sum and take over ownership of the RV while they are trying to sell it.
Selling an RV to a dealership is a great option for RV owners who need cash quickly and do not have the option of waiting months to sell their RV. Many dealerships will buy your RV on the same day after conducting an appraisal and inspection. There are no fees, insurance concerns or other headaches that are part of the commission process. The dealership will also help you complete all the required paperwork.
However, your profit from a direct sale to a dealership will most likely be lower than a commission sale. Since the dealership is taking on more risk (they are stuck with your RV if it does not sell), they will likely offer less money. When consigning your RV, the dealership is trying to sell it for the highest price to maximize their commission.
Sell your Own RV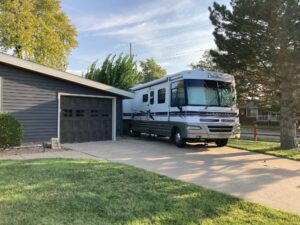 The final option for selling your RV is to do it yourself. Many people list their RVs as "for sale by owner" and handle to entire process on their own. RV owners are able to market their RVs to potential buyers through online marketplaces, such as RV Trader, classified ads, social media, word of mouth and old-fashioned "for sale" signs.
Whether or not selling your RV without assistance leads to maximum profit depends on your marketing and sales ability. However, RVers with strong sales skills may be able to earn more from their RV sale since their costs will be minimal. Selling your RV yourself also means you can use the RV while you sell it, and avoid purchasing special consignment insurance.
Selling an RV without the help of a dealership does highly increase the potential of encountering scammers. Vehicle and RV sellers are often targets of scams involving bad checks. Always be prudent and only accept verified forms of payment when selling anything directly to a buyer. Sellers will also have to allow buyers to come to their home or storage lot to inspect the RV before purchasing.
Rent your RV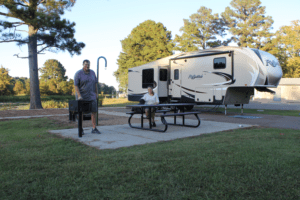 If the only motivation for selling your RV is financial, consider renting your RV on a peer-to-peer marketplace instead of selling it. Renting your RV allows you to cover the costs of your loan, insurance, maintenance and other costs while still having access to your RV part of the year.
RVs typically rent for between $800 to $2500 per week, depending on their size, age, type and location. Drivable RVs rent for more per night than travel trailers and fifth wheels, and Class A RVs fetch the highest rates. See our detailed analysis of RV rental costs for more information on typical earnings.
Outdoorsy and RVezy are both peer-to-peer marketplace that allow owners to rent their RVs in the United States and Canada. Read our detailed comparison, for more help selecting the right place to list your RV for rent.
---
That concludes our definitive guide to RV consignment. If you have made it this far, you now understand:
What is a RV Consignment?
The Benefits of a RV Consignment
The Downsides of RV Consignment
How to Find Consignment Dealerships
What Questions to Ask before Sign an RV Consignment Agreement
Alternatives to RV Consignment
If you have any questions about shopping for, purchasing or selling RVs, drop them in the comments section below.
Happy camping (or selling)!