This post may contain affiliate links. See our affiliate disclaimer here.
Just as boats need a name, every RV should have a great name that reflects its owners' sense of humor. If you are having trouble selecting the perfect camper name, check out our list of 200 cute and funny RV names for inspiration.
Funny RV Names
If your camping family has a great sense of humor, consider these funny RV name ideas. For even more laughs, check out our original RV camping memes.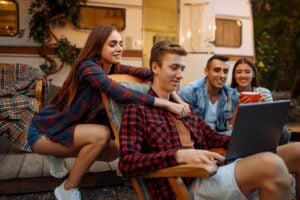 AdVANture
Backroads Betsy
Bea the RV
Beige Betty
Camperzilla
Cara Van
Chateau on the Go
Chitty Chitty Bang Bang
Class C (pronounced Classy)
Coddiwomple
Cousin Eddie
Dick Van Dyke
Dora
Flo
FreeDa
Free Willy
Friday
Fun Finder
HaRVy
Hauly
Homer
Hot Wheels
HOWie (short for Home on Wheels)
Irving
JaRVis
Landlubber
Louise
MaRVe
Marvel
MaRVin
Mile Marker
MineRVa
Miss Adventures
Miss AmeriCamper
Miss Daisy
Miss Bee Haven
Orville
Our Empty Nest
Peanut
Pilot
Rambler
Romeo Victor (RV in the phonetic alphabet)
Rover
RV Maria
RVsaurus
Seemore
Tadpole
Tiny Tim
Thelma
The Big Rolling Turd (from the movie RV)
The Beast
The Cow (Condo on Wheels)
The DeLorean
The Dog House
The Dude
The Fuel Eater
The Highway Diva
The Long Haul
The MaRVelous Mrs. Maisel
The Mosquito
The Mother Ship
The Party Wagon
The Pony Express
The Road Runner
The Rolling Inn
The Runaway
The Skipper
The Tank
The White Whale
Touring Tina
Van Halen
Van Morrison
Van Wilder
Wander Woman
YOLO
Cute RV and Camper Names
If you prefer funny or sentimental RV names over funny options, check out these cute camper names.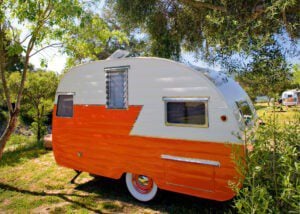 Acorn
Atlas
Bandit
Birdie
Bear
Bertha
Bessie
Bubbles
CoCo the Coach
Coral
Clover
Desert Rose
Drifter
Dusty (perfect for boondockers)
Edna
Faith
Fannie
Felix
Firefly
Gidget
Goldie
Goldilocks
Gulliver
Heidi
Herbie
Holly
Home Sweet Camper
Hotel [Insert your last name]
Jolene
Joy
Just Hitched
Love Shack
Lucky
Lucy
Lulu
Memory-mobile
Miriam
Myrtle
Old Faithful
Our Little Lemon
Parker
Pearl
Penelope
Phoenix
Piper
Pure Bliss
Queenie
Ranger
Roamer
Rosie
Ruby
Scout
Sightseer
Skipper
Stella
Sun Chaser
Sunny
Switchback
The Black Pearl
The Wayfarer
Trixie
Tray (short for trailer)
The Adventure Wagon
The Ship
The Weekend Warrior
Voyager
Wanda
Willow
Wilma
Hippie RV Names
Many RVers and nomads love the hippie lifestyle. If you are a groovy nomadic family, consider these hippie RV names.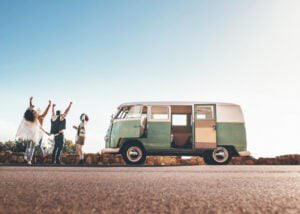 Bohemian Betty
Boogie Mobile
Daisy
Flower Child
Free Spirit
Hippie Chick
Jerry
Joni
Joplin
Karma
Rainbow
Serenity
Spirit
Soulshine
Ziggy Stardust
RV Name Ideas by Brand
The below RV names are perfect for certain RV brands and RV manufacturers.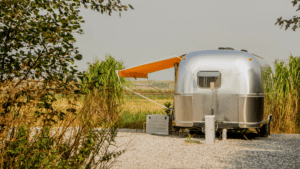 Airstream RV Names
Annie
Apollo
Al Uminium
Daystreamer
Iron Maiden
Rosie the Riveted
Silver Lining
The Silver Bullet
The Tin Inn
The Toaster
Coachman RV Names
Coco
Coach Nomad
Coach Wander
Coachella
The Road Coach
Grand Design RV Names
GD RV
John Lennon (Imagine RVs)
Mo (Momentum RVs)
Soli (Solitude RVs)
The Loner (Solitude RVs)
Jayco RV Names
Eagle's Nest
Jacob
Jay
Jaybird
Taking Flight
Keystone RV Names
Key to My Heart
Kitty (Cougar RVs)
Monty (Montana RVs)
Stone Cold Fox
The Rolling Stone
Winnebago RV Names
Bonnie-bago
Minnie
Pooh
The Winner
Winnie the Pooh
Other RV Names by Brand
Grace Kelly for Monaco RVs
Lancelot for Lance Campers
Rolling Thunder for Thor RVs
Sasquatch for Bigfoot RVs
Stevie Nicks for Fleetwood RVs
Tiffany for Tiffin RVs
Ideas for Original RV Names
If you want a more original name for your travel trailer or motorhome, follow the below tips for creating a unique RV name.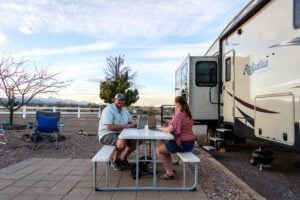 Name Your RV After Your Favorite Place
The whole point of RV travel is visiting your favorite places, so name your RV after your favorite destination.
The name could be based on the place you honeymooned, the location of your first RV trip or even your hometown. For example, if you honeymooned in the Great Smoky Mountains, Smoky would be a fabulous RV name.
Name your Truck and Trailer after Famous Duos
If your RV is a travel trailer or a fifth wheel, consider naming your tow vehicle and your RV after a famous duo. For example, if you have a red truck name it Clifford and then name the RV Emily Elizabeth (after characters in Clifford the Big Red Dog).
Let the Kids Name the Camper
If you are looking for a humorous and original name, leave it to the kids. Let your kids name the RV and you are sure to get an awesome, and possibly silly name.
RV Name Generator
Having trouble finding an RV name you love? Use our fun RV generator, to quickly create unique RV names. Simply select your favorite letter and click "Generate My RV Name."
RV Name Generator
---
Thanks for reading our guide to funny and cute RV and camper names. We hope you found the perfect name for your rig.
You might have a great name, but is your RV stocked with all the proper gear? See our list of essential RV camping supplies before hitting the road in your new RV.
Before you go, share your RV's name in the comments section below.
Happy Camping!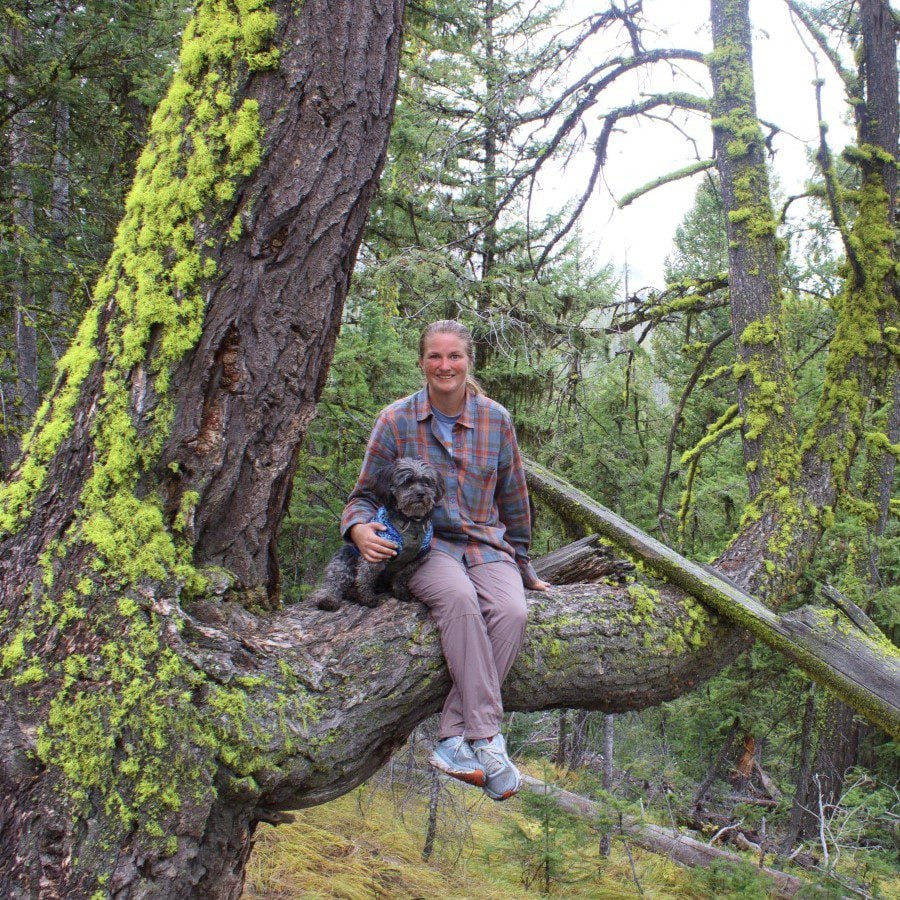 Christina Pate is a seasoned full-time RVer who, along with her husband Justin, has journeyed across the US, Canada, and Mexico. Drawing from her extensive travels, RV repairs and RV renovations, she founded Travels with Ted to guide and inspire fellow RV enthusiasts. Christina is also the co-author of The Owner's Guide to RV Maintenance and the creator of My RV Log Book.