This post may contain affiliate links. See our affiliate disclaimer here.
My husband and I have lived in an RV, traveling the country, since 2016. We've driven tens of thousands of miles across North America. During our first few years on the road, I often become bored and antsy during long drives. But, after lots of experience, I have learned how to make road trips fun. Below are 18 ways to make road trips fun for kids and adults.
How to Make Road Trips Fun for Adults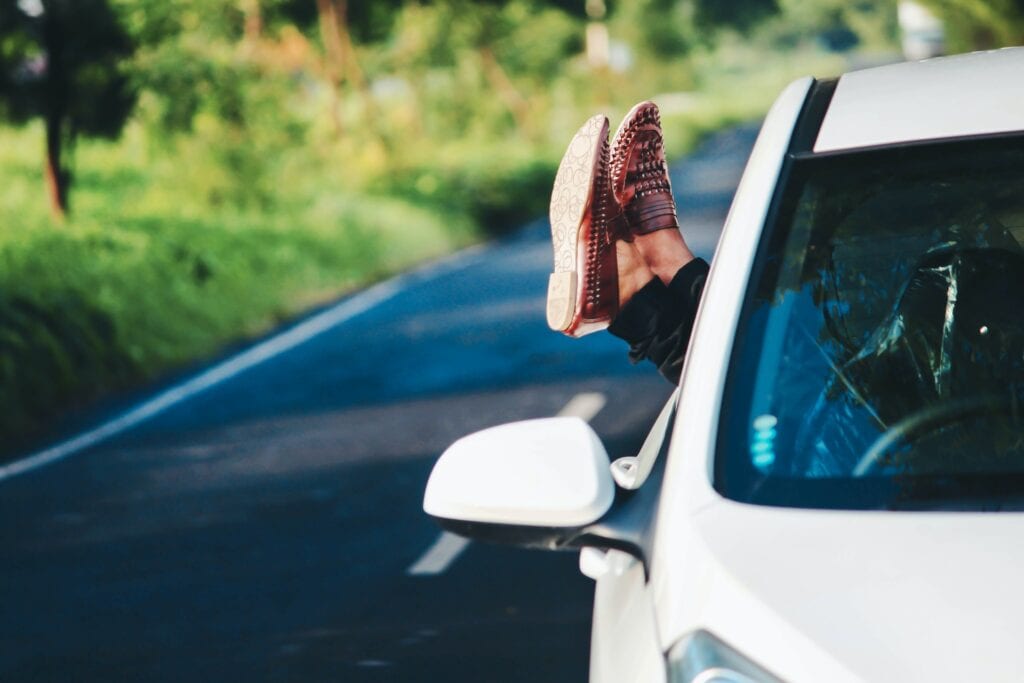 Get Off the Interstate
Sightseeing while driving is one of the best parts of any road trip. If you stay on the interstate, the roadside views will be pretty boring. Driving on smaller highways, you are more likely to see cool landscapes and local wildlife. If your destination is flexible, choose one of these top 10 USA road trips.
Listen to Enthralling Podcasts
Podcasts are a great way to pass the time on a road trip! Use your time in the car to listen to your favorite podcasts or find a new favorite. Check out our 15 favorite road trip podcasts to find the perfect entertainment for your journey.
Read about Your Destination
Hopefully, you are driving to an amazing destination. Spend some time on the drive learning about the history and culture of the area. Simply Google the name of the town and start reading. Once you've learned about the local history, start searching for fun activities, local eats and great hikes to add to your to do list.
Learn About your Travel Partner
If you are traveling with your spouse or a close friend, ask them these 250 road trip questions. This fun list consists of questions specifically designed to spark conversation and laughs. The topics include everything from humorous Would You Rather questions to prompts to share favorite memories to road trip trivia.
Plan and Dream
One of my favorite ways to make road trips fun, is using the time to plan our next big adventure. Ask your spouse or travel buddy to list their top five bucket list destinations and then share your list. Talking about dream trips is guaranteed to spark a great conversation.
Pack Old CDs
We recently found a case full of mixed CDs that my sister and I made while we were in high school. The day we spent driving and listening these old classics was hands down the most fun we've had on a road trip in years. If you have a collection of old CDs or playlists, bring them along for an awesome karaoke session.
Learn a New Language
Being able to communicate in a new language is always fun and rewarding. Use your road trip time to prepare for your next international trip by practicing a foreign language. Rosetta Stone has an audio only Spanish course that allows you to safely learn while driving.
Click here to learn how to say RV in Spanish and other foreign languages.
Be Prepared
Having an accident is one of the easiest ways to ruin a road trip. Never leave on a road trip without roadside assistance and a basic safety kit. Safety kits should include jumper cables, first aid kit and traffic cones. If you are traveling in an RV, make sure you have all the necessary camping gear as well.
Take a Nap
If all else fails and you can't find enough ways to make your road trip fun, then you can always take a snooze (assuming your in the passenger seat). Don't forget to bring a comfy pillow and blanket just in case you start to feel sleepy during the trip.
How to Make Road Trips Fun for Kids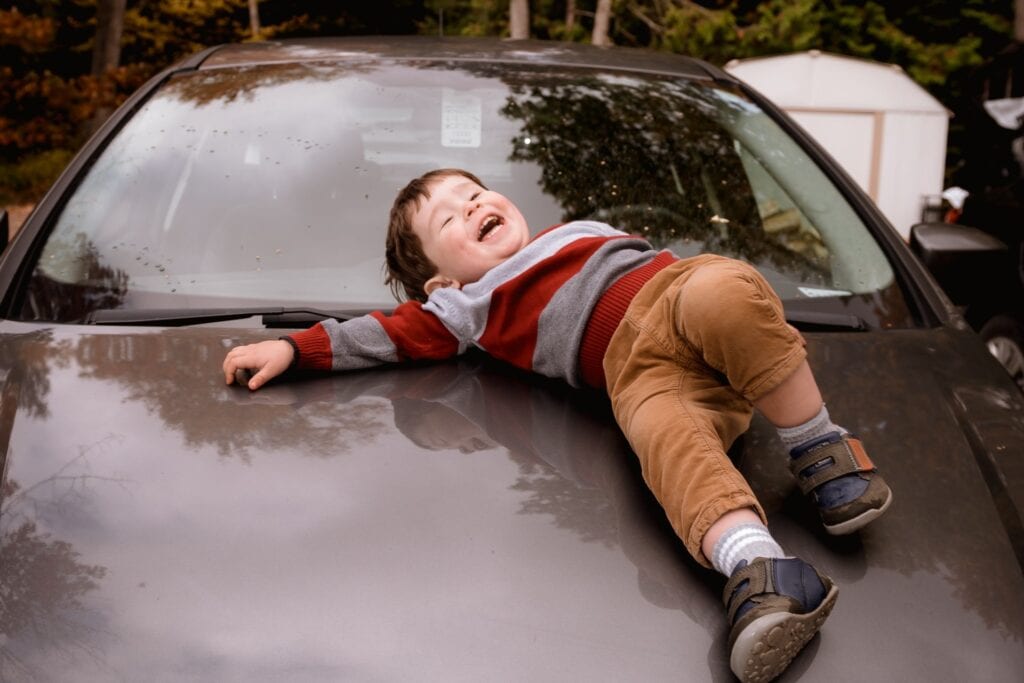 Make More Stops
It is difficult for kids to stay still for extended periods of time, so the easiest way to make road trips fun for kids is to stop more often. Find roadside attractions where you can explore and snap a photo. Rest areas are also a great place to have a picnic lunch and let the kids run around before getting back on the road.
Play Classic Road Trip Games
Classic road games are always a fun way to keep everyone happy on a long road trip. Try to find a license plate from every state or play the Alphabet Game where you must find a word on billboards or signs starting with each letter of the alphabet. Depending on your kids' ages you can play as a team or compete against each other.
Play MadLibs
If you plan far enough in advance, purchase a MadLibs book for your family road trip. This classic road game has fill-in-the-blank" stories that will have the whole family cracking up. Make sure to fill in the stories in pencil, so you can erase the answers and re-use the book on the drive home.
Start a Sand Jar
A sand (or dirt) is a fun, simple way to remember each stop on your road trip. Pack a glass mason jar and have your kids fill it with one-half inch of sand or dirt from every destination. Use a marker to write the dates and location of each layer on the outside of the jar.
Keep Travel Journals
Travel journals are a fun road trip activity for school-aged kids. Kids can write and doodle to pass the time while creating a special memento from their vacation. Buy a travel journal for each child, so they can personalize and compare their entries. Check our our favorite road trip travel journals for kids.
Pack Funny Snacks
While we usually try to eat healthy snacks on road trips, sometimes candy is just more fun. A box of Laffy Taffy will keep the whole family happy on a long drive. Have everyone take a piece of candy and take turns reading the jokes off the wrapper. Even better? The kids will be quiet for several minutes while they chew on the fruity taffy!
Make the Cat's Cradle
This classic string game is a great way to entertain kids on long drives. The book teaches kids how to make a variety of string figures with the included loop of colored string. This is a fun, challenging activity that can be done safely sitting in the backseat of a car.
Draw on the Windows
These washable markers made specifically for car windows are sure to keep your kids entertained for hours. Who wouldn't love drawing on the car? While the markers are advertised as washable, I would only give them to children who are old enough to draw only on the windows and not on the roof or walls.
If you don't want your kids drawing on the windows, print our free RV coloring pages instead.
Take Photos
Give your child a disposable camera or let them use your digital camera to take pictures of their favorite sights along the way. For extra entertainment, buy an instant print camera so they can develop and enjoy their photos right away!
With all of these activities in mind, your family should be ready to have fun on road trips! If you want to have the most enjoyable road trip, considering renting an RV so you travel with your own tiny home.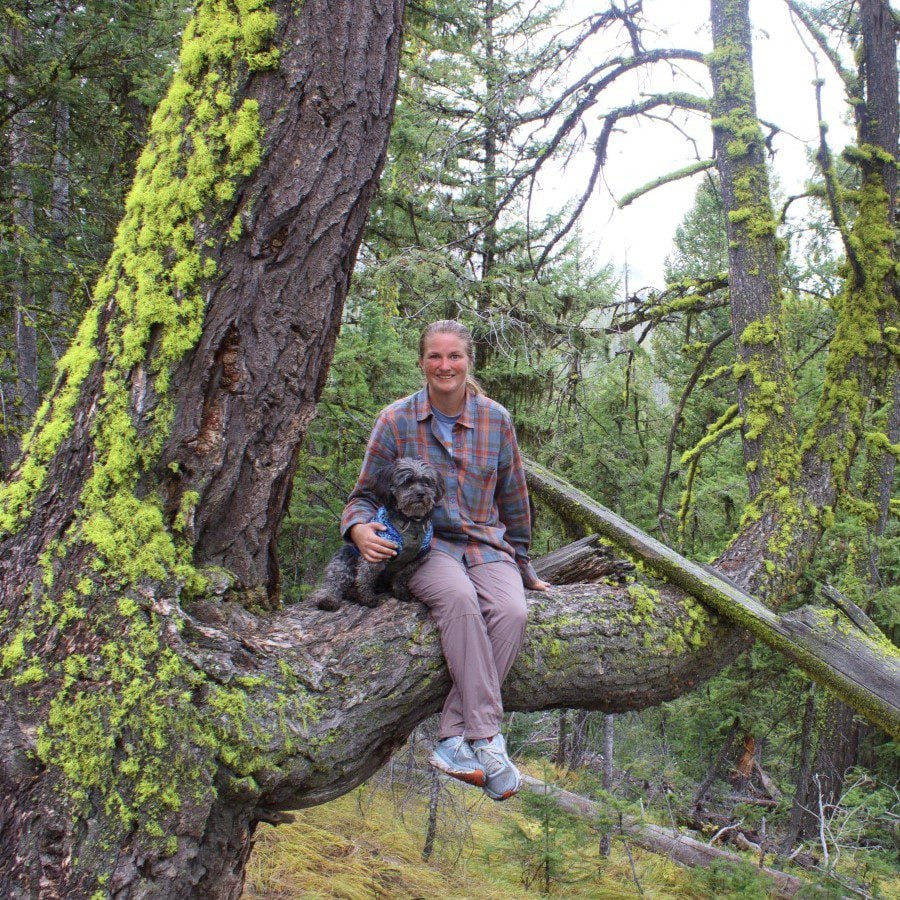 Christina Pate is a seasoned full-time RVer who, along with her husband Justin, has journeyed across the US, Canada, and Mexico. Drawing from her extensive travels, RV repairs and RV renovations, she founded Travels with Ted to guide and inspire fellow RV enthusiasts. Christina is also the co-author of The Owner's Guide to RV Maintenance and the creator of My RV Log Book.