This post may contain affiliate links. See our affiliate disclaimer here.
As the RVing community expands to the younger generation, weekend campers and full time RVers alike are looking for modern interiors. A quick scroll through the RV life hashtag on Instagram shows that RVs can be decorated in any style. However, these social media worthy renovations require extensive time, resources and skills. Fortunately, some RV manufacturers are coming to their senses and designing RVs with white cabinets and other design features that campers actually want. Here are our favorite RVs with white, bright and modern interiors.
Once you find the perfect RV, you will also need to buy lots of gear to keep you safe and happy on the road. Check out our Amazon shopping list for all the gear you need to successfully hit the road.
Travel Trailer RVs with White Interiors
Keystone Bullet
Starting with the 2020 models, Bullet travel trailers offer Keystone's coastal cottage interiors. Modern interior design elements include white cabinets, subway tile backsplash and marble-like countertops. Add a few throw pillows and these trailers will look like your dream tiny home on wheels. The coastal cottage interior is available on a wide variety of Bullet floorplans, so any family can find the perfect modern trailer for their needs.
Airstream Classic
Airstream has always been ahead of the game in providing sleek, modern RV interiors. Their latest models have the same classic design, but are brighter than ever. The current Airstream classic RVs feature white walled interiors with white cabinets and classy gold hardware. If you value the exterior design as much as the interior, the Airstream Classic is the clear winner.
Jayco Eagle
While not fully white, Jayco Eagle travel trailers do offer some brighter features. Buyers can chose the modern farmhouse decor option for an RV with white kitchen cabinets and stainless steel appliances. This modern farmhouse interior is also available on other Jayco travel trailer and fifth wheel brands.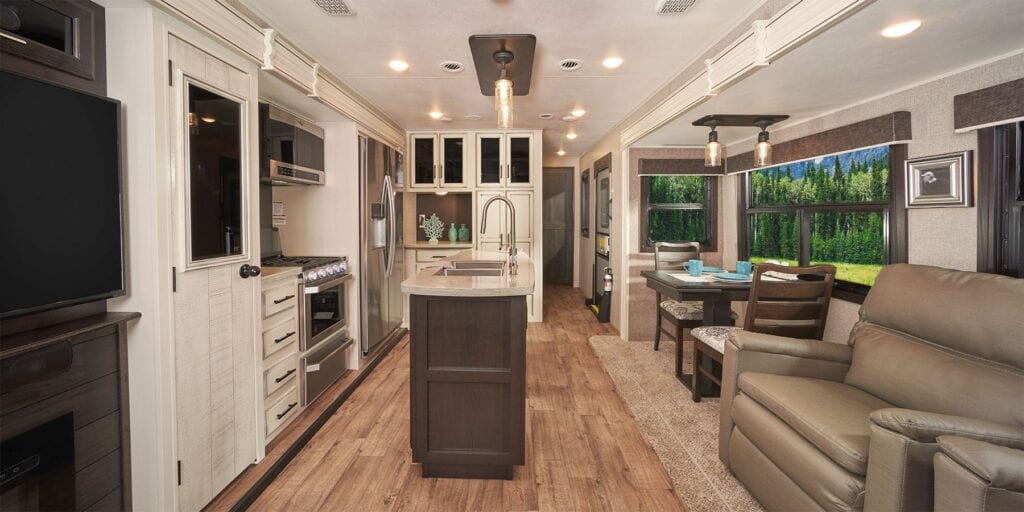 Fifth Wheel RVs with White Interiors
Keystone Arcadia
They Keystone Arcadia, launched in January 2021, was designed with the young, modern RVer in mind. Arcadia fifth wheels come with the Bailey décor package, including white walls, white cabinets and cognac colored seating. On the kitchen island, a fold down table doubles as a workstation and an additional eating area. In keeping with the modern design, Arcadia fifth wheels have vinyl flooring throughout the RV and no carpet!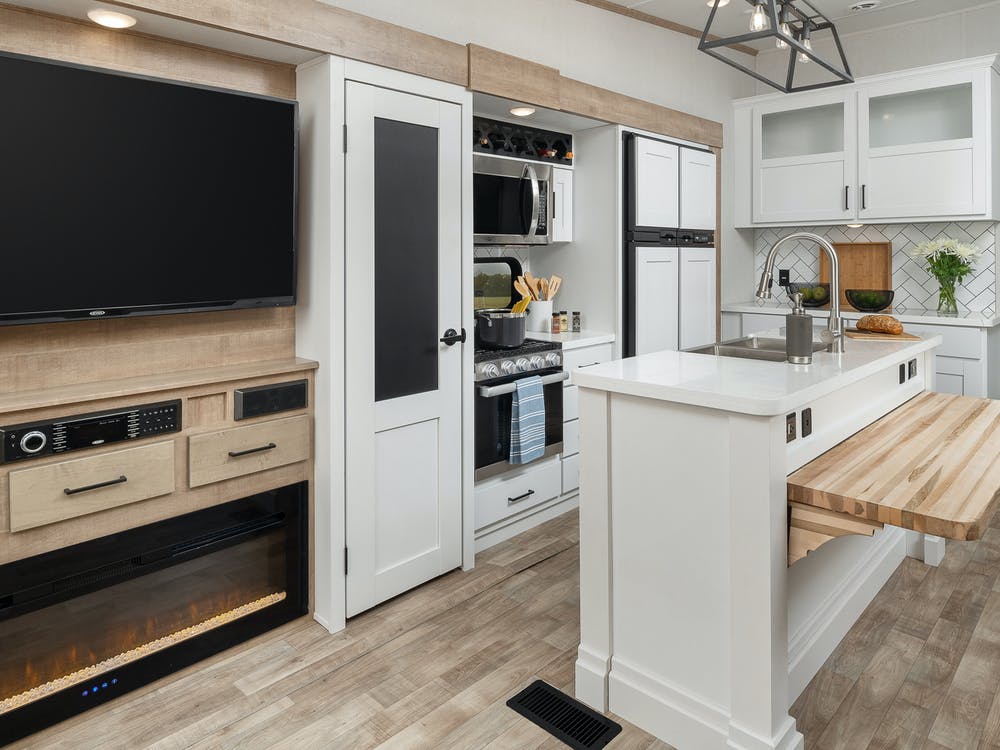 Keystone Montana
The new Montana fifth wheels RVs have two décor options with white interiors. The champagne (pictured below) and cottage white options both have white walls and light kitchen cabinets. The champagne option also offers light grey furnishings and fabrics. With two light and bright interior designs, every camper should be able to find a Montana to match their style.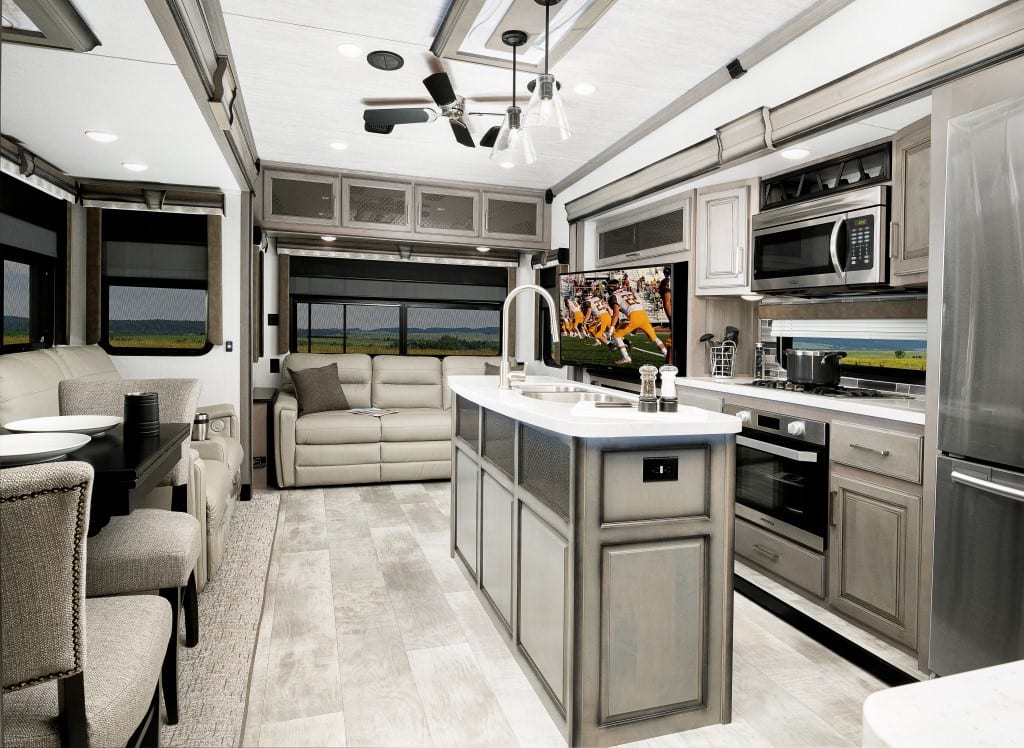 CrossRoads Redwood
Redwood fifth wheels are luxury RVs that offer high end finished throughout. All three décor palates come with the option for light upper cabinets. The Redwood RV kitchens also feature white waterfall countertops, stainless steel appliances, slide out storage and light flooring. If you want an RV with luxury white interiors, the Redwood is your top choice.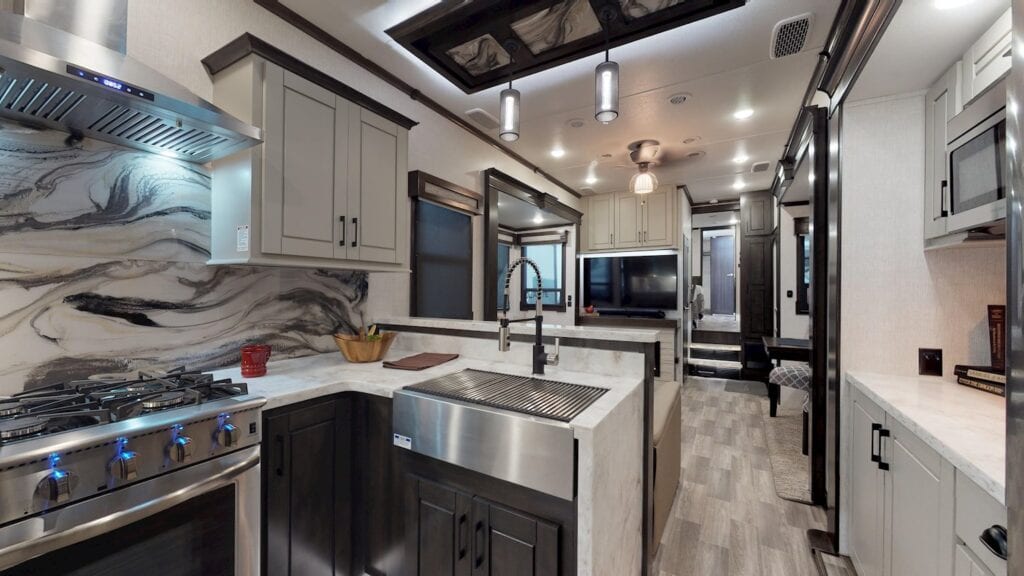 Motorhomes with White Interiors
Winnebago Horizon
The Horizon Class A motorhome RV features unique glossy white cabinets with light wood accents for a very modern feel. My favorite feature is the fireplace with a dual mantle that serves as a focal point in the design. The tile floors are a nice upgrade from the sheet vinyl found in many RVs.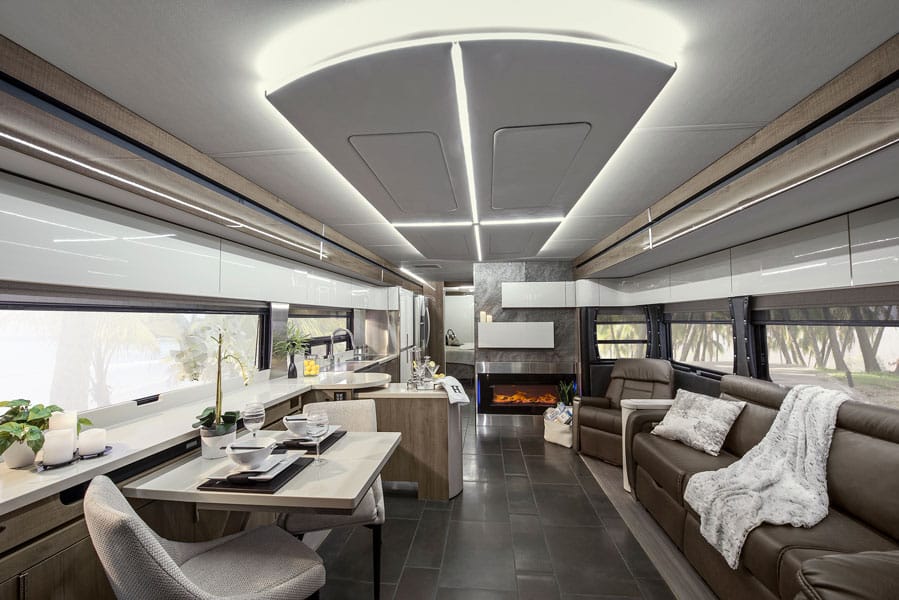 Tiffin Phaeton
The Tiffin Phaeton model now comes with a modern interior including white walls, trim and cabinets. These class A motorhomes also feature white furniture and interior doors. The master bedroom offers ample storage space in dressers and closets all painted white.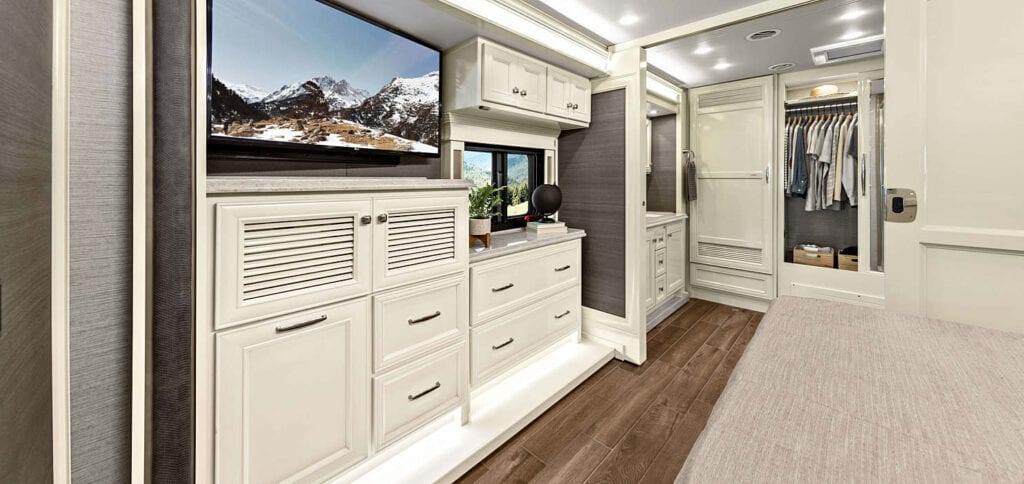 Used RVs with White Interiors
If you are looking to purchase a used RV, but still want a white, modern interior there is a solution. Renovated RVs for Sale is an online marketplace where you can buy partially or completely remodeled trailers and motorhomes. If you decide to purchase used, always have a professional inspection to ensure the rig is in good condition without water damage.
No matter what RV you purchase, the most important aspect of RV travel will be the places visited and memories made. If you already own an RV or decide to purchase one with a standard brown interior, check out our easy and affordable remodel recommendations.
Would you purchase an RV with a white interior or would you prefer to complete your own remodel? Let us know in the comments section below.