This post may contain affiliate links. See our affiliate disclaimer here.
Whether you're a seasoned RVer or just getting started, a portable grill is a must have for any road trip. With so many options available, it can be tough to know where to start. That's why we've put together this guide to the 10 best RV grills for every budget.
In this post, we'll cover everything you need to know to choose the right grill, including:
The different types of portable RV grills
The factors to consider when choosing a grill
Our top picks for the best portable RV grills in different price ranges
So whether you're looking for a budget-friendly grill for weekend camping trips or a high-end grill for tailgating before the big game, we've got you covered.
Types of Portable RV Grills
There are four main types of portable RV grills: propane, charcoal, pellet and electric. Each type has its own unique advantages and disadvantages, so it's important to choose the right type for your needs.
Propane Grills
Propane grills are the most popular type of portable RV grill. They are easy to use and clean, and they provide a consistent heat source. Many propane grills are also relatively lightweight and portable, making them a good option for RVers who want to travel light.
Charcoal Grills
Charcoal grills give food a smoky flavor that many people love. They are also more affordable than propane grills. However, charcoal grills can be more difficult to use and clean, and they don't provide as consistent a heat source.
Pellet Grills
Pellet grills are a newer type of portable RV grill that is gaining popularity. They use wood pellets to smoke and grill food, giving it a rich, flavorful taste. All pellet grills also require electricity, so they are not ideal for dry camping without power.
Electric Grills
Electric grills are the most portable type of RV grill. They don't require any fuel, so they are easy to use and clean. However, electric grills don't provide as much heat as propane or charcoal grills, so they are not a good option for cooking large pieces of meat.
Factors to Consider when Choosing an RV Grill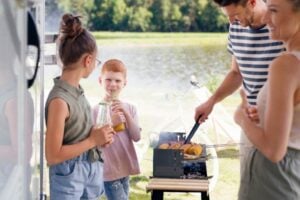 When choosing a portable RV grill, there are several factors you will want to consider:
Size and Weight
Weight is always a factor when purchasing RV accessories. Every RV owner should know the carrying capacity of their RV and ensure it is never overloaded.
The size and shape of the grill will determine how easy it is to transport and store. If you have limited storage space in your RV, you will want to choose a smaller grill.
Cooktop Size
The size of the cooktop will determine how much food you can cook at once. If you are cooking for a large group, you'll need a grill with a large cooktop. If you are only cooking for a few people, you can get away with a smaller grilling area.
Features
Some grills come with additional features, such as side tables, a warming rack or a built-in thermometer. These features can be helpful, but they are not essential.
Consider which features are at the top of your list and prioritize accordingly. If you are on a budget, you can choose a grill without these features.
Budget
How much are you willing to spend on an RV grill? Grills can range in price from less than a hundred dollars to several hundred dollars. It is important to set a budget before you start shopping so that you don't overspend.
10 Best Portable RV Grills
Now that you understand how to pick the best RV grill for your family, here are our top picks for the best grills for RV camping.
Best Propane RV Grills
Price: $349.99
Our first choice for the best RV grill is the Blackstone 1860 On the Go Griddle. It is a portable propane griddle that is perfect for RV campers and tailgaters. A large, 22-inch cooking surface (3 square feet) can accommodate a variety of foods.
Two independently controlled cooking zones allow campers to easily cook meat and a side at the same time. The grill also has a built-in grease management system that helps to keep the cooking surface clean.
At just over 67 pounds and a cost of almost $350, this is not the lightest or cheapest RV grill. However, it is a great option for campers who have extra space and frequently cook large meals outside.
Price: $399.00
Campers looking for a more portable propane grill option, should consider the Weber Traveler Portable Gas Grill. The Traveler has a fold-down cart and a carrying case that make it easy to move around and store. It is also lighter at 49 pounds.
While the Traveler is easy to transport, it also has plenty of space to cook for a crowd. The large grilling area can fit up to 15 burgers. Designed to optimize gas usage, this grill won't run through your propane supply.
Other notable features include a built-in thermometer and a side table for grilling utensils.
Price: $99.99
If our previous two picks for the best propane RV grills are out of your budget, consider the Cuisinart Grillster, a simple but effective tabletop propane grill. In addition to being affordable, this grill is also super portable.
It weighs just 10 pounds, so it can easily be carried by one person. It also has a locking lid, so the lid handle doubles as a carrying handle.
The small grill has 146-square-inch enameled steel grates, enough to cook dinner for a family of four. The grates are dishwasher-safe, so they are easy to clean when you return from your camping trip.
Price: $96.05
If you love a flat top grill, but don't want to have to travel with a table, consider the Flame King Portable Grill, which can be mounted onto your RV. The griddle comes with its own bracket system allowing you to mount it to the side of any RV or trailer.
Campers can set up and put away the cooking griddle in seconds with this innovative RV product. The griddle's hanging rack can also be used as a stand, creating a stand-alone cooking station.
The Flame King has a 260 inch cooking surface and a non-stick griddle plate. The grill and mounting hardware combined weigh just over 32 pounds.
If you would rather have an RV that already has a grill attached, check out these 10 RVs with amazing outdoor kitchens.
Best Charcoal RV Grills
Price: $45.97
We personally travel with the Webster Smokey Joe 14-Inch Portable Grill. This tabletop charcoal grill allows us to get the traditional charcoal barbeque flavor. The grill weighs less than 10 pounds, so it is easy to carry.
The round shape of the grill does mean it takes up a bit more storage space, so we transport the grill in the bed of our tow truck. The small affordable grill only holds 5 burgers, making it perfect for RV couples and small families.
The Smokey Joe has a porcelain-enameled lid and bowl that retain heat and won't rust or peel.
Price: $199.00
The Everdure Cube Portable Charcoal Grill is a unique-looking cube-shaped grill that easily fits into RV storage compartments. The grill weighs about 15 pounds, and has cool-to-touch handles that make the it easy to transport.
This mini grill has 115 square inches of grilling surface, which will easily fit two steaks. The cube also stores an integrated food storage tray and a bamboo cutting board.
Best Pellet RV Grills
Price: $449.95
Made by one of the biggest names in pellet grills, the Traeger Ranger is one of the best portable RV grills. The tabletop appliance is not just a grill, it also allows campers to smoke, bake, roast, braise and BBQ food.
Fueled by natural hardwood pellets, the Traeger Ranger infuses amazing wood-fired flavor into everything you cook. The Ranger is made to use on the go, and easily fits into RV underbelly storage.
The Ranger has 184 square inches of cooking space, which can fit one whole chicken or 10 burgers. It weighs just over 50 pounds and requires 120 AC power to run.
Price: $389.00
Campers who want a pellet grill with more cooking space, should consider the Green Mountain Davy Crockett Tailgating Grill. It has 219 square inches of cooking space and peaked lid to better fit rib racks.
While it looks like a normal-size grill, the Davy Crockett weighs 68 pounds and has folding legs, so it can easily fit into a trunk, RV storage compartment or pickup truck bed.
The grill also comes with a digital WiFi controller (control and monitor through iOS or Android apps), a meat probe and a convenience tray. It can run on 12 volt or 120 AC power.
Best Electric RV Grills
Price: $390.99
If you want the ease of an electric grill, the Weber Lumin Compact Outdoor Electric Grill is one of the best RV grills. It features a range of cook settings, so in addition to grilling, campers can also smoke, steam and boil food outside.
Using the steam setting, campers can even grill frozen meats. Other notable features include a front-access grease tray for easy cleaning, porcelain-enameled cast iron grates and a built-in thermometer.
The grill has 180 square inches of cooking space and weighs 26 pounds. It uses 120 AC power.
Price: $119.99
Another great electric grill for RVers is the George Foreman Indoor/Outdoor Electric Grill. The grill comes with a removeable stand, so it is easy to store but does not require you to have a table at your campsite.
The grill has 240 square inches of cooking space and the entire set-up weighs just 21 pounds. With George Tough Nonstick Coating, the grill is durable and easy to clean.
---
Thanks for reading our complete guide to the best RV grills. We hope you found the perfect grill for your camping adventures.
If you are interested in cooking more outdoors, also check out our guide to the best campfire cooking kits.
Happy Camping!