This post may contain affiliate links. See our affiliate disclaimer here.
Many RVers drive quickly through the middle of the country on their way to one of the coasts. However, these road trippers are missing out on all the wonderful campgrounds, state parks and attractions in America's breadbasket.
Kansas, in particular, offers cities with top-notch zoos and museums and vast state parks with both land and water-based recreation opportunities.
Below is a list of the best RV parks in Kansas to stay at while exploring the Sunflower State. So, next time you are driving through the country stop and visit some of the following destinations.
Best Private RV Parks in Kansas
The first section of our guide to the Best RV Parks in Kansas is private RV parks. These are private campgrounds designed to accommodate RVers. All of these parks and resorts offer RV hookups and additional on-site amenities.
Crossroads RV Park
Location: Lyndon, Kansas
First on our list of the Best RV Parks in Kansas is Crossroads RV Park in Northeastern Kansas. This medium-size campground has 58 full-hookup sites, most of which are pull-thrus. Each site also has a well-maintained grass lawn.
The RV park's amenities include on-site propane sales, laundry facilities, bathhouse, fenced dog run, playground, basketball court and horseshoe pits. One of the best features at Crossroads RV is the access to trails. The park has 1-mile of walking trails, and campers can also walk to the the 130-mile Flint Hills Nature Trail.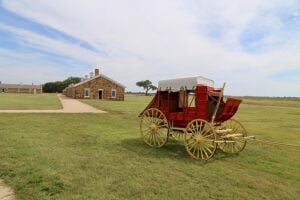 The top local attractions are two nearby lakes, Pomona Lake and Melvern Lake. Pomona Lake, which offers 52 miles of scenic shoreline and opportunities for swimming, fishing, canoeing and boating, is only a 2-minute drive from the campground.
Visitors who enjoy historical sites should also explore the local parts of the Santa Fe Trail, a historic wagon route across Kansas. Campers can retrace parts of the trail seeing wagon ruts, historical buildings and classic red brick streets.
Deer Creek Valley RV Park
Location: Topeka, Kansas
For one of the best urban RV parks in Kansas, check out Deer Creek Valley RV Park. The park has 59 RV campsites, most of which are pull-thrus and offer full-hookups. The campsites are concrete pads with attached patios and grass lawns.
On-site amenities include a swimming pool, playground, fenced dog park, free Wi-Fi, free cable TV, bathhouse and laundry facilities. The park is also fully fenced with a security gate, providing peace of mind for campers.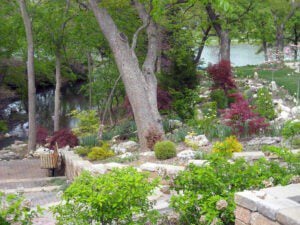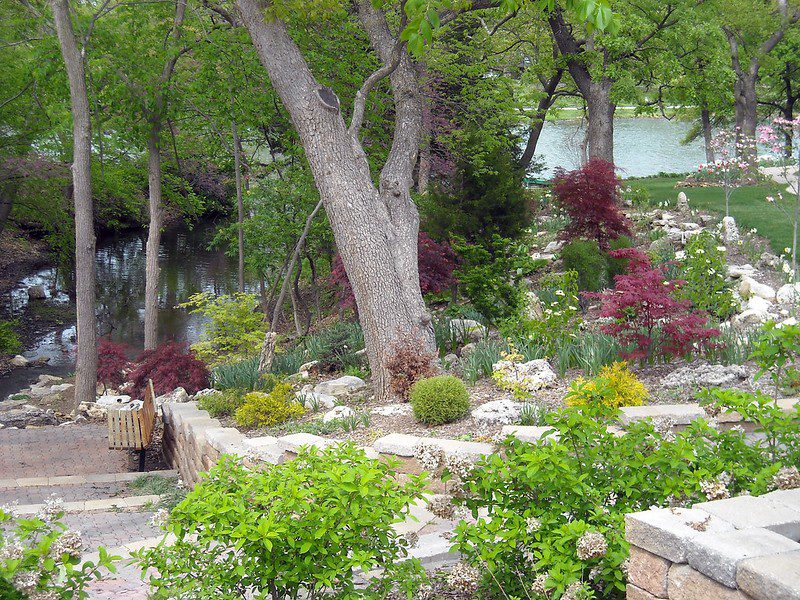 Right outside the park, RVers can enjoy the local cuisine at LonnieQ's BBQ restaurant. The park is a short drive away from Lake Shawnee, where campers can enjoy boating or walking or biking the 8-mile trail around the lake. One of the best local attractions is the Ted Ensley Botanical Gardens.
The 37.5-acre garden area on the west side of scenic Lake Shawnee features a panoramic view of the lake and spectacular plantings in a beautiful and tranquil setting with meandering paths and seating areas. The RV park is also a short drive to downtown Topeka and famous local attractions, including the Topeka Zoo.
Goodland KOA Journey
Location: Goodland, Kansas
KOA campgrounds provide a fun, family-friendly camping experience all over the country, and the Goodland KOA Journey is no exception. The park has a range of campsites available, including full-hookup and water/electric only sites and pull-thru and back-in sites.
All of the campsites are either gravel or grass surfaces and have a picnic table and grill. On-site amenities include an outdoor swimming pool, fenced dog park, horseshoe pits, playground, mini golf course and free Wi-Fi. Make sure to purchase a KOA Rewards membership for a discount on the nightly rate.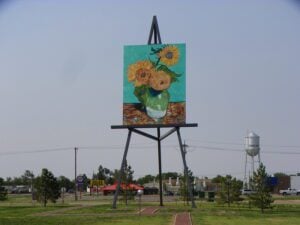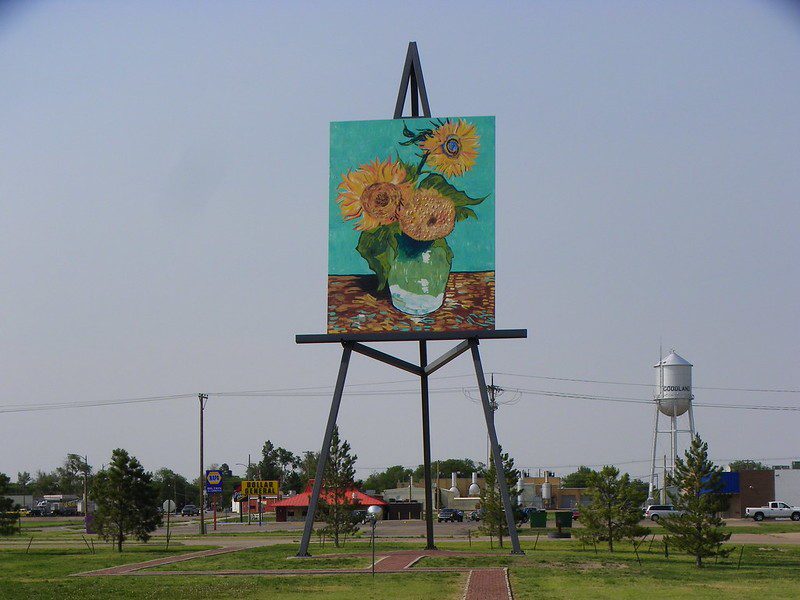 Outside the campground, campers will enjoy many unique attractions in Goodland. One must-see in the area is a giant reproduction of Van Gogh's "3 Sunflowers In A Vase" which was erected in honor of the state's nickname.
Outdoorsy RVers should head north of Goodland to hike and mountain bike on quiet country roads dotted with yucca and prairie flowers throughout the rugged Arikaree Breaks, a cluster of badlands along the Arikaree River.
Gunsmoke RV Park
Location: Dodge City, Kansas
Gunsmoke RV Park made our list of the best RV parks in Kansas, because it is well-maintained, offers awesome amenities and a unique western flair. The park has just under 100 RV campsites with gravel pads and full-hookups.
Their more typical amenities include a swimming pool, laundry facilities, free Wi-Fi, playground and a general store with basic groceries and RV supplies. Their truly unique amenities include a game room with vintage arcade games and their Old West-inspired building facades that offer great photo opportunities.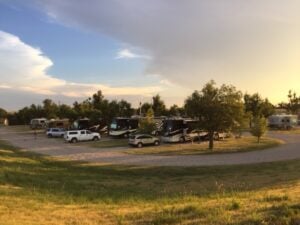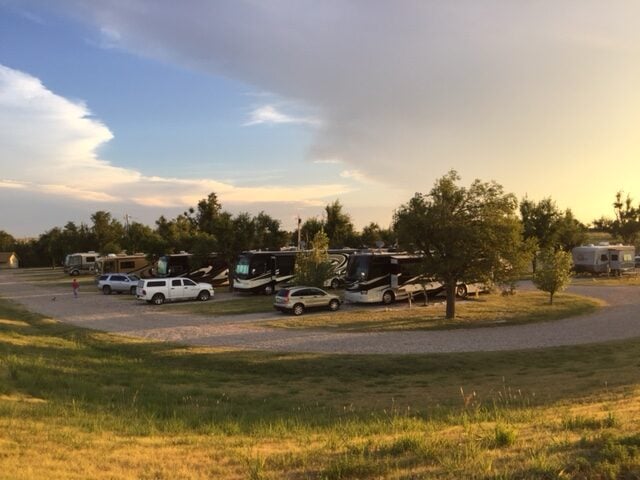 Located in Southwest Kansas, Dodge City is famous for celebrating its frontier past. The Boot Hill Museum is great first stop in town. The museum has artifacts from the town's past, including remnants from pioneer families and local Native American tribes, and a replica of the town's old west Front Street.
Other fun attractions include the Boot Hill Distillery, the Dodge City Roundup Rodeo and the Long Branch Lagoon Water Park.
Spring Lake RV Resort
Location: Halstead, Kansas
If you are looking to unplug and unwind with the family, Spring Lake RV Resort is one of the best RV parks in Kansas for a fun but relaxing camping vacation. The RV resort offers both full-up and water/electric only RV campsites.
The extensive on-site amenities include a mini golf course, outdoor swimming pool, a nature trail, pickle ball courts, playground, laundry facilities and plenty of open space to play and relax. From April to September, Spring Lake also hosts regular events, including live music performances, fireworks and poker runs.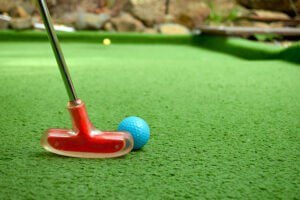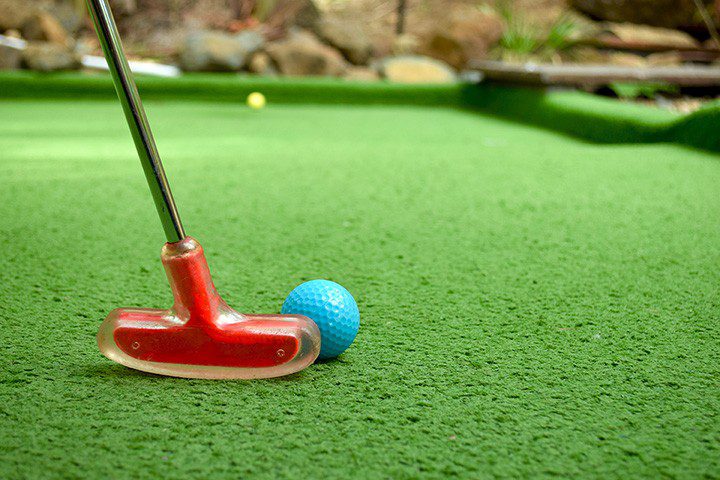 For campers looking for activities beyond the RV park, consider visiting Riverside Park. The park, located on the Little Arkansas River, features a waterfall and suspension bridge and is the perfect spot for a family picnic.
The park is also less than an hour's drive to Wichita where travelers can enjoy many attractions, including the Sedgwick County Zoo, Wichita Art Museum and Exploration Place, a fantastic science museum.
Suncatcher Lake RV Park
Location: Leavenworth, Kansas
Located directly on a small lake, Suncatcher Lake RV Park, is another peaceful RV camping spot in Kansas. The small park has RV-only campsites with hookups, firepits and picnic tables, some of which are located right on the water.
Campers will enjoy laid-back days relaxing in the lush green surroundings and fishing in the private lake. Other on-site amenities include playgrounds, laundry facilities and bathhouse.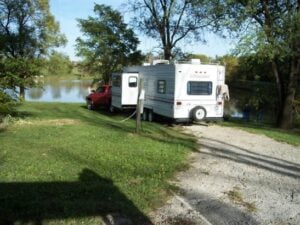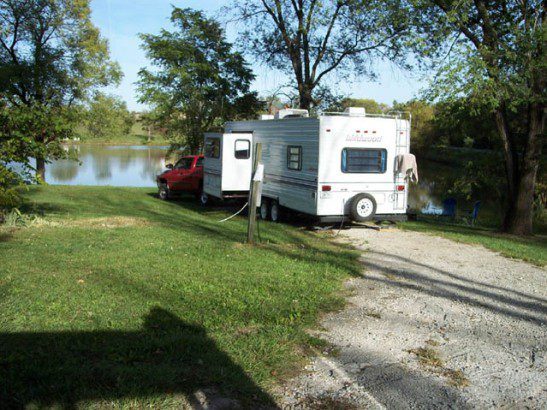 Campers will also enjoy visiting unique attractions in Leavenworth. Just a 20-minute drive from the campground is the C.W. Parker Carousel Museum. The magical museum features a newly restored, fully operational 1913 carousel as well as other exhibits on carousel history.
For an outdoor adventure, visitors should check out Weston Bend State Park, which offers sweeping views of the Missouri River, a paved bicycle path and several hiking trails.
Walnut Grove RV Park
Location: Merriam, Kansas
Located just 15 minutes southwest of downtown, Walnut Grove RV Park is the best RV park in Kansas City. The 50-site RV park offers full hook-up campsites, including several pull-thru spaces.
Although its located in an urban area, the park is surrounded by trees. On-site amenities include free high speed Wi-Fi, general store, bathhouse, laundry facilities and fire rings. They also offer free coffee to campers every morning.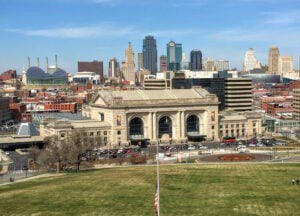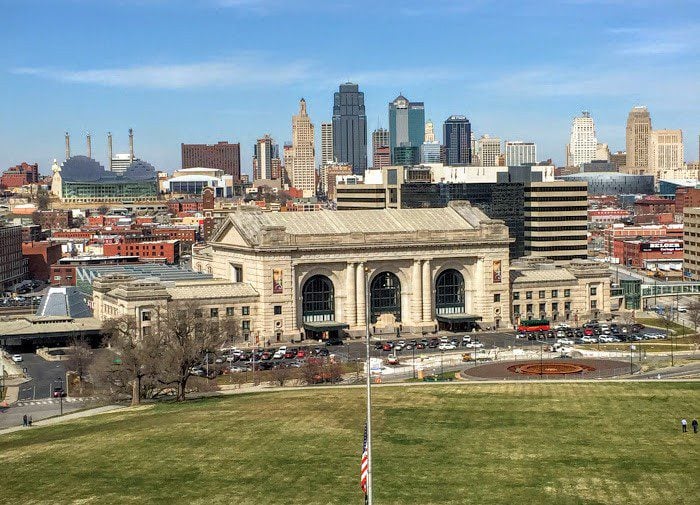 All of Kansas City's attractions are just a short drive from the campground. Campers cheer on the Kansas Chiefs at a football game or catch a Royals' baseball game. Other top Kansas City attractions include the Kansas City Zoo, the Arabia Steamboat Museum and the American Jazz Museum.
Closer to the park, visitors can explore the town of Merriam. Just a 5-minute drive from Walnut Grove, Waterfall Park is a beautiful town park featuring a small, natural cascade as well as bicycle and walking paths.
Wellington KOA Journey
Location: Wellington, Kansas
The last campground of our list of the best private RV parks in Kansas is the Wellington KOA Journey. The park has a variety of campsites, including several Patio sites which come with a covered swing, table and chairs and stone fire pit with cooking grill.
Kids will enjoy the on-site amenities, including a game room, fishing pond, basketball courts, swimming pool and bike rentals. There is also a mining sluice where kids can purchase an authentic bag of mining rough and discover what treasures are found inside.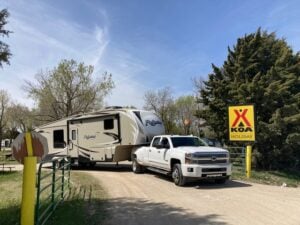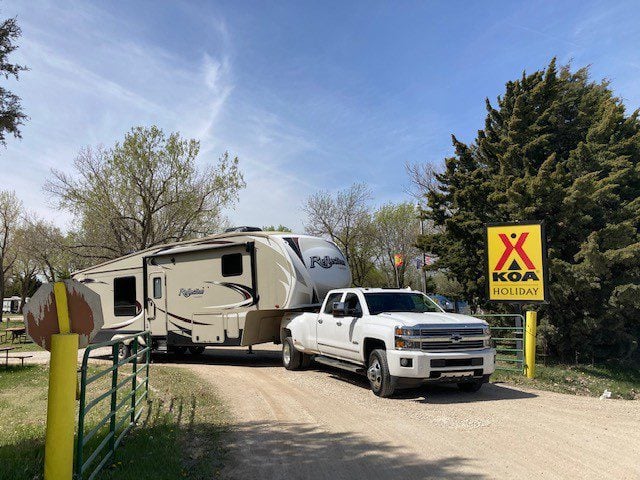 In Wellington, campers of all ages will enjoy the Panhandle Railroad Museum. The museum houses a collection of railroad memorabilia in an even neater old stone building, which was a coal gasification plant from 1886 to 1906.
For adults looking for a little more excitement, the Kansas Star Casino is only 10 minutes from the KOA. The casino offers all sorts of slots and table games as well as multiple dining options and a concert arena.
Best State Park RV Campgrounds in Kansas
For campers who prioritize spending time outside, state parks offer some of the best RV parks in Kansas. All of the below state parks offer campsites specifically designed to accommodate RVs.
Cedar Bluff State Park
Location: Trego County, Kansas
If you think Kansas only consists of flat, prairie land, you haven't visited Cedar Bluff State Park. The park which is built around a reservoir is named for the soaring limestone bluffs on the south side of the water. Visitor activities include hiking, boating, fishing and swimming.
In the Bluffton area of the park are 85 campsites with electric and water RV hookups, and 23 campsites with full-hookups. On the more remote, south side of the reservoir, the Page Creek area has an additional 36 campsites with water and electric hookups. Both campgrounds also offer community shelters, bathhouses and dump stations.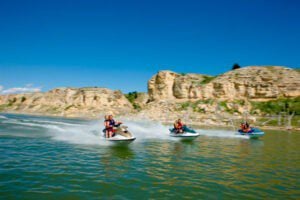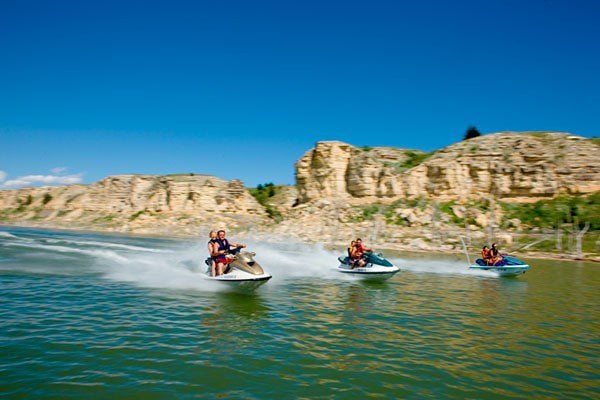 Kanopolis Lake State Park
Location: Ellsworth County, Kansas
The first state park in the Sunflower State, Kanopolis Lake State Park also has one of the best public RV parks in Kansas. Kanopolis has a lot to offer visitors, including a reservoir for swimming and boating, more than 30 miles of hiking trails, an active prairie dog town and caves.
There are two campground areas in the state park. In the Horsethief area, the Eagle Point and Rockin K campgrounds offer campsites with electric-only or electric and water hookups. In the Langley Point area, the Sumac Campground offers full-hookup RV sites, and the Sandstone campground offers sites with electric and water.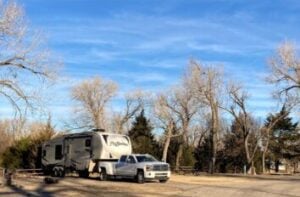 Prairie Dog State Park
Location: Norton County, Kansas
Prairie Dog State Park offers both history and wildlife. The 1,150 acre state park sits on the shores of Keith Sebelius Reservoir. The park is home to a thriving prairie dog colony and is the site of the last remaining adobe house in Kansas. The renovated adobe house was built on the site in the early 1890's.
Inside the park, the Prairie Dog Campground offers 77 RV campsites with electric and water hookups and 10 campsites with full-hookups. The campground also has bathrooms and a dump station.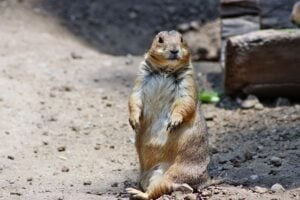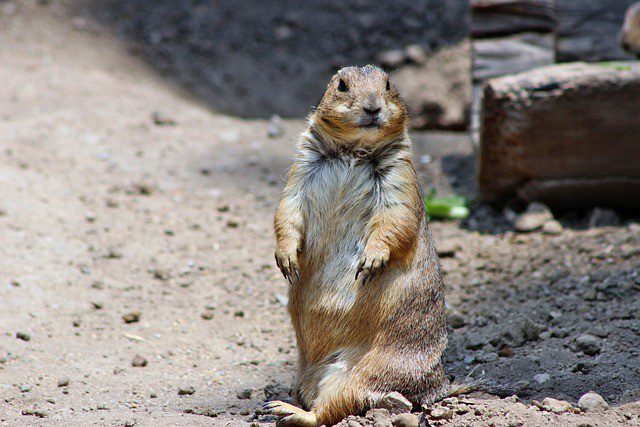 Sand Hills State Park
Location: Reno County, Kansas
Located north of Hutchinson, Sand Hills State Park contains 40-foot high sand dunes, grasslands, wetlands and woodlands. Within the various ecosystems are serval trails used by visitors for hiking and horseback riding.
The Sand Hills campground offers 44 full-hookup RV sites and 20 sites with water and electric hookups. The modern campsites have concrete pads, picnic tables and fire rings making this campground one of the best RV parks in Kansas. 14 of the campsites also offer double horse pens.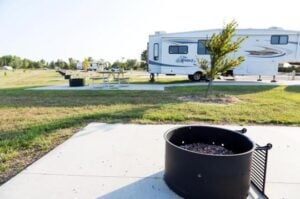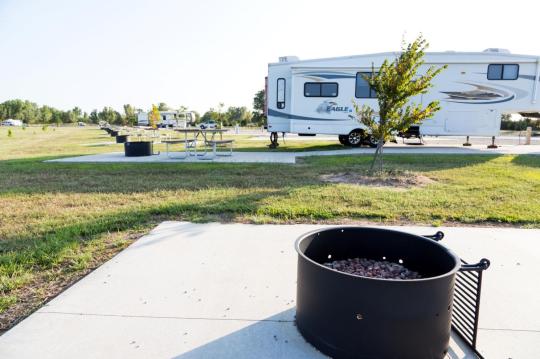 Wilson State Park
Location: Russell County, Kansas
Last but not least in our state park section of the best RV parks in Kansas is Wilson State Park. The park, which is located near the center of the state, contains Wilson Reservoir surrounded by a rugged shoreline punctuated with scenic cliffs and rocky outcrops.
Visitors can enjoy fishing, walking trails, biking trails and birdwatching. The park has several campgrounds with RV sites and electric hookups, but the Foxtail campground is the only area with full-hookup campsites. The Foxtail campground also offers waterfront sites with stunning views.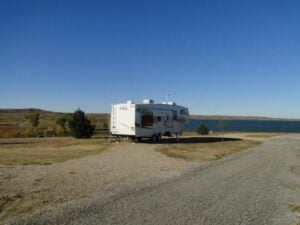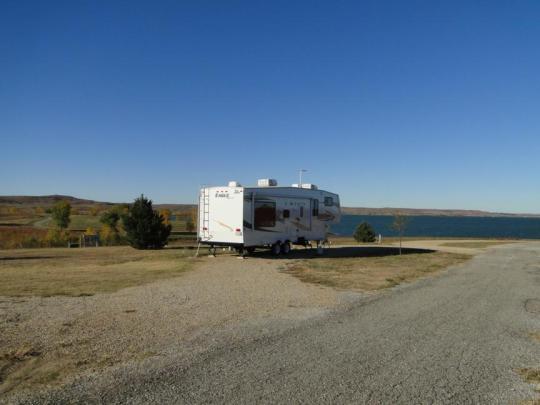 Best City RV Parks in Kansas
Surprisingly some of the best RV parks in Kansas are actually city-owned campgrounds. These city RV parks are also amazingly cheap (or even free)!
Ellis Lakeside Campground
Location: Ellis, Kansas
Truly one of the best RV campgrounds in Kansas, Ellis Lakeside Campground is nestled along the tree-shaded banks of picturesque Ellis City Lake. The RV park offers campsites with water and electric hookups for just $20 per night ($15 per night in the winter when the water is turned off).
All campsites offer rocked or concrete pads. Reservations are not accepted, so campers can just show up and pay at the self-pay station. Additional amenities at this campground include a dump station, playground, boat dock, fishing pier, bathhouse and free Wi-Fi.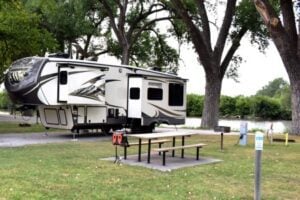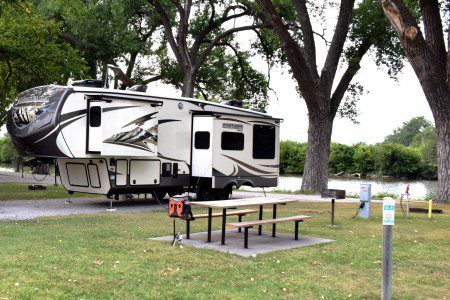 While camping at Ellis Lakeside Campground, travelers should also check out the local attractions in this small town. Some town highlights include the Ellis Railroad Museum and Doll Display, which is dedicated to preserving the history of the Union Pacific Railroad in Ellis. RVers traveling with children should also visit Playworld Park, a colorful park in town with fun playground equipment.
Marysville City Park Campground
Location: Marysville, Kansas
One of the main reasons Marysville City Park Campground made our list of the best RV parks in Kansas is because camping is free! However, the price isn't the only thing this RV campground has going for it. Located within the city park, the campground has large shade trees.
Campsites have water and electric hookups and there is a dump station on-site. In the connected park, campers can enjoy playgrounds, a swimming pool, tennis courts, disc golf and historic attractions. Camping is first come, first serve and donations are accepted. For more free camping, check out our full list of free RV parks with hookups.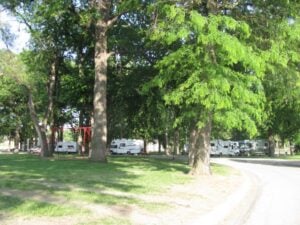 In exchange for the free campsite, RV campers should support local businesses during their stay. Popular attractions in Marysville include the historic Union Pacific Depot, the Pony Express Museum and the Astro 3 Theatre. For local eats, visit the Wagon Wheel Cafe or Bite Me Barbeque.
---
Log your RV Park Stays
After almost a decade on the road, we know how important it is to keep track of your wonderful memories and practical trip details.
To help campers stay organized, we created My RV Log Book to record campground information, RV mileage, RV maintenance tasks and more!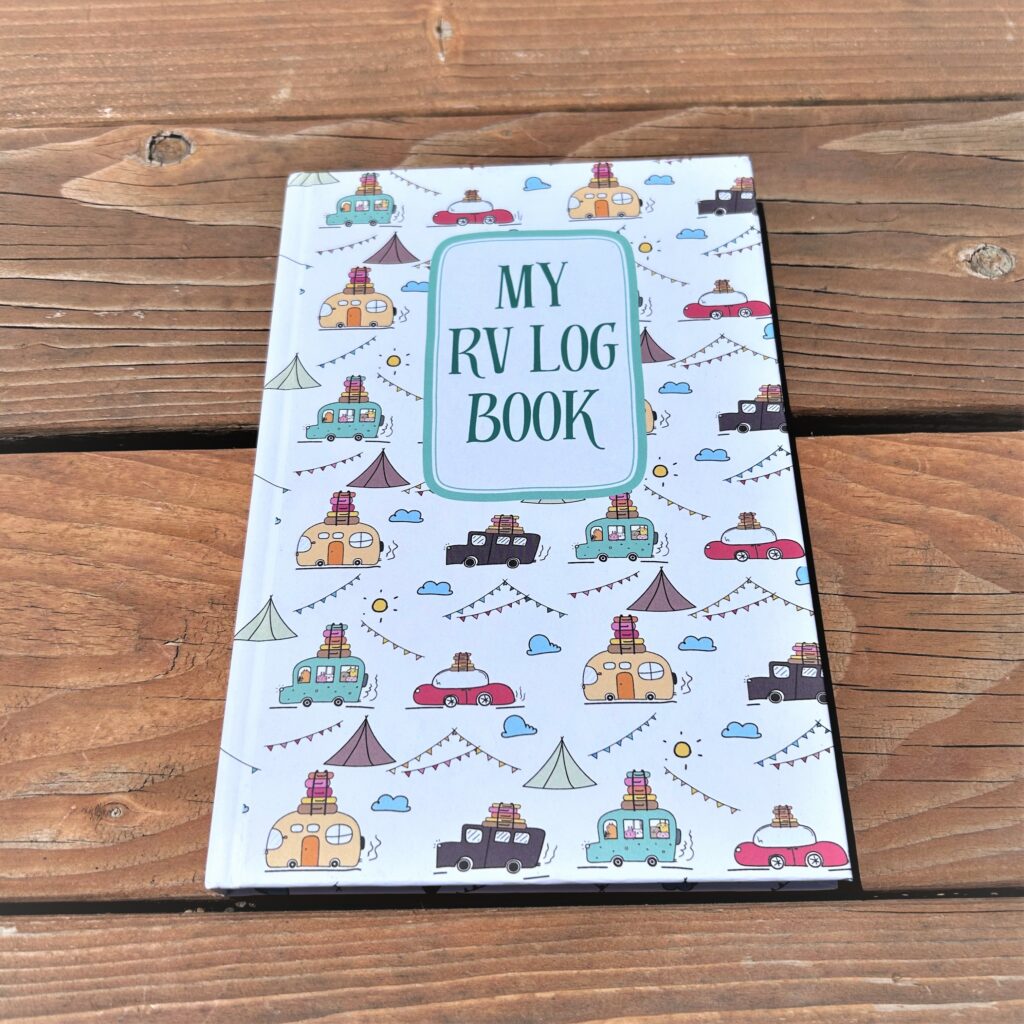 ---
We hope you found some bucket list destinations on our list of the best RV parks in Kansas. For more RV road trip inspiration, check out the following articles:
Which Kansas RV Park do you want to visit most? Leave your pick in the comments section below.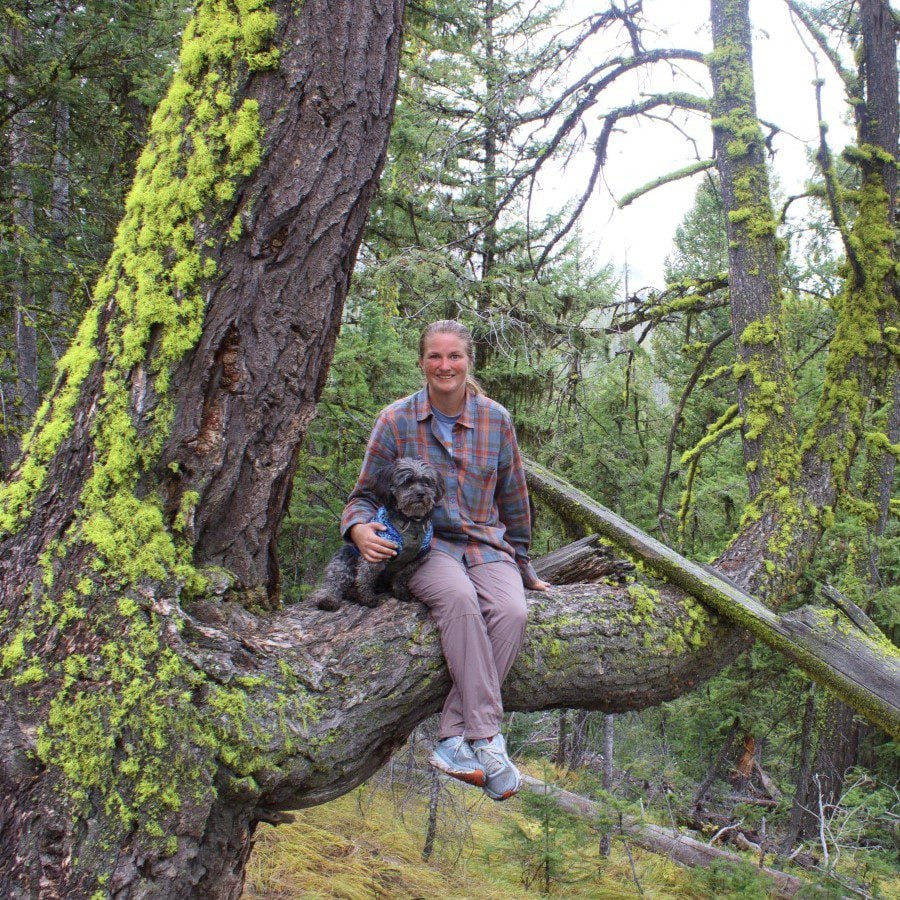 Christina Pate is a seasoned full-time RVer who, along with her husband Justin, has journeyed across the US, Canada, and Mexico. Drawing from her extensive travels, RV repairs and RV renovations, she founded Travels with Ted to guide and inspire fellow RV enthusiasts. Christina is also the co-author of The Owner's Guide to RV Maintenance and the creator of My RV Log Book.