This post may contain affiliate links. See our affiliate disclaimer here.
Is it possible to take an RV road trip while there is snow on the ground? Of course, it is! The key is to avoid the snow! Our list of the best winter RV road trips includes destinations all over America (and the world) that offer warm winter weather. Read on to find your perfect winter RV route.
If you have already stored your RV for winter, don't forget to de-winterize your rig before hitting the road.
Best West Coast Winter RV Road Trips
Tour Southern Arizona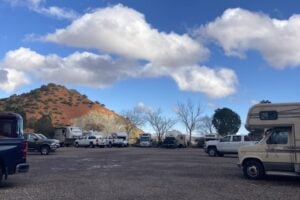 Start: Tucson, Arizona
End: Bisbee, Arizona
Distance (one-way): 104 miles
Route and Key Attractions
Southern Arizona is one of our favorite winter road trips because it offers several unique destinations without any long drives. Start your trip in Tucson, which offers a great mix of city and outdoor activities.
Spend at least one day gazing at the behemoth cactuses in Saguaro National Park. Other top attractions in the city include the Pima Air and Space Museum and the Arizona-Sonora Desert Museum. There are also plenty of restaurants and bars to enjoy after a day of adventure.
The next stop on this winter road trip is just an hour south. The lesser-known town of Sonoita is mostly known for its large number of wineries and tasting rooms.
I highly recommend stopping in for tastings at Arizona Hops and Vines, The Meading Room and Sonoita Vineyards. You can even park at some nearby wineries and breweries with a Harvest Hosts membership.
Just one more hour to the southeast is Bisbee, your final destination. This historic mining town has a beautiful, walkable downtown where tourists can shop, dine and drink. Visitors can learn about the town's history and travel underground on a Queen Mine Tour.
Where to Stay
Visit Southern California's National Parks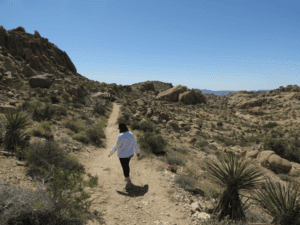 Start: Joshua Tree National Park
End: Death Valley National Park
Distance (one-way): 249 miles
Route and Key Attractions
Just like in other seasons, national parks are top destinations for the best winter RV road trips. Southern California offers the opportunity to explore two national parks with mild winter weather. Plan to spend a minimum of 2 to 3 days in each park.
During your first stop at Joshua Tree, plan to get up early and watch the sunrise from the Cholla Cactus Garden. Also fit in a least one hike.
The Ryan Mountain and Hi-View trails are both great options. Also keep your eyes open for bighorn sheep while driving and walking through the park. End your days at Joshua Tree with some amazing stargazing at the campground.
The 4-hour drive to Death Valley National Park can easily be completed in one day. Once you arrive, plan to stay on the road a bit longer to explore Artists' Drive, a scenic drive through multi-colored hills.
Also make stops at Badwater Basin and Zabriskie Point. Some roads in Death Valley are only open to shorter vehicles, so it is best to travel with a small RV or have another vehicle for day trips.
Where to Stay
Joshua Tree: Jumbo Rocks Campground
Death Valley: Furnace Creek Campground
Free Camping in Southern California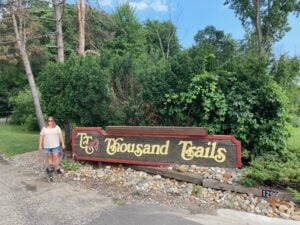 Start: Palm Springs, California
End: Oceano, California
Distance (one-way): 335 miles
Route and Key Attractions
Campers planning winter RV roads trips in Southern California can easily take advantage of free camping with a Thousand Trails membership. Thousand Trails members pay an annual fee, but do not pay any additional rent for campsites in the network.
See more details about Thousand Trails membership options in our complete guide. All of the recommend campgrounds on this route are in the club's network.
The first stop on this Thousand Trails tour of Southern California is Palm Springs. Travelers can spend their days hiking in nearby Indian Canyons or simply relax at the RV park's pool.
Also plan to visit one of several local eateries, such as Great Shakes, that offers the town's infamous date shakes. After enjoying Palm Springs, drive approximately 2.5 hours to Soledad Canyon RV Resort.
At Soledad Canyon, campers will enjoy a peaceful, secluded location with views of the San Gabriel mountains. Choose to stay at the campground enjoying amenities, such as horseshoe pits, volleyball and pickleball courts, a hot tub and nature trails.
For more excitement, take a day trip to Los Angeles, which is just south of the campground.
Rancho Oso RV Resort in Santa Barbara is a two-hour drive from Soledad Canyon. This RV resort has stables where visitors can take a trail ride and enjoy stunning mountain views.
The final stop is a 1.5-hour drive away. Pacific Dunes Ranch RV Resort in Oceano sits very close to the Pacific Ocean, and offers trails down to the beach.
Where to Stay
Palm Springs: Palm Springs RV Resort
Acton: Soledad Canyon RV Resort
Santa Barbara: Rancho Oso RV Resort
Oceano: Pacific Dunes Ranch RV Resort
Visit Southern Utah's National Parks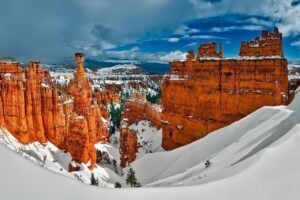 Start: Zion National Park
End: Bryce Canyon National Park
Distance (one-way): 85 miles
Route and Key Attractions
Winter RV road trips in Southern Utah may include colder temperatures, and even a little snow. However, visiting these national treasures without the crowds is worth every shiver. Just make sure to have winter RV gear, a heated water hose and full propane tanks before hitting the road.
Zion offers several incredible hikes, but some strenuous trails, such as Angel's Landing, may be icy and should be avoided in the winter. However, other trails, such as the Canyon Overlook Trail and the Chinle Trail, are ideal to hike in the winter when there are less crowds and heat.
Also enjoy driving into the canyon, which is often open to private vehicles in the winter but restricted to only park shuttle buses in the peak season.
After taking the scenic 2-hour drive to Bryce Canyon, you will be rewarded with incredible views of the Bryce Amphitheater, which will often be covered in snow. It may be cold, but the views are absolutely magical. If you are willing to brave the cold, take a short walk on the Rim Trail to Sunset Point.
Where to Stay
Zion National Park: Watchman Campground
Bryce Canyon National Park: North Campground
Traverse Southern Texas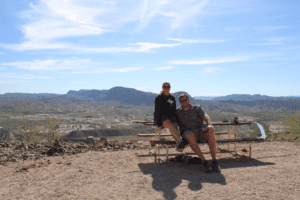 Start: South Padre Island
End: Big Bend National Park
Distance (one-way): 709 Miles
Route and Key Attractions
First of all, I know this road trip isn't exactly on the West Coast, but it definitely has left coast wow factor. Start your trip in South Padre Island and enjoy mild 70-degree days on the beach.
For added adventure, schedule a horseback riding tour along the beach. Once, you have had your fill of sun and sand, start the four-and-a-half-hour drive to San Antonio.
Your time in San Antonio is all about enjoying a little city life before you head to the remote national park. Visit the Alamo to learn about Texas history during the day. In the evenings, stroll the River Walk and enjoy local cuisine and cocktails on outdoor patios.
After a day or two in San Antonio, continue your journey with a six-hour drive to Big Bend National Park.
This vast park is divided into three distinct areas: desert, mountain and river. Plan to spend a minimum of at least three days in the park, so you have time to explore each section. Santa Elena Canyon, Balanced Rock and Lost Mine trails all offer unforgettable views.
Where to Stay
South Padre Island: Andy Bowie County Park
San Antonio: Traveler's World RV Resort
Big Bend National Park: Maverick Ranch RV Park
Best East Coast Winter RV Road Trips
Explore the Florida Keys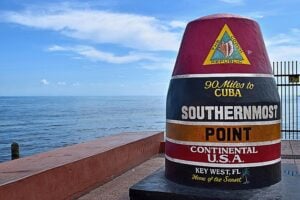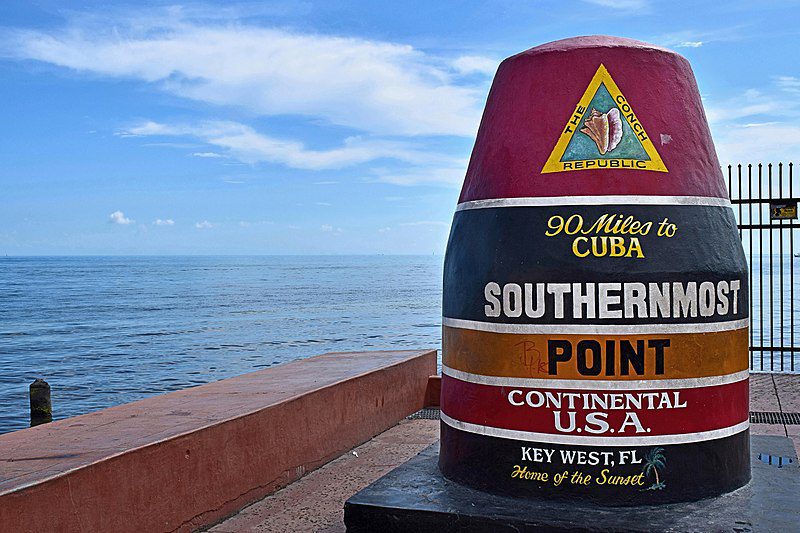 Start: Key West, Florida
End: Marathon, Florida
Distance (one-way): 54 miles
Route and Key Attractions
The beautiful water and warm weather make the Florida Keys an obvious choice for winter RV road trips. We recommend starting your trip with a bang in Key West. Spend your days and nights strolling Duval Street, watching street performers in Mallory Square and enjoying a few adult beverages.
After partying it up in Key West, drive 45 minutes north to Big Pine Key where you will find a more laid-back atmosphere. The Sunshine Key RV Resort (which is in the Thousand Trails network) sits directly on the Atlantic Ocean. The on-site marina offers kayak rentals and a variety of boat tours.
The final stop on this road trip is just 30 minutes away in Marathon. Grassy Key RV Park also sits directly on the water, but this park faces the Gulf of Mexico. Visitors can choose to lounge at the RV park's white, sandy beach or head out to explore the town.
Where to Stay
Key West: Leo's Campground
Big Pine Key: Sunshine Key RV Resort
Marathon: Grassy Key RV Park
Beach Hop on the Panhandle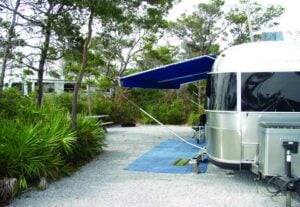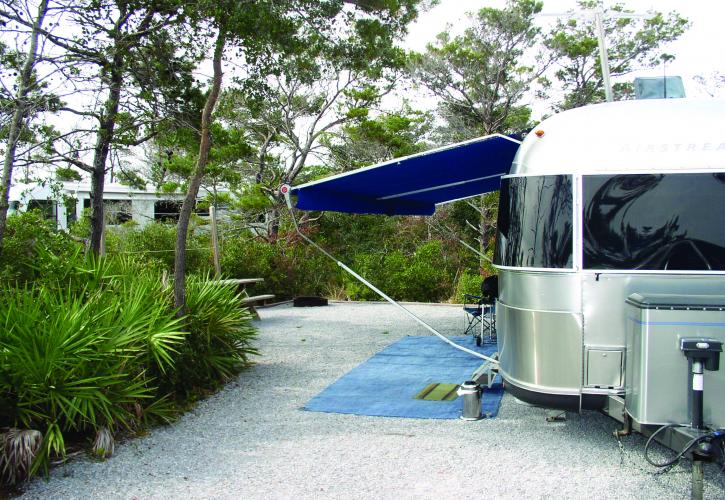 Start: Pensacola, Florida
End: Carrabelle, Florida
Distance (one-way): 222 miles
Route and Key Attractions
The second Florida route on our list of the best winter RV road trips, the Panhandle also offers beautiful beaches and mild weather.
Start your trip off on the west side of the Panhandle in Pensacola. Enjoy the perfect weather by taking a walk on the Pensacola Beach Eco-Trail or going birdwatching in Wayside Park.
Then, drive two hours east to Henderson Beach State Park. The park offers RV campsites with water and electric hookups. There is a boardwalk leading directly from the campground to the water where campers can enjoy swimming or lounging on the beach.
The last stop on this Panhandle road trip is Ho-Hum RV Park in Carrabelle, Florida. Despite its name, this campground is quite special.
Several of the RV sites are waterfront with uninterrupted views of the Gulf of Mexico. Plus, they have a half-mile dog-friendly beach and long fishing pier. This spot is all about sitting back at the campground and enjoying the natural beauty
Where to Stay
Pensacola: Playa Del Rio RV Resort
Destin: Henderson Beach State Park
Carrabelle: Ho-Hum RV Park
Nature to City across Louisiana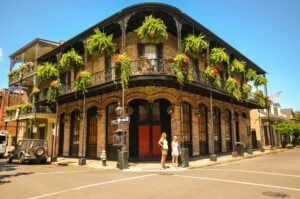 Start: Sea Rim State Park, Texas
End: New Orleans, Louisiana
Distance (one-way): 292 miles
Route and Key Attractions
Start your trip at Sea Rim State Park in East Texas, just a few miles from the Louisiana border. During your time in Texas, you will want to stay at the park and enjoy its beachfront camping.
RVers can choose between campsites with utilities just off the beach or primitive camping directly on the sand. Activities within the park include kayak and canoe trails, a nature boardwalk and beach combing. Click here for a list of more RV campgrounds on the beach.
After enjoying a few days camping on the beach, start the almost five-hour drive to New Orleans. Drivers who prefer to break-up the trip can make an overnight stop at the Lafayette KOA Holiday, which offers pull-thru sites for easy access.
Continue driving until you reach Pontchartrain Landing, an RV park in New Orleans.
Once you are in the city there are endless activities to keep you busy. Before heading for drinks on Bourbon Street, check out the New Orleans Museum of Art and the National WWII Museum. The RV park offers daily shuttles to the French Quarter, so campers can easily explore the city even if they don't have an extra car.
Where to Stay
Sabine Pass: Sea Rim State Park
Lafayette: Lafayette KOA Holiday
New Orleans: Pontchartrain Landing
Best International Winter RV Road Trips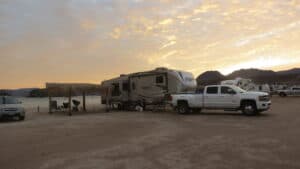 Drive Down to Baja, Mexico
Baja California is one of the easiest international winter RV road trips. Travelers can easily drive across the border in Southern California and be at their first stop in San Felipe or Ensenada within a few hours.
RVers traveling through Baja can expect beautiful beaches, thrilling whale watching adventures, long drives through the desert and amazing food.
Although Baja is easily accessible from the United States, all international road trips require more extensive preparation. See our complete guide to RV travel in Baja for more details on how to plan a Baja road trip.
Winter in Puerto Vallarta
The other Mexican destination on our list of winter RV road trips is Puerto Vallarta. The drive from the Nogales border crossing to Puerto Vallarta is just under 20 hours long.
Once you reach Puerto Vallarta, you will be rewarded with beautiful beaches and high enough temperatures to enjoy a swim. Tachos RV and Trailer Park is a great place to stay while in town.
If you are interested in a road trip to mainland Mexico but would prefer to travel with a group, check out Mexican Caravan's current tour options. Caravans make RV travel in Mexico super smooth, and they will provide assistance if you encounter any issues, such as a flat tire while driving.
Find Summer in New Zealand
Last but not least on our list of winter RV road trips is New Zealand. However, this isn't technically a winter road trip since it will be summer in New Zealand. Of course you will need to fly to New Zealand, but their are plenty of van and RV rentals available in Christchurch on the south island or Wellington on the north island.
The South Island should be your top choice if visiting glaciers is on your bucket list, while the North Island may be your top choice for beautiful beaches. If you have time, cross the Cook Straight on a ferry and visit both islands.
Renting an RV for Your Road Trip
No matter which of our winter RV road trips you select, you are going to need an RV. If you do not already own a rig, consider renting an RV from RVezy or Outdoorsy. Both companies offer peer-to-peer RV rentals in the United States.
Outdoorsy also offers international van and RV rentals. See our complete comparison of RVezy vs Outdoorsy for more details. All of the starting points on our list of winter RV road trips link to nearby rentals from RVezy.
---
Heading south on any one of these winter RV road trips is a great way to beat cabin fever. To make sure you are well-prepared for an RV journey, check out our list of must have RV supplies and our beginner's guide to RV holding tanks.
Also, save our list of 250 road trip questions to help pass the time while you are driving.
Since you are planning a winter RV trip, you might as well start making your holiday wish list. Get stocked up on essential road gear with the items on our RV camper gift guide. Also, check out these personalized gifts for RVers for more wish list ideas.
Which of these winter RV road trips is at the top of your bucket list? Share your picks with us in the comments section below.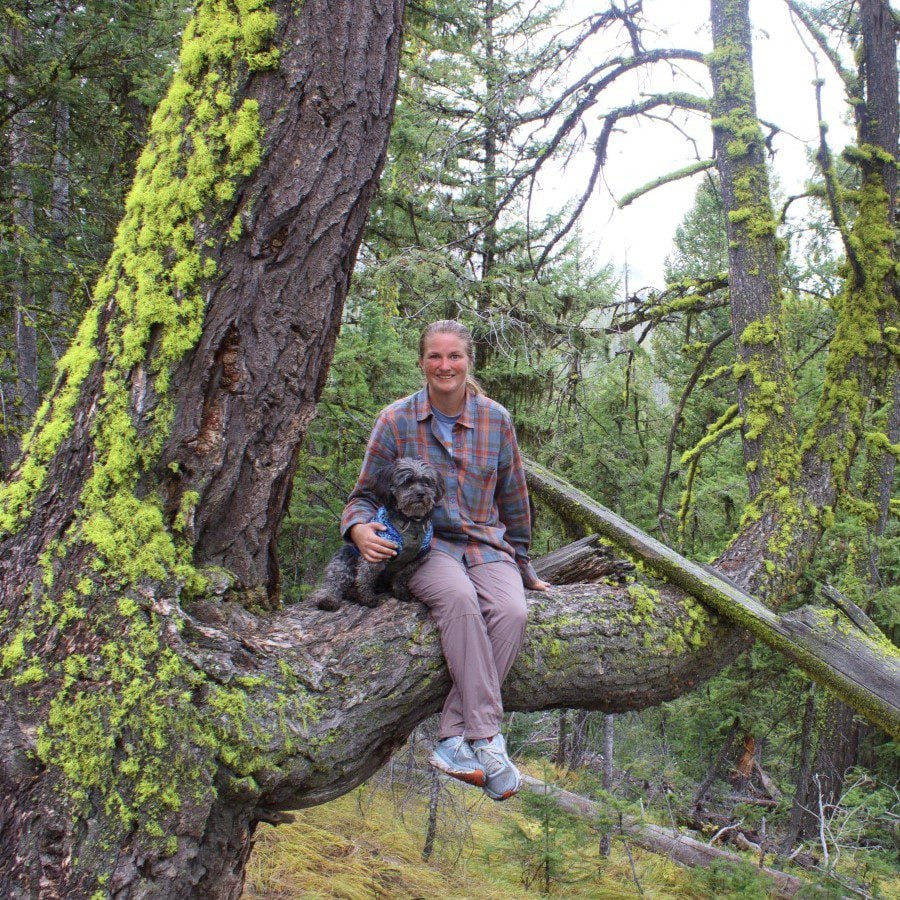 Christina Pate is a seasoned full-time RVer who, along with her husband Justin, has journeyed across the US, Canada, and Mexico. Drawing from her extensive travels, RV repairs and RV renovations, she founded Travels with Ted to guide and inspire fellow RV enthusiasts. Christina is also the co-author of The Owner's Guide to RV Maintenance and the creator of My RV Log Book.