This post may contain affiliate links. See our affiliate disclaimer here.
Kampgrounds of America (KOA) is the world's largest system of privately held campgrounds with more than 500 locations across the United States and Canada. Their huge number of parks means that most RVers will stay at a KOA at some point in their travels.
However, many KOA campgrounds charge a pretty penny for an RV campsite. Read on for our complete guide to KOA Rewards to learn how to get the best deal on KOA campgrounds.
KOA Rewards Overview
KOA Rewards, also known as the KOA Value Kard, is a loyalty program for RV campers. The main benefit of joining KOA rewards is receiving a 10% discount on nightly rates at KOA campgrounds across North America.
Since KOA RV parks do not accept other RV membership discounts, such as Good Sam or Passport America, KOA Rewards is the only way to obtain a reduced rate at their 500+ campgrounds.
Click here to see the 11 best KOA RV parks in the country.
Cost of KOA Rewards
A KOA Rewards membership costs $33 per year. Contrary to other campground memberships, such as Thousand Trails, there are no membership levels. All KOA Rewards members pay the same price and receive the same benefits.
With the 10% discount on nightly camping, a KOA Rewards membership will pay for itself within 3 to 6 nights of camping at a KOA. However, since the program also offers a free night of camping each year, it really only takes 1 night of camping for the program to be worth joining.
KOA Rewards Promo Code
There are no promo codes available to purchase KOA Rewards. All new members must pay the full $33 annual fee to join. However, there is a way to save on your KOA Rewards membership in the future.
The way to save on your membership is to utilize it. Members earn loyalty points for every night they camp at a KOA. Nightly points range from 600 to 1625 depending on the price paid and the number of points already accumulated.
If you earn 20,000 loyalty points in one year, KOA will renew your rewards membership for FREE.
KOA Rewards Benefits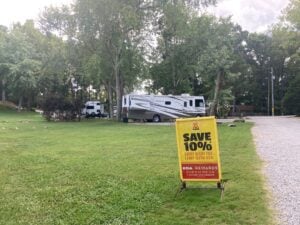 Camping Discounts
As noted above the main benefit of a KOA Rewards membership is a 10% discount on nightly camping rates at KOA campgrounds. Since nightly rates at KOAs are typically between $40 and $100, a rewards membership will save you $4 to $10 each day.
Rewards Points
KOA Rewards campers earn points for each night of camping at a KOA. Points are redeemable for dollars off your future KOA stays. Nightly points range from 600 to 1625 depending on the price paid and the number of points already accumulated.
Reward points do not expire as long as your loyalty account is active. The cash benefit per points is detailed below. Campers also earn 250 additional rewards points for making their KOA reservation online through the KOA website.
6,500 Points = $10 Reward
15,000 Points = $25 Reward
25,000 Points = $50 Reward
Free Night of Camping
In addition to earning free stays with rewards points, every KOA Rewards member is entitled to one free night of camping. Each year, the company hosts a KOA Rewards Weekend.
During this weekend, campers who book a campsite for Friday night can stay Saturday night for free. The free camping weekend is typically scheduled for early to mid September, after Labor Day weekend.
Special RV and Travel Discounts
KOA Rewards benefits do not just include discounts at KOA campgrounds.
Members also receive special savings from other companies, including Goodyear Tires, KOA Health + by Careington International Corporation, Allstate RV Roadhelp, RV Loan Center by Essex Credit and Dish TV.
Raise Money for KOA Care Camps
For every camper who enrolls in KOA Rewards, KOA donates a dollar to KOA Care Camps. KOA Care Camps are special nonprofit medically supervised camps designed to help children fighting or recovering from cancer enjoy a care-free, fun, sleep-away camping experience in the great outdoors.
KOA VIP Benefits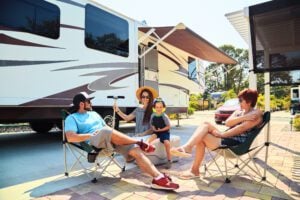 In addition to the standard member benefits, loyalty members who reach 20,000 points automatically upgraded to a KOA VIP Rewards membership. VIP members receive the following additional benefits.
Free Rewards Membership Renewal
Members who reach 20,000 loyalty points within a calendar year automatically receive a free renewal of their KOA Rewards membership. The free renewal applies for every year a member accumulates 20,000 points, so many campers only pay for their first year of membership.
Earn More Points
Guests whose KOA Rewards account reaches VIP status will earn 25% more reward points for each stay. The increased rewards means VIP campers earn camping discounts much faster.
Waived Cancellation Fees
For VIP campers, KOA will waive the standard $10 cancellation fee for a tent or RV site as long as your call to cancel your reservation more than 48 hours in advance.
Bring-a-Friend Discount Camping
Friends camping with KOA VIP members also receive 10% off the campsite rate for up to four nights. The member must be camping at the same KOA at the same time for the discount to apply.
KOA Rewards Rules and Limitations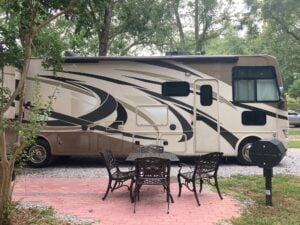 While KOA offers a great rewards program, there are some limitations on earning point and redeeming benefits. The following are the rules for utilizing your rewards membership.
Long-Term Stays
Since the 10% discount only applies to nightly rates, RVers who book a KOA stay with a discounted weekly or monthly rate will not receive any additional rewards discounts.
Campers who stay at a KOA for more than 27 consecutive nights will also only receive 75 rewards points per day.
Maximum Benefit on First Stay
If the KOA Rewards account is purchased at a campground upon registration, then the maximum savings benefit for the stay (including all nights) shall be equal to the annual account fee of $33.
Buy your membership online when reserving your first KOA campsite to avoid this maximum savings limitation.
Redeeming Rewards
A maximum of $50 (or 25,000 reward points) may be redeemed for a single stay. Rewards points cannot be applied at booking; they must be redeemed at check-in. To redeem them, simply let the front desk know upon arrival that you want to use your reward points for this stay.
---
In summary, I strongly recommend that all RVers sign-up for a KOA Rewards account when they make their first KOA camping reservation. The affordable membership is an easy way to save money on RV camping fees.
In addition to a KOA membership, we also recommend considering other RV clubs. To determine whether a membership is worthwhile for your family, calculate how many nights per year you would need to stay at discounted RV parks in order to break even on your investment.
Also, consider the annual dues and whether or not the membership can be resold if you are not using it. To maximize your savings, read about all of the RV clubs in our complete guide to RV camping memberships.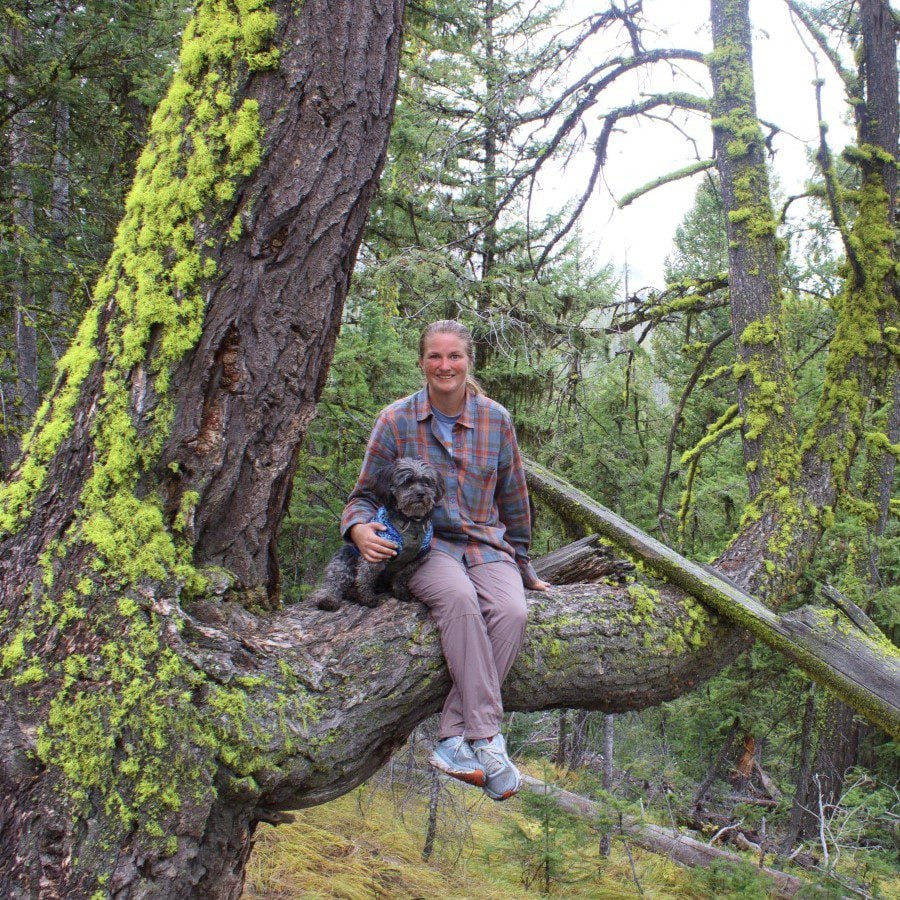 Christina Pate is a seasoned full-time RVer who, along with her husband Justin, has journeyed across the US, Canada, and Mexico. Drawing from her extensive travels, RV repairs and RV renovations, she founded Travels with Ted to guide and inspire fellow RV enthusiasts. Christina is also the co-author of The Owner's Guide to RV Maintenance and the creator of My RV Log Book.