This post may contain affiliate links. See our affiliate disclaimer here.
Escapees is an RV club designed to provide community for RV travelers and full time RVers. In this article we break down the cost and benefits of the Escapees RV Club, so you can decide if a membership is worthwhile for your family. Start reading now to learn all about the Escapees RV Club.
What is Escapees RV Club?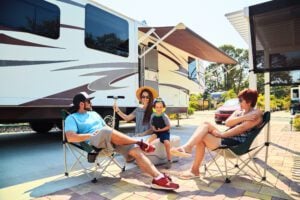 Escapees RV Club is a membership community dedicated to supporting RV campers. The club offers a variety of support services specifically tailored to RVers. Member benefits include discounts, mail forwarding services, a job board, roadside assistance, educational resources and community events.
Escapees RV Club Cost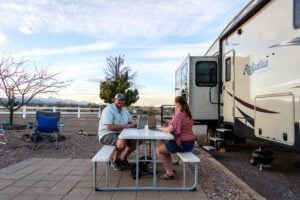 A membership to the Escapees RV Club costs $49.95 per year for U.S. residents. Residents of Canada and Mexico are charged $59.95 per year. The annual membership fee for residents of all other countries is $64.95 per year. The membership incudes all of the benefits listed in the next section. However, some other services, such as mail forwarding and roadside assistance, cost additional money.
Military personnel receive discounted Escapees RV Club memberships. Active duty military members receive a FREE Escapees membership as well as 5% off mail forwarding services. Honorably discharged veterans receive 5% off annual membership fees and mail forwarding services.
Escapees RV Club Benefits
Community Benefits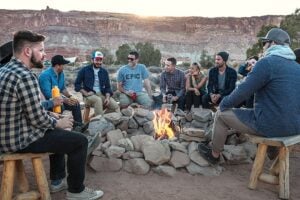 One of the main goals of Escapees is to provide members with a community of RV campers. Members have access to discussion forums and private social media groups for RVers with shared interest. Escapees also hosts regular virtual and in-person events for members.
Member events include campground hangouts, special adventures and training sessions on RV travel and RV maintenance. Members may be charged additional fees for events to cover costs and camping fees.
Escapees Magazine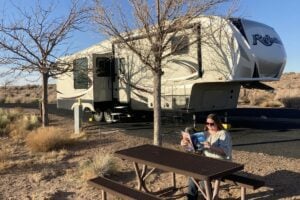 Members of the club also receive free copies of Escapees Magazine, an 88-page bimonthly publication. The magazine includes technical tips, RV maintenance information, safety education, advice from full time RVers, unique boondocking and off-the-beaten-path locations, products reviews and much more. Click here to see more free magazines available for RV campers.
Educational Resources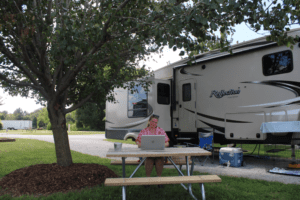 Escapees also provides members with tons of resources to learn about RVs. These resources include access to the clubs webinar archive with tutorials on RV safety, maintenance and living. The club also provides extensive resources on establishing RV domicile.
Escapees members also receive discounts on Escapees training programs. Members receive $10 off the SmartWeigh program, which provides critical RV weight safety and load management information. Club members also receive $20 off the club's RVers Online University, which offers virtual classes on full time RVing and RV maintenance.
Hot Tip: Instead of purchasing an RV maintenance course for over $100, purchase our eBook with step-by-step maintenance tutorials for just $24.99.
Escapees RV Parks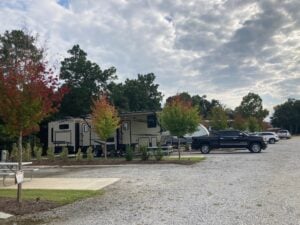 Escapees has eight of their own RV parks located in seven different states, including Arizona, Florida and Texas. Club members receive a discounted rate on stays at each of these campgrounds.
Escapees also has 11 SKP co-op parks, which are available exclusively to members. Escapees members may purchase an SKP co-op membership, which entitles them to the use of a specified lot. Members are also able to rent unoccupied campsites for short-term stays.
Discounted Camping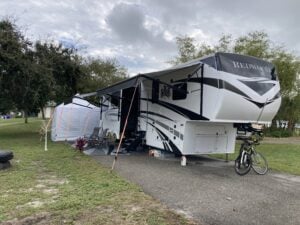 In addition to discounts at Escapees-owned RV parks, members also receive discounts on stays at partner campgrounds across the country. Escapees has partnered with over 800 RV parks and campgrounds to offer 15-50% discounts off the nighty rate.
Other Discounts
Members of the Escapees RV Club also receive exclusive discounts on gear and other camping essentials. Current member offers include discounts on Goodyear passenger car and trailer tires, Boondockers Welcome, Battle Born Batteries, the TechnoRV store and many other RV products and services.
Xscapers Membership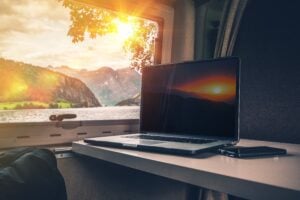 An annual membership to Escapees, also includes a membership to a second RV club, Xscapers. Xscapers, only available to Escapees members, is designed specifically to support working-aged RVers. The club provides resources on unique challenges that remote workers face such as income tax filings, tax deductions, business plans and more.
Xscapers also have access to The RVer Job Exchange, which matches job opportunities with traveling Escapees members looking full or part-time work. The job board lists a variety of opportunities, from contract work to full-time employment offerings.
RV Advocacy
In addition to the tangible benefits provided to members, Escapees also works to advocate for everyone in the RV community. Past advocacy efforts have included defending RVers right to vote, protecting overnight parking options and battling RV-specific taxes. Membership fees help fund these advocacy efforts.
Escapees RV Club Mail Service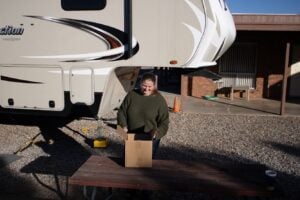 Many full time RVers join Escapees in order to gain access to their mail forwarding service. Available exclusively to members, the mail service allows travelers to receive mail anywhere in North America. Annual memberships range from $95 to $135, depending on the service plan selected.
After subscribing to the mail forwarding service, members receive a unique mailing address. Escapees receives and holds mail sent to the address (including packages, certified and registered mail). Then members can choose whether to have the mail digitally scanned, forwarded to their current location or thrown away. Click here for a complete guide to receiving mail while traveling in an RV.
Members also have the option to utilize ESCAPEES:HOME, which connects RVers with an address in their domicile state. Addresses are available in Texas, Florida and South Dakota.
Escapees Roadside Assistance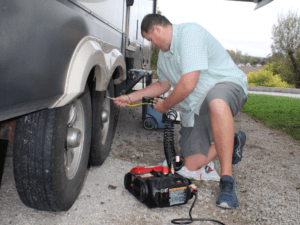 The roadside assistance program is another optional program available to members. For $109 per year, members receive uncapped access to Saferide Motor Club resources. These roadside assistance resources include towing, mobile mechanics, tire changes, fuel delivery, lockout help, trip interruption coverage and more.
Escapees RV Club Reviews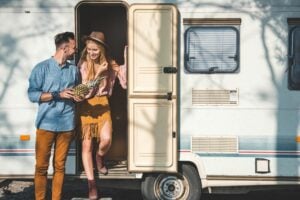 Overall members are happy with their Escapee RV Club memberships. With over 200 reviews on Google, the club has a 4.4 star rating. Positive reviews note how much money the members have saved on RV parks and accessories. Other things members love are the useful educational resources and customer service, especially from the mail forwarding department.
The small number of negative reviews mention specific customer service issues and negative experience at Escapees-owned RV parks.
Personally, we were members of the Escapee RV Club for our first two years on the road. We loved their educational resources and utilized their mail-forwarding service. However, we canceled our membership after a family member in our home state offered to handle our mail for us. We were happy with their mail services, but our new solution was free and worked better for us since we are not domiciled in a state where mailing addresses were available.
FAQ about Escapees RV Club
What does an Escapees RV Club membership cost?
An annual membership to the Escapees RV Club costs $49.95 per year. Special discounts are offered for veterans and active duty military. Some services, such as mail forwarding, in-person events and roadside assistance, are priced separately.
What does SKP mean in relation to the Escapees RV Club?
Escapees RV Club members often refer to themselves as "SKPs." When spoken aloud, the letters sound like Escapees, and therefore SKPs has become a nickname for Escapees members.
What are the benefits of the Escapees RV Club?
The main benefits of the Escapees RV Club are educational resources and discounts on RV campgrounds and RV products. For additional fees, members also have exclusive access to the company's mail forwarding services.
Other RV Memberships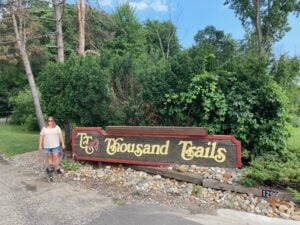 If you are shopping around for RV camping memberships, there are several other RV clubs to consider. Start by reading our summary of all the RV memberships available. Then read our complete guides to Thousand Trails and Harvest Hosts RV membership programs. For most RVers (and all full time RVers), it makes sense to join more than one RV club to maximize your savings and experiences.
If you are looking for other RV clubs that host events and rallies, also check out the FMCA RV membership.
---
Thank you for reading our complete guide to the Escapees RV Club. If you have any additional questions about Escapees or other RV clubs, drop them in the comments section below.
Happy Camping!