This post may contain affiliate links. See our affiliate disclaimer here.
There are several different RV campground memberships that offer discounts on campsites. All the options make it difficult to know which memberships are best for you and your family.
In this Passport America Membership Review, we breakdown everything you need to know about the Passport America RV Club. We detail the membership benefits, reviews, how to purchase and more. Read on for answers to all your questions about Passport America's Discount RV Camping Club.
What is the Passport America RV Club?
Passport America RV Club is a membership program that offers discounts on camping fees at RV parks across North America. Founded in 1992, Passport America is the oldest campground membership club in the United States.
The key benefit of a Passport America RV Club membership is a 50% discount on nightly rates at all of their member RV parks. The club has member parks in every state, except Hawaii, as well as several RV parks in Canada and Mexico.
Passport America only offers one type of membership with the same benefits for all members. There are no complicated membership or purchasing options that are common with other RV clubs, such as Thousand Trails and Coast to Coast.
If you are interested in purchasing a Passport America membership, simply click on the banner below and join on Passport America's website.
Passport America Cost & Discount Codes
First on our Passport America membership review is a breakdown of the membership cost. Passport America RV Club memberships retail for $44 per year.
While Passport America discount codes are not available, the company offers discounts for longer term memberships. The chart below details Passport America prices by membership length. For RV owners who plan to continue their travels, the Passport America lifetime membership is the best value.
| Membership Term | Price |
| --- | --- |
| 1 Year | $44 |
| 2 Years | $79 |
| 3 Years | $109 |
| 5 Years | $179 |
| Lifetime | $399 |
Passport America Discounts by Membership Term
Benefits of Passport America RV Membership
Next in our Passport America membership review are the pros of buying a membership. As noted above, the main benefit of a Passport America RV Club membership is a 50% discount on nightly camping fees at member parks.
Below is a complete list of benefits for Passport America members.
50% off the nightly rate at all Passport America member RV parks
No limit on the number of Passport America stays
Receive a digital or printed campground directory with maps and detailed RV park information
Free access to the RV America digital magazine
Receive a monthly Passport America Member Newsletter by email with campground updates
Access to the Passport America referral program to earn extra travel money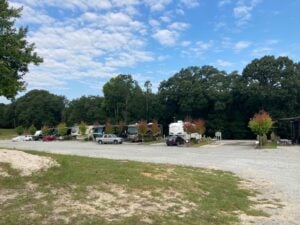 Passport America RV Club Rules
While the club's benefits are very straightforward, we also wanted to note some restrictions and limitations in our Passport America membership review.
The 50% discount is limited to nightly rates. Passport America RV parks do not offer discounts on weekly or monthly rates.
The Passport America discount is not valid when using any other discount, such as Good Sam or military discounts.
Access to Passport America campgrounds is based on the park's availability. Members are not guaranteed that a campsite will be available.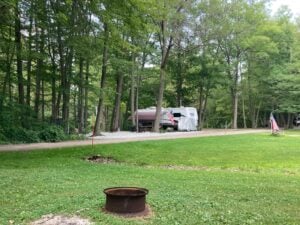 Passport America Referral Program
One of the awesome benefits offered to all Passport America RV Club members is the referral program. All new Passport America members will receive referral brochures with a unique ID to share with friends and fellow campers. Paperless email referral brochures are also available to all members.
For each new camper who signs up for a membership, the referrer receives a $10 credit. The credits are applied to your next membership renewal.
If you refer more than four new members in a calendar year, Passport America will start sending a $10.00 check instead of credit vouchers. Lifetime members will automatically receive a check instead of renewal credits.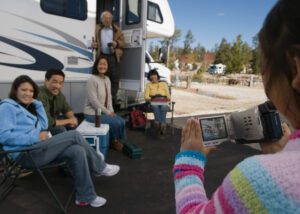 Passport America members can earn even more money by referring RV parks to the club. Members who wish to refer campgrounds can call or email Passport America to request campground agreement contracts.
For each park that signs up for Passport America's RV Club, the referrer is paid $50. RV park referral commissions are paid by check following the campground's approval.
Passport America RV Campgrounds
Now to the most important part of our Passport America membership review: an overview of their RV parks and campgrounds. With over 1400 campgrounds in its network, Passport America is one of the largest RV discount clubs.
Passport America members have access to RV parks in Canada, Mexico and every state, except Hawaii. Campgrounds join Passport America in exchange for advertising on the club's website and in their printed directory.
All Passport America campgrounds are independently owned, so the amenities and condition vary for each park.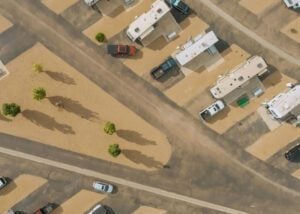 Passport America Membership Review
Now that you understand the cost and benefits of the Passport America RV Club, it is time to decide if a membership is right for you. Below is a summary of our Passport America membership review with pros and cons.
This review is based on our personal experience and online reviews from other campers.
Pros of Passport America
Large discount compared to similar RV clubs
Low cost, yearly membership will typically pay for itself in 2 to 3 nights of camping
Large number of member RV parks available in all regions of the United States
Cons of Passport America
No discount on weekly or monthly rates
Cannot be combined with other camping discounts
Quality of RV parks is not consistent, and it is not always ideal
To summarize our Passport America membership review, given the low cost of a membership and the huge discount, Passport America is a must have membership for RV travelers.
Even if Passport America parks are not your typical destination, odds are you will end up at a member park at some point in your travels. Since a yearly membership will pay for itself after 2 to 3 nights of camping, this membership is a no-brainer.
---
Thanks for reading our Passport America membership review. While Passport America is a great RV membership, it should not be the only camping club you join. Most RV owners achieve the best camping rates by joining multiple RV clubs.
To determine whether a certain membership is worthwhile for your family, calculate how many nights per year you would need to stay at discounted RV parks in order to break even on your investment.
Also, consider the annual dues and whether or not the membership can be resold if you are not using it. To maximize your savings, read about all of the RV clubs available today in our complete guide to RV camping memberships.
Happy Camping!