This post may contain affiliate links. See our affiliate disclaimer here.
Choosing the right RV is difficult for every camping family. There are many considerations, such as layout, price and tow ratings, but the most important consideration is the number of travelers.
In this article, we share the best RV for every size family. From the best RV for a family of 4 to the best RV for solo travel, we have a recommendation for every family.
Once you find the best RV for your family of 4 (or 1 or 2 or 17), you will also need to buy lots of gear to keep you safe and happy on the road. Check out our Amazon shopping list for all the gear you need to successfully hit the road.
Best RV for Solo Travel
Best RV for Solo Travel: Small Travel Trailer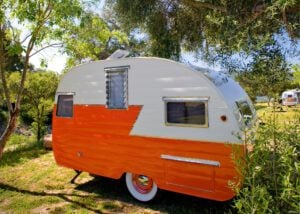 Tiny travel trailers are the perfect solution for solo travel. These trailers come equipped with everything you need to live, but nothing more.
Tiny also equals lightweight, so many small travel trailers only require an SUV or light truck for towing. Ideally, frequent solo travelers will select an RV with a full bathroom. See our list of the best tiny travel trailers with bathrooms for some great options!
Other Good RV Options for Solo Travel
Best Small RV for Couples
Best Small RV for Couples: Class C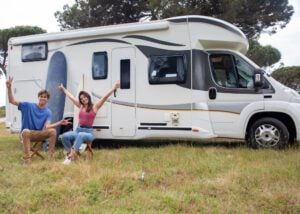 Many couples (including my husband and I) choose large fifth wheels or Class A motorhomes that have more space than they actually need. However, our years on the road have taught us that smaller is better for travel, making a Class C RV the perfect small RV for couples.
Weekend campers can drive their class C right into the campground, while full-time couples can tow a small car behind their Class C. See our list of the best small Class C RVs for shopping inspiration.
Other Good Small RVs for Couples
Best Small RV for a Family of 4
Best Small RV for a Family of 4: Class C with Bunks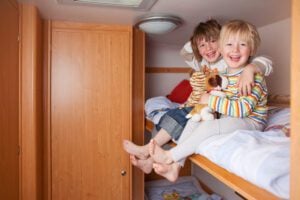 For families of 4 with small children or families looking for a smaller rig, Class C RVs are great for the same reasons they are great for couples. Plus, travel days with kids are much easier in a motorhome with easy access to the bathroom and kitchen.
However, in order for a Class C to be the best small RV for a family of 4, you need to find a bunkhouse model that has comfortable sleeping space for everyone. Fortunately, we have compiled a list of the top 11 Class C models with bunks.
If your family includes a baby, also check out these awesome camper crib ideas.
Best RV for a Family of 4
Best RV for a Family of 4: Fifth Wheel with Mid Bunk Room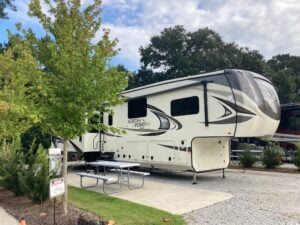 All parents would like some privacy from their children. Mid bunk room RVs provide a completely private sleeping space that easily accommodate two children. Fifth wheels are also know for provided a homey atmosphere with spacious kitchen and living areas.
The spacious living area and high ceiling will make everyone in the family feel as though they have plenty of space. Many of these mid bunk rooms are set-up to double as offices, so check out our list of the best fifth wheels with offices for shopping inspiration.
Other Good RVs for a Family of 4
Best RV for a Family of 4 with Teenagers
Best RV for a Family of 4 with Teenagers: Travel Trailer with Two Bedroom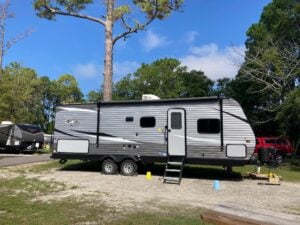 Teenagers who are camping or living in an RV prefer to have space as well as privacy. Fortunately, there are several travel trailers on the market that offer not one, but two private queen bedrooms.
Many of these travel trailers also offer a second bathroom, so the teenagers' mess will be totally contained in a separate area of the RV. Check out our list of the best two bedroom travel trailers.
Best RV for a Family of 6 (or any large family)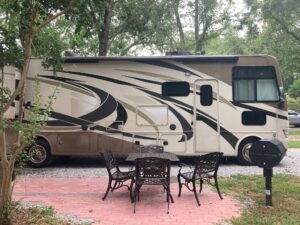 Best RV for a Family of 6: Large Class A Motorhome
Class A motorhomes are the hands-down winner for the best RV for families of 6 or more.
While many travel trailers and fifth wheels have sleeping capacity for up to 10 people, it would be difficult to find a heavy-duty tow vehicle that had seating for the whole family. Large Class A RVs have sleeping and seating capacity for large families.
Our favorite Class A RV for large families is the Winnebago Forza 38W. The RV has comfortable sleeping space for up to 8 people, including a queen bed in the main room, two twin bunk beds, a sleeper sofa and a convertible dinette. As an added bonus for large families, the Forza also has two full bathrooms.
Other Good RVs for a Family of 6
Other Factors to Consider when RV Shopping
Whether you are searching for the best RV for a family of 4 or 12, there are a few factors every camper should consider.
Budget
Budget should always be the first consideration when shopping for RVs. If your budget is not large enough for the RV you desire, consider buying used to save money.
For families who plan to live in their RV, use our RV Living Budget Calculator to determine how much you will realistically spend while living on the road.
Frequency of Use
Weekend campers and full-time RV families have very different needs. Piling kids into one bed for a weekend of camping is no big deal, but full-time kids will desire more privacy and space.
When shopping for RVs, consider how often you will actually camp and how far you will travel. The less frequently you use the RV and the shorter distances you drive, the smaller your RV can be. If you plan to travel full-time, consider the key features that are must haves for each member of your family.
For more full-time RV shopping inspiration, check out 7 experts' picks for the best RVs for full-time families.
Office Space
Another key consideration for full-time RVers is office space. Digital nomads, especially those traveling with kids, need a quiet space to work.
The ideal layout for parents or couples working from an RV is a rig with separate office space. If you plan to work from your RV, check out these 11 RVs that come equipped with an office.
Kitchen Space
Another major consideration when RV shopping is kitchen space. For families who typically grill while camping, a small galley kitchen is all you need. However, travelers who wish to cook all sorts of meals at home will want a kitchen with more of a residential feel.
Fifth wheels with front kitchens tend to have the best layouts for chefs and the most counterspace.
Tow Vehicle Space and Cost
If you plan to purchase a fifth wheel or travel trailer, shop for tow vehicles at the same time you are shopping for an RV. Your tow vehicle must have a sufficient tow rating for your RV, and enough space to hold your entire family.
---
Whether you're looking for the best RV for a family of 4 or shopping for a kickass rig for your solo journey, the perfect RV is out there. Take your time shopping, and walk through every kind of RV available to ensure you pick the best RV for you and your family.
Which types of RVs are your considering? Share your dream RV with us in the comments section below.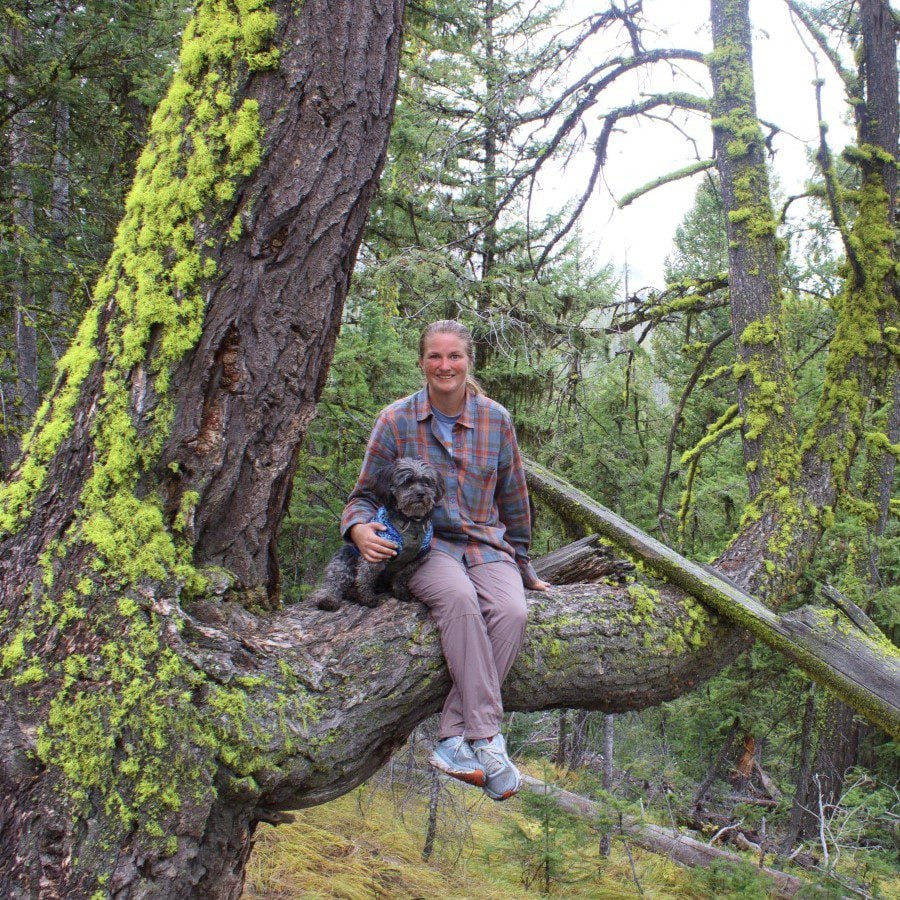 Christina Pate is a seasoned full-time RVer who, along with her husband Justin, has journeyed across the US, Canada, and Mexico. Drawing from her extensive travels, RV repairs and RV renovations, she founded Travels with Ted to guide and inspire fellow RV enthusiasts. Christina is also the co-author of The Owner's Guide to RV Maintenance and the creator of My RV Log Book.