This post may contain affiliate links. See our affiliate disclaimer here.
Celebrating Christmas in the cozy confines of your RV can be a uniquely delightful experience. However, RV's small spaces and limited storage space make decorating for the holiday challenging.
In this article, we share more than 25 RV Christmas decorations that will turn your home on wheels into a winter wonderland!
RV Christmas Trees
Best Artificial Christmas Trees for RV Campers
Many campers prefer artificial Christmas trees because they come with pre-strung lights, and can be reused year after year. Here are our 3 favorite fake trees for RVs.
Slim RV Christmas Tree
A slim artificial Christmas tree is the perfect option for many RV campers. The National Tree Company's Slim Hickory Cedar Tree comes with pre-strung lights, a built-in stand and weighs less than 10 pounds.
This narrow, artificial Christmas tree comes in 3, 4 and 5 foot options, so it can easily fit in most campers.
Tabletop RV Christmas Tree
If your RV doesn't have any available floorspace for a Christmas tree, buy a tabletop tree. The National Tree Company's Tabletop Christmas Tree is 2-feet tall, has pre-strung lights and includes a decorative red base.
Battery-Powered Christmas Tree
If you plan on boondocking over the holidays, make sure you purchase a Christmas tree with battery-powered lights so your tree doesn't require shore power.
Selecting a Real Christmas Tree for your Camper
Nothing beats the smell of a real Christmas tree, but finding the perfect live tree is more difficult when you live in an RV.
Measure Space before Shopping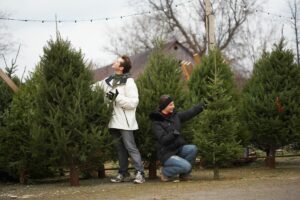 Given space constraints in most RVs, campers need to measure the floorspace available before selecting a tree. When purchasing the tree, measure the diameter of the tree stand to verify it will fit in the desired area of the RV.
Some stores and tree lots also sell small trees that would fit on a dining table. If you don't have enough floorspace for a tree, call around to ask who has miniature trees in stock.
Consider Using a Non-Traditional Christmas Tree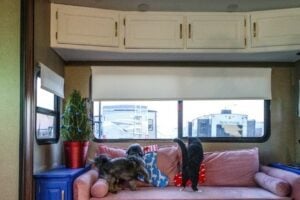 We prefer to have a real Christmas tree as part of our RV Christmas decorations. However, some years we have been unable to find a real tree that was small enough to fit in our fifth wheel.
So, we've thought outside of the box to find the perfect tiny Christmas tree. One year, we decorated a Rosemary bush. It was a perfect solution, as it smelled great and looked similar to a traditional Christmas tree.
If you can't find the perfect tiny Christmas tree, head to a local garden center and look for any small bush or tree that would be easy to decorate. After the holiday, give the plant to a friend or family member to plant in their yard.
Interior RV Christmas Decorations
Hang Stockings (with Care)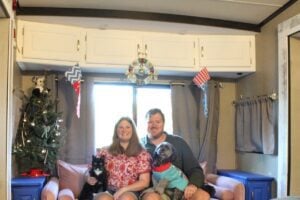 Stocking are small and lightweight, making them perfect RV Christmas decorations. Instead of hanging the stockings from heavy decorative holders, either hang them from Command Strip hooks or tie them to cabinet handles.
Put Garland on the Slide Out Trim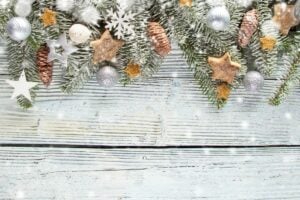 The trim or fascia around your RV's slide outs is the perfect place to hang garland. Taping or pinning garland into the wall on top of and around the sides of the trim will completely change the mood of your RV.
Replace Pillow Covers
Pillow covers are a perfect way for RVers to decorate for every holiday. Simply switch out the covers on your throw pillows to match the holiday or season. The extra covers can easily be stored in any RV drawer or closet.
Decorate the Windows
Most RVs and campers have several large windows made to take advantage of views while camping. Add removeable decals to your windows to bring the holiday spirit into your RV.
We particularly love these simple snowflake stickers. They are festive, but still sleek and will look good regardless of the colors of your RV's interior.
Spray Some Fake Snow
Instead of putting stickers on the windows, you can spray the corner of the windows with fake snow. The snow covered windows will turn your RV into a winter wonderland, even if you are camping in Florida.
Decorate Cabinets with Bows
Red and green bows with a twist tie are an easy way to decorate your RV kitchen for the holiday. Simply tie a bow onto each cabinet handle in your kitchen to add some festive flair.
Pull out Seasonal Kitchen Towels
Seasonal kitchen towels are simple but practical RV Christmas decorations. Simply hang the holiday-themed towels over the oven handle, so they are visible in your RV kitchen.
RVers can also place a merry hand towel in the bathroom.
Secure Small Christmas Knickknacks
Campers who love to go all out for Christmas can also include a few knickknacks, such as a model camper in their RV Christmas decorations. To ensure these trinkets are not knocked over or broken during travel, secure them with museum putty.
Update a Chalkboard Wall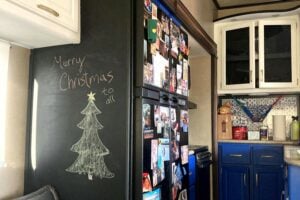 A chalkboard wall is one of our favorite DIY RV upgrades. If you included one in your RV remodel, don't forget to decorate it for the holidays.
If you don't have a chalkboard wall, fill a felt letter board with a seasonal quote or Christmas song lyric.
Snuggle Under Christmas Quilts
If you are camping in cold weather, you will need an extra layer of bedding to keep you warm at night. Take this opportunity to turn your bed into a jolly resting spot by covering it in a Christmas quilt.
Put Chair Covers in the Dining Area
If you really want to go all out with your RV Christmas decorations, purchase these fun chair covers for your RV dinette table. These covers simply slide on the backs of the chairs to turn them into colorful gifts.
Make Paper Snowflakes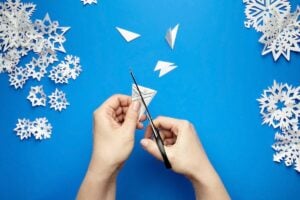 Sometimes simple, handmade decorations are the best RV Christmas decorations. Spend the afternoon with (or without) your kids, cutting out unique paper snowflakes to tape and hang on the walls and windows of your RV.
These simple decorations are easy and affordable to make, so you can make a new set next year, instead of storing them in your RV.
Exterior RV Christmas Decorations
Hang a Wreath on the Door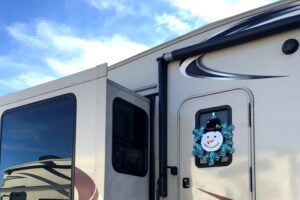 We always decorate the exterior of our RV by hanging a snowman on our front door. Hanging a lightweight wreath or other decoration on your entry door is a simple, but impactful way to decorate your RV.
As with indoor decorations, we hang our wreath using a Command Strip hook. If we need to move the RV, the wreath comes off, but the hook stays in place during travel.
Or on the Front of the RV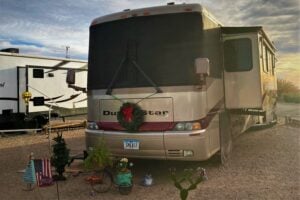 Another great place to hang a wreath is on the front of your RV. Either tie the wreath between the windshield wipers of your motorhome or place a Command Hook on the front of your travel trailer. Of course, the wreath will have to be removed for travel.
String Up Solar-Powered Christmas Lights
Christmas lights are the most obvious way to decorate your RV campsite. The lights can be strung on trees, bushes and along the RV's exterior.
To prevent having to pull extension cords throughout your campsite, buy solar-powered Christmas lights that charge themselves during the day and automatically turn on at night.
Put Down a Festive RV Patio Mat
Another easy way to decorate your RV campsite for Christmas is to put down a red or green RV patio mat. We love this red and white striped outdoor rug that looks like a candy cane for the holidays, but is a simple enough design to use year-round.
Click here to see 10 more of the best RV patio mats.
Or Get a Cheerful Doormat
If you don't want an entire Christmas-themed patio mat, considering changing out your doormat for the holiday season. We always have a doormat just inside the RV to help prevent dirt from spreading all over the floors.
Change Up your Campsite Flag
Many RVers decorate their campsites with garden flags. When decorating your RV for Christmas, put up a Christmas flag, then change it out for other holidays, such as 4th of July.
Even with several flags, a small garden flag is compact and can easily be stored for travel.
Decorate Yourself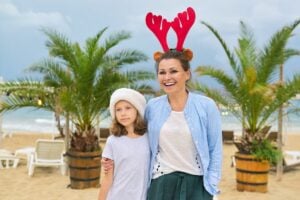 When thinking about RV Christmas decorations, don't forget to decorate yourself. Wearing a Santa hat or fun reindeer antlers during your walks around the campground is an easy way to spread holiday cheer.
Go Big with Inflatable Decorations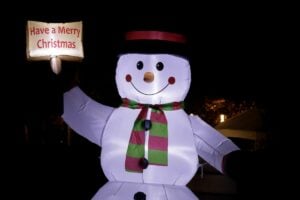 If you are renting a seasonal campsite, you can go big with your RV Christmas decorations. Purchase a few inflatable Christmas decorations that will make your campsite the talk of the campground.
Since these large decorations deflate, they are still relatively easy to store for travel.
---
Thanks for reading our complete guide to RV Christmas decorations. We hope you feel inspired to make your RV jolly and bright!
If you are still making you holiday RV plans, check out our list of the best winter RV road trips.
Happy Camping!