This post may contain affiliate links. See our affiliate disclaimer here.
One of the biggest perks of camping in an RV is traveling with your own kitchen. However, cooking in an RV is not always as easy as cooking dinner at home. Follow these 20 essential RV cooking tips to make sure your camping meals are a success!
Planning RV-Friendly Meals
First, learn how to pick recipes that are appropriate for cooking in an RV. While it is possible to cook any meal in an RV, simpler meals are more appropriate for the small work space.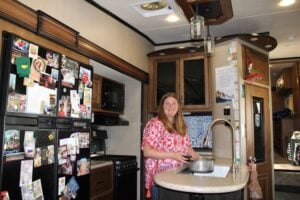 Cook One Pot or One Pan Recipes
One pot meals are a great option for RV trips, especially for campers who are boondocking. Since these meals only require one dish, clean up is super easy. Easy clean up also means campers will use less water washing dishes.
These simple meals also generally require minimal prep, so you can enjoy your camping trip instead of spending time in the kitchen.
Grill or Cook over the Campfire
Any meals that are grilled or cooked over a campfire are also ideal when RVing. With more space outside, the cook can socialize with family friends while tending to the food. Cooking outside also helps to keep the RV cool and clean.
If you want to cook over an open fire, check out our favorite campfire cooking kits.
Make No Cook Breakfasts
Instead of dirtying dishes and stinking up the RV while frying up eggs and bacon, serve simple no-cook breakfasts. Cereal or yogurt and fruit are great options that require minimal effort to serve and clean up.
Cook Make Ahead Meals at Home
The easiest meals to serve in an RV are those that are ready to eat. Unless you are a full-time RVer, there is no reason you have to cook in your RV. Instead make cold salads and casseroles before your trip.
Click here to see the best make ahead meals for RV camping.
RV Food Shopping Tips
Next up on our list of RV cooking tips is shopping. Follow these RV food shopping tips to properly stock your RV fridge and cabinets.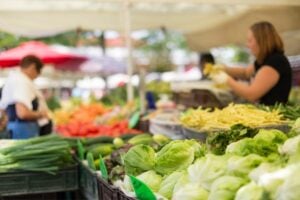 Meal Planning is Essential
Never shop for an RV camping trip without a grocery list. Planning meals in advance will ensure you don't buy more food than you have room to store. A well thought out meal plan will also ensure you do not have to leave your camping vacation to make an emergency grocery run.
Avoid Frozen Food
Most RV refrigerators are smaller than your standard residential fridge. The freezers are even smaller. With limited freezer space, campers cannot rely on frozen meals. If you really want to avoid cooking, make meals ahead of your trip or buy pre-made meals that fit in your fridge.
Utilize Local Farmer's Markets
The best way to upgrade your RV meals is to utilize fresh, local produce. Just because you traveled across the country doesn't mean your food should.
If you are staying in warm climates as most RVers do, you should be able to find farmer's markets that sell local produce, meat and other products. Go to Local Harvest to find a farmer's market near your current campsite.
Click here for more ways to make your RV travel more sustainable.
RV Food Storage Tips
These RV food storage tips will help you efficiently use the space in your RV, so you have plenty of room to travel with a week of food.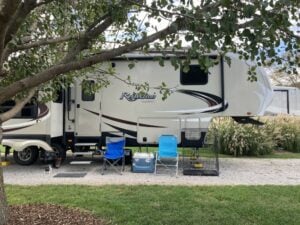 Use Stackable, Airtight Containers
Transferring dry food from its original packaging into stackable, airtight containers is important for two reasons. First, stackable containers will allow you to more efficiently utilize your limited RV kitchen cabinet space.
Airtight food storage containers will also help prevent ants, mice and other critters from eating your food before you do.
Put Spices in a Compact Spice Rack
Do not forget to stock your RV with spices. Without any seasoning, your RV meals are sure to be extremely bland. To ensure you can cook tasty food without cluttering your kitchen, purchase a compact RV spice rack for your RV kitchen.
See our list of the 10 best RV spice racks here.
Adjust your Fridge Shelves to Maximize Space
Organizing an RV refrigerator after a shopping trip can feel like trying to solve a 3D puzzle. To optimize your RV fridge storage, move the shelves to heights that best suit your storage needs.
Make one shelf tall enough to store you milk jug and other large items. Then, adjust shorter shelves to store eggs and other smaller items. Utilize the door shelves for condiments and sauces.
Use a Cooler for Drinks
Another easy way to free up more space in your RV fridge is to keep your sodas, beers or other beverages in a cooler. If you plan to sip more than a few drinks, storing them outside the RV will free up lots of space inside.
RV Cooking Tips
If you plan to cook inside your RV, the following RV cooking tips will help you create a great meal without making a giant mess.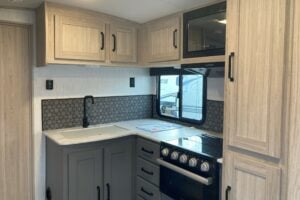 Prep then Cook
One of the easiest ways to avoid being overwhelmed by cooking in an RV is to complete all prep work before cooking. If anything in your meal needs to be peeled, chopped or washed, complete those steps first.
Clean as you Cook
Cleaning after each step in a recipe will also making cooking in your RV less chaotic. For example, if vegetables for a recipe need to be chopped, chop them first, then clean the knife and cutting board before moving on to the next step.
If you wait to clean dishes until your meal is complete, your kitchen will likely look like a disaster zone.
Place a Pizza Stone in the Oven
Learning how to work with your RV oven is one of the most important RV cooking tips. RV ovens are notorious for cooking food unevenly. RV ovens tend to overcook the food directly above the flames, and leave food uncooked in other spots.
Placing a pizza stone in the bottom of your RV oven will lead to better heat distribution, and therefore, more evenly cooked food.
Plan for Extra Cooking Time with an RV Oven
Another unfortunate truth about RV ovens is that they typically do not cook as fast as household ovens. It will take some trial and error to determine the average cooking time for your RV's oven.
When you first cook meals in your RV, check if your food is ready after the recipe cook time has passed (but anticipate that it won't be). If the meal is not fully cooked, check the food every 3 to 10 minutes until it is ready. After a few meals, you will be able to easily convert recipe cook times for your RV oven.
Maximize Counter Space
One of the most difficult parts of cooking in an RV is limited counter space. Maximizing counter space will make prepping, cooking and cleaning easier.
Counter space can be added by installing a fold-down counter extension or purchasing an RV stove cover that doubles as extra prep space.
RV Cooking Safety Tips
Our final section of RV cooking tips is all about safety. Many new RV campers are nervous to use a propane stove and refrigerator. Follow these tips to keep your family safe while cooking in an RV.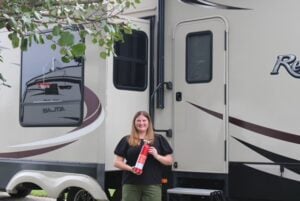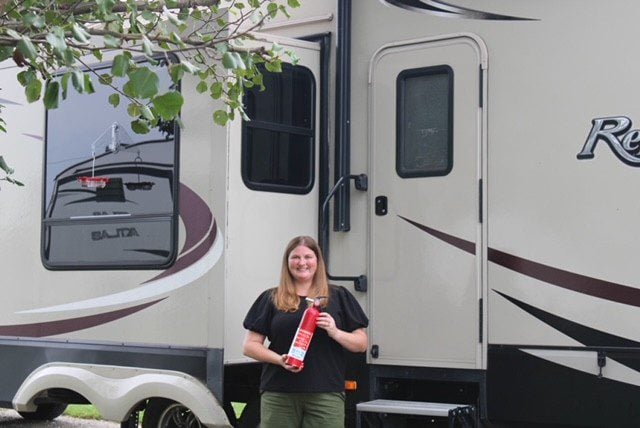 Test Smoke and Gas Detectors before Each Trip
It is super important to have working smoke and gas detectors in your RV. Before each trip, press the test button on your detectors to verify they are working properly. Also, always travel with a replacement gas detector (they fail often) and extra smoke detector batteries.
Never disable your RV smoke alarms when cooking. If you alarm is sensitive, open the doors and utilize RV vents to reduce smoke in the kitchen.
Have (Working) Fire Extinguishers in the RV
All RVs should have at least one fire extinguisher. RVs come with one of two types of fire extinguishers, rechargeable and disposable. If your fire extinguisher has a dial with "recharge" and "overcharge" sections, it is rechargeable.
Rechargeable extinguishers should be serviced every six years. Check with the local fire department to see if they offer this service. Disposable fire extinguishers have a dial that reads either "full" or "empty." The fire extinguisher needs to be replaced if the dial is pointing to empty.
Always Level your RV
Absorption RV fridges (the most common type of RV fridge) are designed to work when the RV is level. Before running your RV fridge on propane, ensure the RV is level to prevent it from becoming a fire hazard.
Inspect Propane Tanks
Both the RV stove and refrigerator are often run on propane. Portable propane tanks found on travel trailers and fifth wheels must be recertified.
To see when your tank was manufactured check for a stamp near the top of the tank on the collar. The stamp should also state when the tank needs to be recertified (typically 10 years from the date of manufacture).
When it's time for recertification, head to AmeriGas or another propane dealer that offers the service. After the initial recertification, tanks should be recertified every five years.
If you suspect you have a propane leak, turn off your propane tanks and call a professional to evaluate the system before re-entering the RV.
---
Thanks for reading our essential RV cooking tips and tricks.
Before heading out on your first camping trip, also make sure your kitchen is stocked with RV-friendly dishes and cookware.
Happy Camping!