This post may contain affiliate links. See our affiliate disclaimer here.
One of the biggest benefits of camping in an RV is traveling with your own kitchen. However, many RV kitchens are limited on storage space. To ensure you can cook tasty food without cluttering your kitchen, purchase a compact RV spice rack for your RV kitchen.
Below are the 10 best RV spice rack ideas. These RV spice storage solutions are compact, cute and affordable.
Countertop RV Spice Rack Ideas
These RV spice racks are compact, so they can easily sit on your countertop during camping trips. On travel days, simply place the spice rack inside a cabinet or in the kitchen sink.
This compact, rotating spice organizer is the perfect spice rack for stylish campers. With symmetrical glass jars and stainless steel caps, the travel spice rack looks great on any RV countertop.
With a vertical design this camping spice rack holds 12 spice bottles, but is only six inches wide. The included glass jars are 0.4 ounces each, large enough to fit an entire standard retail spice bottle. They also have a wide mouth, so they are easy to fill.
Sprinkle, shake or pour from the jars in the spice holder by using any of the three differently sized openings. The rack can easily be stored in your kitchen sink on travel days.
The Elemental Kitchen Rotating Spice Rack is another compact, rotating RV spice holder. The eight-bottle revolving spice rack will keep your favorite spices in one convenient place. Store in your cabinet, on your countertop and even bring it outside with its easy-carry handle.
The included square glass jars have a twistable lid with sprinkle, pour and close settings. They are also durable, BPA-free and dishwasher safe.
Under six inches wide and just under six inches tall, the Elemental Kitchen camping spice rack is super compact. The small size and square shape, make it easy to store in a cabinet or in the kitchen sink on travel days.
Perfect for RV chefs who travel with all the spices, the SpiceStack spice rack holds 24 bottles. With a unique pull-down spice rack drawer design, you can locate spices quickly. Drawers pull out and lower to a resting position for quick and easy access.
Adjustable dividers also allow you customize the rack for various-sized spice bottles. Each SpiceStack includes 104 (52 printed and 52 blank) removable drawer labels for custom organization and an even faster find while cooking.
The SpiceStack is 10.5 inches wide, so it is not tiny. However, the square design with closing drawers allows this RV spice rack to be stored easily on travel days. Simply close the drawers and place it in a cabinet before hitting the road.
Mounted RV Spice Rack Ideas
If you don't want to bother with storing your RV spice holder on travels days, consider these mounted RV spice storage options. These camping spice racks can be used as a decorative touch in your RV or hidden behind a cabinet door.
A secure, but easy to install RV spice rack option is Bellemain Spice Grippers. The grippers are installed with secure adhesive, and can be installed on walls or the inside of your kitchen cabinets.
Each gripper is 8.75 inches long and holds four spice containers, but the strips can be cut to fit a narrower space. Spices can be hung in the original containers. When placed label out, they are easy to identify and grab.
Clip arms automatically adjust to grip any jar up to 1.75 inches in diameter. These spice clips provide a tight grip around the spice jars' necks to hold them in place while you are driving down the road.
For campers who want a more aesthetically pleasing solution, magnetic spice jars are a great solution. This set from the Talented Kitchen Store includes six base plates and and 24 three-ounce, tin spice jars.
The base plates are adhesive, so they can be installed on any wall or on the inside door of a cabinet. The magnetic tins have transparent shaker lids with sift and pour settings. A variety of labels are also included, so you can easily identify spices when cooking.
While these magnetic tins make the perfect small RV spice rack, they were not specifically designed for travel. To minimize messes, the tins should be put away in a drawer or another secure spot on travel days.
Another simple storage solution for spices in an RV is a wall-mounted spice rack. This elegant rack from RedCall, which can hold 14 standard size spice jars, is perfect for RVs and campers for several reasons.
Perfect for travel, the double-bar design will keep jars securely in place. The rack also has a 40 pound capacity, so it is incredibly sturdy and durable. The set includes two racks, enough room to store almost 30 spices.
The rack can be installed using a drill-free mounting solution or it can be installed with screws for more stability. If you choose to screw the rack into your RV wall, be sure to verify the wall is thick enough before drilling.
Other RV Spice Rack Ideas
If you have extra cabinet space in your RV, a pull out rack is the perfect camping spice rack. This rack by the Kitsure Store will fit in any cabinet that is at least five inches wide and 12.5 inches tall.
The rack is installed in the bottom of your cabinet with small screws. The slide rails are manufactured with a ball bearings system to ensure a smooth slide, so you can effortlessly slide the rack, even with a full load of spices.
One rack holds up to 20 spice bottles, and multiple racks could easily be installed in most cabinets. While the spices will be securely contained in your cabinet, we recommend using plastic jars with this rack in case spices fall during travel.
If you have enough drawer space to devote to spices, a non-slip spice drawer liner is perfect for organizing seasonings in an RV. YouCopia's Spice Liner comes in a 10 foot roll the width of a single jar, allowing you to cut it to the exact length of your drawer.
Made of soft foam, the drawer liner keeps bottles securely in place with labels facing up for quick selection. In addition to storing spices, the liner can be used to hold other kitchen essentials, such as rolling pins, in place.
Organizing spices with a drawer liner is one of the cheapest and easiest RV spice storage solutions!
Sale
A spice bottle tower is an ingenious, compact way to store spices while traveling. In fact, the super tiny design makes the Prodyne Spice Bottle the perfect van life space rack.
The set consists of six self-stacking, interlocking acrylic spice bottles. The entire tower is 13.75 inches high, but it can be arranged into two or three smaller towers as well. The bottles have removable sifters and labels are included.
The bottles can be stored anywhere there is extra space in your RV or van kitchen. The tower is also easy to carry outside for grilling and campfire meals.
For weekend campers, a travel spice kit may be a more practical solution than a traditional spice rack. This super lightweight and portable set from Wealers includes six stainless steel spice shakers and travel bag.
Made with quality, scratch resistant steel, the shakers are perfect for camping and cooking outdoors. They can withstand the elements and be directly exposed to water without corroding.
The jar covers rotate to open and close, and allow you to control how much seasoning is dispersed. With the included travel bag, the spice kit can be easily transferred between the RV and your home for cleaning and refills.
---
Thanks for reading our guide to the best RV spice rack ideas. We hope you found the perfect solution for your camper.
For more RV kitchen recommendations, check out our list of the best RV dishes and cookware and our complete guide to cooking in an RV.
Happy Camping!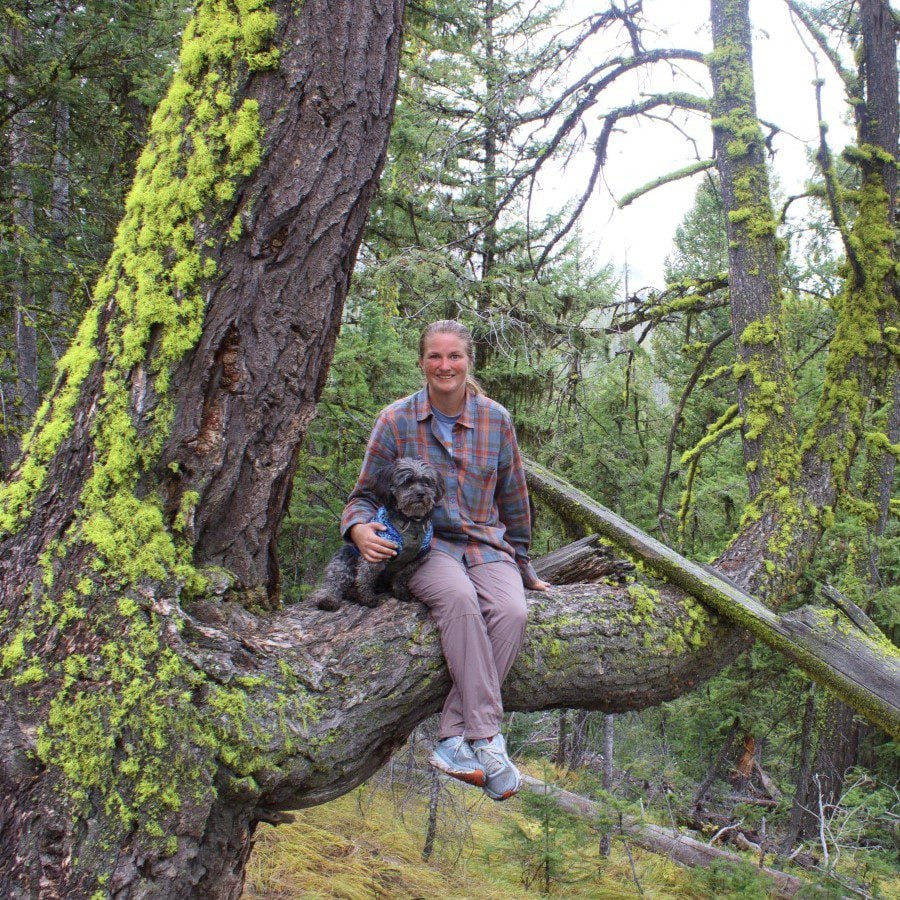 Christina Pate is a seasoned full-time RVer who, along with her husband Justin, has journeyed across the US, Canada, and Mexico. Drawing from her extensive travels, RV repairs and RV renovations, she founded Travels with Ted to guide and inspire fellow RV enthusiasts. Christina is also the co-author of The Owner's Guide to RV Maintenance and the creator of My RV Log Book.