This post may contain affiliate links. See our affiliate disclaimer here.
One of the biggest advantages of RV travel is bringing your own bathroom on vacation. RVers can travel without ever having to step foot in a nasty truck stop or fast food bathroom. Having your own full size bathroom is especially important during the Covid era, but will always be appreciated. Below are the 12 best small RVs with bathrooms. All of the RVs have a separate room with a toilet and a shower. The travel trailers are shorter than 20 feet and the drivable RVs are shorter than 25 feet.
Once you find the perfect RV, you will also need to buy lots of gear to keep you safe and happy on the road. Check out our Amazon shopping list for all the gear you need to successfully hit the road.
Small Travel Trailers with a Bathroom
Travel trailers are the most affordable type of RVs, especially if you already have a vehicle capable of towing one. all of the below trailers offer a comfortable place to sleep, eat and potty while traveling across America. To learn more about the different types of RVs and their advantages, click here.
iCamp Elite
The iCamp Elite, made by United Recreational Vehicles, is an adorable but practical tiny travel trailer. At just 14 feet and 2366 pounds dry, this camper can be pulled by many light trucks and SUVs. This tiny trailers comes equipped with a full wet bath, including a sink and cabinet.
Airstream Basecamp 16
This 16 foot Airstream travel trailer is designed with adventure in mind. The Basecamp RV has a wet bathroom with a toilet, shower and sink. For warm weather travel, you can use the showerhead pass through to create an outdoor shower. The RV also includes a functional kitchen and a good-sized living space that converts to a sleeping area.
Casita Freedom
The Casita Freedom is a stylish 17 foot travel trailer that has everything you need for a comfortable road trip. The deluxe model has a spacious front bathroom with a toilet and shower. The bright interior décor and comfortable swivel chairs are added luxury touches in the Casita.
R-Pod's RP-171
The R-Pod brand specializes in small but functional travel trailers. The 171 comes it at just over 18 feet and 2500 pounds. The separate bathroom is a wet bath with a toilet and shower, and a sink is located in the kitchen area. The kitchen also features a decent sized refrigerator and a microwave convection oven.
Scamp 13′ Deluxe
The Scamp Deluxe option is a another great small RV with a bathroom. Their 13 foot trailer comes with a front bathroom with a toilet and shower. These trailers are truly tiny, but they have everything you need for a successful camping trip.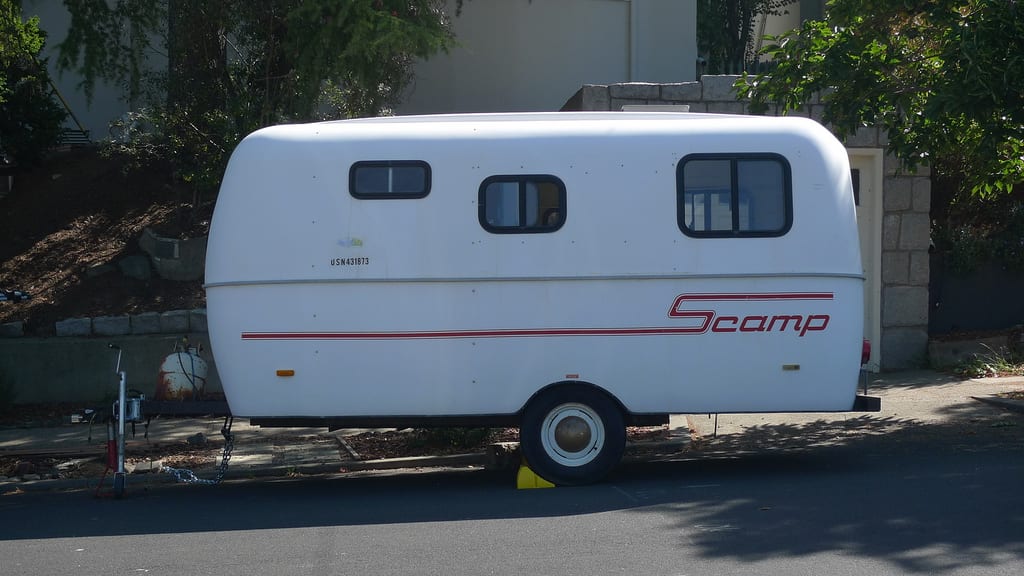 Class B RVs with a Bathroom
Class B RVs or camper vans are the smallest drivable RVs and do not always come with a full bathroom. The Class B models listed below all include a three-piece bathroom in the van.
Thor Tellaro 20LT
The Tellaro is a Class B motorhome built by Thor. The 20LT floorplan includes a fully enclosed wet bath with a toilet and shower. For extra sleeping space, the Tellaro has a retractable roof extension with a sleeping loft.
Airstream Interstate24GL
The Interstate Great for large families who want a small space. The convertible layout offers 9 comfortable seats with seat belts for travel. Once the Interstate is parked, the back seat turns into a flat bed with the push of a button. The bathroom located in the center of the RV is a wet bath with a toilet, sink and shower. The Airstream designers have thought of everything, also including a waterproof toilet paper holder and clothesline in the bathroom.
Fleetwood IROK
The Fleetwood IROK is a luxury Class B camper. The wet bath, which incudes toilet sink and shower, is located directly behind the driver seat. The bathroom location leaves room for a relatively spacious kitchen and licing area in the back of the van.
Thor Gemini 23TW
The Thor Gemini is marketed as a Class B Plus motorhome. It offers more space than a traditional Class B, but is still easy to maneuver at just 23 and a half feet long. The 23TW floorplan features a full, dry bathroom with separate sink and shower. A queen-sized bed and modern kitchen also add to the comfort of the Gemini RV.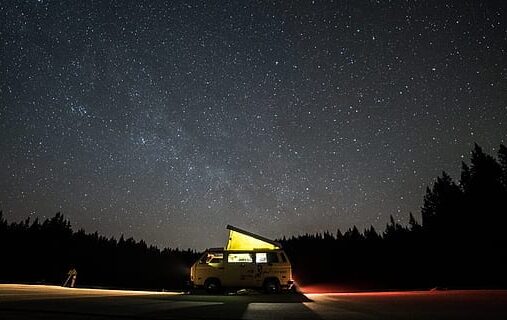 Small Class C RVs with a Bathroom
Class C RVs are typically smaller motorhomes than Class A RVs. These recreational vehicles are built on a van frame, or truck chassis, with an attached cab section. Class Cs are larger than camper vans and typically have a full bathroom with a separate shower.
Minnie Winnie 22R
The 22R is a well-designed Class C that is just under 24 feet long. The Minnie Winnie comes equipped with a full three piece bathroom positioned in the back of the RV. This small motorhome also features a galley kitchen, large dinette and a closet.
Gulf Stream Conquest
The Conquest 6237 floorplan comes in at just over 24 feet long. The full bathroom is located in the back on the driver side of the vehicle next to the bed. The front portion of the RV includes a galley kitchen and a large dinette seating area.
Jayco Melbourne 24K
Jayco Melbourne RVs are compact diesel Class C motorhomes. The 24K floorplan offers a spacious three piece bathroom in the middle of the vehicle between the sleeping and dining areas. A rear slide that houses the queen size bed creates a large interior living space.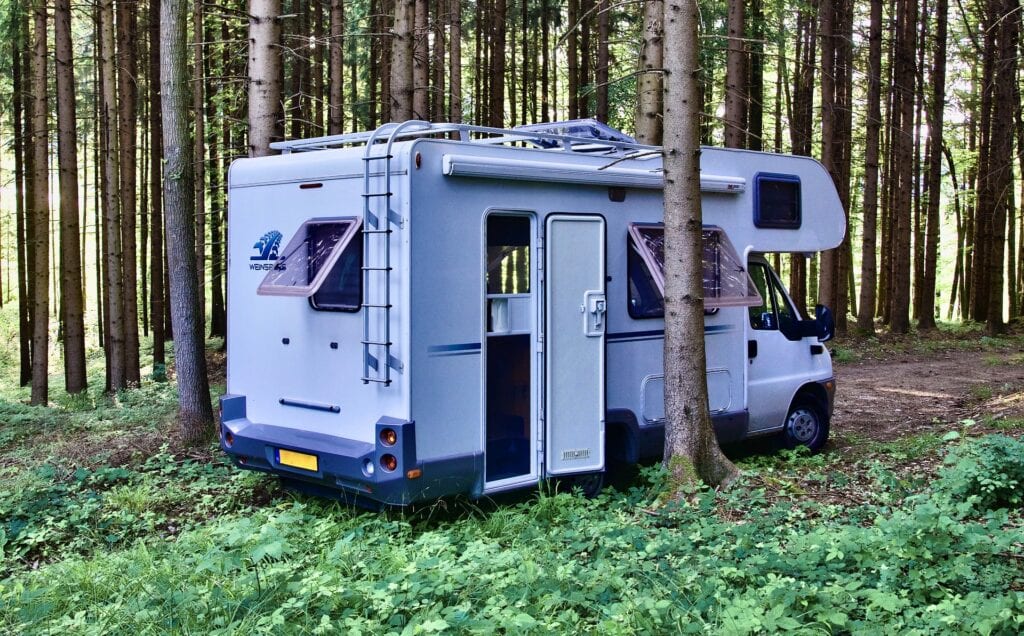 A small RV with a kitchen and bathroom is a great option for traveling in North America. Once you find your perfect RV, head on over to our Amazon shopping list to buy all the gear you will need for safe travels.