This post may contain affiliate links. See our affiliate disclaimer here.
What is the best type of RV to buy or rent for your family? There is no one size fits all answer.  There are several different types of recreational vehicles to choose from, so you need to consider several factors to determine which RV is right for your family. Below are pros and cons of each RV type.
Fifth Wheels and Travel Trailers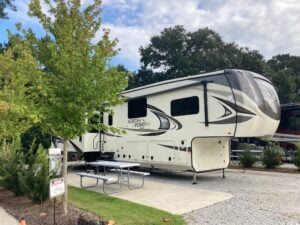 PROS
Layout: Fifth wheels tend to have the most comfortable layout with large living spaces, seating facing a TV and kitchens with extra counter space. The bedrooms are typically in the front section with lower ceiling heights. Longer fifth wheels often have bunkrooms, which are a great option if you are traveling with kids or want a private home office space. (See more RVs with offices here).
Price: Of course, you can find a range of cost options for all types of RVs, but in general, fifth wheels are more affordable than Class As of the same length, even after you factor in the costs of the tow vehicle. The maintenance costs are also lower since they don't have an engine.
CONS
Requires a Truck: If you select a fifth wheel or travel trailer, you will need to a tow vehicle. Furthermore, if your plans include driving through mountainous terrain, you will need a heavy-duty truck. This means that your daily fuel costs to run errands and take day trips will be higher. We have a large dually truck which is great for towing, but not ideal for exploring cities with narrow streets.
Not Connected while Driving: Since you are towing the trailer you won't have access to the amenities of your home when you are driving. I am always a bit jealous when I hear fellow RVers can make lunch while moving.
Class A Motorhomes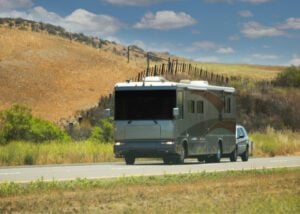 PROS:
Convenience while driving: Class A RVs allow you to have access to most areas of the RV while you are on the road. Of course, you should stay buckled up for safety, but most Class A drivers I have spoken with say their spouses make coffee and go to the bathroom without even pulling over. You also have more comfortable options for traveling with pets.
No Tow Vehicle Required: Since Class A motorhomes are self-contained, you don't need to own a special type of car. You can simply rent the RV and hit the road.
CONS:
Price: A Class A (especially a diesel pusher that will allow you to drive through hilly terrain without difficulty) is the most expensive type of RV. Maintenance is also going to more expensive than a fifth wheel or travel trailer.
Layout: After visiting several neighbors' RVs, I strongly prefer the layouts of fifth wheels and travel trailers. The layout of Class A RVs tends to include a galley style kitchen with limited counter space. They also typically have couches that don't directly face your TV.
Intimidation Factor: If you are a nervous driver, the Class A is the most intimidating to learn how to handle. This con certainly does not apply to everyone, but inexperienced drivers will need to practice before hitting the road.
Note: Class C RVs have many of the same pros and cons as Class A RVs. However, a Class C will typically be smaller and easier to drive and park.
Class B RVs or Vans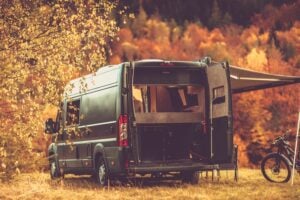 PROS:
Simplicity: If your goal is to have a quiet vacation in nature, a small Class B or a van is the best type of RV to buy. Having less space means you will feel more inclined to spend all of your time outdoors.
Easy to Drive and Park: Driving a Class B is just driving a large van. You will not have to worry about lane sizes and road conditions, which means you can take the scenic route while other RVers are stuck on the interstate. Class B drivers will also have more options for free parking at boondocking sites.
CONS:
Space: If you are traveling with family, you should be prepared to have limited privacy, especially on rainy days. The bed won't be in a separate room so there is no door you can shut. Bathroom space is also very limited (or non-existent) so you should plan to use public bathhouses.
Park Limitations: Some higher-end RV parks and campgrounds, limit the types of RVs that are allowed and may not allow actual vans that aren't classified as RVs.
Pop-Up Campers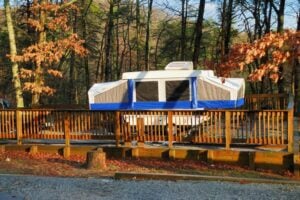 PROS:
Simplicity: Like a van a smaller camper or pop-up will ensure you fully embrace nature on your RV camping trip.
More Tow Vehicle Options: While any trailer will require a tow vehicle, you can easy tow these smaller units with an SUV or small truck.
Price: These RVs are very affordable. The fact that you don't need a big truck for towing also reduces your overall costs.
CONS:
Space: While many small campers have a functional layout, space is still going to be limited and the bed, kitchen and living areas are going to be in one room.
Set-Up: A pop-up is going to require more time to set-up at each new destination and you will need to consider how to store larger items when the camper is popped down for travel.
---
What do you think is the best type of RV to buy for your family? Share your pick in the comments section below and head to RV Trader to start shopping!
If you are considering living in an RV, also check out our guide to the best RVs for full time living.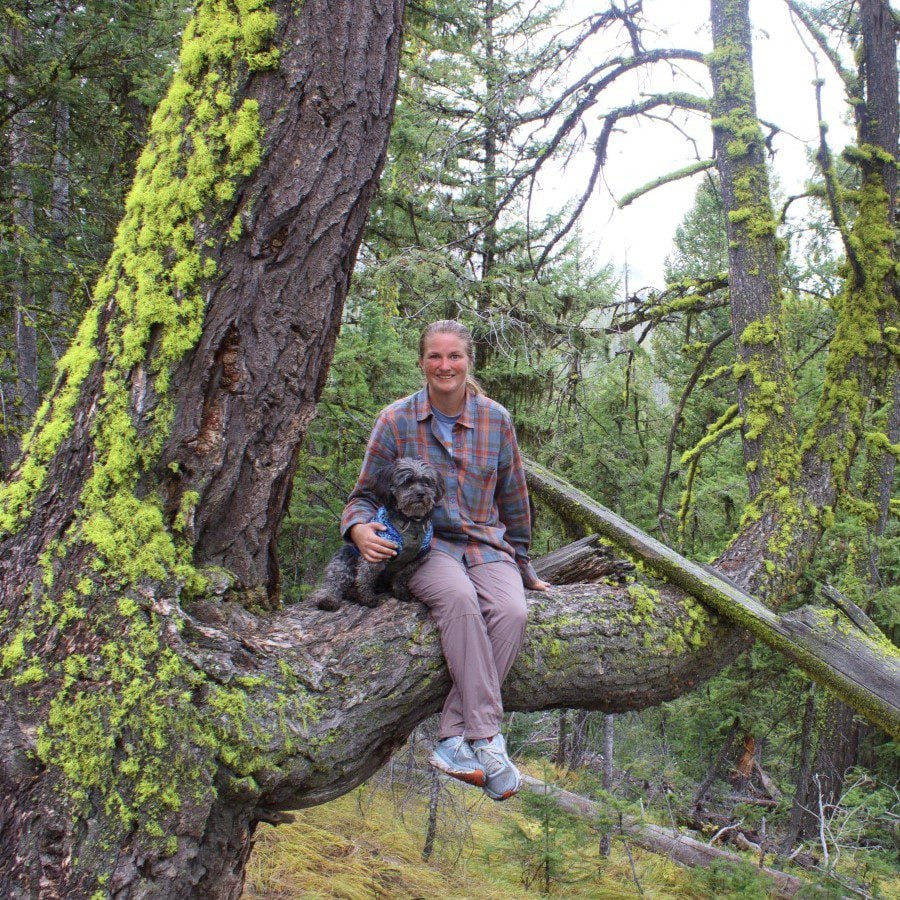 Christina Pate is a seasoned full-time RVer who, along with her husband Justin, has journeyed across the US, Canada, and Mexico. Drawing from her extensive travels, RV repairs and RV renovations, she founded Travels with Ted to guide and inspire fellow RV enthusiasts. Christina is also the co-author of The Owner's Guide to RV Maintenance and the creator of My RV Log Book.