This post may contain affiliate links. See our affiliate disclaimer here.
There are many factors to consider when selecting the best RVs for full time living:
Is buying new or used a better value?
What size RV is best for your family?
Is a travel trailer or motorhome better suited for full time travel?
Which features are most important for your everyday life?
To help you narrow down which RV is best for you, 8 experts and full time RVers share why they picked their RV and what they would change about their current rig.
Best Motorhome RVs for Full Time Living
Many RVers believe that Class C or Class A motorhomes are the best RVs for full time living because they are comfortable for long travel days. Drive-able RVs also give you more flexibility to chose an everyday vehicle instead of having to drive a heavy duty truck.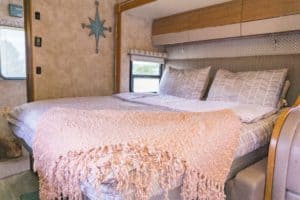 Their RV: 2018 Winnebago Navion, 25 foot Class C
Family Size: Couple with 2 Dogs (Kyla and Pepper)
Why their RV is great for full-timing:
We started with a fifth wheel and found that we weren't as mobile as we wanted. We decided we wanted something a bit more maneuverable – where we could pull off the side of the road for photos or pit stops and not have to stress about where we could and couldn't fit. So length was a huge part of it. Since we travel fast, it's so much easier to just hop in and go, we can park anywhere, and travel days are a breeze. I (Lindsay) even feel comfortable driving it, so we can take turns! But we also loved the layout, which makes 25 feet feel spacious because of the murphy bed. When the murphy bed is up, we also have a couch under it, which gives us a separate dining area and sitting/lounging area. Another great thing about it is the workspace option. We have a detachable table that can be put between the passenger and driver seat or in front of the couch and also a comfy dinette so we have 3 workspace areas!
What they wish they could change:
The price tag. We pay a pretty big monthly payment, and we also don't love the interior design. We don't have a lot of windows because of the murphy bed so it feels a bit dark and dingy at times! Other than that, we love it!
Alowetta and Marc Terrien of Explorateurs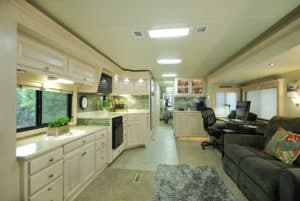 Their RV: 2003 Travel Supreme, 40 foot Class A
Family Size: Couple with 1 Dog (Mac)
Why their RV is great for full-timing:
Early on, we decided that a motorhome fit our needs better than a fifth wheel. We did not own a truck, and motorhomes provide more storage, which is very important for full-timers. Also, we decided that we would search out an older, high-end motorhome with more solid construction. We were fortunate to find a motorhome that was a one-owner (they purchased brand new from the factory), with only 46,000 miles on it. The previous owners spent winters in it, but really didn't drive it that much. Our motorhome has full maple wood cabinetry throughout the home, and the wood is all very light-colored. This gives the home a much larger feel.
What they wish they could change:
We love our home, and even though we have frequented many RV shows over the years, we have never found a better RV for full time living than our own. Our RV has lots of storage, both inside the rig and below in the basement. We took out the dinette because we needed workspace and that continues to serve our purpose. We would love to have the carpet and tile replaced, but because it was a high-end coach, the tile and carpet go completely under the kitchen slide and bathroom, so we would have to have an RV shop remove the slides to replace everything. Maybe someday!
Shirley and Erez Weinstein of Zula Life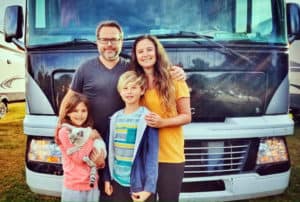 Their RV: 2012 Fleetwood Bounder 34B, 34 foot Class A
Family Size: Couple with 2 Kids (8 and 10 years old) and a Cat
Why their RV is great for full-timing:
We chose this setup mostly because our drive days are super easy. The setup and tear down is a breeze and during the drive the kids can use the bathroom and grab stuff out of the fridge. We like to move fast, and don't stay long at each stop so those features were very important to us.
What they wish they could change:
We really like our setup and added some improvements to fit us like adding solar system and cosmetic changes like adding more whites vs. all that dark brown and beige. I really wish the RV industry would have more design options that fit younger generations and not just retirees .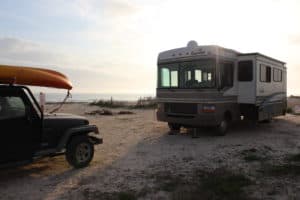 Their RV: 2000 Fleetwood Bounder, 31 foot Class A
Family Size: Married Couple
Why their RV is great for full-timing:
We wanted a smaller RV so we wouldn't be limited by size on where we could go (especially National Parks). The layout of the Bounder worked well for what we wanted too. Also, we knew we would be remodeling a bit, so we could both have office space in the RV (we both work remotely). So, it didn't make sense to us to buy something newer only to rip out part of it!
What they wish they could change:
Honestly, we really love our Bounder! Sure there are some features that come with newer rigs that would be nice, but we really do love our Bounder like it is!
Best Travel Trailers and 5th Wheel RVs for Full Time Living
On the other side of the argument, many families think travel trailers are the best RVs for full time living because of their price and layout. The range of trailers these nomads recommended for full time living is quite wide with their rigs raging from 17 to 40 feet.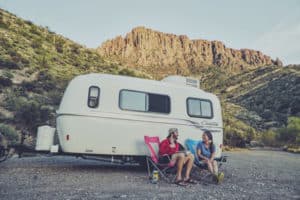 Their RV: 2009 Casita Spirit Deluxe, 17 foot Travel Trailer
Family Size: Couple with a Newborn Baby
Why their RV is great for full-timing:
We started off living in a minivan in New Zealand. The seats were taken out of the back for bed. One week of constant rain on the Coromandel Peninsula had us thinking that there has to be a better way. The other issue is that we always had to pack up the van to head into town. After chatting with some Kiwi folks that had travel trailers, we figured out that is more our style. A travel trailer allows us to drop the home but still use the tow vehicle to go explore. We tend to stay at least two weeks in one place at a time, so this works great for us.
What they wish they could change:
Now that we have a 3rd Nubern on board, We're curious if we will have enough space for us all.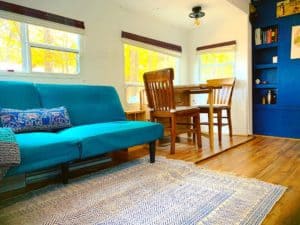 Their RV: 2002 Keystone Cougar, a 29 foot Fifth Wheel
Family Size: Married Couple
Why their RV is great for full-timing:
We were shopping from the get go for full-time living. We also needed enough space in the "main room" for both of us to work at desks since we work full-time as digital nomads. When we first starting looking at RVs we knew we wanted a trailer for the flexibility to unhitch and have a day vehicle. Once we started visiting RV shows to explore models it was immediately apparent that we wanted a fifth wheel. We love fifth wheel layouts. The high ceilings make it feel more like an apartment and the bedroom is usually separate which makes the space feel bigger. Once we knew we wanted a fifth wheel, our biggest requirement was lots of windows, in particular a big back window. Since there's only two of us we wanted one bedroom space, and we wanted the shortest fifth wheel we could get to make it easier for us newbies to haul. Finally, we bought used and renovated, so our final decision was based on price and condition of the trailer.
What they wish they could change:
We ended up changing a lot about the RV when we renovated! To open up the space, we took out the cabinets in the slide. We also converted the media center into a second closet, replaced the battery, installed a solar suitcase, replaced the dining booth, sofa and bathroom sink, installed a desk, painted everything and installed laminate floorboards. We really created an RV we love from a good layout. But our fifth wheel is old, so sometimes we talk about upgrading to a newer model. Our wish list for a future trailer includes a kitchen island, higher bedroom ceilings, automatic leveling, better tank gauges and a better solar set up.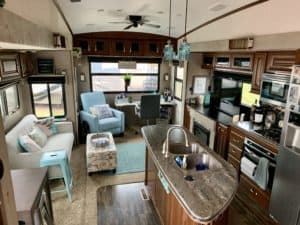 Their RV: Jayco Pinnacle, 40 foot Fifth Wheel
Family Size: Married Couple
Why their RV is great for full-timing:
We wanted something that didn't feel cramped since we would be living, working and traveling in the RV full-time, so we went with a 40 foot fifth wheel which is around 400 square feet. The fifth wheel not only has more space than most motorhomes but it also has high ceilings that make the rig feel bigger. We chose a model with 1.5 baths because we wanted to encourage guests to join us on the road and feel comfortable knowing they didn't have to share a bathroom. It also allows us to have more storage space, and we get a larger master bath with double sinks as a bonus.
What they wish they could change:
The only thing I would change about our RV is to have a separate working area to get a tax deduction.
Justin Baney and Christina Pate of Travels with Ted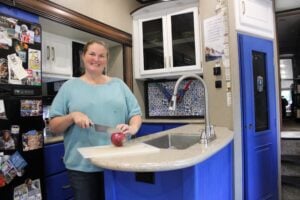 Their RV: Grand Design Reflection, 34 foot Fifth Wheel
Family Size: Married Couple with a Dog and a Cat (Ted and Mr. Man)
Why their RV is great for full-timing:
Our RV has a great layout for full time living. The main room has a large kitchen, room for a desk and a comfortable living area. The fifth wheel also has high ceilings for Justin, who is 6 feet, 7 inches tall. We preferred a towable RV with a truck, so we would have a vehicle for day trips. We also loved the amount of storage space in our Reflection, which has a large closet in the bedroom. A fifth wheel was also a great choice for us because the area behind interior staircase provides the perfect place to keep our cat's litter box.
What they wish they could change:
The only thing we would really change is the size of our RV. The 34 foot length limits where we can park and boondock. For our next RV, we will still choose a fifth wheel, but we will select a model under 30 feet.
How to Select the Best RV for Full Time Living
Now that you've seen the experts' picks for the best RVs for full time living, it's time to start shopping for your own home on wheels.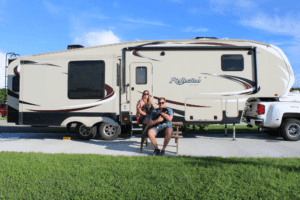 Budget
When shopping for an RV, always set your budget before you start browsing RVs. You do not want to find your perfect RV only to discover that you cannot afford it.
Unsure of what your monthly expenses will be like living in an RV? Use our RV Living Budget Calculator to better understand the real cost of RV life.
Drive or Tow
The next major consideration when selecting an RV is whether you want to drive a motorhome or tow a trailer.
The main advantage of motorhomes is comfort during travel. In a drivable RV, you have easy access to your kitchen and bathroom on travel days. However, motorhomes generally cost more than travel trailers. Full time RVers who live in a Class A or Class C typically need to tow a car for everyday use.
Travel trailers and fifth wheels are the preferred RVs for many full time families. These towable RVs generally have homier layouts and are less expensive. However, trailers will require a tow vehicle large enough to handle the weight of the RV.
If you are unsure what type of RV is best for your needs, see our guide to the best RVs for every family size.
Size
The final major consideration when selecting the best RV for full time living is size. There is no perfect size RV, but the length of your RV will impact your travels.
Some full time families choose large RVs to maximize sleeping space and privacy for kids. On the other hand, adventurous full time RVers often choose smaller RVs so they can access smaller, more remote camping areas.
---
Thanks for reading out guide on the best RVs for full time living!
As you can tell, there are several factors that will play into the decision of which RV is best for your full time lifestyle. Before shopping, consider how fast you will travel, how many beds you need and what size workspace you require.
Whichever RV you choose, I can assure you that full time RVing will be an amazing journey. Check our article on the pros and cons of RV life for more inspiration.
Are you already on the road or dreaming of full time travel? Share your dream full time RV in the comments below.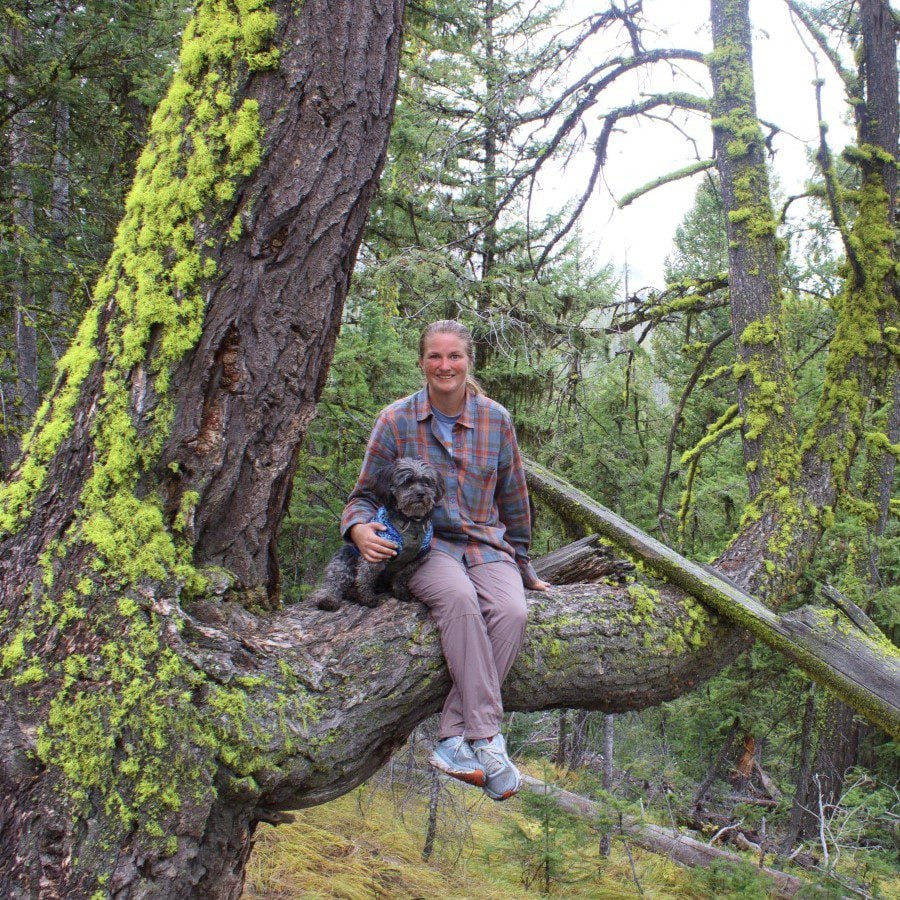 Christina Pate is a seasoned full-time RVer who, along with her husband Justin, has journeyed across the US, Canada, and Mexico. Drawing from her extensive travels, RV repairs and RV renovations, she founded Travels with Ted to guide and inspire fellow RV enthusiasts. Christina is also the co-author of The Owner's Guide to RV Maintenance and the creator of My RV Log Book.