This post may contain affiliate links. See our affiliate disclaimer here.
Most fifth wheel RVs are designed with the the bedroom in the front section and the kitchen in the middle of the RV connected to the living room. However, there are a few fifth wheel manufacturers who offer a desirable front kitchen that provides extended counterspace and allows for a rear bedroom with views out the back window. Below are 12 awesome Front Kitchen Fifth Wheel RVs that you can buy new today!
Once you find the perfect RV, you will also need to buy lots of gear to keep you safe and happy on the road. Check out our Amazon shopping list for all the gear you need to successfully hit the road.
Keystone Front Kitchen Fifth Wheel RVs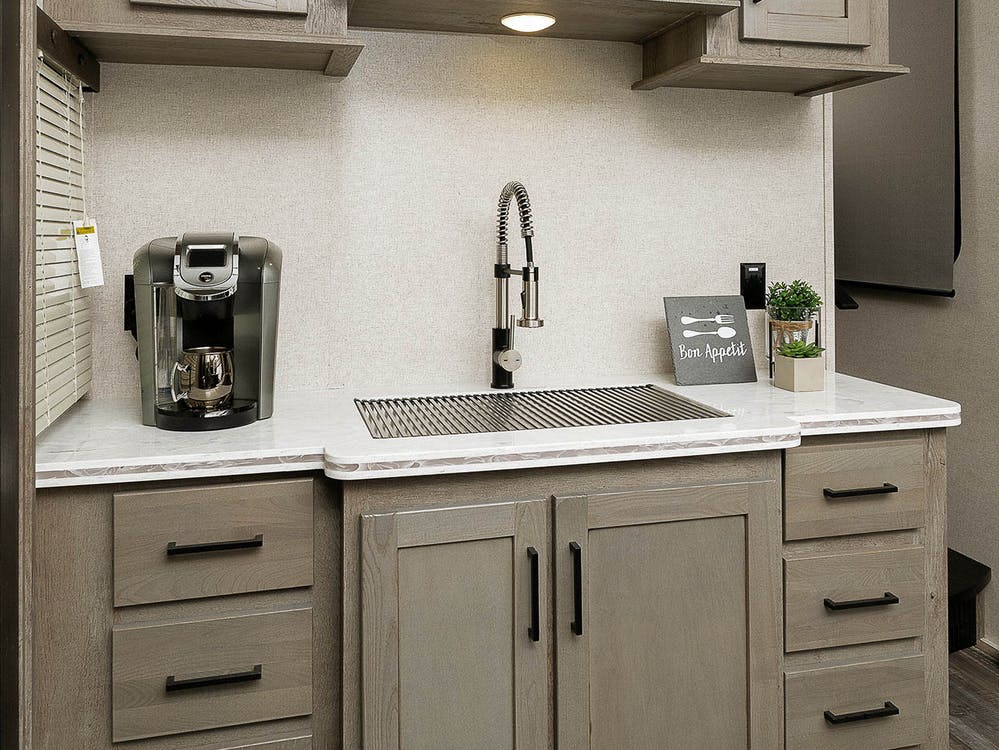 Alpine 3790FK
The Alpine 3790FK is 41.5 feet long and features many luxury upgrades. The 2021 model offers a front kitchen with Aspen Oak woodgrain cabinets, an extra deep sink and bar seating for two. In addition to the front kitchen, Alpine fifth wheels come with an optional third air conditioner, Nautilus tankless water heater, a powered cord reel and a premium audio system.
Montana 3740FK
This 40 foot fifth wheel from the popular Montana brand offers a front kitchen with mid-living and bath and a rear bedroom. The eat-in kitchen features a dinette booth which sits in the nose of the RV. In the living room there are two hide-a-bed-sofas for extra sleeping space. Both décor choices available with the 3740FK, offer Montana's Modern Maple cabinetry and other modern finishes. Click here to see our top choices for RVs with modern interior décor.
Raptor 427
A rare toy hauler front kitchen RV, the Raptor 427 is a truly unique layout. The large front kitchen has tons of counter space, a pantry and bar seating for two. The rear bedroom sits above a below floor garage that can fit a motorcycle or other large toys. Raptor toy haulers feature many other cool amenities including wireless charging stations, back up camera and a zero gravity ramp door.
Sprinter 361FKS
Another 40 foot fifth wheel, the Sprinter 361FKS has a great front kitchen layout. The Sprinter's kitchen features ample counter space, a large stainless steel RV refrigerator and unique bar seating that is completely open to the living area below. The RV also comes equipped with a king-sized bed, outdoor kitchen and washer/dryer hookups in the bedroom.
Forest River Front Kitchen Fifth Wheel RVs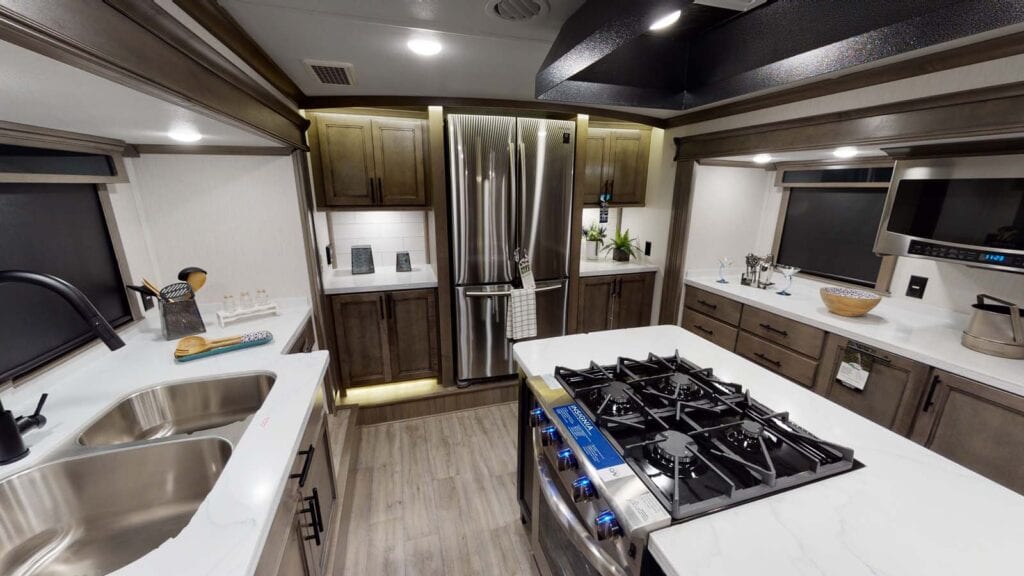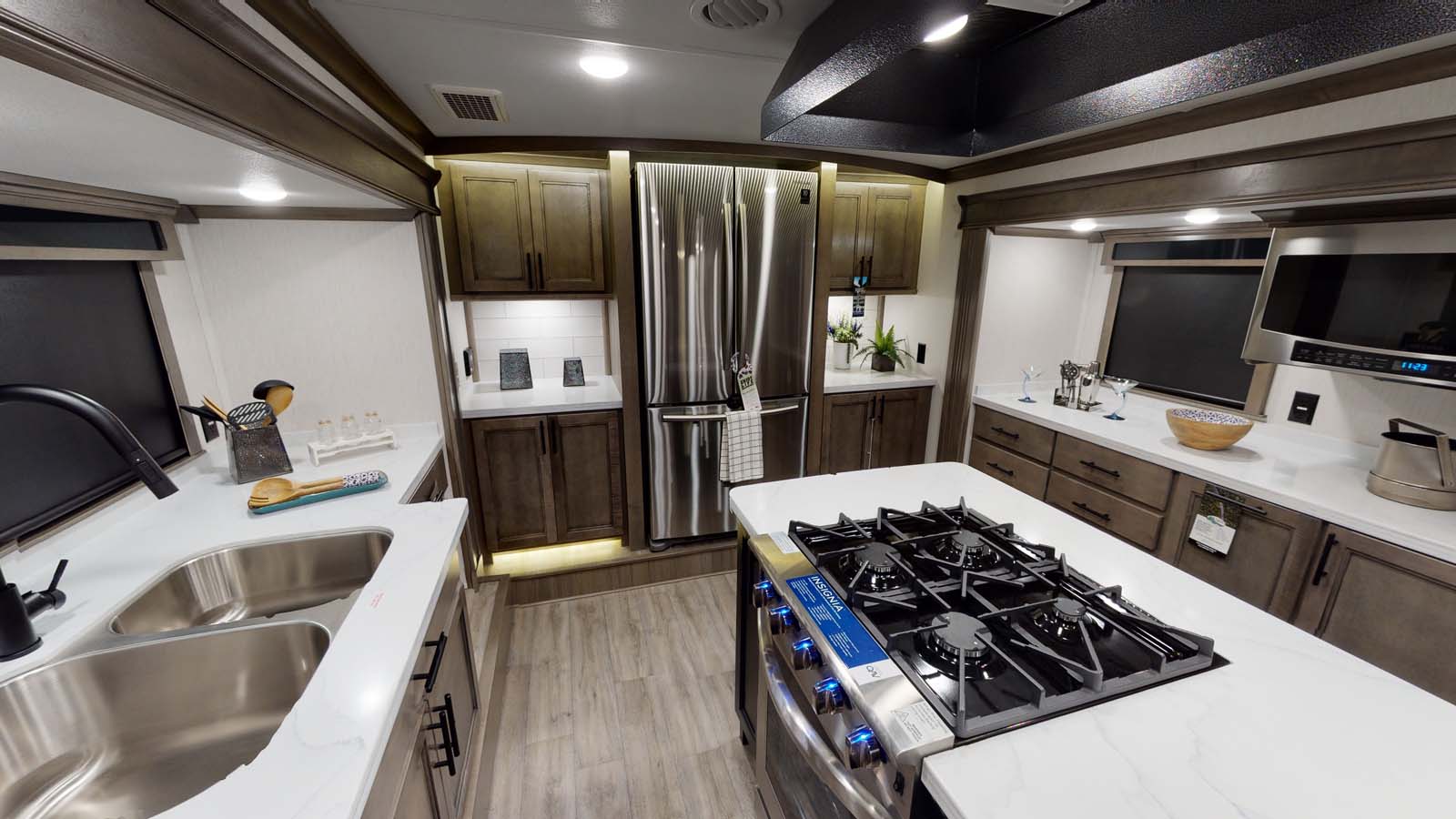 Cardinal 403FKLE
The Cardinal front kitchen fifth wheel is a spacious 42 foot model. The floorplan includes double entrances, one by the bathroom and one on the front end of the living area near the kitchen. In the well-designed kitchen, campers can enjoy a huge residential refrigerator, pantry, bar seating for two and pull out trash. Cardinal fifth wheels also have king-sized beds and washer/dryer hookups in the bedroom.
Riverstone 391FSK
The Riverstone front kitchen fifth wheel also features a spacious kitchen with a residential refrigerator, but this kitchen has some additional high-end upgrades. The unique layout includes a center island with the range built-in, and a dishwasher is included! This luxury RV also includes a large, walk-in shower, a built-in desk, bar seating and washer/dryer hookups in the bedroom.
Sandpiper 38FK0K
The Sandpiper 38FK0K RV was built for campers who love to cook. The front kitchen features an island with the sink built-in, a residential refrigerator, tons of counter space (including a large buffet counter) and bar seating for two. Also included are double entrances, two hide-a-beds in the living room, washer/dryer hookups in the bathroom and an outdoor kitchen.
XLR Nitro 405
Forest River's XLR Nitro 405 is a huge 45 foot toy hauler RV. The layout includes a front kitchen, full living room, queen bedroom and a separate garage. In the kitchen, there is ample counter space and a large stainless steel RV refrigerator. There is no separate dining area, but the living area seats six and the recliners include built-in tables. The garage has couches that fold down into a bed and connects directly to a half-bath to make a complete guest suite.
Other Front Kitchen RVs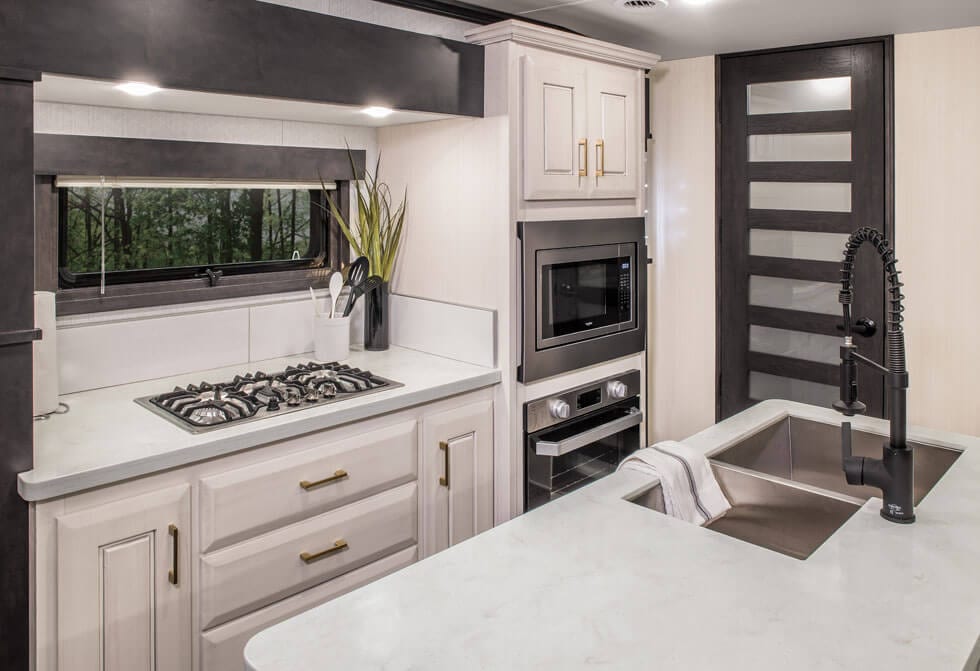 CrossRoads Cameo CE4021FK
CrossRoads Cameo is a luxury brand that makes high-end fifth wheels for the most discriminating customers. The kitchen in the CE4021FK floorplan includes a large pantry, stainless steel residential refrigerator and an eat-in dining table with seating for four. Additional comforts include a washer/dryer hookup in the large bathroom and fireplaces in both the living room and bedroom.
DRV Mobile Suites 41 FKMB
DRV is another brand that makes luxury fifth wheels that offer all the comforts of home for full time RVers. The Mobile Suites 41 FKMB floorplan offers a front kitchen with all stainless steel appliances, including a large residential refrigerator, convection oven and dishwasher. The kitchen also includes pull-out garbage, a hand-laid glass backsplash and an enormous lighted pantry. Mobile Suites fifth wheels also come with high density insulation for all season camping.
Heartland Landmark Tuscan
The Tuscan floorplan for Landmark fifth wheels includes a eat-in front kitchen. A dinette with booth seating is located in the nose of the fifth wheel in the kitchen area. The kitchen includes natural hardwood cabinets, a large stainless steel sink and a pantry. Landmark fifth wheels also have power tilt king-sized beds and spa-style baths with marble-looking showers.
Palomino Columbus 388FKC
The Columbus fifth wheel is a 40 foot front kitchen RV. The kitchen has a very high-end feel with a residential refrigerator, solid white countertops, range with a modern, stainless steel vent hood and bar seating. Other luxury features in the Columbus include a large, double vanity bathroom, tankless water heater and washer/dryer hookups in the bedroom.
Used Front Kitchen Fifth Wheels
If the above new fifth wheels are out of your budget, consider searching for a used rig on RV Trader. Front kitchen fifth wheel models are very desirable, so you will need to search frequently yo find a good bargain. If you plan on purchasing a used fifth wheel, learn how to correctly value a used RV before starting the purchase process.
---
Any front kitchen fifth wheel is going to be a spacious RV with a practical floorplan. Before purchasing a fifth wheel consider your optimal budget, ideal length, tow vehicle requirements and the interior design.
Which front kitchen RV is your favorite? Share your pick in the comments section below.