This post may contain affiliate links. See our affiliate disclaimer here.
One of the main benefits of living in an RV is the limited amount of cleaning that needs to be completed. However, the one area RV campers are constantly cleaning is the floor. After days spent hiking and playing on the beach, RV floors are always covered in sand and dirt.
Which is why a vacuum is a must have cleaning tool for any RV owner. Below are the 15 Best RV Vacuum Cleaners to keep your floors dirt free!
If you are new to RV travel or RV living, check out our full list of must have RV supplies to make sure you are prepared for an awesome road trip.
Do RVers Need to Own a Vacuum?
The short answer is yes. Over five years ago, when we first moved into our fifth wheel RV, we gifted our fancy Dyson vacuum to a friend before hitting the road. Unfortunately, we soon realized that was a big mistake.
Being pet owners with an outdoor-focused lifestyle, we were constantly bringing sand and dirt into our tiny home. The broom worked well enough on our vinyl floors, but we were sweeping constantly and the carpets were just plain gross.
We now own a lightweight, compact vacuum that helps us keep our RV clean and tidy. When downsizing for RV living, definitely consider the size of vacuum, but do not forego one altogether.
Features of a Great RV Vacuum
There are several important features that make a vacuum great for use in an RV. While there are not many cleaning tools made specifically for use in an RV, campers should consider the following attributes when selecting what RV vacuum cleaner is best for their rig.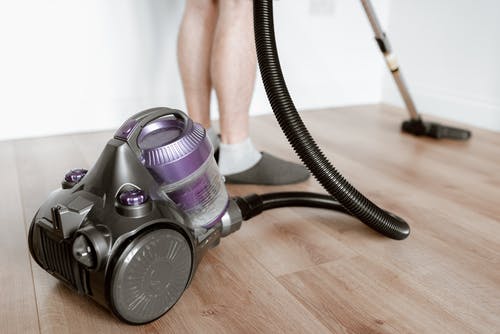 Size and Easy Storage
When shopping for any houseware item for an RV, size and weight are key considerations. RV owners should select compact vacuum models, such as handheld or stick vacuums. These small vacuums can easily be stored in a cabinet, behind a door or in the basement storage area of any RV.
Robot vacuums are also compact, but are typically not the best choice for tiny spaces, such as RVs, because they cannot navigate tight nooks and corners.
Ease of Use
Just as important as size is ease of use. RV campers should look for vacuum cleaners that are easy to maneuver in tight spaces. Key usability features in the best RV vacuum cleaners include a swivel head, strong suction and attachments for small spaces.
A crevice tool attachment is essential for cleaning in hard to reach corners and under slide outs. The best vacuums will also include attachments for dusting and cleaning upholstery.
Cordless Design
Cordless vacuum cleaner models are the ideal selection for RV cleaning. Long vacuum cords will be easily tangled in a small space and impact maneuverability.
Cordless models are also more likely to have other key RV features including a compact design and rechargeable battery. If you decide to purchase a vacuum with a cord, make sure the cord is retractable for easy storage.
Rechargeable Batteries
RV campers need to be able to vacuum their floors even when they are boondocking in the desert, so the power source is an important consideration. A vacuum with a rechargeable battery can be charged while connected to shore power and used while dry camping.
The longer the vacuum cleaner's battery life, the better it is for RV living. Look for vacuums that will run for a long time, so you can clean the entire RV multiple times on one battery charge.
Washable Filters
The best RV vacuums do not require any replacement parts. When traveling around the country or camping in the wilderness, it may be difficult to find specific filter or bag replacements. Look for vacuums that come with reusable HEPA filters that can be washed instead of replaced.
Noise Level
As with any appliance, a noisy vacuum can be annoying. Noise can be particularly bothersome for RV owners who are living and working in cramped spaces with neighbors close by. Read online reviews to ensure your selected RV vacuum is not overly loud.
Suction Setting and Attachments
RV vacuum cleaners are used for more than cleaning floors. Vacuums are also an important tool in RV air conditioning maintenance. Air filters and evaporator coils on your RV's AC can be cleaned with a vacuum. To select a machine that will work well for cleaning air conditioning components, select a vacuum with a low suction setting and a long attachment.
Best Handheld RV Vacuum Cleaners
A handheld vacuum cleaner is a great choice for RVers because they are super compact and can easily be stored in a cabinet. Another benefit of handheld vacuums is they are multi-purpose.
In addition to RV floors, handheld vacuums can be used to clean your furniture and tow vehicle. Handheld vacuums are best for RVs with vinyl floors that can be swept. If your RV has a lot of carpet, buy an upright vacuum.
Best Overall Handheld Vacuum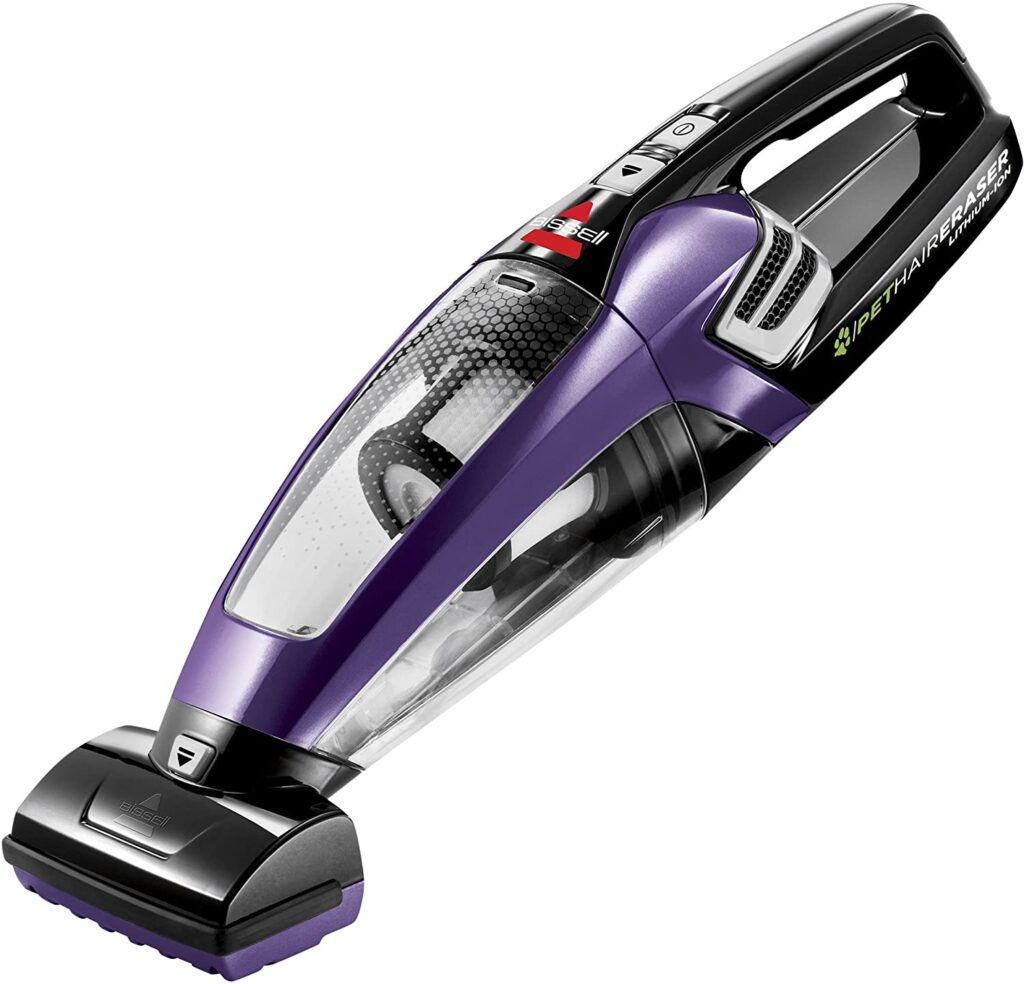 Price: $69.99
The Bissell Pet Hair Eraser is a our top pick for a high-powered handheld vacuum. It is a perfect option for all RV owners, regardless of how many pets they own. The Pet Hair Eraser is designed to remove embedded debris like dirt and pet hair.
For hard to clean surfaces and tight spaces, this Bissell handheld vacuum comes with multiple attachments including a crevice tool. A 14 volt lithium-ion battery provides extended run time, and the dirt bin is large and easy to empty.
Handheld Vacuum Runner-Up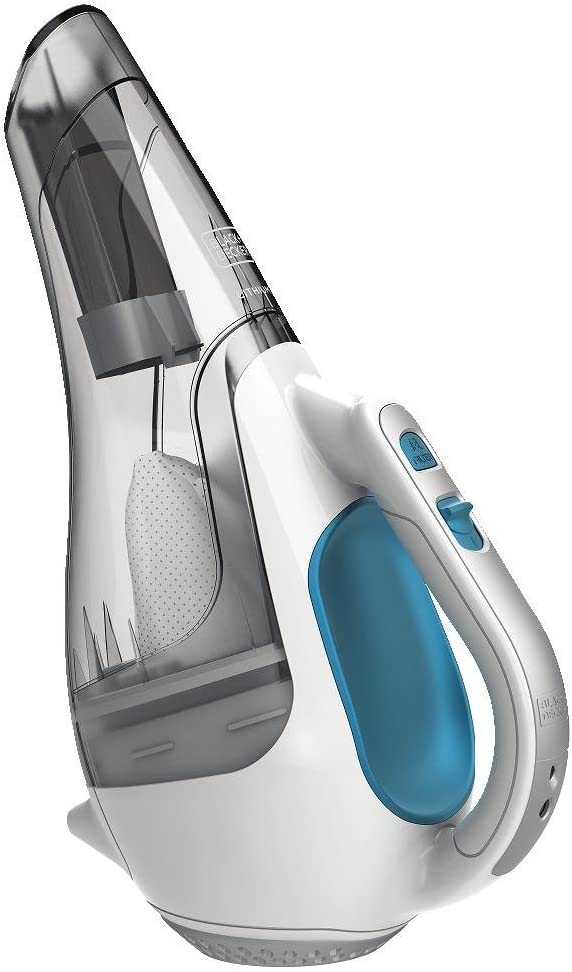 Price: $42.99
Black and Decker's cordless handheld vacuum is a great reasonably-priced cleaning tool for RV campers. It also has lithium battery technology for an extended run time and comes with a crevice tool for hard to reach areas.
The wide mouth is great for picking up large debris, such as kitchen crumbs or pet food. With a lightweight design (it weighs less than two and a half pounds), this Black and Decker vacuum is extremely portable .
Best Affordable Handheld Vacuum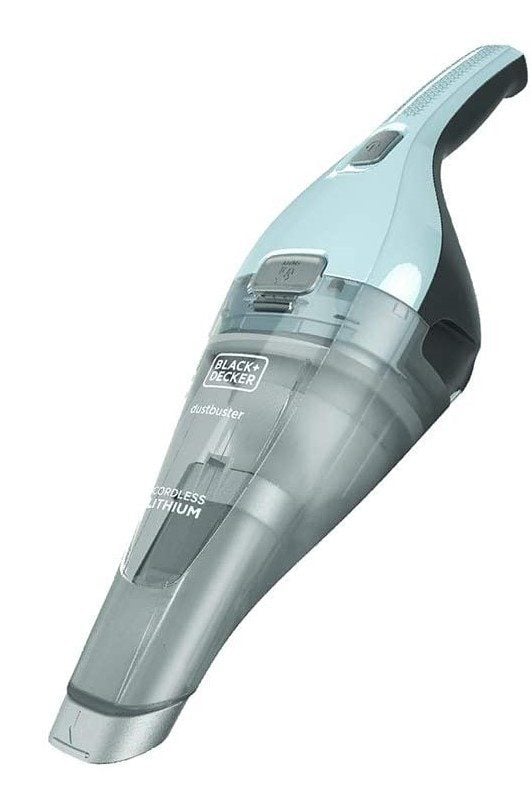 Price: $29.99
If price is your biggest consideration, this cordless, handheld vacuum made by Beyond by Black and Decker is a great bargain. The vacuum's charger can be mounted directly to the wall, so it serves as a charging station and a storage solution.
At 11 ounces, the dirt bowl capacity is smaller than our other picks, so this vacuum will need to be emptied more frequently.
Best Upright RV Vacuum Cleaners
For a full-size vacuum, the best vacuum cleaners for RVs are typically lightweight, compact stick vacuums. These slim vacuums take up limited space, but still have plenty of cleaning power. Stick vacuums are also ideal for navigating under RV furniture without having to get down on your hands and knees.
Best Overall Upright Vacuum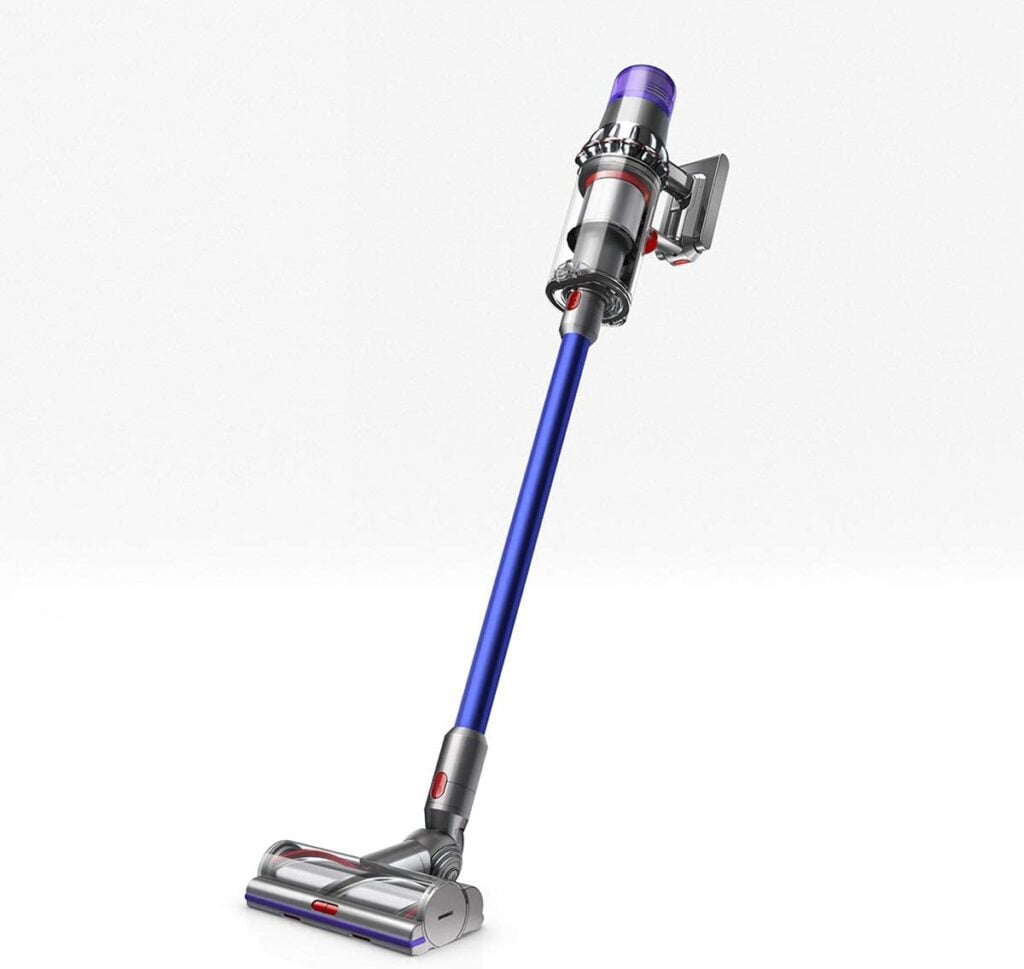 Price: $594.00
If you want the power of a premium brand, the Dyson V11 Torque is the best RV vacuum cleaner for you. Dyson promises that this stick vacuum has twice the power of any other cordless vacuum on the market.
With 60 minutes of run-time, it has sufficient battery life to vacuum your tiny home multiple times. Cleaners can easily check the amount of battery power left with the push of a button on top of the vacuum.
Upright Vacuum Runner-Up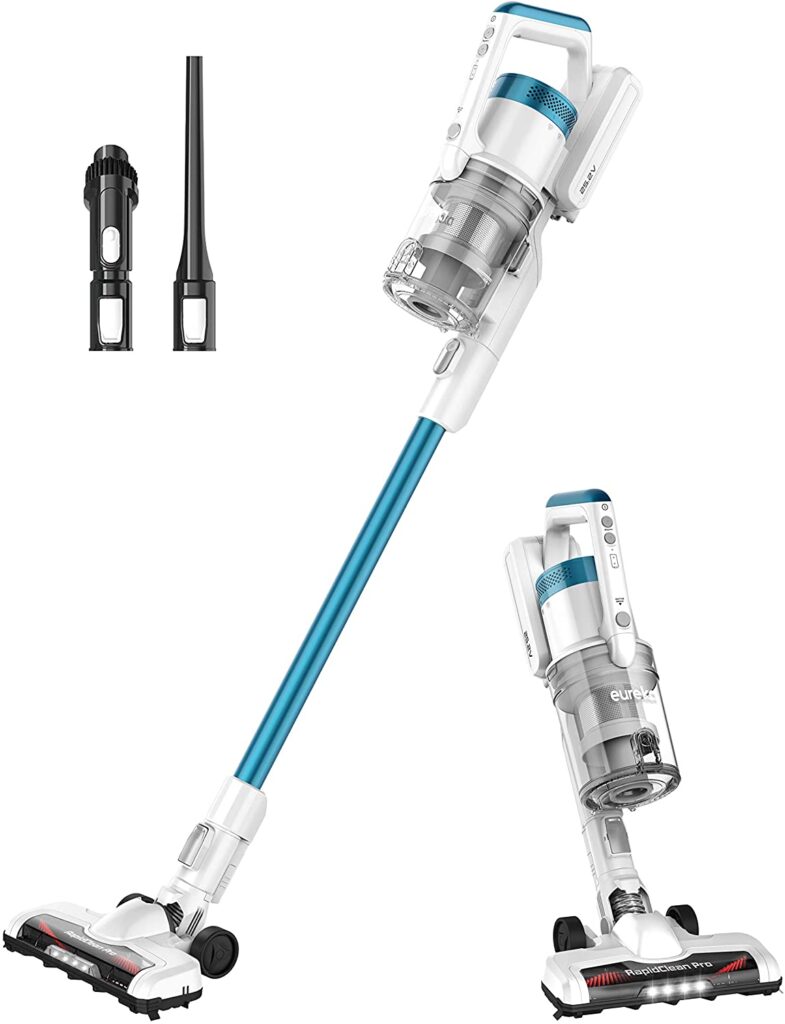 Price: $154.99
The Eureka RapidClean Pro Lightweight Essential is a great mid-price vacuum for RVers who want a high-quality product but can't afford the Dyson.
With a raised dust cup and swivel steering, the Eureka stick vacuum is perfect for getting under living room furniture. It's 40 minute fade-free run time is more than enough to vacuum your RV a few times.
Best Affordable Upright Vacuum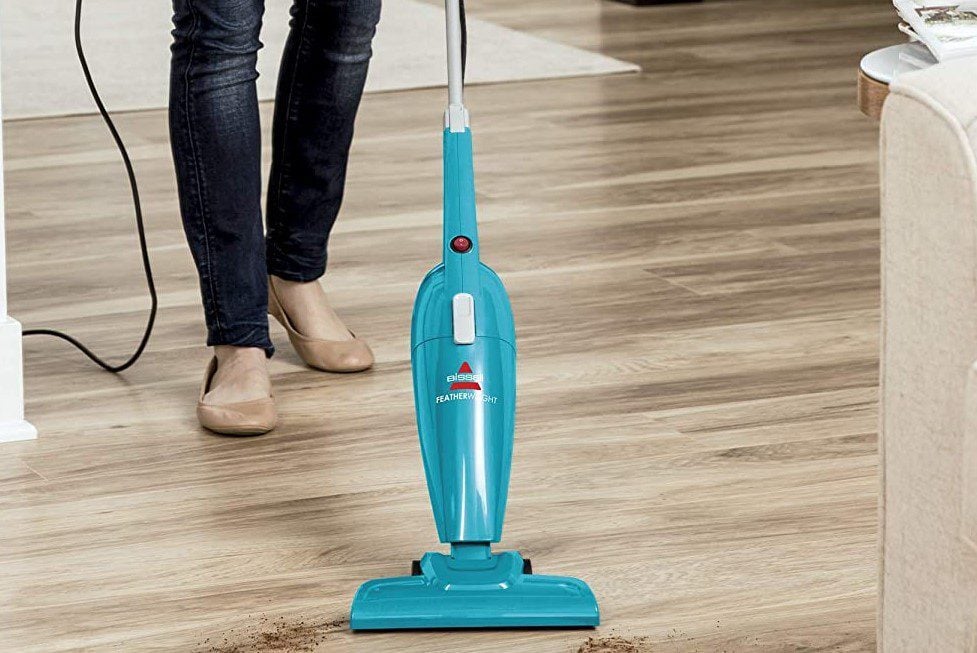 Price: $29.99
The Bissell Featherweight Stick Vacuum offers great function for very little money. It is a dual-use vacuum with a detachable bottom section that can be used as a handheld vacuum.
The powerful suction in a lightweight vacuum makes this cleaner perfect for RVs. As an added bonus, the Bissell Featherweight is available in several fun colors including blue, green and purple.
Best Canister RV Vacuum Cleaners
Canister vacuum cleaners are another great style for cleaning RVs. While canister vacuums typically weigh more than upright stick vacuums, they also offer larger dust bowls that do not have to be emptied as frequently.
Their long-hose design also allows RVers to reach any small space or tight corner. However, almost all canister vacuums are corded, so they are best for RVers who do not boondock or dry camp. Many canister vacuums still have bags, so look for a bagless model for easier use.
Best Overall Canister Vacuum
Price: $329.99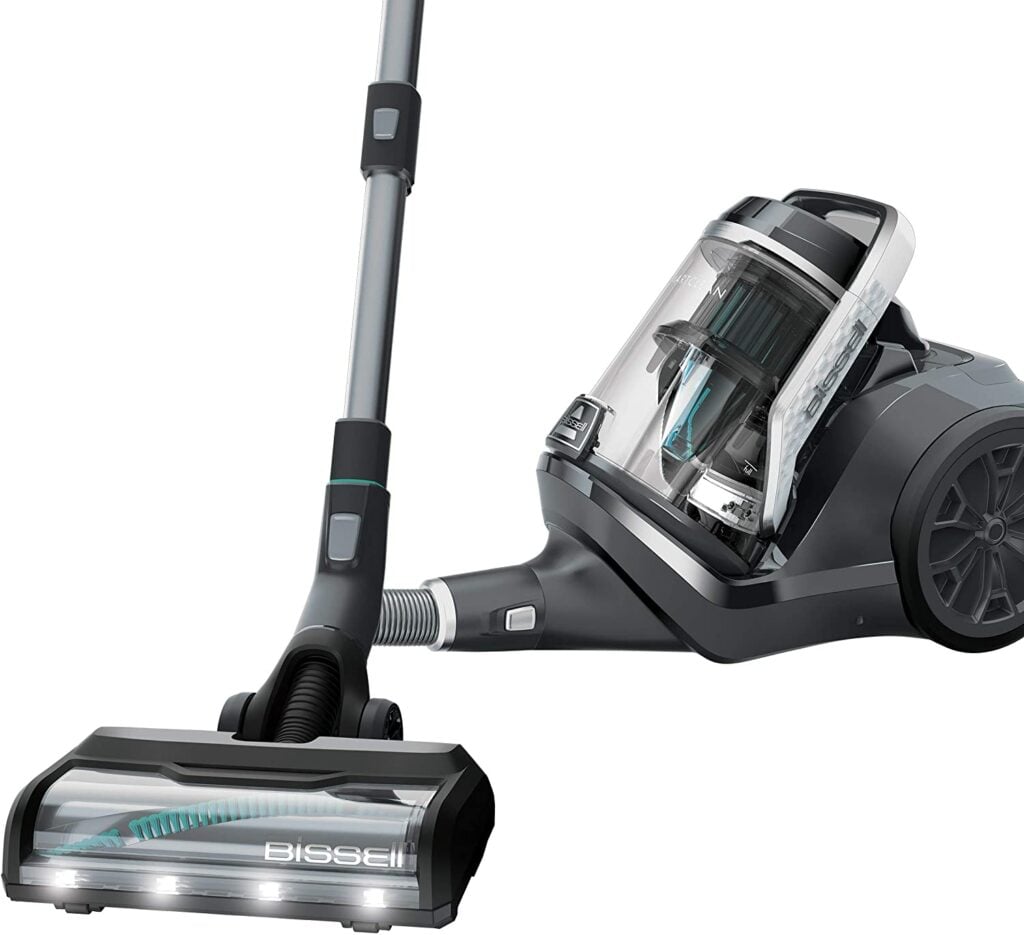 The Bissell Pet Hair Eraser is a powerful, compact vacuum. For RVs with both carpet and vinyl floors, this bagless Bissell vacuum automatically detects the floor type and adjusts its suction power accordingly.
Another deluxe feature is the vacuum's tangle-free brush which is super effective at cleaning up pet hair and other debris. A crevice tool and dusting brush attachment are included.
Canister Vacuum Runner-Up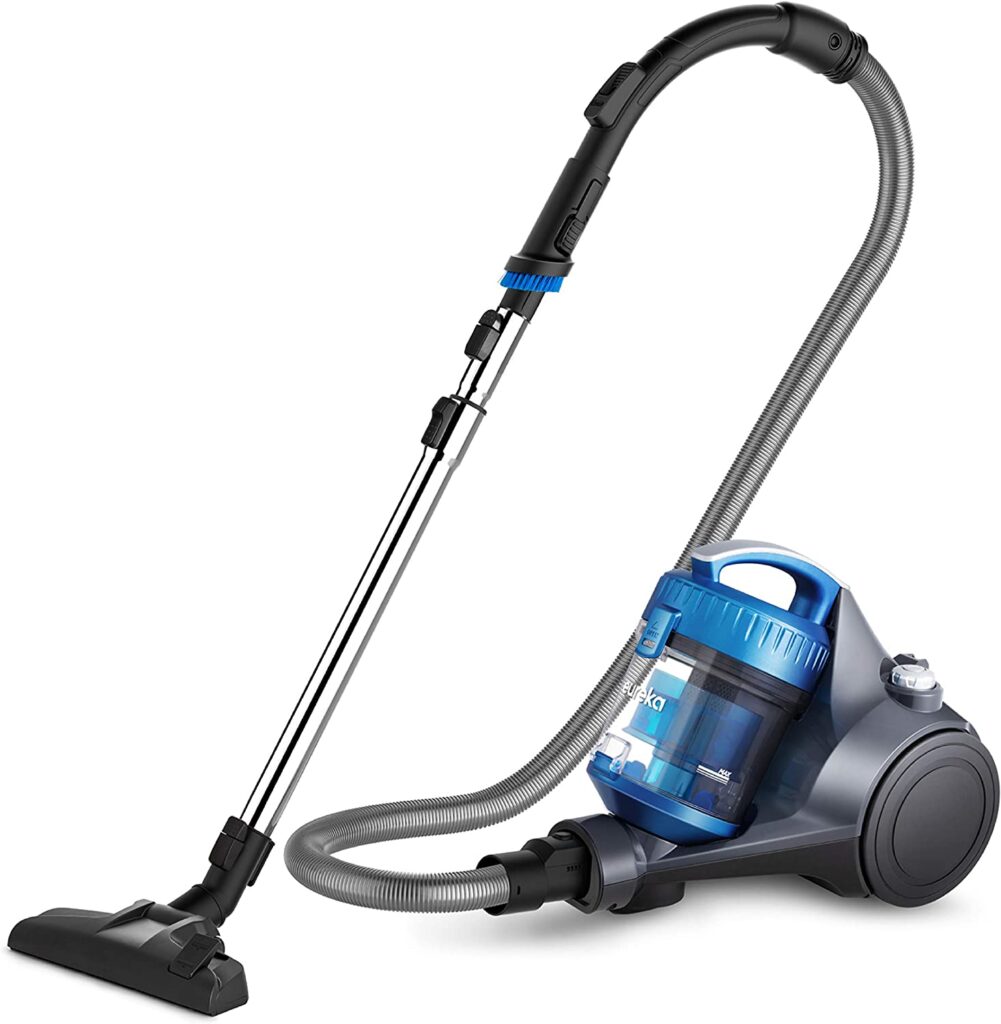 Price: $89.03
The Eureka Whirlwind is another great bagless, canister vacuum for RVers. With the flip of a switch, the vacuum's suction power can be changed from carpet to upholstery or hard surfaces.
The Whirlwind is great for RVs because it weighs less than eight pounds and has swivel steering to reach tight spaces. A crevice tool is integrated into the hose handle, so it will not get lost.
Best Affordable Canister Vacuum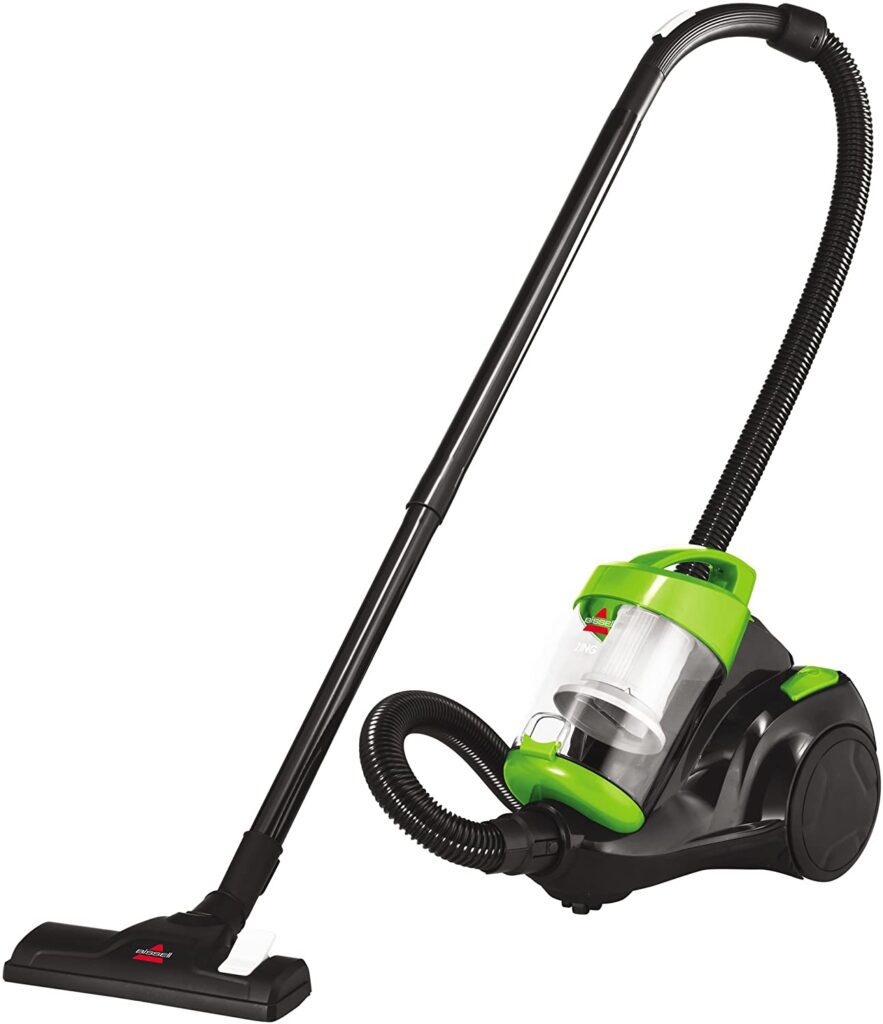 Price: $59.00
The Bissell Zing is the best bargain canister vacuum for RV owners. It also weighs less than eight pounds and has a long handle to reach small spaces and under furniture. A switch changes the power to the appropriate suction for carpets or hard floors.
The Zing vacuum also includes a crevice tool, a dusting brush and a multi-surface floor tool. The vacuum's 15 foot power cord is automatically retracted with the touch of a button.
Best Wet Vacuums for RVs
Any camper knows that water is the nemesis of RVers. Water damage can cause serious, expensive to repair damage to RVs. Unfortunately, it is super easy to flood your recreational vehicle when flushing the holding tanks.
Fortunately, there are wet vacuums on the market that allow RV campers to easily suck up water to minimize water damage. I highly recommend that all RVers own a wet vacuum in addition to one of the traditional vacuums we have already suggested.
Best Overall Wet Vacuum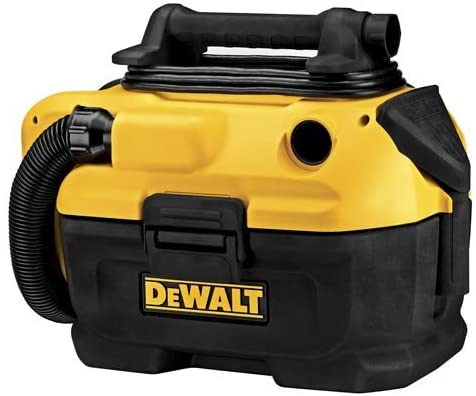 Price: $288.00 (with 20V battery included)
The Dewalt 20 Volt Max Vacuum is a great option for cleaning up water leaks in an RV. This vacuum comes with cordless battery or corded power options, so it can be used in any camping situation.
It's large 20 gallon capacity is ideal for quickly cleaning up major leaks and preventing serious water damage. Crevice tool and wide mouth attachments are included, so the vacuum can be used anywhere in your RV.
Wet Vacuum Runner-Up – REPLACE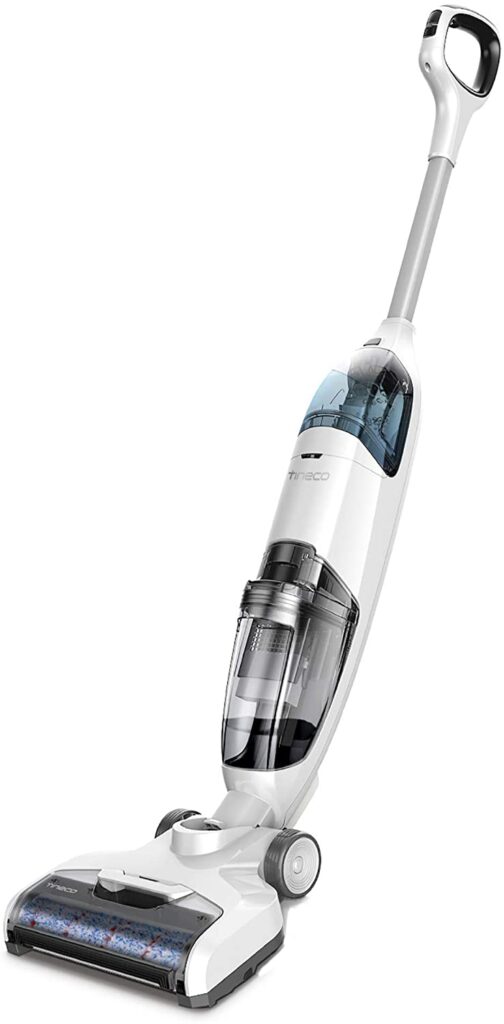 Price: $128.00
The Tineco iFLOOR Cordless Wet Dry Vacuum Cleaner and Mop is a powerful all-in-one RV cleaning tool. In addition to working as a standard upright vacuum, the iFLOOR can clean up water and be used as a mop.
The cordless vacuum has 22 minutes of run time. With only a 0.4 liter dirty water tank this vacuum cannot handle as large of leaks as other wet-dry vacuums. Since this vacuum also works as a mop, it is best for RVs that do not have any carpeted floors.
Best Affordable Wet Vacuum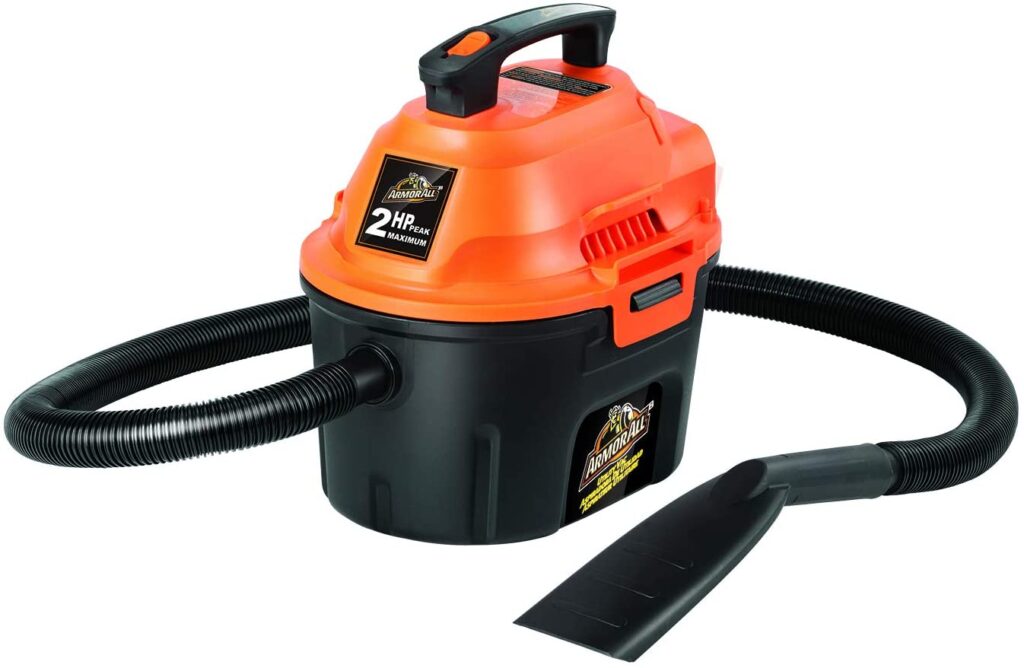 Price: $54.50
The Armor All HP Wet-Dry Utility Shop Vacuum is another great tool to clean up water. The 2.5 gallon capacity vacuum has enough capacity to clean up significant amounts of water at once, without taking up too much storage space in an RV.
It includes several attachments including a crevice tool. On the downsize, the vacuum is corded and must be plugged in to run.
Best Robot Vacuum for RVs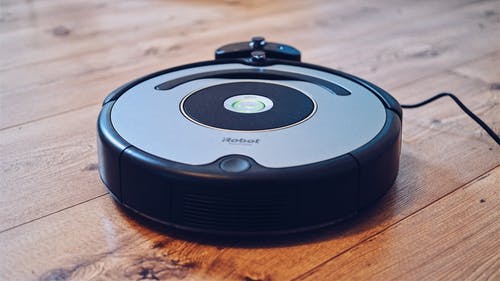 We do not recommend robot vacuums for RVs. Although robot vacuums are constantly improving, they are still not small enough to clean all of the tight corners found in an RV or tiny home. Most robotic vacuums are also unable to climb stairs, so they have to be manually moved into any areas of RV that are raised, such as slide outs.
Best Steam Vacuums for RVs
Steam vacuums are popular because they can kill germs and bacteria without the use of any chemicals. However, steam vacuums are not a great choice for RV cleaning.
The heat produced by steam vacuums can sometimes warp the laminate and vinyl flooring found in most RVs. However, if your RV has a large amount of carpet, the below steam vacuum may be a good cleaning tool.
Best Steam Vacuum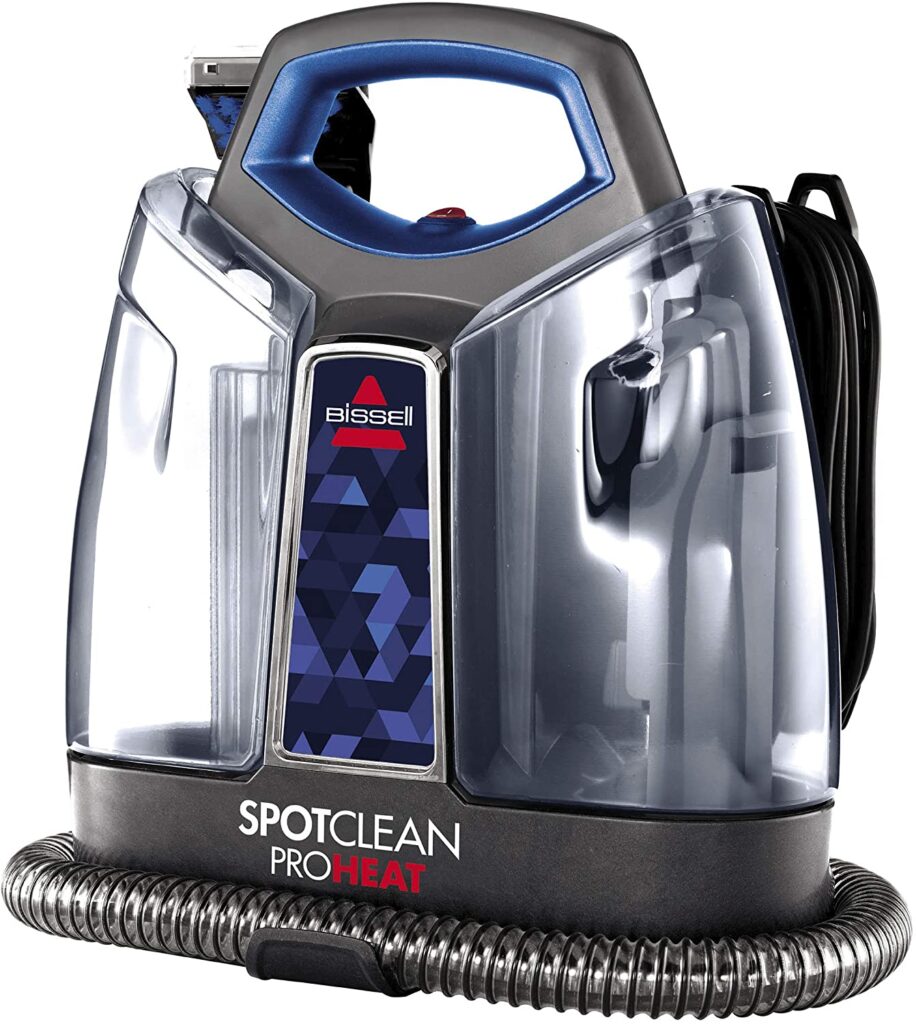 Price: $119.99
The Bissell SpotClean ProHeat Portable Spot and Stain Carpet Cleaner is the best option for steam cleaning in a RV. The SpotClean was designed to be portable, so it is small and lightweight.
Although it is compact, it is still powerful and can remove embedded stains in carpet or upholstery. This portable cleaner can also be used to deep clean the interior of your tow or toad vehicle.
Central Vacuum Cleaners in RVs
What is a Central Vacuum Cleaner?
A central vacuum cleaner, is a cleaning system that is built into the RV in order to maximize cleaning power without utilizing too much space. The vacuum in these systems is installed in a cabinet or storage bay.
The included hoses can be plugged into an inlet valve, which is often located in the kitchen. RVers can easily vacuum and dust an RV with the included hoses, and the dirt and debris is sucked into a bag in the vacuum. Bags must be emptied or replaced when full.
Installing a Central Vacuum Cleaner in an RV
If a central vacuum is not included with your RV, it is fairly easy to install one yourself. After buying a central vacuum system, RVers just need to identify the best place to store the vacuum system and its included hoses.
Then, the installation is as simple as mounting the vacuum in your desired location. Central vacuums can be mounted to any floor, wall or the upper side of the interior of a cabinet.
The Best RV Central Vacuum Cleaner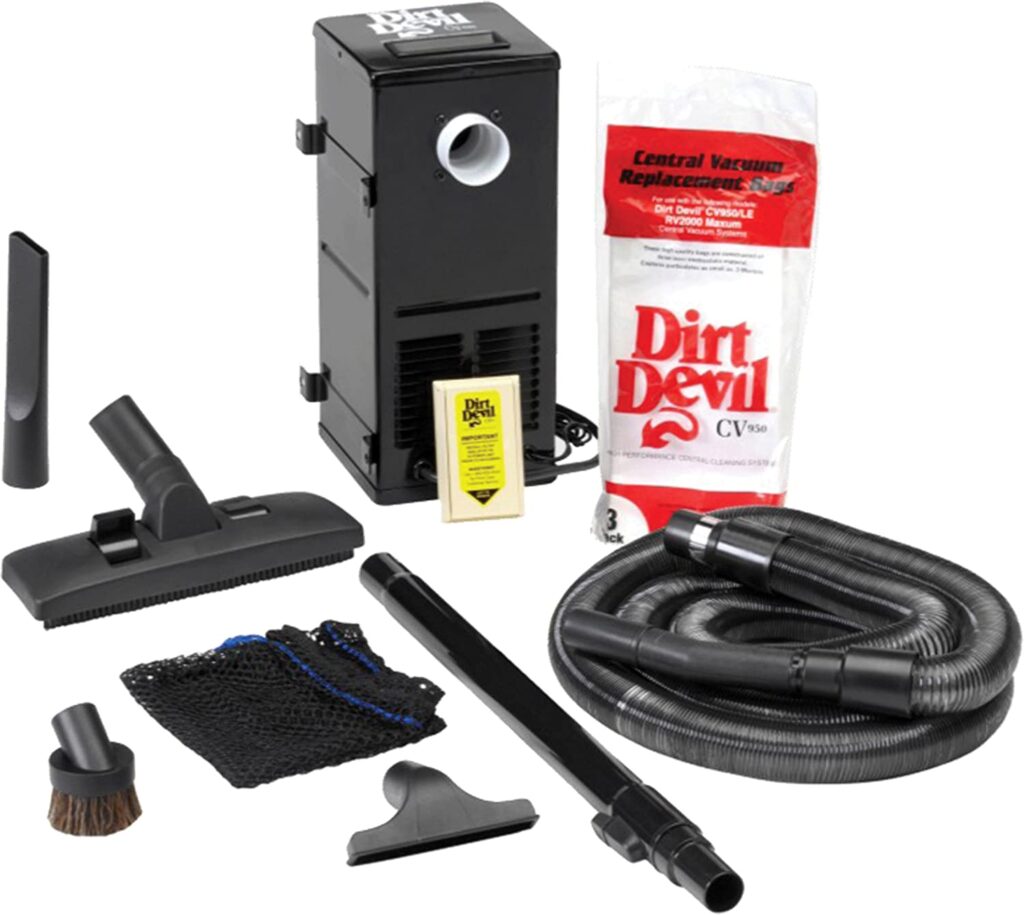 The 9880 Dirt Devil Central Vacuum System is a complete kit for RVers. The main vacuum box is pretty compact at just 14.5 x 7 x 6.25 inches. However, the Dirt Devil vacuum has a large capacity compared to other compact vacuums and can hold up to one gallon of dirt and debris.
It also comes with an upholstery tool, dusting brush, crevice tools and a mesh storage bag. The flow rate is strong at 100 cubic feet per minute
Other RV Cleaning Tools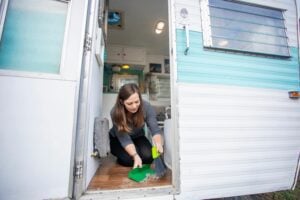 While vacuums may be the most important cleaning tool for recreational vehicles, there are several other cleaning supplies that every RV owner should purchase. However, there are also many RV cleaning products on the market that you do not need to buy.
For example, some companies sell Black Streak Remover for RVs but soap and water works just as well at removing black streaks as the specialty products sold in RV supply stores.
Interior RV Cleaning Supplies
Cleaning RV interiors is not much different than cleaning any home. As with everything in RVs the most important factor when selecting cleaning products is storage space.
Multi-Purpose Cleaner: A multi-surface cleaner is great for RVs because the same product can be used in the living area, kitchen and bathroom. Mrs. Meyer's Lemon Verbena cleaner has a fresh scent that will keep your tiny home on wheels smelling great.
Compact Broom: A broom is the best way to clean dirt and sand off of vinyl floors and keep your RV clean between vacuums. The Camco Adjustable Broom has a telescoping handle, so the broom is just 24 inches long when set in the storage position.
Dirt-Collecting Door Mat: The best way to keep dirt out of your RV is to prevent it from being brought in at all. Sellmer's rubber door mat has honeycomb-shaped holes that collect sand and dirt from the bottom of shoes. The mat can be used outside or inside the RV.
Exterior RV Cleaning Supplies
While cleaning the interior of RVs does not required much specialized equipment, there are certain tools that will make cleaning your RV's exterior much easier.
Biodegradable RV Wash: When camping in natural areas, it is best to use a biodegradable RV wash that will not contaminate the surrounding area. Star Brite makes a concentrated, biodegrade RV wash that is safe to use on RV exteriors.
Adjustable Wash Brush: Reaching high points is one of the most difficult parts of washing an RV. A telescoping brush is the best solution to safely clean your entire RV. Camco makes a cleaning bush that extends from 43 to 71 inches.
Portable Air Compressor: RV appliances also need to be cleaned regularly to prevent issues and maintain performance. Using clean, compressed air is an effective way to remove dust and debris from RV appliances without damaging them. Portable air compressors can also be used to adjust tire pressure. See our guide to RV water heater maintenance for more details.
Holding Tank Cleaning Supplies
One unique cleaning process for required on RV trips, is emptying and flushing the holding tanks. For detailed instructions on how to clean your grey and black tanks, see our beginner's guide to RV tanks.
Reverse Flush Valve: A reverse flush valve is a device that attaches to your RV's sewer outlet to help break up stubborn clogs. It forces water back up into plumbing lines to break up clogs in pipes. You won't need a flush valve every time you clean your tanks, but you always want to have one on hand for tough clogs.
Holding Tank Treatment: Every time you empty and flush your tanks, you should add tank treatment to help break down waste and toilet paper. Porta-Pak makes easy to use tablets that can be added into the tank by simply flushing them down the toilet.
---
If you made it this far, you may be dreading all the cleaning tasks involved in RVing. But don't worry, one of the best benefits of RV living is that even a deep clean never takes longer than an hour. Selecting the best RV vacuum cleaner and other tools will make the process even easier!
What RV cleaning solutions would you recommend to fellow campers? Share your favorite cleaning products in the comments section below.