This post may contain affiliate links. See our affiliate disclaimer here.
Full-time RV living has become a popular lifestyle for young people. According to the RVIA, about one million Americans live in an RV.
However, while some people (like me) live in an RV for years, many full-time RVers are quitting. Keep reading to learn 10 reasons to quit RV life or reconsider going full-time in the first place.
Crowds Drive Nomads to Quit RV Life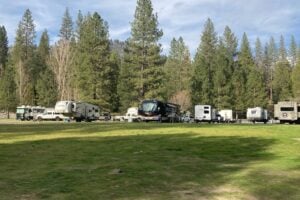 One of the biggest reasons full-time RVers are quitting the lifestyle is that there are too many other RVers. As RVing has become more popular, full-timers have to deal with overcrowded campgrounds, rising RV prices and lack of privacy.
Difficulty Securing Campground Reservations
One of the biggest challenges right now for full-time RVers is difficulty securing campground reservations. When my husband and I went full-time in 2016, it was common to need reservations at national park campgrounds and other popular spots during the peak season.
Now, we know we always have to have campground reservation before traveling. Earlier this year, we were unable to find an open campsite in South Carolina, even though the high temperatures were in the 40s.
Even when full-timers are able to secure a spot, the campgrounds are now typically full. Full campgrounds mean more noise, less privacy and overall, a less desirable experience.
Less Boondocking Options
To avoid the crowded RV parks, many full-time RVers chose to boondock or dry camp in the wilderness. Since less RVers are willing to go off-grid without power and water hookups, boondocking spots are typically less crowded than campgrounds.
However, with the rise in the total number of RVers, boondocking has become more popular. Unfortunately, not all of these new dry campers respect the land they are camping on.
Many wilderness areas have been negatively impacted by boondockers who drive over flora, leave litter and even dump their wastewater. These negative human impacts on the land have caused officials to completely ban camping at many popular boondocking locations.
Financial Reasons to Quit RV Life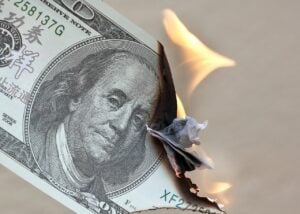 With the massive growth in the RV industry and general economic uncertainty, many people are quitting RV life because of financial concerns. RV life is often more expensive than a stationary existence. Click here to learn about ways to camp in an RV on a budget.
Skyrocketing RV Prices
We purchased our brand new fifth wheel RV for just over $50,000 in 2016. Today, a similar model from the same company retails for over $90,000. That's an 80% price increase in less than a decade!
As a huge number of Americans bought RVs in the early 2020s, the price of both new and used RVs skyrocketed, making RV life unaffordable for many people.
The good news is that RV prices are coming back down. With inflation and fuel pries rising in late 2022, fewer new RVs are being purchased and more used RVs are coming onto the market.
Deteriorating RV Quality
With the increase in demand for RVs, many shoppers have noticed a decrease in the quality of new RVs. The strained RV supply chain has caused some manufacturers to decrease quality controls in order to produce more RVs.
At a recent RV show, we saw brand new RVs with missing seals, incorrectly hung doors and peeling trim. Many full-time RV families in the market for a new RV are not willing to pay current market prices for RVs with defects.
Increase in Campground and RV Park Prices
The surge in RV campers has also driven up the cost of nightly camping fees. When we started RVing in 2016, $30 per night was a common fee for an overnight stay. Now, we routinely pay upwards of $50 per night.
Like many full-time RVers, we often try to book monthly stays to reduce our costs. However, these prices are increasing as well. Our favorite campground in Florida, has increased their monthly rate by 35% over the last few years without making any upgrades to the campground.
There are still affordable camping options, such as state parks and membership campgrounds, however, like all campgrounds, these sites are difficult to reserve due to overcrowding.
Increase in Fuel Prices
Another major expense for full-time RVers is fuel, and fuel is not cheap. When, we purchased our fifth wheel and tow truck in 2016, diesel prices averaged $2.30 per gallon.
Today, average diesel prices are $4.57 per gallon, and we've paid as much as $6.00 in some parts of the country. Many full-time RVers are drawn to the lifestyle because they want to travel. However, fuel prices are making it impossible for some full-timers to afford long drives.
Use our RV fuel cost calculator to calculate the price of an RV trip and learn about ways to save on gas an diesel costs.
Repair Costs and Delays
The last major expense driving people to quit RV life is repair costs. Like any home, something is always breaking in an RV. However, for full-time RVers, a repair often means they need to temporarily move out of their home.
The surge in RV camping has led to major backups and delays at most RV repair shops. Therefore, full-time RVers may have to wait months for an essential repair to be completed.
This past summer, we had to live with family for two months while the roof on our fifth wheel was replaced.
The cost of repairs combined with frustrations from delays cause many full-timers to quit RV life. To stay on the road, it is essential for RV owners to learn preventative maintenance and basic repair skills.
Personal Reasons to Quit RV Life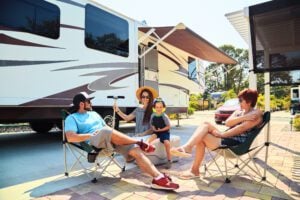 While economic and industry changes drive many families to quit RV life, others drop out of the lifestyle for personal reasons.
Starting a Family
After seven years on the road, we have seen many families join and leave the lifestyle. What is the most common reasons, we see people quit RV life? Because, they are having a baby.
While many families full-time RV with children, plenty of other couples prefer to go back to a traditional house when they start their family.
Health Concerns
Health concerns are another common reason to quit RV life. When a major health crisis occurs, people need to stay in one location so they have access to consistent care.
Desire for a Home Base
Finally, some people quit RV life because they simply would prefer to live in a house. While it is definitely possible to create community on the road, many full-timers miss their friends, family and community resources.
Other full-time RVers struggle with tiny living, and want to go back to a house with more storage and a private yard.
---
Thanks for reading our article about reasons to quit RV life. While there are plenty of reasons not to full-time RV, there are also plenty of reasons to live in an RV. We have lived on the road for seven years, and have no plans to stop despite recent challenges.
To learn more about the RV lifestyle, read our list of all the pros and cons of RV living. If you think RV life is right for you, we have also written a complete guide to preparing for RV living.
Happy Camping!